Beaten by a few hours by Jigsaw Killer, I present my second review of a re-released set from the summer wave of 2011.
Set name: Darth Maul's Sith Infiltrator
Set number: 7961
Year of release: 2011
Price: 74.99 EUR / 59.99 USD?
Parts: 479
Minifigures: 4 (Darth Maul, Captain Panaka, Padme & Qui-Gon Jinn
Lego's Description
Quote
Track down Queen Amidala™ in the Darth Maul's Sith Infiltrator™!

"Darth Maul is flying across Tatooine in his stealthy Sith Infiltrator, straight towards Captain Panaka and Jedi Master Qui-Gon Jinn!
Don't let him defeat Queen Amidala's protectors! Defend the Queen at all costs!
When the Sith Infiltrator makes a landing, open the hatches, fold the wings, deploy the landing gear and prepare for battle!
Will Captain Panaka's blaster and Jedi Master Qui-Gon Jinn's lightsaber be enough to fend off Darth Maul on his detachable Sith speeder?
You decide!

• Includes 4 minifigures: Darth Maul, Queen Padmé Amidala, Captain Panaka, and Qui-Gon Jinn with assorted weapons
• Features detailed interior, folding wings, flick missile, landing gear and detachable Sith speeder!
• Flick-fire the missile!
• Fold the wings, deploy the landing gear and lift the hatch to reveal the Sith Infiltrator's detailed interior!
• Measures over 15" (38cm) long and 9" (22cm) wide

Box, front
Box, back
Box, side
From Wookieepedia:
Quote
The Scimitar (or Sith Infiltrator) was a prototype stealth-ship used as the personal starship of Darth Maul,
the Sith apprentice of Darth Sidious, prior to the Invasion of Naboo around 32 BBY.

Numbered bags!
Yes, building is made a lot easier when a set contains these numbered bags.
Thanks for helping out TLC.

Manuals/instructions
Dreaded Sticker Sheet
Again a DSS. I don't think applying these stickers is crucial to the set, they just add some flavor.
Minifigures
Darth Maul
Darth Maul close up
I like the new "hair" piece of Darth Maul. It makes him look meaner.
Comparison with older version
Backprinting
Padme
Note: the printing of the old padme is a little off. The new Padme is just beautiful.
Captain Panaka and Qui-Gon Jinn
As stated by Wookieepedia; Panaka was a very pessimistic man and prepared for the worst.
TLC probably had this pessimistic view in mind when designing the new face.
I think Captain Panaka should have had a second face, like Padme.
Too bad I can't compare Qui-Gon to a previous version.
New weapon!
The babe with the weapons, meeeoow

The build
Bag 1 and result
Bag 2 and result
TLC helping out in the corner with a piece to scale…
Bag 3 and final result
Special parts?
I can't really tell for sure since I only really collect SW but these parts look new.
Note the difference in quality between these pieces.
All spare parts
Darth Maul's Sith Infiltrator
From Wookieepedia, top and front view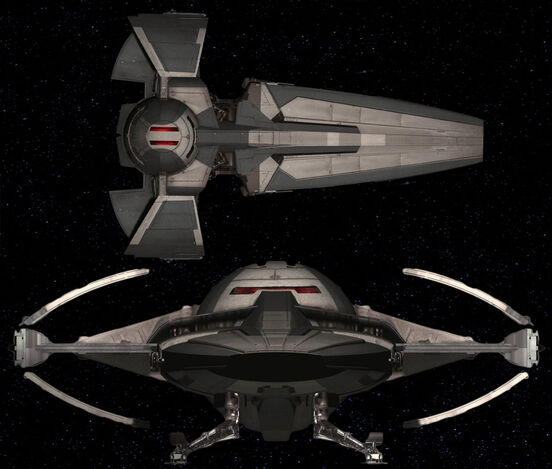 Front
Back
Right
Left
Top
Bottom
Special features
Bloodfin
The
Bloodfin
was the personal Sith speeder of Darth Maul and a modified Razalon FC-20 speeder bike.
Comparison between new and old bloodfin.
Landing Gear
Well designed retractable landing gear. You can see it up and down.
Release hatches
These are used to release the probe droids.
Probe compartment, top view
Probe droid
The
DRK-1 Dark Eye probe droid
. I'm not a fan of the DSS (who is) but the probe droid could have used a sticker to give it some "face".
Although they are too simple, the set should have contained three as the Scimitar has three on board.
Cockpit
The cockpit is too small for Darth Maul to stand.
His "hair" piece makes him too tall.
Opening the cockpit
I like the entrance to the cockpit.
Lightsaber storage
Main storage and flickfire missiles
Here you can store the bloodfin, just don't fly upside-down...
A definite flaw: upside-down
This set cant be held upside-down as the main storage opens up when you do.
I cant understand why TLC didn't solve this as this is a major issue for any air/spacecraft.
Comparisons to the 7663
As you can see the new version is a lot bigger than the old one.
The Scimitar was equipped with a rare stygium crystal-powered cloaking device which was capable of creating an invisibility field.
Ratings:
Design: 4/5 it's bigger, more accurate and more stable.
Build: 3/5 nothing special.
Playability: 3/5 the fact that it cant be held upside down is a big let down. Time to mod.
Minifigures: 4/5 Padme! Rare. Panaka! New. Qui-Gon! Rare and re-designed. Maul, headpiece.
Price: 3/5 A bit too expensive if you have to pay full retail price. I got it for € 55,95 and that's a good deal.
Overall: A little bit above 3/5.
You will definitely have to combine this set with the 7962 Anakin's and Sebulba's Podracers to get the full Episode I character line-up (Anakin Skywalker/young, Obi-Wan Kenobi/young, Sebulba, Watto & Wald)
Hope you enjoyed this review.
All above and more pictures can be found
here in the gallery
Reviews previous versions:
7151 Sith Infiltrator
by
Def
7663 Sith Infiltrator
by
Big Cam
Edited by KielDaMan, 21 June 2011 - 02:38 AM.
Indexed