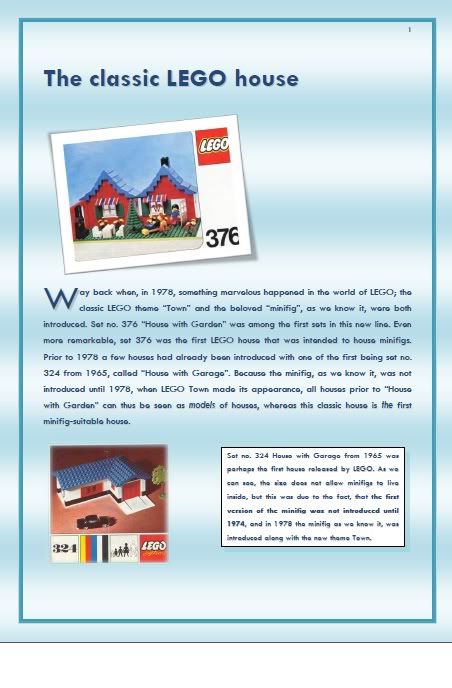 Hello everybody - I've written an article on the many wonderful LEGO houses that have emerged from Billund since 1978 - the year the theme "Town" was introduced. My main focus is on the houses released in the theme "Town" and its subtheme "Leisure".
I hope you enjoy the read - it was an idea that came to me last year when The LEGO Group introduced the new set 8403 City House; a house that was the first of its kind
in 15 years
, and only the second of its kind
since 1990
.
I've uploaded the PDF file to my dropbox, and you can download the article by clicking on the link below:
http://dl.dropbox.co...e - article.pdf
Please let me know if you have suggestions to add or I have made some grammatical errors that I should edit.
Kristian
UPDATE: I've added a poll - we could use this topic to discuss whether or not we want more (official) smaller family homes in our LEGO Town, or if we think that the Fire Departments/Police Stations/Emergency Centers/Gas Stations/Creator houses/Large Exclusive buildings are fine enough to have in our Town plans
Edited by Lorentzen, 29 April 2011 - 01:53 PM.