Set: 6525 Blaze Commander
Year: 1995 - (1997?)
Pieces: 50
Minifig(s): 1
Price: $4.50 (Brickset.com)
Won: $2 (eBay)
Theme/ Subtheme: Town/ Fire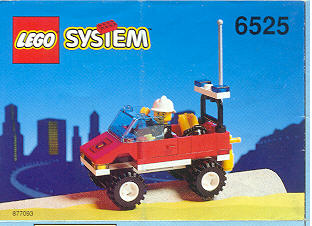 Hello EBer's,
This is my first review. I decided on something easy. I am a BIG classic Town fan and recently won this set from eBay a few weeks ago. I just got around to cleaning and assembling it. I have another but, it isn't complete nor has the instructions. This came with 6533 Police 4 x 4, which is what I really wanted, as well as the instructions. I plan on a review for that, if this goes over well. I hope you enjoy taking a step back to the classics!

Start with the piece layout... A whopping fifty pieces! Those on the cross walk are the specialty but, wait no ax? or hammer?

The fire man has the smiley face with the large handle bar mustache, I may put that head on one of the minifigs from the Fire Brigade. He looks a bit out dated. Now with the build. The wheels, chassis, and body, enough explained.
Next are the doors, windshield, and other accessories. Almost done..
Ready for duty!
Pulling into the station, no fires today
Final thoughts: Its's a neat set to have but, only good for another fireman and adding another vehicle to your town. It's playability is average, and with no axe, I think this "Commander" may need a refresher coarse. The retail value was a about right but, seems high to me. I'm glad I found it on eBay, though. I am pleased to have another one of these. At least this one was 100% complete. Thanks for reading! Suggestions and comments welcomed on this presentaion

Edited by Leg Godt Gud, 09 November 2011 - 09:03 AM.
Indexed