Set name: River Runners
Set Number: 6665
Price: 7.25 $, ? £, 8.00 Euro
Pieces: 74
Year of release: 1994
Links:
Peeron
,
Bricklink
and
Brickset
The Box
Front
(Photo from Brickset, as I do not own the box anymore.)
The front of the box has a clean look, sporting the full set into a natural environment, representative of its purpose. A rubber ship afloat on a stream. Unfortunately, I find the quality of the background somewhat disappointing: despite the quite nice water flow effect, the rivers are too clearly flat and b-dimensional.
The LEGO and SYSTEM logos cover the upper left corner, but definitely do not stand in the way or drive the attention away from the set itself. The set number, in the upper right corner looks somewhat like it's been added as an afterthought to me for some reason.
Back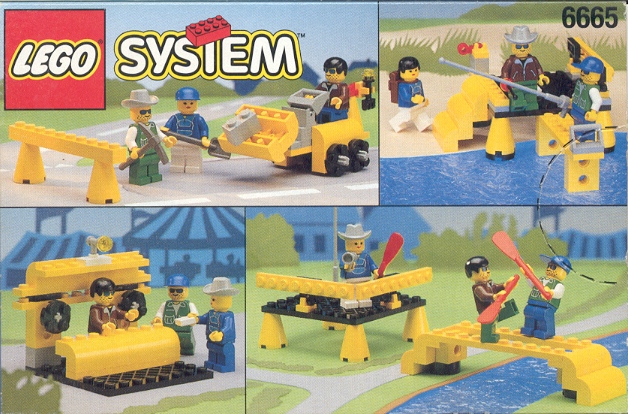 (Photo from Peeron, as I do not own the box anymore.)
The back of the box shows some possible alternate models we can build from this set. I often wonder how many people long for the good old days when alternate/inspiration models were standard fare and not the exception on the LEGO boxes, just like I do.
Contents
Inside
This set includes a fair number of parts in ten colours and 3 figs. Definitely not bad for its price tag.
My favourite parts in the lot are the floatation vests, the curved-top bricks and the grilled plate. I remember how much I like the plate at the time, being the first of its kind I got. My only concern was that, with a bottom so full of holes, the boat looked like it was about to sink any moment. Only some time later I understood that floatation was granted by the lateral 'air tubes'.
Recoloured parts
This set did not include any new molds and only a couple of recoloured parts. These are 4 Brick, Modified 2 x 4 x 1 1/3 with Curved Top in Yellow and 4 Tile, Modified 1 x 1 with Clip also in Yellow.
Accessories
As you can see from the photo above, there are a lot of very useful and interesting minifig accessories in this set. They include an axe, a pick-axe, a shovel, all used to build camp on the river banks; a trio of oars for manoeuvring and for when the engine won't start; a trio of lifejackets and a torchlight; and finally, we have a backpack, supposedly full of food supplies, a tent, some blankets/sleeping bags, and more… truly a Mary Poppins styled bag!
These parts alone provide indeed reason enough to want to buy this set.
Instructions
The front cover (remember that during these years instructions were not released in booklets, but in foldouts) shows the same shot as the front of the box, the set number, the LEGO and SYSTEM logos. The look is clean and appealing, so you may feel the urge to book a raft ride as soon as the season begins.
The back cover shows our River Runners disembarking and getting ready for camping. It will be a fine night of bone fires and songs under the stars!
Random 'page' – The instructions are simple and every step involves a very limited number of parts, which makes things easier since there are no call-outs in this kind of instructions.
Minifigures
None of the figures is exclusive of this set, having all appeared in previous years in the Outback sub-theme. Nonetheless, they make for great addition to any City/Town collector.
The Woman's torso is one of my favourite of all times. The hoodie is pretty nice and it was the first time we saw one in LEGO City. The recent version we saw last year (see the 3177 Small Car set) is an update of this classic part.
The two men seem to either be brothers or have both bought their sunglasses in the same shop (plus they must have forgotten to shave). We'll call them Texas Man (for the hat) and Pilot (for the jacket and the fact he actually pilots the boat/raft).
Texas Man wears a nice green waistcoat over a long sleeves white Tee. Though this torso has been seen in 41 sets in LEGO history, the figure itself is less common, limited to the Outback sub-theme only (his relatives span other City/Town areas as well). He fits the man on vacation theme quite well, with the possible exception of the hat, which does not speak much of a river run to me.
Pilot, on the other hand, is a very common figure and I'm sure most people own at least a copy of him. Not much to say, apart for noting he does not wear his signature blue cap in this set.
As expected from old times' minifigures, there is no printing on the back of the heads or torsos.
One last shot to see how the figs look with their floatation vests on.
Building
Start
We start with the central part of the raft. The build is simple and pretty straight forward, with some interesting solutions here and there. Thanks to the 4 round 2 x 2 with rounded bottom plates on the underside of the boat, the model is quite sturdy and swoosh-able, even if it's not an air or space craft.
Adding accessories and motor
We continue by adding the accessories our Outbacks will use to make camp or face any possible situation in the wild.
Next comes the motor, a nice little thing with stripped colours to make it look shiny and easy to tell from the rest of the vessel.
Finally, even if we do not see any evidence of a com system aboard, the raft sports a long antenna, plus a handy floodlight.
Finished set
The finished set plus minifigures. We are ready to ride any river we may encounter and to set up camp when we'll eventually get tired. What more could we ask from this neat little set?
Bonus images
Getting ready
So, are we ready to sail? Get your backpack on board and let's get moving!
Final comments
As we said, this is a small-ish set. Its building is pretty simple and it includes only a few recoloured parts an no new molds. Nonetheless, this model conveys a great sense of adventure, a deep feeling of riding in the middle of the wild, which means its aim was fully accomplished.
Colors scheme
- 10/10 (The rubber part of the raft looks very realistic and the strips on the motor make it stand out as different and more metallic.)
Minifigures
- 8/10 (None of the figure parts is new to this set, but they were all brilliantly used here and make for some great additions to any City/Town collection.)
Parts
- 8/10 (Not many new or recoloured parts, but everything can come in handy for MOCs. I do not see any part in this model which could be difficult to use in an average City/Town creation.)
Design
- 10/10 (Again, it looks very realistic and does not have any major flaw.)
Quality
- 10/10 (All the parts are of the good old LEGO quality.)
Overall
: 46/50 Excellent
As always, questions, comments, and pic requests welcome!
Edited by Zorbas, 20 February 2011 - 06:39 PM.
Indexed