Hi, here's my first review on EB. Hope you like it.
Ninjago 2520 - Ninja Battle Arena (463 Pieces)
Price: S$69.90 (~US$55)
(and that's already discounted compares to the RRP of US$49.99 - Lego in Singapore is not cheap)
The set is made in Denmark, Hungary, China and Czech Republic.
Well, I wasn't really sure on getting any Ninjago sets when it was first announced (trying to cull my ever-growing collection) but since my Son is into Beyblade (very popular with Kids in Singapore) and I am a big LEGO fan, I must give it a try.
Hmm ... which set to get? Most sets seems pretty overpriced, especially those character spinner set going at S$20.90 (~US$16.50) for only 19 pieces. After some consideration, I decided on the Ninja Battle Arena. Why?
First off, this is a "Special Edition" set! Why? I don't know ... anyway must get. :)
Secondly, since this is a Beyblade style spinning top game (in addition to being Lego), you will need at least 2 spinner to appreciate the play. To get 2 character set at S$33.44 (i.e. ~ US$26 after 20% discount) and ending up with only 38 pieces ... it really doesn't quite make sense. And those ninja minifigures that comes in those characters set don't even look half as cool as the DX (dragon costume) version. IMHO, 2520 is the best "price performance" set among all the Ninjago sets available now. Do your math ... at S$69.90 (~US$55), you get 463 pieces - incl. of 2 minifigure & 2 spinner and 10 Character & Battle Cards, enough for you to play the game, and a lot more bricks, not to say - 4 Golden Weapons in 1 set!
Anyway, let the slideshow begin ... I will try to go into more details as we moved along through the review.
Let's take a look at the box cover. The box art and color scheme is very well done. That's what draws me to relook at the Ninjago sets when they become available in store. It really makes the set stands out.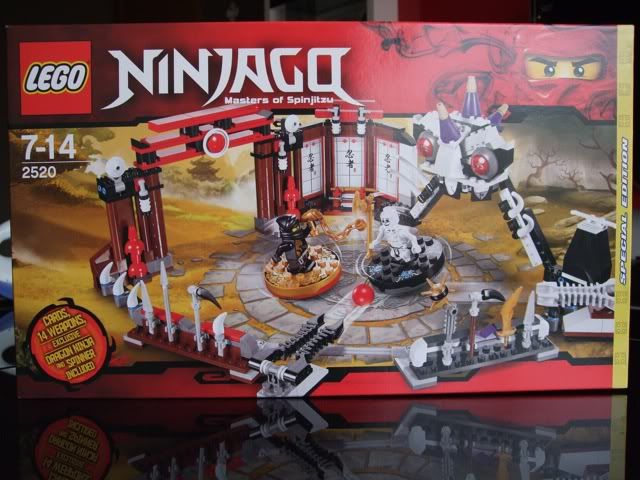 Here's a view of the rear. Very much the same as the front other than a little inset showing how to operate the ball shooter, the flick missile, a glimpse at the character and battle cards, and the entrance into the Arena.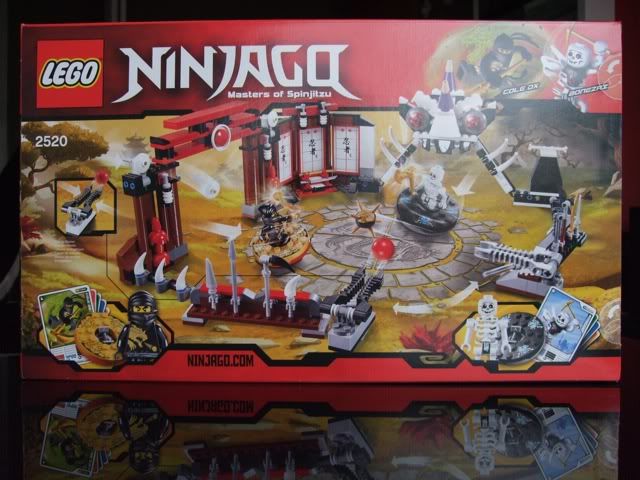 Next, let's take a look at what's inside the box ... The set comes in 3 numbered bags, with 2 instruction booklets, a small sticker sheet, 2 packs of character and battle cards, and 2 individually sealed spinner.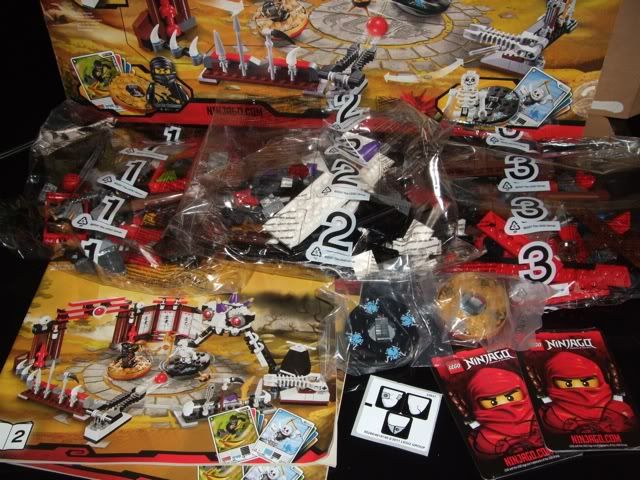 Here's the first page of the instruction booklet. See how a Round 2 x 2 with Rounded Bottom (Boat Stud) (BL description) is attached to the bottom of the spinner. Well thought of by LEGO. With all those spinning action on the floor ... you can imagine how much damage that will inflict on the bricks. Now you can change it anytime when one is worn out. :)
Now ... the interesting color and pieces - the golden weapon pieces and printed glass pane are great. Also, Cole's spinner is unique and a lot more glam looking and elaborated than the other sets.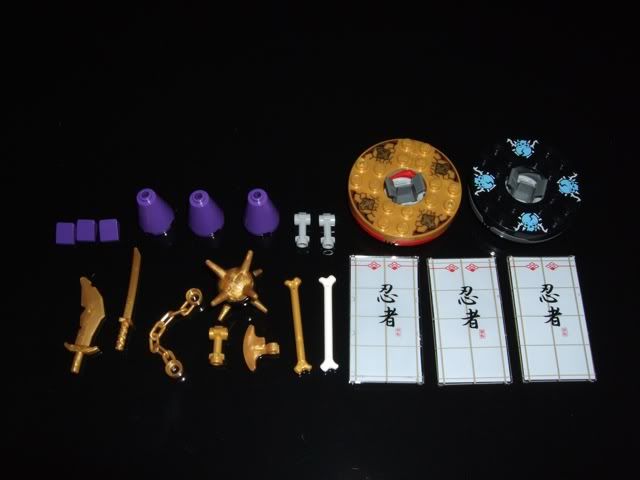 Cole and Bonezai. Can you see how shiny the golden dragon looks in contrast to Cole's black ninja suit? This alone is one good reason to get this set - Cole Dragon suit (DX version)!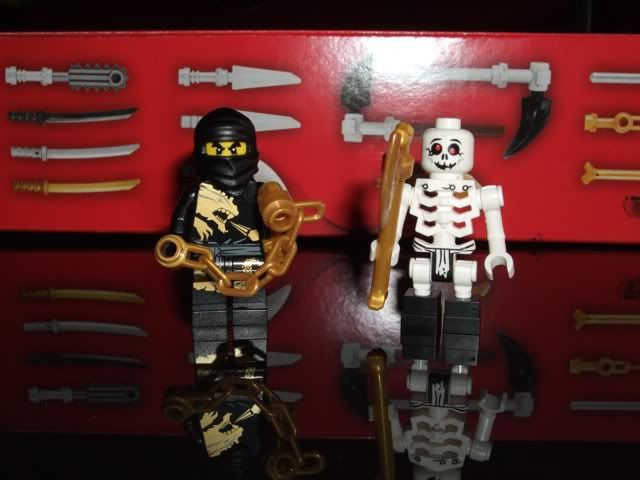 The only not-so-good aspect is the printing of his name at his back. What's LEGO thinking of???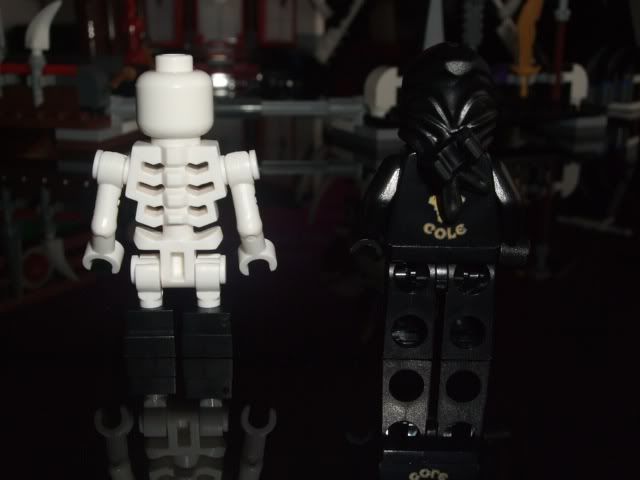 As a comparison, I have put a MF1 ninja beside Cole DX. Cole is so outstanding in his Dragon suit. Noticed the Katana? The Tsuba (or Guard) comes in a different shape. The MF1 one is octagonal, while the one in this set looks a little like butterfly. And I did a simple light test on both the Katana and from the degree of transparency, you can tell that this Katana is of a better quality than the one in MF1.
One other interesting point to note, there are some inprints on Cole's inner arm (not shown) but they are different from the MF1 ones. One thing for sure, the quality is definitely not the same as those made in China cousins and Cole's neck still bears the marking that comes with all box set minifigure.
Not to leave out Bonezai in the cold ... IMO, LEGO did a really good job "upgrading" their skelly. Bonezai's arms and legs are alot alot firmer than his skelly cousin, and the torso, arms and legs are all new mold.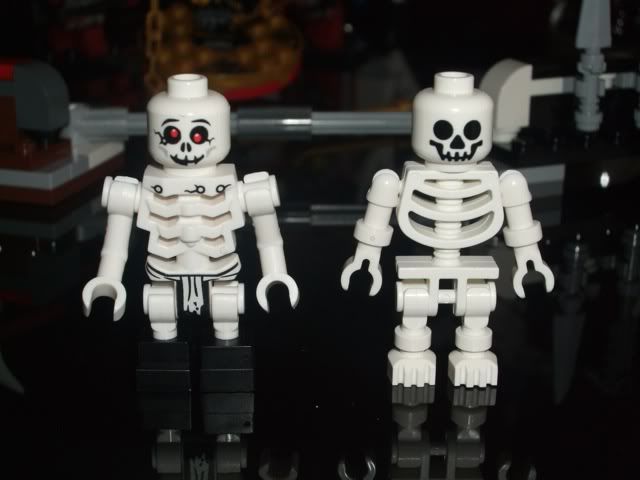 The minifigures with all the 14 Weapons lined up. 4 Golden Weapons ... I am a sucker for that!
And finally ... the Battle Arena is complete! Compare this to the Beyblade Extreme Stadium (sorry, OT again) ... the ball shooter just added another additional fun element to the game set.
I really like the Katana stand with the ninja worded windows pane behind. The color scheme and design allow you to easily do up a sensei and deshi vignette.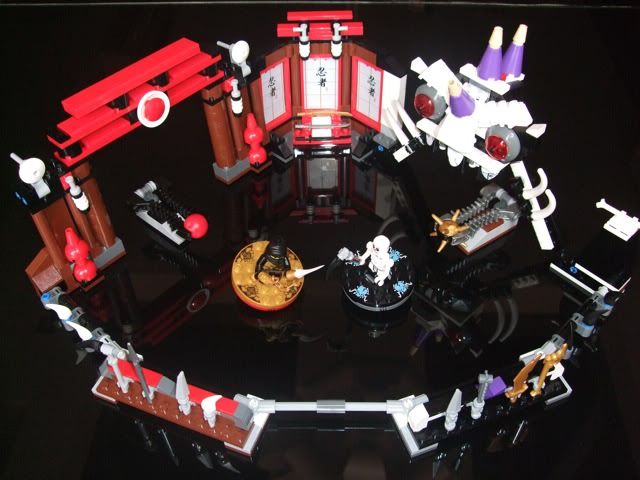 A close up look of Cole and Bonezai on their spinner. See how Cole DX color scheme matches with his spinner and weapon?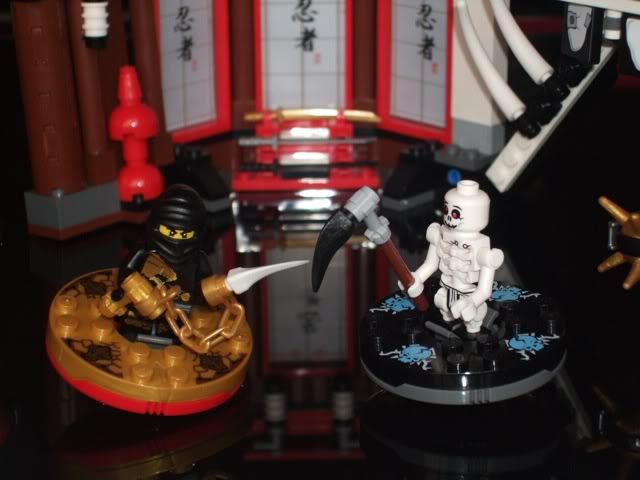 And here's the spare parts. I can't be 100% sure these are all spare since my son actually completed building this on his own. Nice to see a spare Asajj Ventress's light sabre handle here. Throw a light stick in and you get your 15th weapons out of this set! :)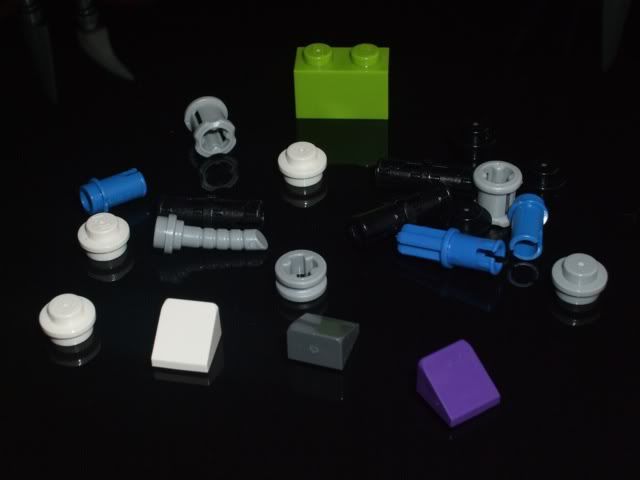 Well ... I didn't forget about the cards. Here's the 10 character and battle cards that I got. Here, we get Cole DX card with 1100 sp points as compare with Cole in the character set where he only gets 1000 sp points.
As to how the cards work with the game ... I won't go into the details in this review.
Lastly, here's a little diorama to close off this review.
-----------------------------------------------------------------------------------
Cole defeated Bonezai with his Golden Nunchaku.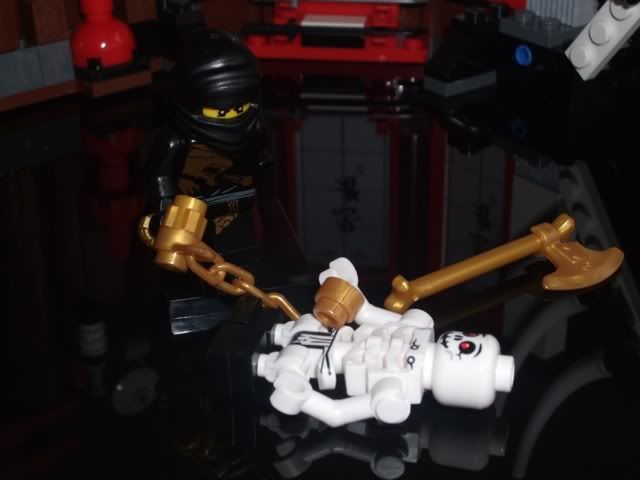 As he reached out to retrieve the fabled Golden Katana his sensei left him from this now-skelly-infested dojo ...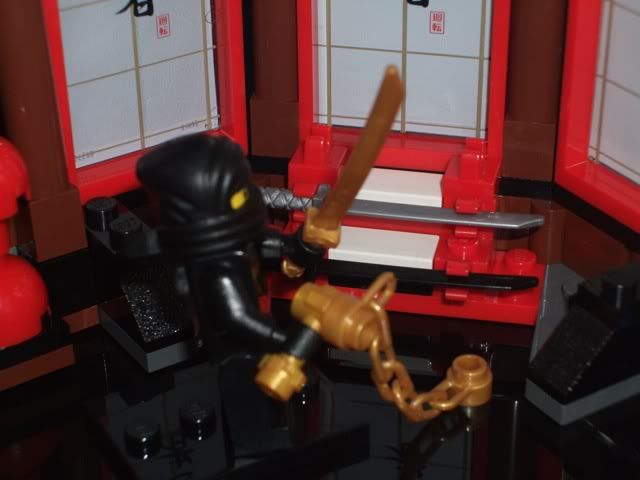 ... 2 samurais appeared and confronted him. "What are the samurai doing here?" Cole thought.
"What the #$%, Let's spin my way out of here -- NINJAGO!!!", shouted Cole. :)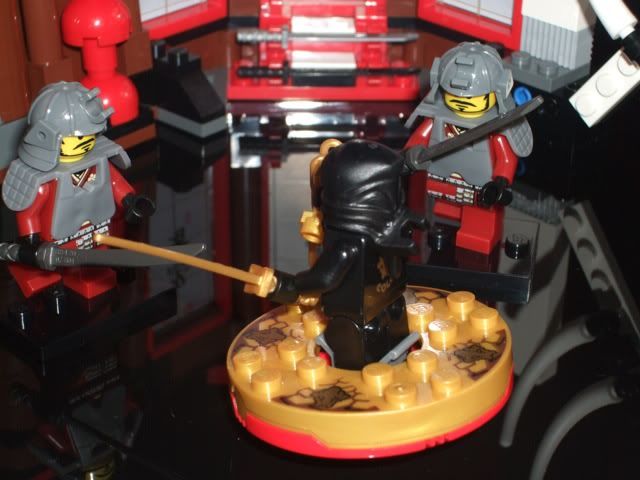 In conclusion (finally, didn't know writing a review takes up so much time), I personally find this set really cool and fun to play, especially with my 9 yrs old son. This set is sort of like a sampler to all that Ninjago has to offer, both a game and a set ... enough element like great minifigures, spinners and weapons to appreciate the spinning game, battle cards and additional ball shooter to make it even more fun and enough bricks (or Golden weapons ... just me) to satisfy an AFOL. If you only intend to get 1 Ninjago set, I would highly recommend you to get this. :)
If I have to give it a score, it will be a 8/10!
Well, sure hope I didn't bore you all with my first review.
Till next time ...
~ Onlytoys