Hello all!

A few weeks ago, I decided to make a speeder bike as one of the small starts for my Battle of Endor project.
I've seen
Brickdoctor
's version of the model, and it was fantastic: the only thing that bothered me was that the legs had to be taken off the figure and attached to the speeder bike for it to sit.
I put my figures on vehicles alot of times, but they are also taken off to go somewhere else on display, or to serve as figures for a new MOC very often. It would be a pain to have to take off the legs each time I wanted it to ride the bike, with my habit of moving minifigs alot of times. So then, I decided to try a design that could easily have the figure be placed onto it, and off again. The parts from
Brickdoctor
's design are the connecting technique for the outriggers to the steering vanes onto the bike, as well as the back portion: backpack, cheese slopes and the bumper plate. I replaced the gray slope with a brown one, and turned it around so it'd look more like a seat. (Otherwise itw ould look like one too, but I liked it better this way) - the light blaster cannon piece (aka a screwdriver) is the same piece he used for the blaster, but more people use that.
The hardest part was to find a way to incorporate a seat into the speeder bike so the figure would fit:
It took
days
to get it right, but the hard work paid off. The things I use for the handlebars are small parts I cut off a pneumatic hose, placed onto a droid arm for each side.
Alright, let's move onto the pictures now. These aren't all of them, so make sure to click the links below this post to check the rest.
74-Z Speeder Bike
74-Z Speeder Bike
by
General Magma
, on Flickr
The comparison shot with the official model by
TLC
:
74-Z Speeder Bike (comparison)
by
General Magma
, on Flickr
74-Z Speeder Bike - schematics
by
General Magma
, on Flickr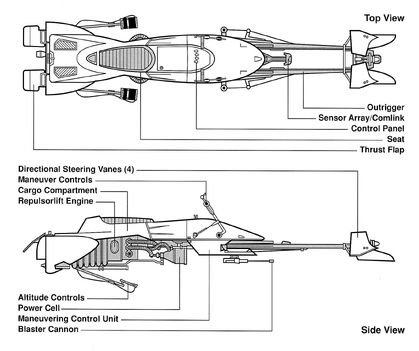 View the rest of the pictures
here
.
Any comment and constructive criticism is welcome.
Thanks for looking.

~ General Magma