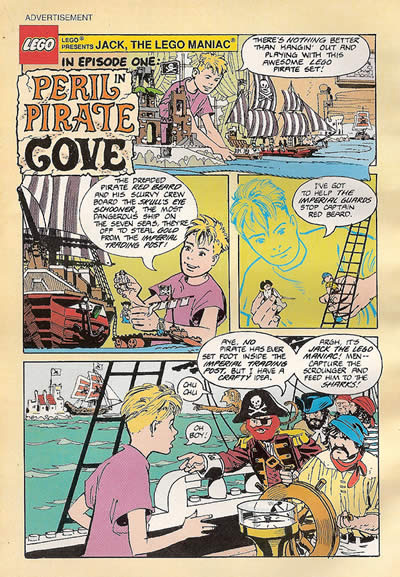 <div style="width: 400px; background:#F8E2BA; padding: 10px 2px; margin: 5px auto; border: 1px solid #D1B98F;">Read the 3 Episode Series</div>
In my quest to track down everything LEGO Pirate related, I've come across a few things that have taken me by surprise. One is the comic "Peril in Pirate Cove", which was actually an ad that ran in Disney Adventures magazines in 1993. These LEGO comics were typically serialized across several issues. I had the first installment in the April 1993 issue, and finally found the May 1993 issue, hoping to read the last part, and also get the collectors cards that typically came with the final installment.
Fortunately or unfortunately, the comic actually ran for three parts, not two! And the June 1993 issue is apparently particularly expensive because it has Michael Jackson on the cover.

Does anyone here have the third part of the comic?
We now have the third episode so get reading!
TC
Read the
3 Episode Series