Hello,
If you're like me you have a lot of great looking Pirate Lego sets that just collect dust on a shelf. I wanted a way to get them off the shelf and down onto the floor into battles and adventures like they were intended for. Unfortunately, my wife and friends tended to "frown" on Lego play. Not any more! We now actually have couples asking us when they can come over and "play with the Legos" again. Read on to find out how you too can get your sets off the shelf and into action.
Many of you may be familiar with the "Evil Stevie" pirate game. I thought that this game could be the answer to my problem, but after trying to decipher the rules, I realized that it is just too complex for casual gamers and really needs a large group of people to play. I was looking for something relatively simple for 2-4 players. A search on Amazon turned up the answer to my search. A board game called Pirate's Cove:
The basic premise of the game is that you set off in your pirate ship and plunder a set of seven islands. While you are plundering these islands, you also use them to purchase upgrades (cannon, crew, hull and sail) for your ship. If two pirates try to plunder the same island, they engage in combat and to the victor go the spoils. The loser limps off to Pirate's Cove to repair. You gain fame points by sinking other pirates, burying treasure and plundering islands. At the end of eight rounds of play, the pirate with the most fame wins the game. I simply replaced the little plastic ships in the game with Lego Pirate ships and replaced the islands in the game with Lego Islands.
In the game there are seven islands. Treasure island is used for burying treasure when your hull's are filled to the brim and can't hold any more. I use a Forbidden Island base, lots of foliage and about 30 treasure chests for Treasure Island. Pirate's Cove is used for repairing ships after a loss in battle. I use Rock Island Refuge as Pirate's Cove because it looks the part. Tavern Island is used to purchase tavern cards which provide bonuses in combat. I use the Imperial Trading Post for tavern island since it is the most "town like". Sail island is used to upgrade the ship's sails. I use Forbidden Island as sail island because it has a mast. Hull island upgrades the ship's hull. Shipwreck Island would be perfect for this island, but since I don't have it, I made my own island with an original Imperial Flagship washed up on some rocks. Cannon Island is used to upgrade the ship's cannons. I use the Eldorado fortress as cannon island. Crew island is used to increase the size of your ship's crew. I made a prison island that I use as crew island. When plundering this island you can break your new crew members out of the large prison (made easy by a hinge away wall).
The original gameboard showing all seven islands, Pirates Cove, Tavern Island and Treasure Island:
Cannon Island, Hull Island, Crew Island, Sail Island:
I use six ships to play the game. Four ships are used as the individual player's ships. These are the Black Seas Barracuda, The Skull's Eye Schooner, Red Beard Runner and Brickbeard's Bounty. The two other ships are game controlled kind of like computer opponents. The first is a British ship which hunts the pirates. I use the Caribbean Clipper for this ship. The second is the "Legendary Pirate" which represents a fearsome pirate who randomly roams the islands. Pity the poor pirate who crosses the legendary Pirate's path. I needed an imposing ship here so I had no choice but to turn the new Imperial Flagship into a fearsome Pirate vessel. Here's my fleet: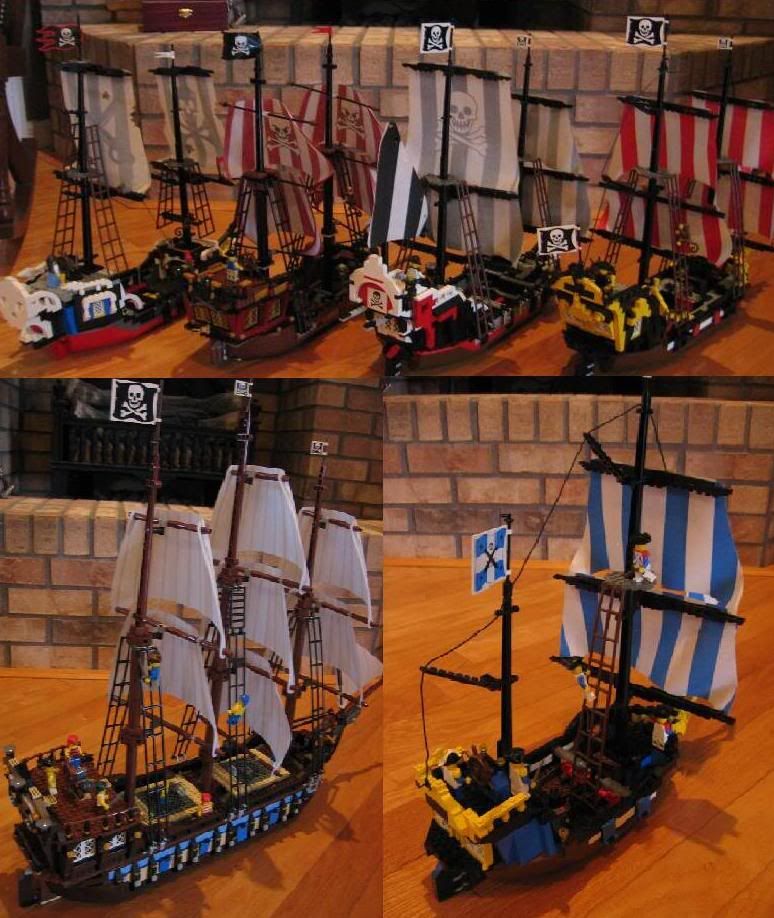 To actually play the game, you need a pretty large open area. Preferably about 15' x 15'. You can play in a smaller area, but with four people crawling between island pushing lego ships, it can get tight. I compressed things a bit in these photos to give a general idea of the layout: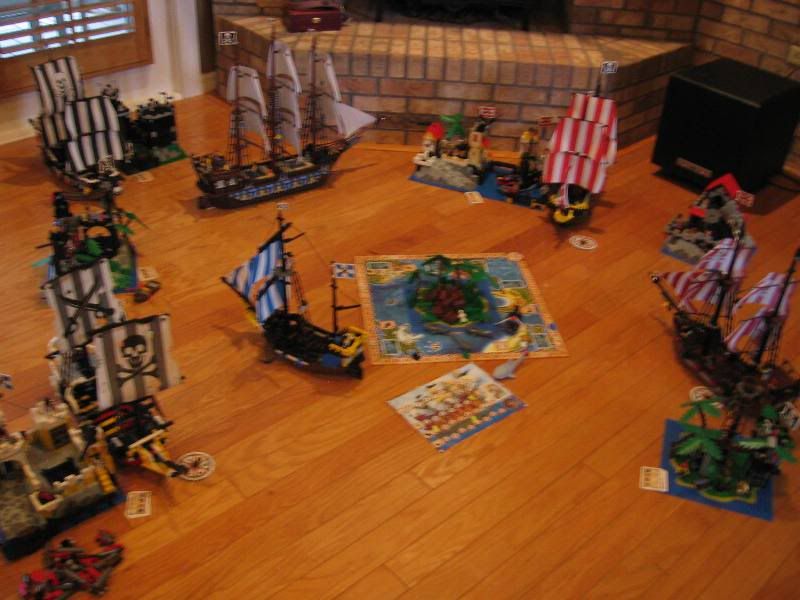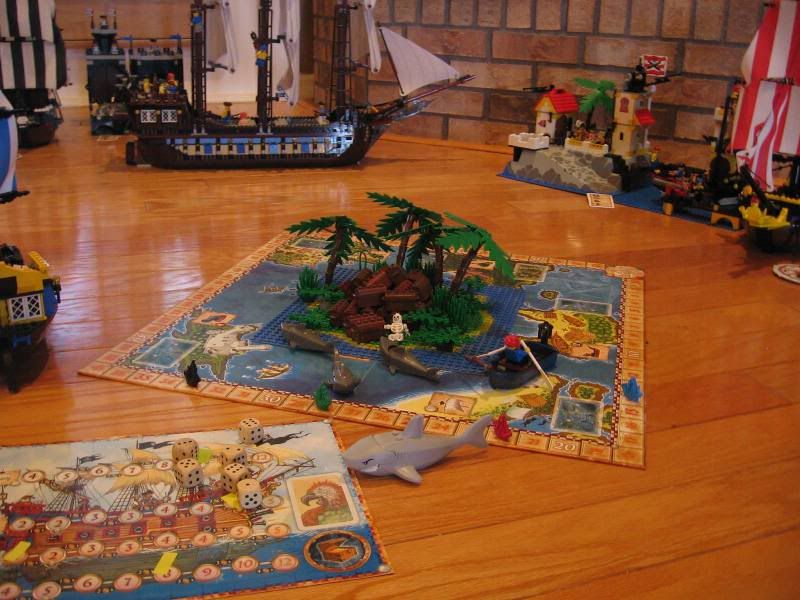 So far I have played the game about seven times with friends and family. I have played with just my wife and with up to four total players. Each time I have slightly modified the rules to adapt them better for Lego play and to try and remove as much of the randomness involved in the ship battles. Every time we have played, it has been a huge success. It is so much fun to see four adults crawling around on the floor speaking like pirates and getting into the theme. I usually have one of the Pirates of the Caribbean movies on the TV while we play to help set the mood. As mentioned earlier, everyone who has played wants to come back and play again. I played with my brother and his wife and he is now building up his own Lego armada so he can play the game with his friends.
While I am using some fairly large ships and islands to play, nothing says it is necessary. You could play this game with four lifeboats and a few of the smaller island sets if that's what you have. It would be just as fun. If you are looking for a way to get some use out of your Legos, I'd highly reccomend you pick up a copy of Pirate's Cove and build yourself a game. I absolutely guarantee you won't regret it!
Joel
Here's all the sets put away in our game closet: