Admiral Croissant, on 24 September 2010 - 12:56 PM, said:
Haha I like the convict decals

It may be a stupid question, but what are all the arrows for?
looks more like this.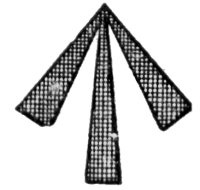 Known as the broard arrow this symbol appeared on Australian convict uniforms. The Broad Arrow is a symbol used as a royal mark on government stores. It was the cognisance of Viscount Sydney, Earl of Romney, who was the master- general of the Ordnance from 1693 to 1702, and this is where it originates from.
So I guess the symbol means "property of the Crown"
Top decals !!