Hello all, and welcome to another exciting segment of EB News! I'm your host today, Zepher, reporting in from the tropical island that EB News has been taking a vacation on for-
ZEPHER! We have not been vacationing and you know it!
Fine, the tropical island that EB News has been stranded on for the last few months, through no fault of any of the reporters named Zepher. Shadows, behind the camera, will be able to tell you more. Take it away Shadows!
Don't talk to me that way idiot. You know you could be fired at any moment.
Sorry sir.
Anyway, yes, as Zepher said, we have been on this island for quite some time, and this is the first broadcast that we have been able to get out. I had one of the novices plan a cruise, and sadly they choose a ship that was destined to sink.
Stauds actually picked the ship, sir.
Be quiet Zepher. I'm addressing my adoring public. Anyway, when the ship hit an abnormally sized walrus, it went down, along with almost our whole crew and all the passengers. Zepher and I managed to escape, along with these two other wack-jobs we found. After such a long break, we felt forced to interview one of them. Considering the choices it wasn't so much a choice on who to interview rather than a necessity.
Here was choice one on who to interview. He really wanted to do it again, so much that when we decided to do the other person, we were attacked. We had to bury him for our own safty.
And you took me hat. I want that back.

Sorry Hinckley. Zepher thought it looked like a boat and tried to sail away in it. It was lost at sea. But continue Zepher.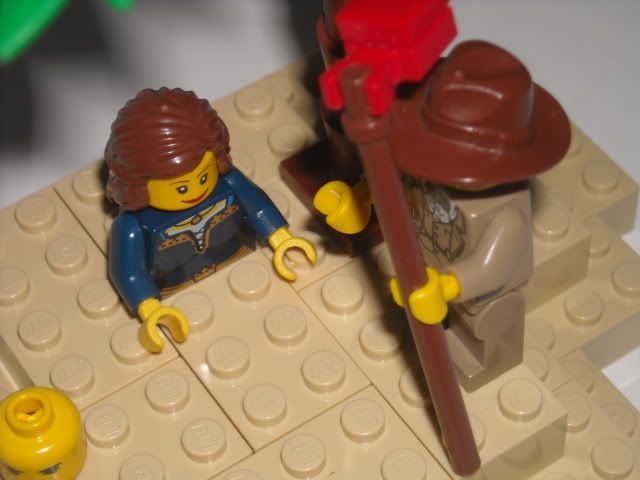 And here's who we did interview. Sandy. And she's buried in sand! Get it! This was all just an elaborate build up to that pun, but boy was it worth it!

You are no longer allowed to make jokes.

Anyway, here we go!
What's up with the name Sandy? Is it your real name, do you like it, or do you just visit beaches often?
It's actually a direct translation of my family name, "Hietanen", which is quite a common name in Finland. I adopted it as my screen name years ago, so I'm pretty much stuck to it now.
You're an AFOL, correct? Did you ever have a Dark Ages, and if so, how did you get back into the LEGO mainstream?
Yes, with 26 years of lived life behind me, I'm indeed an AFOL. I did go through Dark Ages, starting from my teens and ending about two years ago, when I got into LEGO again through the Fantasy Era theme (I've always been a huge fan of fantasy books and movies). Since I had missed out on many cool themes such as Harry Potter and the Adventurers during my Dark Ages, I had quite a lot of catching up to do, so I started to buy used sets from Ebay. I've now purchased pretty much all the affordable old sets I can, so I've been concentrating on fresh releases nowadays. But there's still some classic sets I crave for…

As a child, I wasn't pushed into any mold. I went from My Little Ponies to Turtles action figures (although April O'Neill was always my favorite), and my relatives supported my LEGO enthusiasm as well. Having Paradisa sets around at that time really kept my interest up, even though I also acquired Castle, Pirates and Western sets as well. I have all my old sets with me still (unlike my fiancé, who was unlucky enough to have all his childhood LEGO stolen from the basement of his old home).
Along with being an AFOL, you are also a FFOL (Female Fan of LEGO), which sadly there aren't too many of. Can you tell us what it's like to be one of the few females in this sausage filled LEGO world?
Eurobricks is actually the only LEGO community I'm a part of, and this place has been really generous towards us FFOLs. At times I've run into some sexist ways of thinking in certain MOCs and Brickfilms, for example, but most of the time the discussion here is gender neutral.

In my philosophy, our gender may define us biologically, but not mentally. Everybody's an individual, so saying things like "girls don't play with LEGO" really gets me riled up. Many girls and women do!
Tell us a little more about your real life. Where are you from, how old are you, what do you do for a living, so on and so forth.
Like I said earlier, I'm 26 years old. Adding to that, I live in the North European country of Finland. I've recently gotten engaged with my boyfriend of five years, and I also recently graduated, and I'm currently working as a kindergarten teacher.
Okay, on to your relationship with LEGO. What's a few of your favorite sets?
My all-time favorite sets include the 7419 Dragon Fortress and the 10193 Medieval Market Village, although all sets with historical buildings appeal to me. I'm most drawn to sets with female minifigs in them, although I do appreciate aesthetic designs and clever playability as well.
What's your favorite theme?
Harry Potter, no question about it. It offers an unbelievable selection of minifigs, beautiful buildings, fantastic fantasy elements and countless unique and rare pieces. I also collect Castle and other historical themes, with civilian-oriented City-sets on the side. Minifigs are by far the most important thing in a theme for me, as I don't display sets but build them once and then dismantle them for MOCing.
What's a few of your favorite MOCs you've ever built?
I haven't done very many MOCs that stand out, but my biggest effort by far is the "dollhouse-style" Hogwarts castle I showcased here:
http://www.eurobrick...showtopic=23987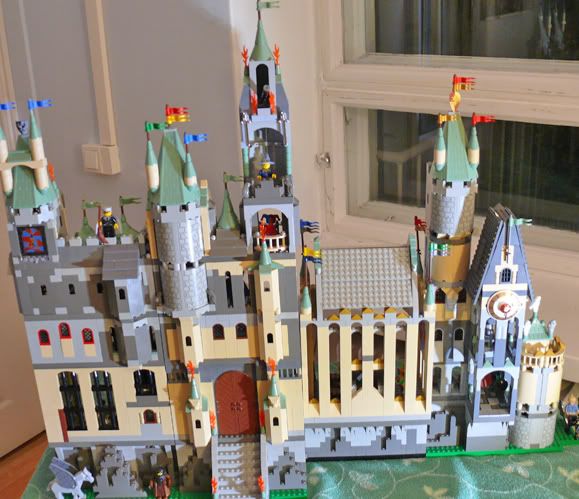 I intend to make an improved version of that one day, but I fear I still don't have quite enough tan pieces just yet. I also want to wait for the upcoming Harry Potter sets to get all the new minifigs for it.
Care to show us your building space?
Sure! I have my entire collection in our guestroom/study, crammed into a cabinet and under a bed. I do all the building on the floor, and photograph my MOCs on my desk. All the pieces are sorted into bins, containers and boxes of varying sizes, as you can see from this picture:
The MOCs I use for my projects are stowed on two shelves. I own 159 different sets, but as I said earlier, I do not display them. Here's the current roster of MOCs:
One day I wish to have all my LEGO sorted in a tidy and unified way, but I think every AFOL with at least a moderate collection of bricks agrees with me that it'll never happen. I'm just waiting in horror for the day when my collection outgrows the cabinet.

And now on to discussing your stay at EB. What has been one of your greatest moments on Eurobricks?
During my stay I've participated in several contests, raffles, Mafia- and Mystery-games, as well as showed my MOCs and commented other people's creations, discussed about countless of interesting topics, been accepted into the Fellowship and all around had the time of my life. But I have to say the best part of it all has been to be able to show my precious comics to you all and get awesome feedback on them that has really helped me on the way. But it looks like the next question is about them, so let's skip there.
You are a big Comic maker, with many successful projects such as Princess Quest, now completed, Time Crash, currently halted, and Queen's Quest, your current publication. Since I'm a comic guy myself, feel free to get into detail here. Tell me about each of your projects, what they meant to you, and what you learned about LEGO comic making from them.
I have always wanted to make comics, I just have never found a suitable medium to do that. LEGO offered the perfect solution for me – I just needed to learn how to photograph it. With the help of my fiancé, I think I've finally got it, though.

It all began with just a few Fantasy Era sets that I had purchased. I felt exhilarated to get my hands on the first LEGO princess I had ever owned, so I started to build a story around her, and Princess Quest was born. There was no way she was going to be a wimp that would just let evil wizards just snatch her and lock her into a bony cage like in the original set, 7093 Skeleton Tower. No, she was brave, kind and talented, and ended up fulfilling her quest to save her country (although with a great cost). PQ was the ultimate feministic fantasy, and I'm happy I finished it.

Now Time Crash isn't exactly a comic, but an interactive story illustrated with LEGO. I was heavily inspired by Batbrick's Interactive Apocalypse, but I also wanted to use minifigs from the variety of themes I had collected, and not concentrate on one theme only. So naturally the story was about a twist in time. Sadly my concentration went to other things, and Time Crash was forsaken. There has been some questions from time to time if I'm ever going to continue the story, but I guess only time will tell (pun intended).

Queens' Quest is the result of me wanting to return to the world and characters I created in Princess Quest, and expand on them. I hope the multitude of characters doesn't confuse people too much, because it's going to become quite a soap opera when the story progresses. I've been meaning to publish the next chapter all summer, but all my energy has been sucked up by the Mafia-game I'm hosting. Which I will apparently talk about next, heh.

In closing, I think comics are still the best way for me to tell the stories floating in my head. I don't have the stamina required to become a novelist, nor do I have the technical knowledge to start making films, so comics are the perfect middle road for me, with their combination of text and visuals.
Hogwarts Mafia, a game you recently hosted, just ended. Can you tell us about the experience of hosting, what you thought of the players, and how doing your newer take on Mafia worked out for you. Also, Shadows said if I wanted to keep my job, you had to throw in some praise for him

Oh, Hogwarts Mafia has been a blast through and through. It is so satisfying to see the characters and night actions I planned for the game come to life after waiting over half a year for my hosting turn. I hope I have brought some new life to the EB Mafia games that did began to repeat themselves somewhat in my opinion (no offense to the previous hosts, of course).

On another message board, I was actually a moderator of the forum games section for quite a long time, and I learned the ropes of efficient game hosting there. It's always been about innovation with the games I've created, I want to experience new things and try out my wild ideas. And forum games offer that in a perfect way for me.

Now I'm just anticipating for a new RPG to launch in EB (hint hint, Dragonator).



As for Hogwarts Mafia, it's still unfinished, and all options are open. All the characters feel dear to me, and that's why it's such a bittersweet sensation to see them getting picked out of the game one by one. But that's what the thrill of the Mafia games is all about.
That hardly praised me at all.
I'm disappointed too.
Who should we interview next?
You should definitely interview the other FFOLs on this website, I'm sure you'll get very different stories from mine.
So now we completely ignore that, correct?
You learn quickly.
Anything else you feel needs to be exposed about the real Sandy?
Heh, there's layers upon layers of me to expose. Aside from being a LEGO enthusiast, I've also done a lot of acting in my youth, I'm a total cat person and a huge fan of Final Fantasy videogames, I intend to start studying Japanese this fall, and I'm a candidate for the upcoming Finnish Parliament elections as well. Just to name a few examples.

This is EB News signing off! Everyone wave!
Zepher!!! Sandy!! Look, a boat!
What?!
YES!
Salvation, finally. Help me dig her up Shadows.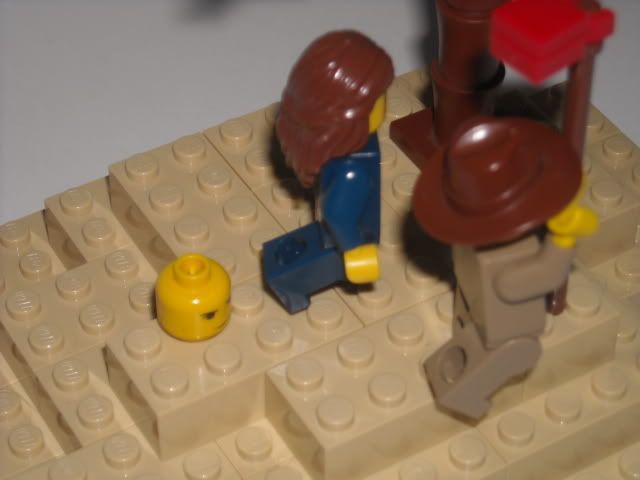 Hey guys...? Shadows? Zepher? Come on fellas! You can't be serious.
Sandy? Anyone?
Crap.
Edited by Zepher, 02 September 2010 - 06:38 PM.