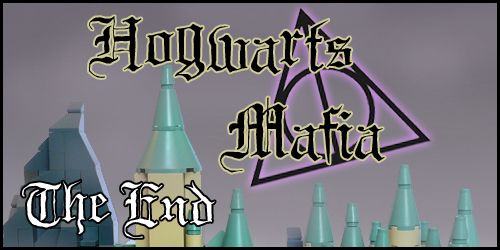 All things must come to an end.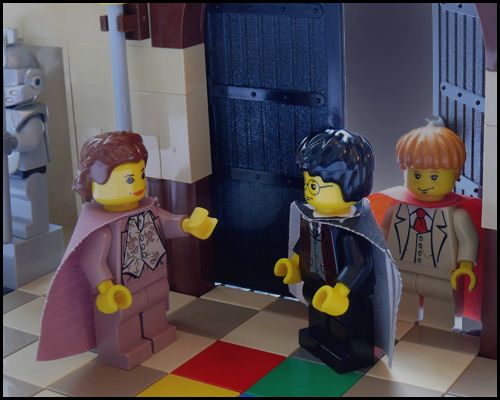 Minister of Magic Hermione Granger-Weasley was already waiting at the door when her friend Auror Harry Potter and husband Auror Ronald Weasley returned to Hogwarts to bring news from New Azkaban.

"It's not good", Auror Potter said grimly. "It turns out Loki Malfoy was

innocent

as well. What's worse is that he's dead now, and so are all the other kids we sent to Juvenile Azkaban: Angela Weasley, Nene Grandstaff and Todd Bulstrode. All found murdered to their own beds."

"Oh, that's horrible!" the minister gasped.

"We suspect the elf killed them, but we found no evidence", Auror Weasley said.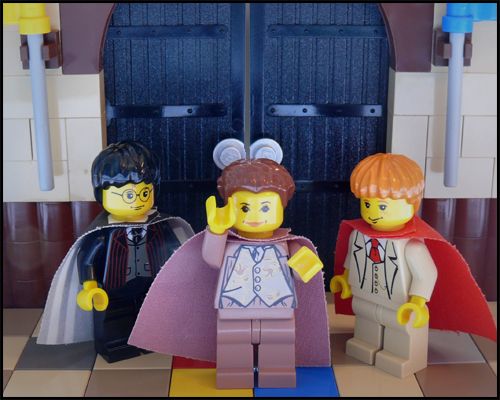 "This means that Hogwarts is in deep trouble now", Minister Granger-Weasley said sadly. "We should go warn the others, even though we cannot trust them."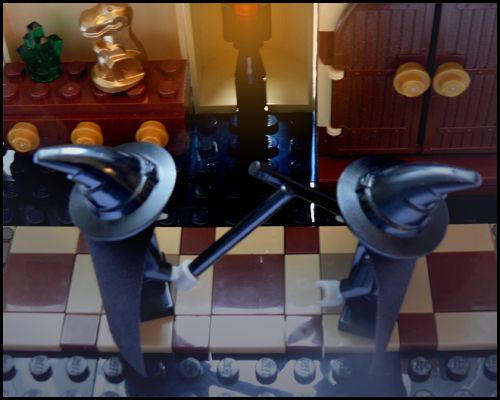 The Death's Hallowed had donned their black uniforms again, and prepared for another night of terror.
"The horcrux has reacted more strongly each passing night", said Brigelda Hearth, the Master of the cult of the Death's Hallowed. "I have a gut feeling we only need one more kill to activate the resting soul of the Hallowed Rising."

"With the Time-turner and my new Dementor at hand, it should be no problem", Eloquence Malleus agreed.

Both women had been members of the cult long before they infiltrated the Hogwarts faculty along with Crudo Alakhazam. They had spent years searching for the horcrux that they knew had been in the possession of Albus Dumbledore, the former headmaster of Hogwarts, preparing for the day that their true ruler would rise again.
"It's almost midnight. Let's not mess up, and maybe our years' work will be fulfilled this very night", Brigelda Hearth said.

"You must mean you shouldn't mess up. The others don't even suspect me", Eloquence Malleus boasted. Then the two split into opposite directions.
Brigelda Hearth first went to the Hospital Wing, where the poisoned Xander Lovegood was bed-stricken.

"Oh, Madame Hearth! *Cough* Have you finally come to heal me? *Cough*" But why are you dressed up so *cough* oddly?" the Gryffindor boy asked meekly.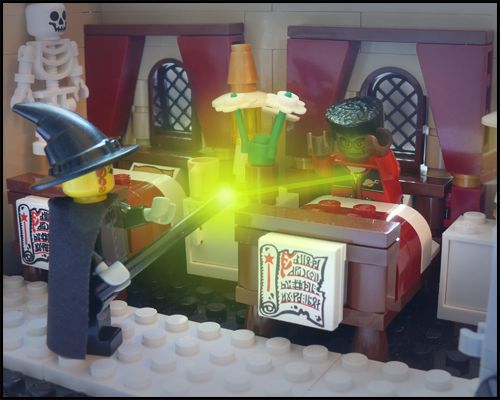 "So I could better kill you, my dear", Nurse Hearth laughed. "Avada Kedavra!"

The curse hit the adoptive son of the Lovegood family, killing him instantly.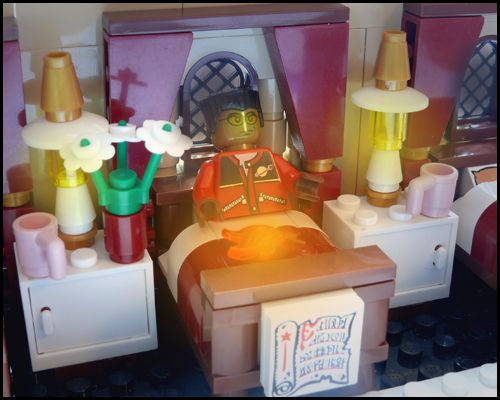 But as soon as Brigelda Hearth had left the Hospital Wing, the Phoenix feather that Xander had gotten after Angela Weasley was convicted started to glow brightly.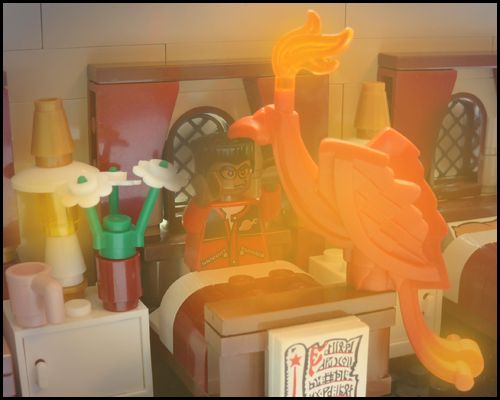 In a flash the feather transformed into a full-grown Phoenix, that let out a single, heart-wrenching wail before burning to ashes again.

The ancient revival magic did its trick, and Xander Lovegood lived again, healthier than ever.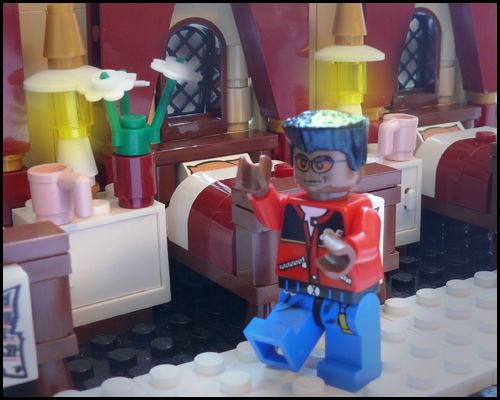 "So Madame Hearth is the killer! I've got to tell the others! But not before retrieving my wand..."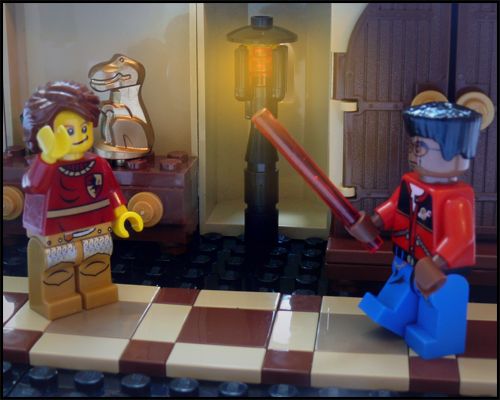 In the corridor Xander bumped into Rocky Broomwell.

"Hey, Xander, you're looking swell! Listen, I'm looking for the Time-turner, because I think it's the hor-whazzamacallit everybody's jammering about. Do you happen to know where it is?"

"Behind you!"

Rocky turned, taken by surprise.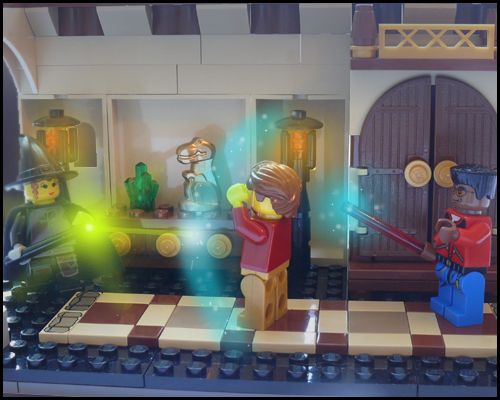 But it wasn't the Time-turner he saw, but its owner, Brigelda Hearth.

"Avada Kedavra!" she screamed, but at the same time Xander cast a spell of his own. "Protego!"

The curse bounced from the magical shield without any effect.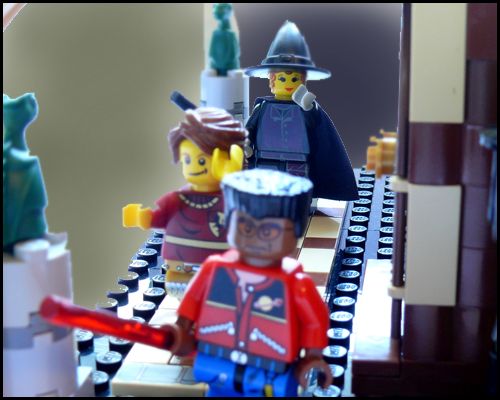 "Run for it!" Xander yelled at his housemate. Brigelda Hearth was left gritting her teeth.

"Oh well, there's always Plan B..." she said.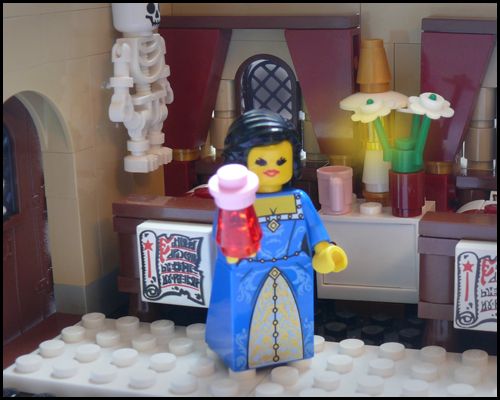 Back at the Hospital Wing, Sicilia Bathory was looking for Nurse Hearth as well.

"I can't believe I'm doing this, but if she really is the killer, this Amortentia will prevent her from harming me."

The Potions teacher was oddly fascinated about the thought of the good-looking nurse worshipping the ground she stepped on. Sicilia Bathory felt a blush spread on her cheeks.

That blush was quickly taken away by a sudden chill she felt.

"Oh my, I didn't know you had such inclinations, Sicilia-darling", said the voice of Eloquence Malleus behind her. "Why didn't you tell me sooner, we might have had some fun."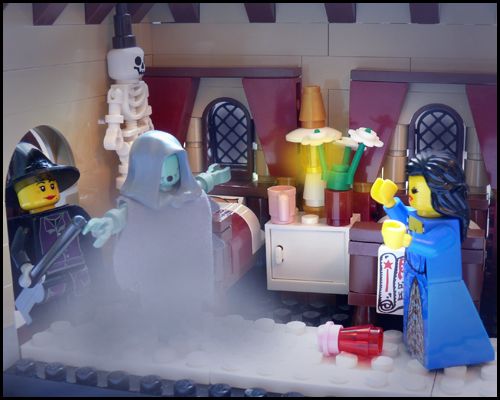 Turning around, Sicilia Bathory saw the teacher of Transfiguration dressed in black robes, accompanied by a dreaded Dementor.

"Alas, I have brought someone else for you to kiss", Eloquence said sweetly, pointing at the Dementor. "Get her!"
As the Dementor gave Sicilia its deadly kiss, Eloquence Malleus couldn't help but to laugh.

"Get a room, you two!"
When the Death's Hallowed and the Dementor had vanished, Jolie Jadis removed the invisibility cloak she had been hiding under. She had sneaked into the Hospital Wing to steal something that belonged to Madame Hearth, but the horrible scene that she had just witnessed had made her frozen in place.

"I have to tell the others about Miss Malleus!" she said to herself.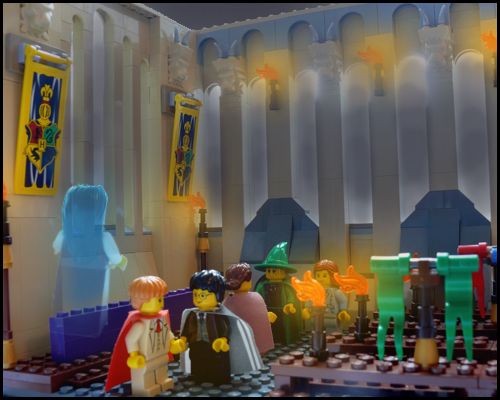 The Minister of Magic and the Aurors had made their way to the Great Hall, where they had been joined by Headmistress McGonagall, Valerie MacArthur and the ghost of Tea Ching.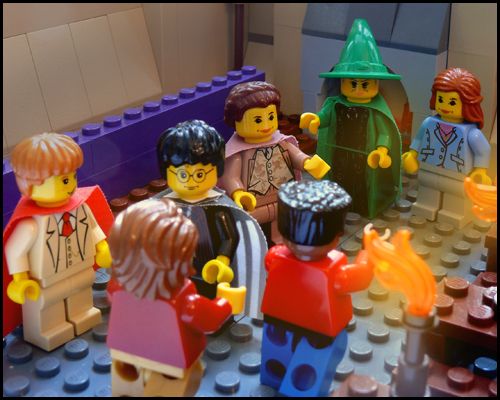 Rocky Broomwell and Xander Lovegood came crashing in, hurriedly warning the others of Nurse Hearth's treachery.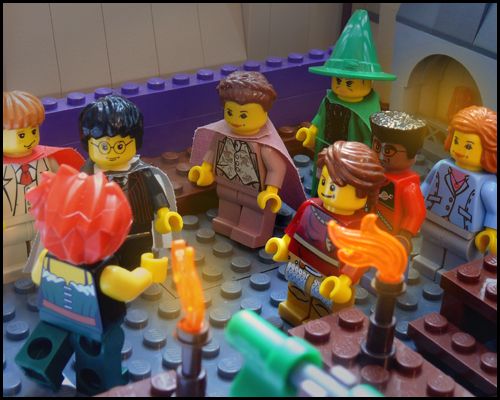 Soon after them came Jolie Jadis, informing that Eloquence Malleus was a Death's Hallowed too, and that Sicilia Bathory was now dead.
"This has to stop now!" Auror Potter said fiercely. "We now know who the enemies are, so we can get rid of them once and for all. You all wait here while me and Ron go hunt them down."

"Please be safe, you two!" Minister Granger-Weasley said.

"Don't worry, my love", Ron Weasley said with a big encouraging grin. "Me and Harry are Aurors after all, we can handle a few Dark Witches."

"Remember to lock the doors behind us", Harry Potter adviced.
As they searched the castle, the Aurors found the Time-turner lying on the floor of the entrance hall.

"Look! The Hallowed killer must've dropped this here" Ron said, picking up the device.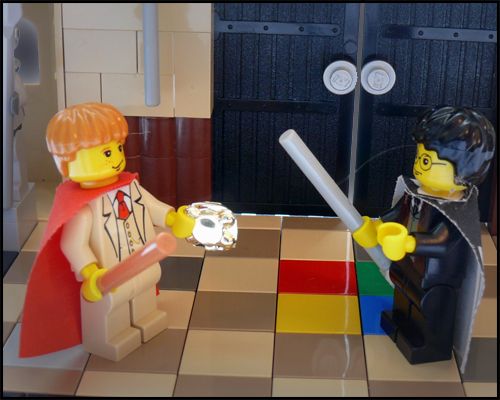 "Hey, I can use this to go back in time to midnight and save Miss Bathory!" Ron thought out loud.

"It's risky, but if anybody can do it, it's you, Ron", Harry encouraged.
But of course it was a devious trap set up by the Death's Hallowed. The second Ron Weasley appeared in the past, Brigelda Hearth aimed the killing curse at him.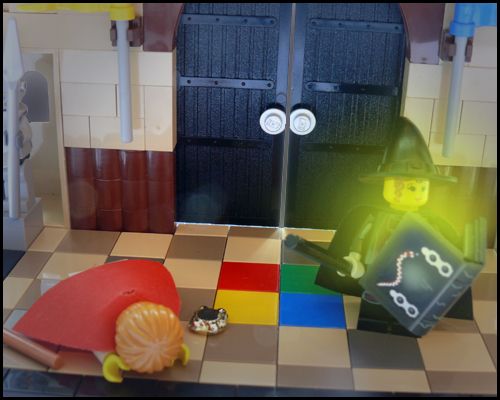 It turned out that the Auror's soul was the last one needed to activate the black grimoire that was the horcrux of the Hallowed Rising. The book started to glow eerily.

"Ah, it is time at last!" Brigelda said.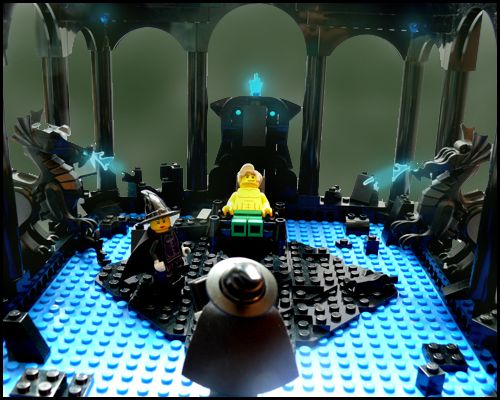 The nurse made her way down to the Chamber of Secrets that had once been sealed but was recently reopened by the cultists. Eloquence Malleus had arrived there some time before her, having successfully unleashed the Dementor on Sicilia Bathory.

In the middle of the old Basilisk's pond was a stone chair, and bound to it was Professor Qubert Lastrada, who had been abducted nine days ago, and had been held captive in the chamber ever since. For nine days and nights the teacher of Defense Against Dark Arts had pleaded, begged and cried for his captors to either let him go or kill him, but the Death's Hallowed wanted to use him for something.

"Your suffering ends here, Qubert", Brigelda Hearth announced regally. For a moment, his hope lit up.

"You will get an honour incomparable to anything else. You will be the vessel to which the Hallowed Rising will settle into. Your body will be his, while you yourself will finally be relieved of this world."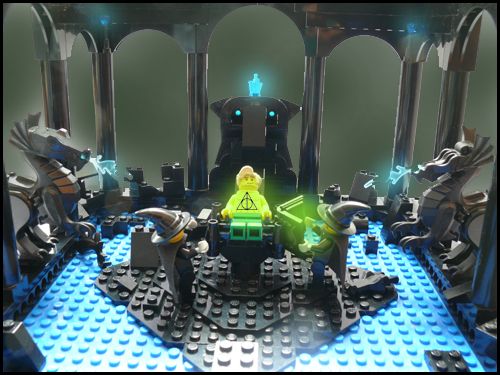 Qubert wanted to scream, but his throat was too dry. Then the Hallowed began their spell. They carved something into his chest, and his insides boiled and froze both at the same time.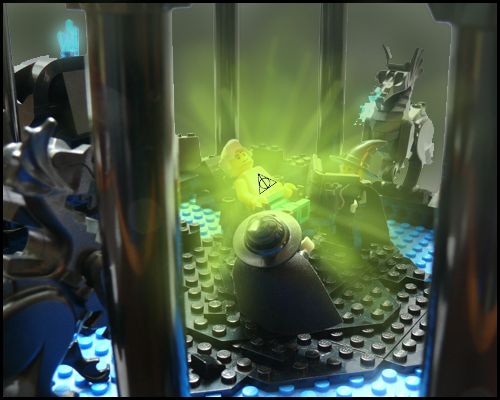 The last thing Qubert Lastrada ever saw was a brilliant green light bursting out of his chest as the soul captured into the horcrux took over his body. Then he was Qubert no more, but the Hallowed Rising.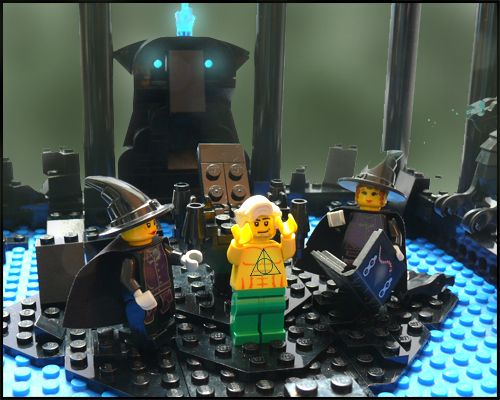 The two women quickly released him from the bounds.

"Master Grindelwald? Is it truly you?" Brigelda Hearth asked as the man stepped out of the chair and streched his limbs.

"Ah, you must be my loyal followers", Gellert Grindelwald said. "And what a fine body you found me. In this shape I can finally get back at that novice Voldemort who dared to kill me."

"Actually, he's dead already", Eloquence Malleus remarked.

"Oh... Well, that leaves me more time to cause havoc and mayhem to this world that treated me like a worthless worm. I need a wand."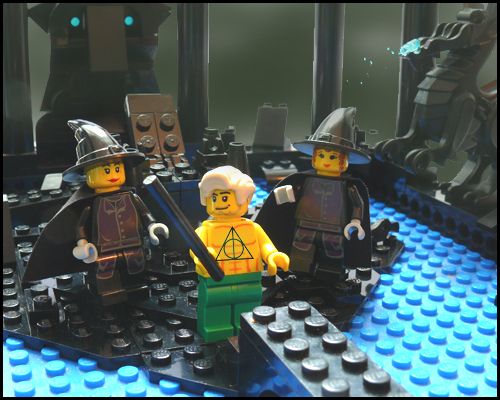 "Here, Master", Eloquence said, quickly giving Grindelwald the Elder Wand that they had taken from Albus Dumbledore's grave. It was one of the most powerful magic wands ever created, and it had belonged to Grindelwald once. Like all wands, it chose who could use it effectively, and as soon as the resurrected dark wizard took it into his hand, the wand chose him again.

"Where are we now, by the way?" Grindelwald asked casually, measuring the wand.

"Underneath Hogwarts, Master", Nurse Hearth answered.

"Good. I've always dreamed of destroying it, just to piss off Albus."

"Umm, Albus Dumbledore is dead as well", Eloquence quipped in.

"Damn it. There must be someone I can kill!" the dark wizard cursed.

"Oh yes. Just follow us", Brigelda Hearth said, with an evil grin spreading to her lovely face.
After his friend and employee had vanished back in time, Harry Potter returned to the Great Hall. Much to his shock, he found the others gathered around Ron's lifeless body.

"What?! What happened?" he asked.

"We found him like this from the trophy room", Headmistress McGonagall answered. "He had been there the whole time. I am so sorry, Harry."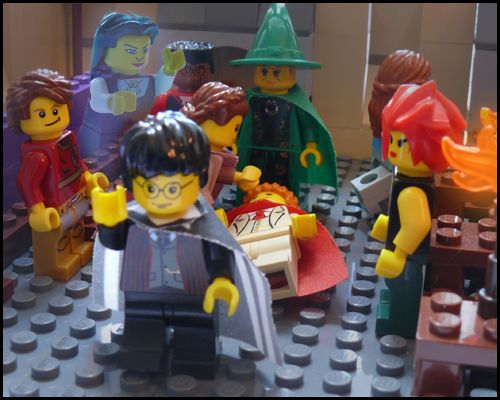 "Sorry doesn't cut it! I've lost my best friend to this damned school! I wish we never agreed to your foolishness, Minerva! Voting, discussing, waiting... Look where it got us!"

Trembling with anger, Harry Potter turned his back to the others.
Suddenly a loud bang came outside the Great Hall. Then the main doors that were supposed to be locked swung open.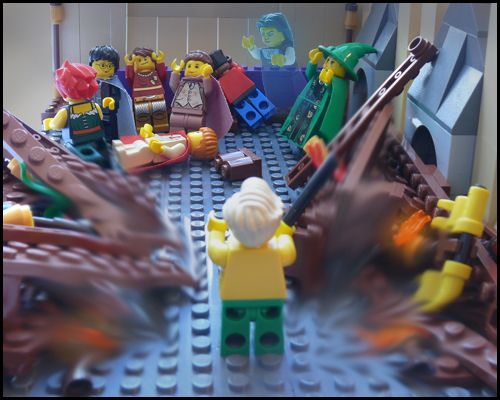 A barechested figure entered the hall, sending the long tables and benches flying against the walls with a flick of his wand.

Sensing danger, Jolie Jadis quickly threw her invisibility cloak over her head and vanished.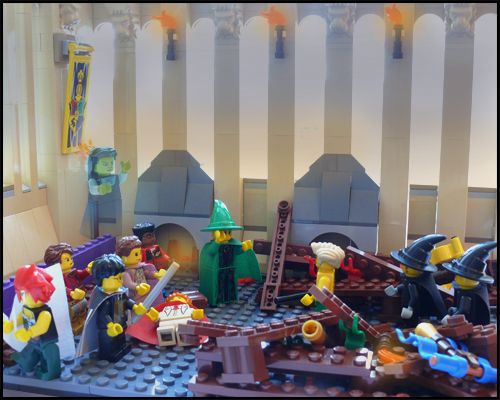 "Professor Lastrada! You're alive!" Headmistress McGonagall gasped. Then she saw the dark-robed Brigelda and Eloquence following him. "What is this?"

"You must be the headmistress of this school. My followers told me you are a persistent woman."

"How did you get in?" the minister wondered.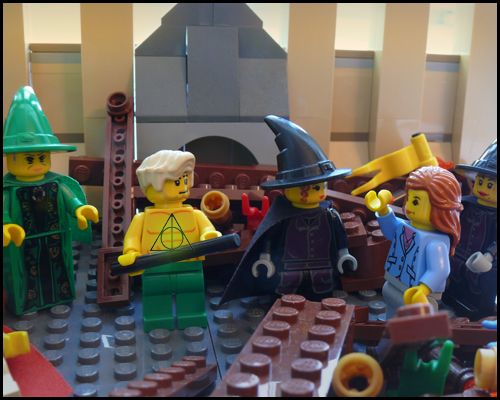 "Oh, you didn't know? It turns out I had a third follower among you", the man who used to be Qubert Lastrada answered.

Valerie MacArthur stepped in, and waved at the others. "Hi guys! Bye guys!"

"She's quite correct", the man said. "Now you all get the honour of dying in the hands of Gellert Grindelwald!"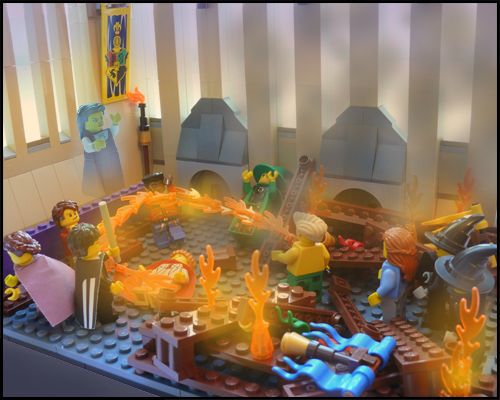 Grindelwald raised the Elder Wand, and conjured a whip of Fiendfyre from its tip. In a blink of an eye it engulfed Minerva McGonagall, Xander Lovegood and Rocky Broomwell.

"Run, Hermione!" was all Harry Potter managed to say before he was swallowed by the enchanted flames as well. His body shielded the Minister of Magic enough for her to make an escape.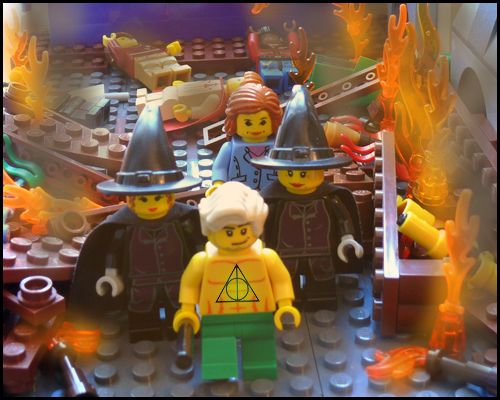 "Our job here is done", Grindelwald announced, and motioned the three women to follow him.

Leaving the smoldering remains of the Great Hall behind them, the Death's Hallowed left Hogwarts to continue spreading their reign of terror elsewhere.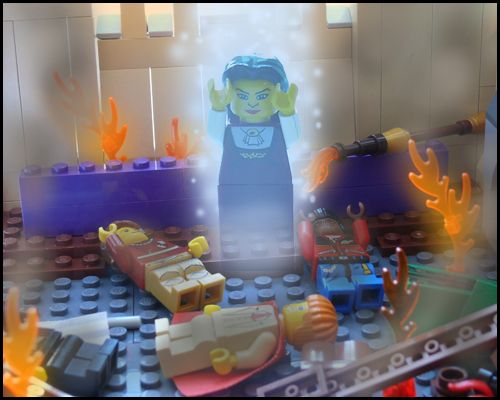 The ghost of Tea Ching observed the carnage below her. She had been unable to help the other innocents to vanquish the Death's Hallowed, but this was one kind of a resolution as well, as terrible as it was. Tea knew she had done everything she could for Hogwarts, so her conscience was finally clear, and she was able to move on.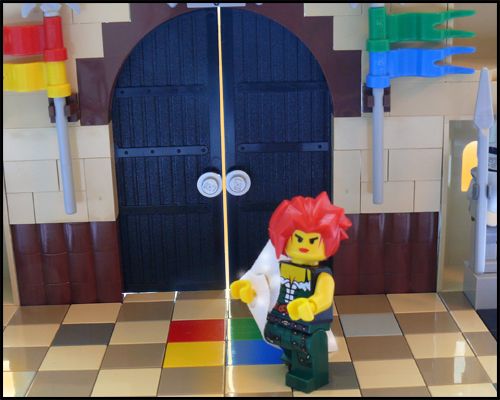 At the entrance, Jolie Jadis took off her invisibility cloak.

"Oh no, am I the only one left alive? All I ever wanted to do was survive through this ordeal, but now I almost can't believe I've done it."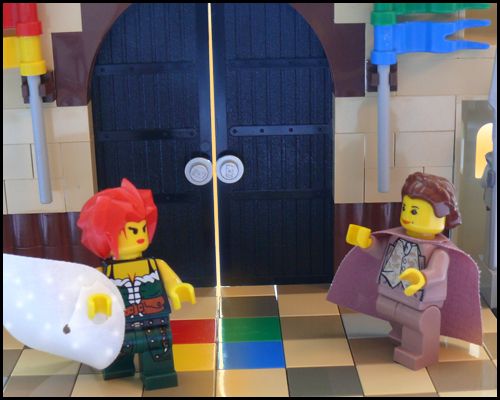 Suddenly she heard running steps behind her, but instead of the Hallowed she saw the Minister of Magic.

"Miss Jadis, you made it out too!"

"Where are everybody else?" Jolie asked.

"They're... gone. But we must move quickly, my car should still be parked in the driveway. Come, before the Hallowed get here!"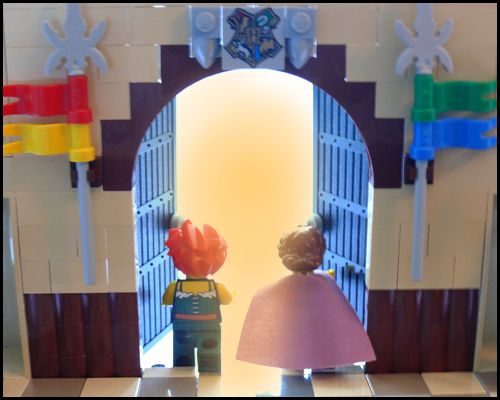 Together Jolied Jadis and Hermione Granger-Weasley ran out to the morning light to spread the news of the destruction of Hogwarts and the rise of a new evil.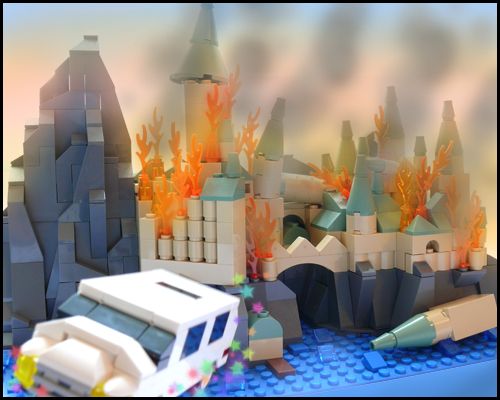 Those nine days of terror and suspicion lead to a long and bitter war against the resurrected Gellert Grindelwald and his cult of Death's Hallowed. Eventually peace returned, but Hogwarts was damaged beyond repair, and the legendary School of Witchcraft and Wizardry never opened its gates to children with magical talents again.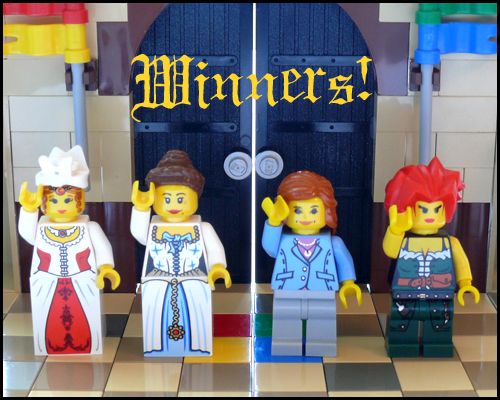 Congratulations to WhiteFang, Shadows, Inconspicuous and Lord Arjay for winning Hogwarts Mafia!
A huge thanks to all 25 players, I hope I managed to host a fun, exciting, flashy and innovative game for you guys. Sorry for the long conclusion, I just wanted to bring the story to a proper finish.
After two months and nine game-days, this is really the end of Hogwarts Mafia. Please, share your thoughts, comments, strategies and feedback in this topic. The word is free to everybody.