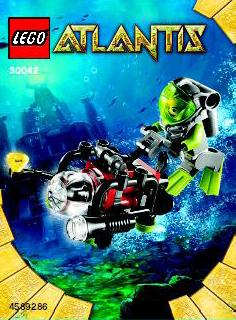 Name: 30042 Mini Sub
Theme: Atlantis
Pieces: 41 (inc Minifigure)
Minifigures: 1
Price: £2.49
Release: 2010
Brickset
Bricklink
I picked two of these up in Tesco yesterday for a good price. The set is very good considering how small it is, and it fits right in with the ret of the sets in the
Atlantis
line-up!
Lets get on with the review...
Packet & Instructions:
The front shows the Submarine cutting through the deep waters, with the Portal Structure in the background. The back is just lots of writing and a barcode, so nothing too special here.
The instructions are standard size for a promo set, and come folded.
Here is a picture of the assembly page...
The back shows the sets from the first wave.
I noticed a difference between the positions of the arms on the packet and instructions. On the latter they are facing inwards, but I think the packet-art looks more accurate.

Parts:
A good selection of pieces with some interesting highlights...
The head is double-sided; one side a happy expression and the other a heart broken expression. Reminds me of Captain Antilles from Tantavine IV!
The Build:
Not complex at all, but I speak as a TFOL and not a small child.

Random stage:
This picture shows the use of a white stud in the front headlamp/computer hub.
A nifty technique is incorporated half way through the build making the side suports more sturdy.
Finished Product:
Viewpoints:
The back propeller is fastened on by a technic pin.
Spares:
Who doesn't want a couple of spare studs and a grey technic pin?

Ratings:
Parts: 9/10 ~ Great selection for a set this size
Minifigures: 10/10 ~ The figure is highly detailed, and I can't imagine more than one in a promo, so it's full marks!
Build: 8/10 ~ Pretty average build which leads up to a good model, with some nice techniques along the way!
Price: 8/10 ~ Could be a little cheaper, but it was still worth it!
Playability: 8/10 ~ Good for swooshing and picking up LEGO objects, but nothing much apart from that.
Overall: 86%
Parting picture;
"Fear us, beasts of the deep!"
Edited by WhiteFang, 18 August 2010 - 03:32 AM.
Indexed and poll added