0
3 replies to this topic
–
Started by
Mister Phes
,
Apr 17 2006 04:33 PM
Posted 17 April 2006 - 04:33 PM

23b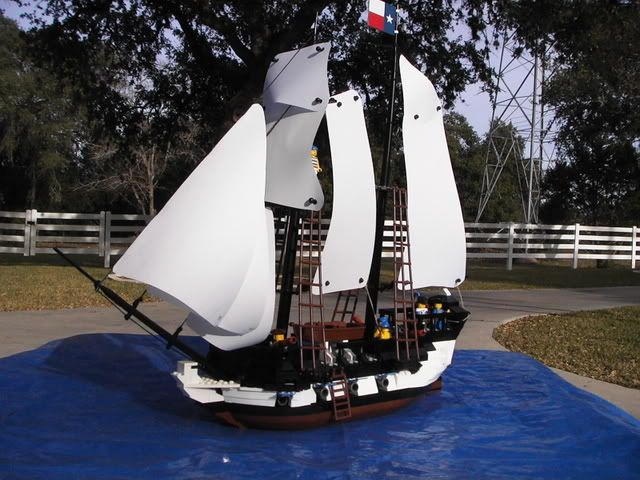 The images are huge so view them in the
Brickshelf Gallery
---
Posted 11 June 2015 - 01:56 PM
I decided to travel back in time to look at much earlier post. I found this! I really like this ship! When you built this back in 2006 you did a good job!

---
Posted 14 June 2015 - 06:02 AM

Jreacher, on 11 June 2015 - 01:56 PM, said:
I decided to travel back in time to look at much earlier post. I found this! I really like this ship! When you built this back in 2006 you did a good job!

I am quoting this from
Revisiting old topics (Bumping)
, so you're aware Jreacher. You may want to read the entire post in the previous link.

Sinner, on 18 July 2010 - 03:16 AM, said:
I'm revisiting this old topic to remind people of our stance on this!

In summary;
...
4.
LEGO MOCs do date, but once again if you have something important to add then it's OK. It may sound lame, but
knowing the original poster or being a long term member really makes the difference here.
...
In short, it's all common sense and it's hard to make clear rules about it. Feel free to consider these them if you want!

One thing that I need to emphasise is why reviving old threads can be a bad thing. Here's a few;
1.
People come and go and times and opinions change. Quoting someone, asking a question, or just assuming something based on past posts can annoy members and cause offense.
2.
There's only room for so many recent topics and each bumped one bumps out another. (This is especially in the BSTF forum.) This makes it hard to find the real new topics and can cause silly topic bumping wars and make a mess of everything. This is really annoying for people who don't have much time and find that the "new" topic they opened is really something they read last year that was bumped so someone could say "that's Kool!".
...
If you have any further questions please ask away!

Well, since the topic is bumped...
This is an eons old topic that was a brickshelf find built by RTN LNA. He joined EB Nov. 2006 after this MOC was posted, and he has not been active since 2011. He posted most of his MOCs after he joined in
this topic
. I met him at
Brickworld Chicago in 2009
. Due to my tendency to be introverted, I likely seemed socially awkward at best when I was able to talk to him for a limited amount of time.

Please don't bump these topics too.
He was also the first person to attempt to create a
Sorted Ship Index
, which took a lot of work. This ship index has recently had a major overhaul, but the basic organization method was retained utilizing the framework that RTN LNA had laid out in his original index.
New Member? Read This | Questions? Need Help? Ask Here
Site Guidelines | Eurobricks FAQ | Visual User Guide

Pirates don't hunt for treasure. They bury it- I mean we bury it. - Captain Kirk




Those who have the disease called Jesus will never be cured. - Brennan Manning
---
Posted 18 June 2015 - 04:05 AM
Due to the momentary lull here in the Pirates world I'm going to leave a reply to this post even though it is by now a relic from the Stone Age. The pictured vessel is OK, but RTN LNA's body of shipbuilding work is one that has stayed in my mind since first viewing it as a lurker late in 2013. I frequently find myself drawn to rare or unusual material, and his brilliant paddle steamer and monitor both left very good impressions. I realize most shipbuilders on this forum prefer earlier vessels, but it's nice to see a little more variety occasionally and RTN had just that. A while back I was digging through the old ship index and upon seeing he had created it my mind was drawn to the collection from Phred's response. Somehow I didn't expect an index from him but he certainly did a pretty good job of it. I believe he was a true ship lover - and he left his mark in a very good way.
Edited by Captain Dee, 18 June 2015 - 04:09 AM.
---
---
0 user(s) are reading this topic
0 members, 0 guests, 0 anonymous users