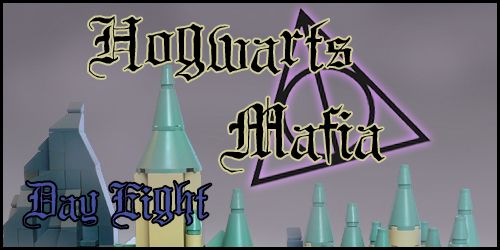 The following night saw some truly bizarre coincidences. With the Auror guards gone, the Death's Hallowed seemed to get an upper hand on matters.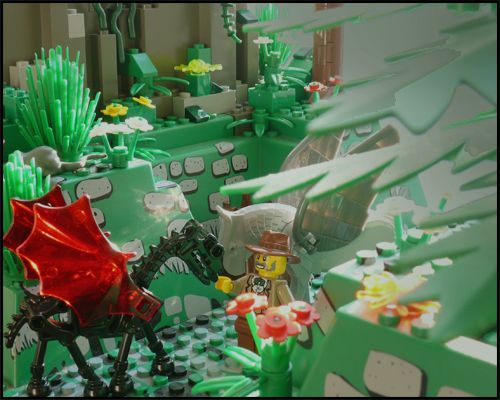 Professor Rhubarb Uxley hailed from the land down-under, Australia, that had the most unique wildlife on the whole planet - or so Uxley had thought before he had visited the Forbidden Forest. Now the grim preserve was his favorite place on the whole world. He had tamed numerous beasts and monsters that lived there, but he could not think of using them for evil, unlike his most devoted student, Brandon Townsend, had done.

The thestrals and the hippogriffs and all the rest were Rhubarb's friends, even though they understood his twisted sense of humour even less than the people of Hogwarts. The old prankster had lost pretty much all credibility among the school's faculty, so every time the atmosphere became too stiff, Rhubarb sought solace from the forest and its creatures.
As he was petting some of the beasts that he had familiarized with, suddenly something upset them and they fled. Turning around to see what had caused the disturbance, he saw a dark-robed figure.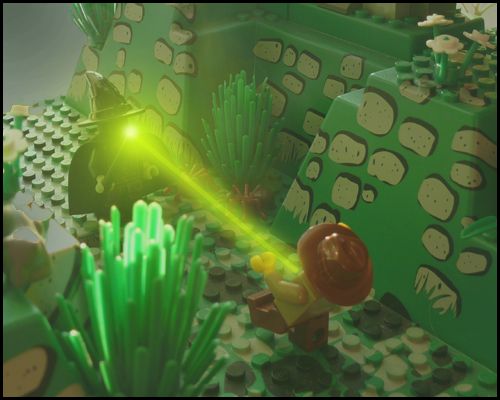 "So, I'm next, huh?" Rhubarb asked with a wide grin on his face. No use fighting it, he thought.

"Oh yes, I've been waiting for a chance to wipe that smirk off your face for good", the dark figure answered in disdain. "Avada Kedavra!"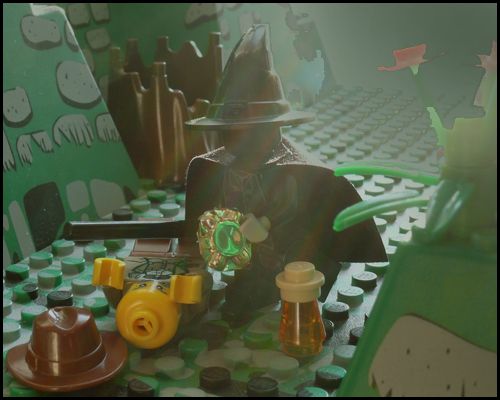 The Death's Hallowed searched Rhubarb's body, and found a potion and a rare artifact.

"So this is how that screwball got around to do all those pranks! I bet this enabled him to use those mysterious votes, too. Well, it's certainly nice to have this all to myself now..."

Satisfied with the loot, the dark figure returned to the castle.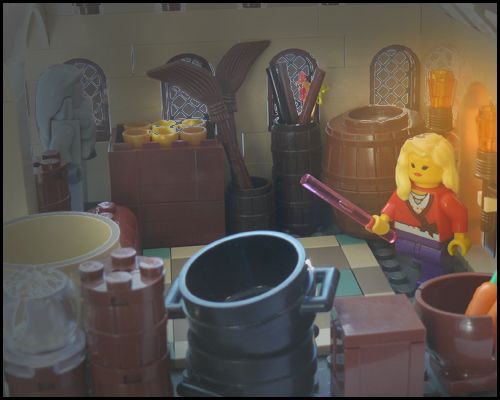 Desiree Jackson had looked everywhere for her target, but so far to no avail. Finally she arrived to a solitary storage room.

"Not here either, huh? Where could he be hiding? I want some petrifying to be done!"
"Boo!" shouted someone behind her out of a sudden. Desiree shrieked and dropped her pearly pink wand. Seeing a dark-robed figure enter the room, Desiree found herself petrified - with fear.

The figure laughed mockingly. "Little girls should stay in their beds at night, or else the boggart will snatch them."

"Y-you're no boggart! I-I-I'm not a-afraid of you!" Desiree mumbled, failing to sound even a bit defiant.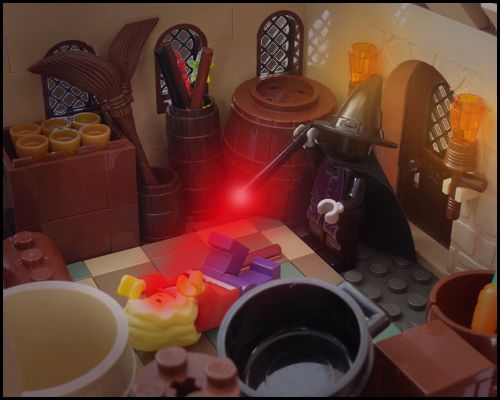 "Oh? You ought to be. Crucio!"

A stream of bright red light hit Desiree, and she hit the ground in agony.

"Now, little Miss Jackson, tell me what other tricks you have up your sleeves besides Petrificus Totalus?" the figure interrogated.

"N-nothing, I swear! Please, stop! It hurts so much!" Desiree begged. "Please, I'm telling you the truth! I only have that one spell left! I already used my Amortentia potion and the scarf I had! Pleeeease!"

The dark figure humphed, but stopped.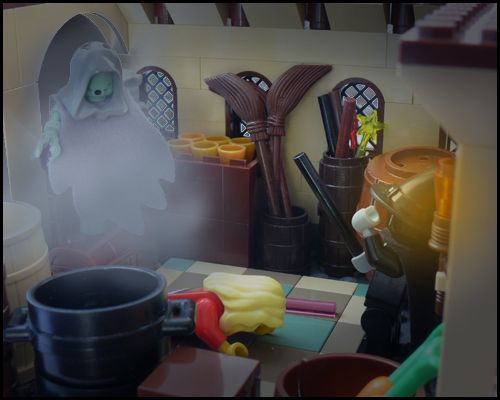 The pain subsided, but a sudden chill overcame Desiree. The dark figure looked up.

"Oh, it looks like my baby has arrived. It's so nice that those nasty Aurors aren't here to bother you anymore. This one is all yours, darling, she was useless to begin with."

Another shriek escaped Desiree's lips as she saw the Dementor sliding over her.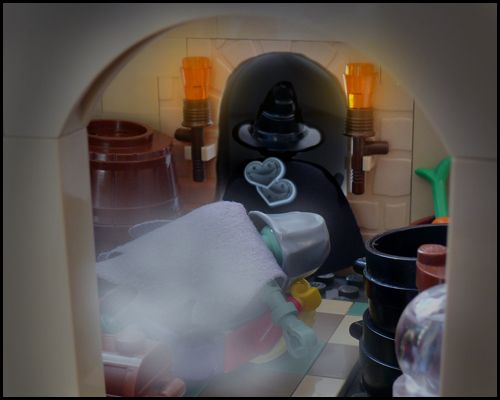 "Pathetic little girl..." the dark figure said as it left the storage room, leaving Desiree in the Dementor's deadly cold embrace.
Elsewhere in the castle, Jolie Jadis sneaked towards her next target.
Sensing someone coming, she hid in the nearby cabin.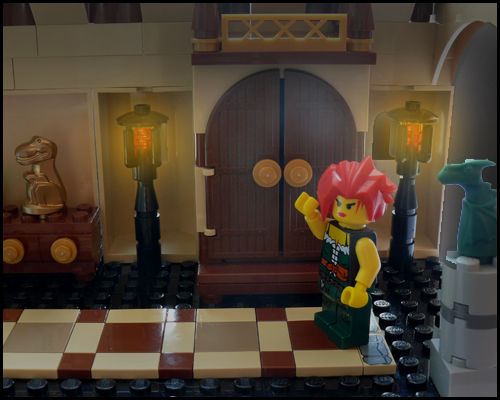 Another Jolie Jadis walked into the corridor from the opposite direction, wondering what was the voice she had heard.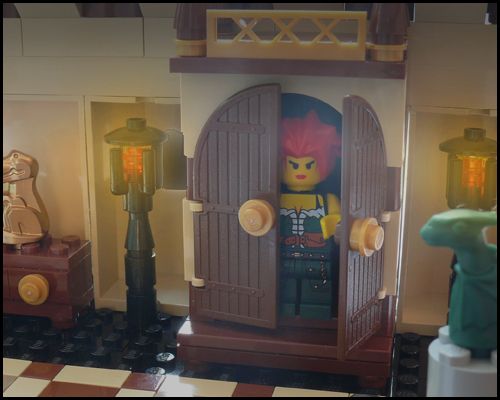 When she had passed, the first Jolie Jadis let out a sigh of relief. Who knows what would've happened if the two of them had encountered each other?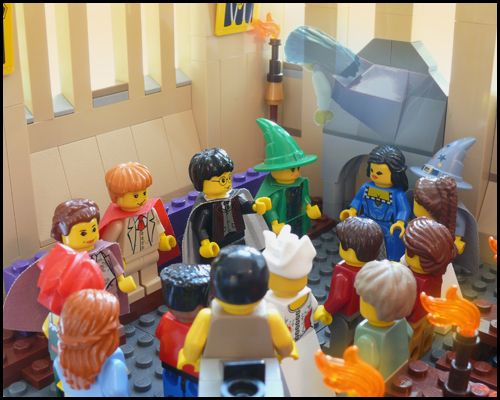 The eight day after the initial attacks dawned. The number of the residents of Hogwarts had twindled down to twelve and a ghost, excluding the guests from the Ministry. Auror Potter recounted the results of their investigations.

"It would seem that the mischievous house-elf Jingle had indeed allied himself with the

Death's Hallowed

. You have managed to smoke out two of them, but there must be more among you, for two

innocent

lives were lost last night: the venerable professor Rhubarb Uxley and the fair Desiree Jackson from the Gryffindor House."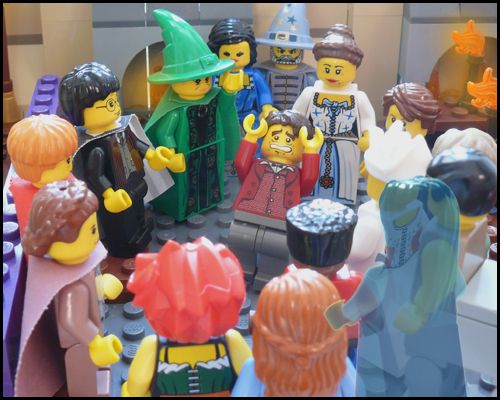 Hearing this, Professor Neville Longbottom burst into an agonized wail.

"Nooo, Desire! My one true love! How can this be?" he cried and bellowed. The others looked at the Head of Gryffindor in shock and dismay.

"Professor Longbottom", Headmistress McGonagall gasped. "Are you saying you had an affair with an underaged student?!"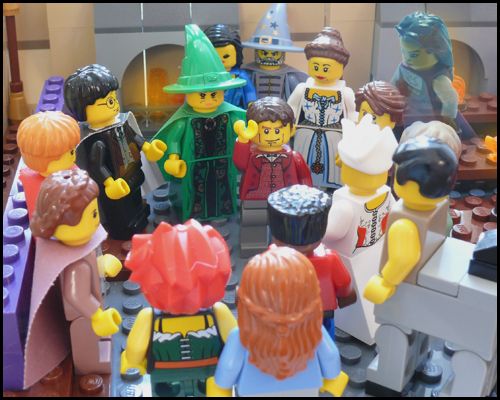 "Uh... I don't think I had", the teacher of Herbology said, confused. "I thought I was deeply in love with her, but as I speak, those feelings are going away. We never did more than hold hands, anyway."

"Sounds like a classic case of an abuse of Amortentia, the strongest love potion there is", said Professor Sicilia Bathory knowingly.

Shrugging it off, the crowd began going through the events of the night once again.
Rules:
1. There are two opposing sides in this game, the Death's Hallowed and the Innocent. The Death's Hallowed win when they outnumber the others. The Innocent win when they've vanquished all of the Death's Hallowed.
2. Each day, the players will vote out one amongst them with a majority decision. To vote or to draw back your vote, you must use the following sentence in your post: vote: character/player or unvote: character/player. If you want to change your vote, you must first unvote before the second vote is calculated.
3. During days, there is a 24 hour period before anyone can vote. Once the majority decision is reached, you cannot unvote the player in question anymore.
4. Every player will get a short list of items, spells and skills at their disposal. These can be used only at nights.
5. Each night, the players can use one of their items, spells, OR skills by sending the host a PM about it. Some items and skills have an automatic effect, which will be handled by the host. Items can be handed over to another player, but that will cost the giver the night's action.
6. To give someone else your item, send the host a PM stating the item you wish to give, the name of the player you wish to give it to, and whether you want to remain anonymous or not. Items cannot be exchanged without the host acting as an intermediary.
7. The night abilities have a pre-specified order of effect. If you don't send your night ability by the time limit I've given each day, you will miss your chance to use it.
8. The Day-topics are meant for active players only, so do not post in them if you are already out of the game. The Discussion-topic is open to everybody.
9. Do not edit your posts, because it is considered unfair to other players.
10. Do not directly quote anything I've sent to you via PM. Use your own words, please.
11. All out-of-character discussion must be kept in the Discussion-topic. Likewise, all talk about game tactics and roles must be kept in the Day-topics and PMs.
12. Since this game deviates quite a lot from other Mafia-games, please ask any questions or doubts you might have directly from me, and you will be answered.
Players:
Hogwarts Faculty:

Brigelda Hearth
, nurse (
WhiteFang
)
Crudo Alakhazam
, teacher of Charms (
Big Cam
)

Eloquence Malleus
, teacher of Transfigurations (
Shadows
)

Neville Longbottom
, teacher of Herbology and Head of Gryffindor House (
professor flitwick
)

Sicilia Bathory
, teacher of Potions and Head of Ravenclaw House (
Eskallon
)
Hogwarts Students:
Jolie Jadis
, Slytherin (
Lord Arjay
)

Loki Malfoy
, Slytherin (
ILikePi
)

Prion
the Centaur, Hufflepuff (
Forresto
)

Rocky Broomwell
, Gryffindor (
hewkii9
)
Valerie MacArthur
, Ravenclaw (
Inconspicuous
)

Xander Lovegood
, Gryffindor (
CallMePie
)
Others:

Dementor #2

Tea Ching
, teacher of Divination and a ghost (
iamded
)
The Deceased & The Convicted:

Brandon Townsend
, Hufflepuff (
Oky Wan Kenobi
) -
Impartial
(killed on Night One)

Oraman Furbad
, caretaker (
JimButcher
) -
Innocent
(slain by a monster on Night One)

Angela Weasley
, Gryffindor (
Burman
) -
Innocent
(voted out on Day Two)

Francis Rowan
, Ravenclaw (
ADHO15
) -
Innocent
(killed on Night Two)

Nene Grandstaff
, Hufflepuff (
Millacol88
) -
Impartial
(voted out on Day Four)

Tea Ching
, teacher of Divination (
iamded
) -
Innocent
(killed on Night Four, now a ghost)

Todd "Bulltoad" Bulstrode
, Slytherin (
Roncanator
) -
Innocent
(voted out on Day Five)
Harriet Pewter
, Slytherin (
YG-49
) -
Innocent
(killed on Night Five)

Stephanie Kingston
, librarian (
Zepher
) -
Innocent
(kissed by a Dementor on Night Five)
Sheila Bones
, Ravenclaw (
Matn
) -
Death's Hallowed
(voted out on Day Six)

Jingle
the House-elf (
Dragonator
) -
Death's Hallowed
(voted out on Day Seven)

Rhubarb Uxley
, teacher of Care of Magical Creatures and Head of Hufflepuff House (
Escape the Fate
) -
Innocent
(killed on Night Seven)

Desiree Jackson
, Gryffindor (
badboytje88
) -
Innocent
(kissed by a Dementor on Night Seven)
There are 11 players left in the game, thus it will take 6 votes to convict someone. Voting starts 24 hours from now.