The fifth night had the residents of Hogwarts taking a turtle position as most of them tried to cover up their backs. Unfortunately, the defenses were not impenetrable for all of them...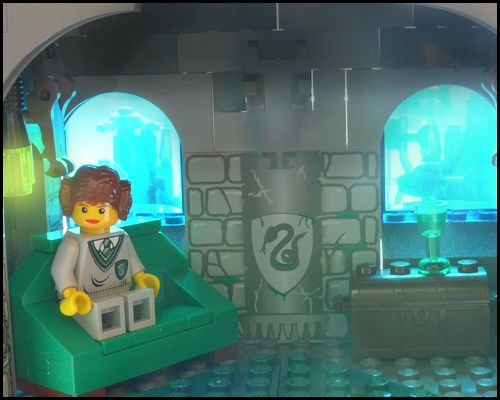 Harriet Pewter sat on the couch of the Slytherin common room, wondering where the others had went. She felt useless in helping out with this terrible mystery. It was the story of her life: she seemed to fail in everything she tried to do. And a plump, clumsy, geeky girl like her had no real friends, either.

Harriet swallowed the tears that she felt were on their way.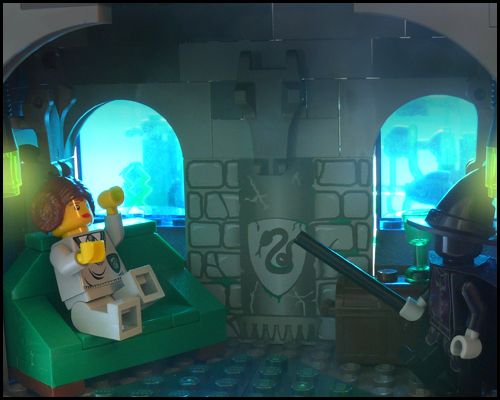 Suddenly she heard someone enter the common room. To her shock, it wasn't one of her classmates but a dark-clad figure.

"H-how did you get in here?" she asked, but before the figure could answer, she sprang up from the couch and made a run for it.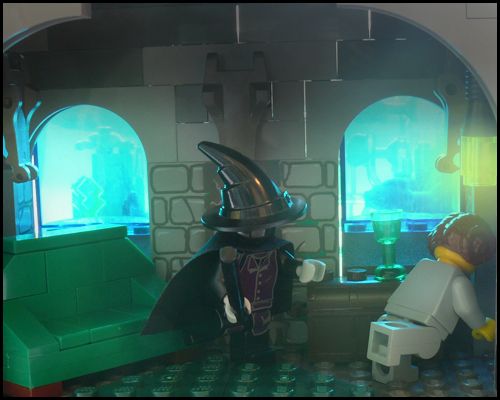 Unfortunately, she stumbled to the edge of the thick carpet on the floor. The dark-robed figure laughed menacingly.

"That's what you get for not doing your exercises", the figure mocked. Harriet sobbed in terror, knowing there was no escape.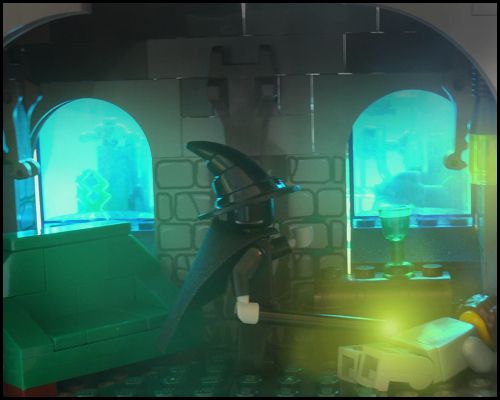 "Avada Kedavra!"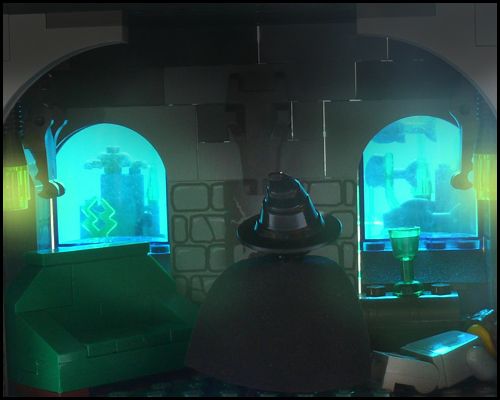 The figure turned to look at the underwater windows that showed the scenery on the bottom of the lake.

"Ah, Slytherin... Had I been a student in this school, I would've been sorted into this house", the shadowy figure said, and left.
In the Hospital Wing, Stephanie Kingston woke up after having dozed off in her wheelchair, only to find a peculiar lump on her lap.

"My, what's this? Oh, could it really be a bezoar?! Some kindly soul must've left this to me in order to save me from this poisoning."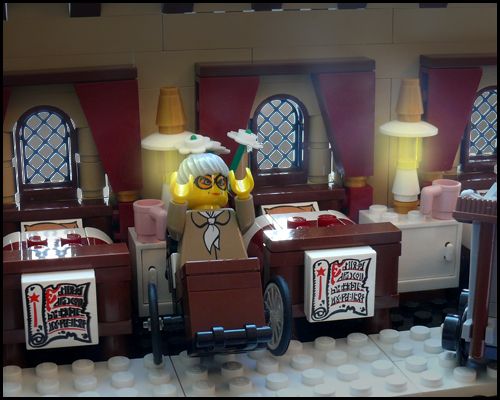 Not wanting to look the gift horse into the mouth, Madam Kingston swallowed the bezoar, and immediately felt the poison leaving her body.

"This is a miracle!" she exclaimed. This was the second time she had escaped death, so she felt like nothing could harm her anymore.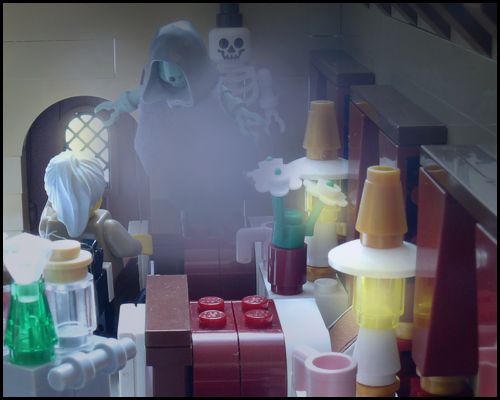 Unfortunately, the Dementor haunting Hogwarts begged to disagree. It had made its way into the Hospital Wing where it found the recovering librarian.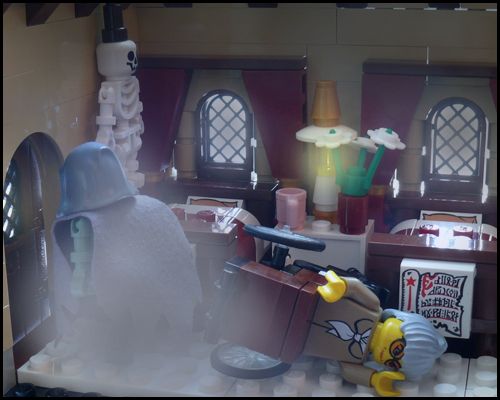 Not even the joy Stephanie Kingston felt could prevent the Dementor for giving her its fateful kiss. The librarian fell down lifeless with her wheelchair as the Dementor left the Hospital Wing to return another night.
The next morning was sinister indeed. The Death's Hallowed were gaining an upper hand on Hogwarts, and the Aurors had nothing but bad news.

"Our investigations have come to the conclusion that all three - Todd Bulstrode, Harriet Pewter and Stephanie Kingston - were

innocent

", Auror Potter said grimly. "Furthermore, from the librarian's possession we found a Foe-glass that had been tampered to give out false information. It seems we still have no clue who the Death's Hallowed are among us."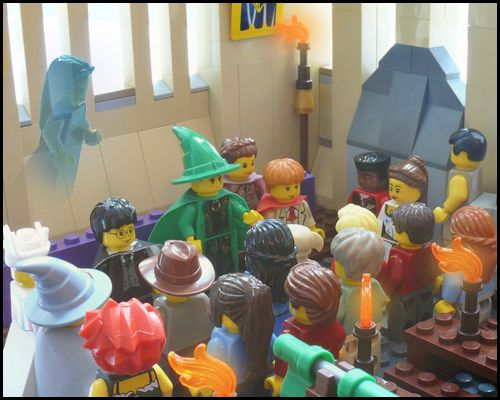 Then the headmistress spoke, weariness showing in her ancient face.

"Please, those of you who are innocent... Make a good choice today. We are running out of time, and so many of us have already died. I don't want to see another innocent soul being sacrificed for this great tragedy. Please..."

The crowd had a minute of silence before they started speaking.
Rules:
1. There are two opposing sides in this game, the Death's Hallowed and the Innocent. The Death's Hallowed win when they outnumber the others. The Innocent win when they've vanquished all of the Death's Hallowed.
2. Each day, the players will vote out one amongst them with a majority decision. To vote or to draw back your vote, you must use the following sentence in your post: vote: character/player or unvote: character/player. If you want to change your vote, you must first unvote before the second vote is calculated.
3. During days, there is a 24 hour period before anyone can vote. Once the majority decision is reached, you cannot unvote the player in question anymore.
4. Every player will get a short list of items, spells and skills at their disposal. These can be used only at nights.
5. Each night, the players can use one of their items, spells, OR skills by sending the host a PM about it. Some items and skills have an automatic effect, which will be handled by the host. Items can be handed over to another player, but that will cost the giver the night's action.
6. To give someone else your item, send the host a PM stating the item you wish to give, the name of the player you wish to give it to, and whether you want to remain anonymous or not. Items cannot be exchanged without the host acting as an intermediary.
7. The night abilities have a pre-specified order of effect. If you don't send your night ability by the time limit I've given each day, you will miss your chance to use it.
8. The Day-topics are meant for active players only, so do not post in them if you are already out of the game. The Discussion-topic is open to everybody.
9. Do not edit your posts, because it is considered unfair to other players.
10. Do not directly quote anything I've sent to you via PM. Use your own words, please.
11. All out-of-character discussion must be kept in the Discussion-topic. Likewise, all talk about game tactics and roles must be kept in the Day-topics and PMs.
12. Since this game deviates quite a lot from other Mafia-games, please ask any questions or doubts you might have directly from me, and you will be answered.
Players:
Hogwarts Faculty:

Brigelda Hearth
, nurse (
WhiteFang
)
Crudo Alakhazam
, teacher of Charms (
Big Cam
)

Eloquence Malleus
, teacher of Transfigurations (
Shadows
)

Jingle
the House-elf (
Dragonator
)

Neville Longbottom
, teacher of Herbology and Head of Gryffindor House (
professor flitwick
)

Rhubarb Uxley
, teacher of Care of Magical Creatures and Head of Hufflepuff House (
Escape the Fate
)

Sicilia Bathory
, teacher of Potions and Head of Ravenclaw House (
Eskallon
)
Hogwarts Students:

Desiree Jackson
, Gryffindor (
badboytje88
)
Jolie Jadis
, Slytherin (
Lord Arjay
)

Loki Malfoy
, Slytherin (
ILikePi
)

Prion
the Centaur, Hufflepuff (
Forresto
)

Rocky Broomwell
, Gryffindor (
sok117
)

Sheila Bones
, Ravenclaw (
Matn
)
Valerie MacArthur
, Ravenclaw (
Inconspicuous
)

Xander Lovegood
, Gryffindor (
CallMePie
)
Others:

Dementor #2

Tea Ching
, teacher of Divination and a ghost (
iamded
)
The Deceased & The Confined:

Brandon Townsend
, Hufflepuff (
Oky Wan Kenobi
) -
Impartial
(killed on Night One)

Oraman Furbad
, caretaker (
JimButcher
) -
Innocent
(slain by a monster on Night One)

Angela Weasley
, Gryffindor (
Burman
) -
Innocent
(voted out on Day Two)

Francis Rowan
, Ravenclaw (
ADHO15
) -
Innocent
(killed on Night Two)

Nene Grandstaff
, Hufflepuff (
Millacol88
) -
Impartial
(voted out on Day Four)

Tea Ching
, teacher of Divination (
iamded
) -
Innocent
(killed on Night Four, now a ghost)

Todd "Bulltoad" Bulstrode
, Slytherin (
Roncanator
) -
Innocent
(voted out on Day Five)
Harriet Pewter
, Slytherin (
YG-49
) -
Innocent
(killed on Night Five)

Stephanie Kingston
, librarian (
Zepher
) -
Innocent
(kissed by a Dementor on Night Five)
There are 15 players left in the game, so it will take 8 votes to convict someone. Voting starts 24 hours from now.