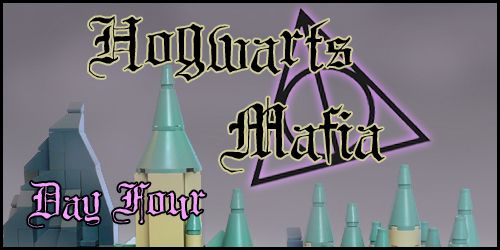 The third night was full of trials and errors, but come the morning, the residents of Hogwarts would be somewhat wiser.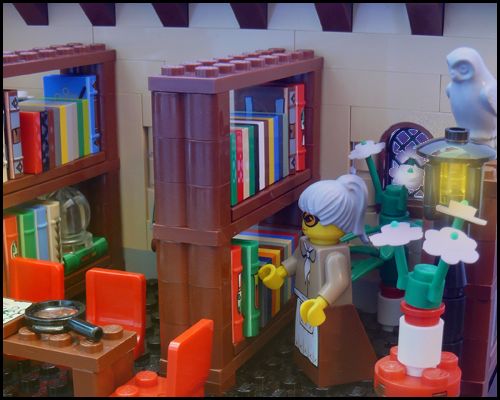 Librarian Stephanie Kingston was doing some late-night arranging in her dear library. She couldn't fathom that an innocent young man had been killed there just the other night. The library had always been a place of solace and tranquility to her, and now it had been tarnished by an act of pure evil.

Suddenly Stephanie heard the door open with a creak.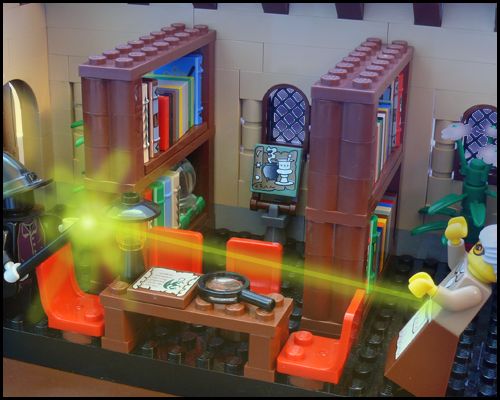 "A filthy squib has no place in the reign of darkness", the intruder hissed. "Die! Avada Kedavra!"

Stephanie shrieked as the terrifying spell shot out at her.
But much to the assaulter's surprise, the spell didn't connect. Pure fury filled the librarian.

"How dare you come into my library and try to kill me with your pathetic spells?! Just so you know I am no ordinary squib, for I am utterly and completely resistant to magic! Now GET OUT!"

Stephanie picked up a chair and threw it after the fleeing Death's Hallowed. Then she sat down onto the floor panting, as she slowly realized she had survived an attack that had killed so many already.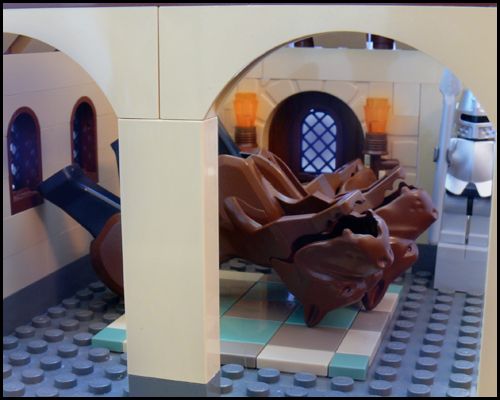 That night, the petrified Cuddles was found again. The Aurors tried to remove it from the premises of Hogwarts, but as soon as it recovered, it vanished again.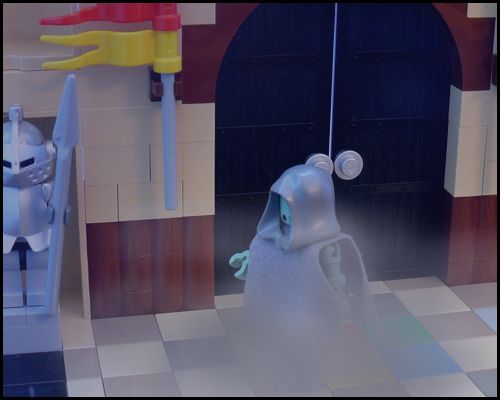 Another Dementor was sighted at the entrance hall, but it didn't manage to harm anyone. Since it wasn't banished, it would return next night to haunt the castle again.
At daybreak, a flying SUV approached Hogwarts, carrying the Minister of Magic.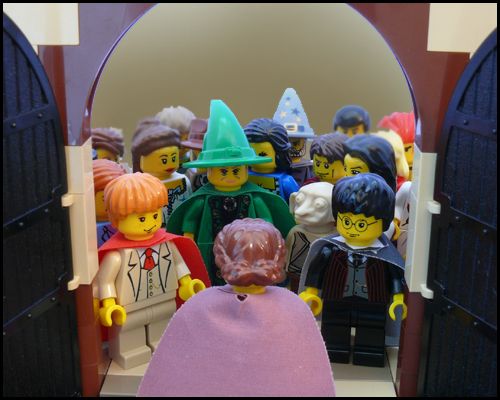 Everybody gathered at the entrance hall to greet the Minister. She had been appointed to the office only less than a year ago, after the retirement of Kingsley Shacklebolt.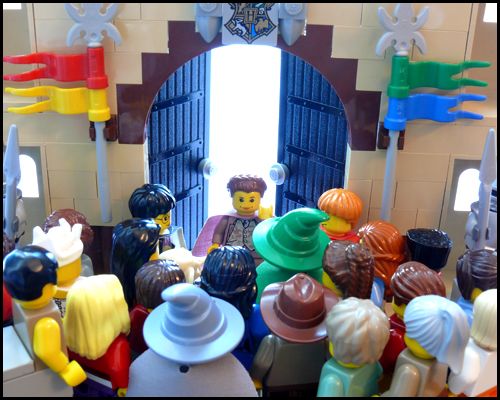 "Welcome back to Hogwarts, Minister Granger-Weasley", Headmistress McGonagall greeted. "We get great comfort at your presence here during this darkest of times."

"My husband Ron told me everything about the events that have taken place here this week", the Minister of Magic Hermione Granger-Weasley said. "Please, I'd like to address everybody at the Great Hall, if it is alright with you?"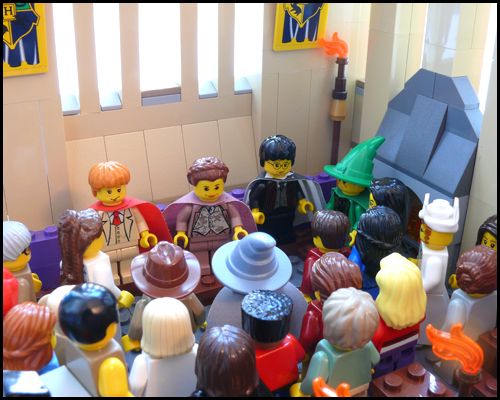 "It is with a heavy heart that I come here to my beloved old school on a business like this", Minister Granger-Weasley said as she spoke to the crowd gathered at the Great Hall. "I truly wished Hogwarts would never have to experience a battle like the one that took place twenty years ago. You have lost several friends and co-workers in this struggle, while the Ministry has suffered the loss of two great Aurors. I have come here to assess the situation, and to help you with the best of my abilities to seize these dark wizards calling themselves the Death's Hallowed."

"I am truly glad that nobody was killed last night, but that does not mean you shouldn't continue to stay alert. I am sure you have a lot to discuss about now, so I will leave to gather whatever information I can find about these events. I wish to speak to you all again this evening. Hogwarts has always been careful not to let the Ministry get involved in its business, but I hope we can solve this issue with cooperation. Thank you."

The crowd gave a short applause to the minister, and her place on the podium was taken by Headmistress McGonagall.
As the headmistress addressed the others, Hermione spoke to Ron and Harry.

"This is horrible, guys. It is happening all over again!" she said.

"I'm just glad our children aren't involved in this", said Ron. "It was horrible enough to send little Angela to Juvenile Azkaban."

"Indeed. How are Ginny and the children doing?" Harry asked.

"They've all gathered to the Burrow. I just dropped Hugo and Lily to the Quidditch practice to get their mind out of what's happening here. The children are worried sick about their friends here, and you two aren't exactly safe either. Guys, let's just get this thing solved as fast as possible so we can return to our families, okay?"

The Aurors both nodded with determined expressions on their face.
Rules:
1. There are two opposing sides in this game, the Death's Hallowed and the Innocent. The Death's Hallowed win when they outnumber the others. The Innocent win when they've vanquished all of the Death's Hallowed.
2. Each day, the players will vote out one amongst them with a majority decision. To vote or to draw back your vote, you must use the following sentence in your post: vote: character/player or unvote: character/player. If you want to change your vote, you must first unvote before the second vote is calculated.
3. During days, there is a 24 hour period before anyone can vote. Once the majority decision is reached, you cannot unvote the player in question anymore.
4. Every player will get a short list of items, spells and skills at their disposal. These can be used only at nights.
5. Each night, the players can use one of their items, spells, OR skills by sending the host a PM about it. Some items and skills have an automatic effect, which will be handled by the host. Items can be handed over to another player, but that will cost the giver the night's action.
6. To give someone else your item, send the host a PM stating the item you wish to give, the name of the player you wish to give it to, and whether you want to remain anonymous or not. Items cannot be exchanged without the host acting as an intermediary.
7. The night abilities have a pre-specified order of effect. If you don't send your night ability by the time limit I've given each day, you will miss your chance to use it.
8. The Day-topics are meant for active players only, so do not post in them if you are already out of the game. The Discussion-topic is open to everybody.
9. Do not edit your posts, because it is considered unfair to other players.
10. Do not directly quote anything I've sent to you via PM. Use your own words, please.
11. All out-of-character discussion must be kept in the Discussion-topic. Likewise, all talk about game tactics and roles must be kept in the Day-topics and PMs.
12. Since this game deviates quite a lot from other Mafia-games, please ask any questions or doubts you might have directly from me, and you will be answered.
Players:
Hogwarts Faculty:

Brigelda Hearth
, nurse (
WhiteFang
)
Crudo Alakhazam
, teacher of Charms (
Big Cam
)

Eloquence Malleus
, teacher of Transfigurations (
Shadows
)

Jingle
the House-elf (
Dragonator
)

Neville Longbottom
, teacher of Herbology and Head of Gryffindor House (
professor flitwick
)

Rhubarb Uxley
, teacher of Care of Magical Creatures and Head of Hufflepuff House (
Escape the Fate
)

Sicilia Bathory
, teacher of Potions and Head of Ravenclaw House (
Eskallon
)

Stephanie Kingston
, librarian (
Zepher
)

Tea Ching
, teacher of Divination (
iamded
)
Hogwarts Students:

Desiree Jackson
, Gryffindor (
badboytje88
)

Harriet Pewter
, Slytherin (
YG-49
)
Jolie Jadis
, Slytherin (
Lord Arjay
)

Loki Malfoy
, Slytherin (
ILikePi
)

Nene Grandstaff
, Hufflepuff (
Millacol88
)

Prion
the Centaur, Hufflepuff (
Forresto
)

Rocky Broomwell
, Gryffindor (
sok117
)

Sheila Bones
, Ravenclaw (
Matn
)
Todd "Bulltoad" Bulstrode
, Slytherin (
Roncanator
)
Valerie MacArthur
, Ravenclaw (
Inconspicuous
)

Xander Lovegood
, Gryffindor (
CallMePie
)
Others:

Cuddles
the Cerberus (monster)

Dementor #2
The Deceased & The Confined:

Brandon Townsend
, Hufflepuff (
Oky Wan Kenobi
) -
Impartial
(killed on Night One)

Oraman Furbad
, caretaker (
JimButcher
) -
Innocent
(slain by a monster on Night One)

Angela Weasley
, Gryffindor (
Burman
) -
Innocent
(voted out on Day Two)

Francis Rowan
, Ravenclaw (
ADHO15
) -
Innocent
(killed on Night Two)
There are still 20 players in the game, so it will require 11 votes to convict someone. Voting starts 24 hours from now.