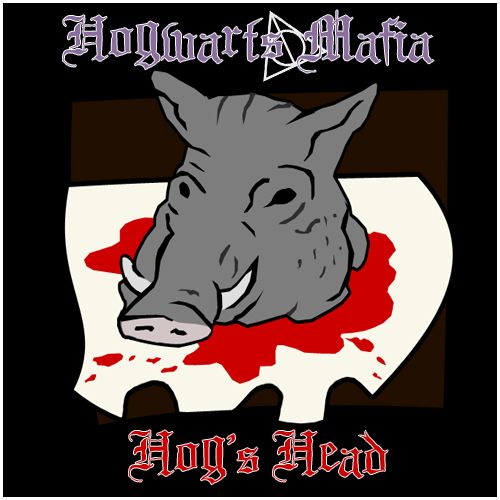 Welcome to the Hog's Head pub in Hogsmeade, where you can sit down, relax get a nice cup of Butterbeer and discuss the Hogwarts Mafia game with your fellow players and other guests. Players should also confirm their participation to this game here.
Here are the rules of Hogwarts Mafia:
1. There are two opposing sides in this game, the Death's Hallowed and the Innocent. The Death's Hallowed win when they outnumber the others. The Innocent win when they've vanquished all of the Death's Hallowed.
2. Each day, the players will vote out one amongst them with a majority decision. To vote or to draw back your vote, you must use the following sentence in your post: vote: character/player or unvote: character/player. If you want to change your vote, you must first unvote before the second vote is calculated.
3. During days, there is a 24 hour period before anyone can vote. Once the majority decision is reached, you cannot unvote the player in question anymore.
4. Every player will get a short list of items, spells and skills at their disposal. These can be used only at nights.
5. Each night, the players can use one of their items, spells, OR skills by sending the host a PM about it. Some items and skills have an automatic effect, which will be handled by the host. Items can be handed over to another player, but that will cost the giver the night's action.
6. To give someone else your item, send the host a PM stating the item you wish to give, the name of the player you wish to give it to, and whether you want to remain anonymous or not. Items cannot be exchanged without the host acting as an intermediary.
7. The night abilities have a pre-specified order of effect. If you don't send your night ability by the time limit I've given each day, you will miss your chance to use it.
8. The Day-topics are meant for active players only, so do not post in them if you are already out of the game. The Discussion-topic is open to everybody.
9. Do not edit your posts, because it is considered unfair to other players.
10. Do not directly quote anything I've sent to you via PM. Use your own words, please.
11. All out-of-character discussion must be kept in the Discussion-topic. Likewise, all talk about game tactics and roles must be kept in the Day-topics and PMs.
12. Since this game deviates quite a lot from other Mafia-games, please ask any questions or doubts you might have directly from me, and you will be answered.
If you are a player, please read the above list
thoroughly
, even if you are a veteran of Mafia-games.
Here are the list of players and the characters they are playing:
Hogwarts Faculty:

Brigelda Hearth
, nurse (
WhiteFang
)
Crudo Alakhazam
, teacher of Charms (
Big Cam
)

Eloquence Malleus
, teacher of Transfigurations (
Shadows
)

Jingle
the House-elf (
Dragonator
)

Neville Longbottom
, teacher of Herbology and Head of Gryffindor House (
professor flitwick
)
Oraman Furbad
, caretaker (
JimButcher
)

Rhubarb Uxley
, teacher of Care of Magical Creatures and Head of Hufflepuff House (
Escape the Fate
)

Sicilia Bathory
, teacher of Potions and Head of Ravenclaw House (
Eskallon
)

Stephanie Kingston
, librarian (
Zepher
)

Tea Ching
, teacher of Divination (
Striker
iamded
)
Hogwarts Students:
Angela Weasley
, Gryffindor (
Burman
)
Brandon Townsend
, Hufflepuff (
Oky Wan Kenobi
)

Desiree Jackson
, Gryffindor (
badboytje88
)

Francis Rowan
, Ravenclaw (
ADHO15
)

Harriet Pewter
, Slytherin (
YG-49
)
Jolie Jadis
, Slytherin (
Lord Arjay
)

Loki Malfoy
, Slytherin (
ILikePi
)

Nene Grandstaff
, Hufflepuff (
Millacol88
)

Prion
the Centaur, Hufflepuff (
Forresto
)

Rocky Broomwell
, Gryffindor (
sok117
hewkii9
)

Sheila Bones
, Ravenclaw (
Matn
)
Todd "Bulltoad" Bulstrode
, Slytherin (
Roncanator
)
Valerie MacArthur
, Ravenclaw (
Inconspicuous
)

Xander Lovegood
, Gryffindor (
CallMePie
)
Please note that all these characters were created months ago and that they were randomly assigned (by drawing lots) to the players, so any possible similarities between the players and their characters are purely coincidental.
Day One of Hogwarts Mafia will be posted as soon as all the players have confirmed their participation to this game, but on July 1st at the latest. If I don't hear from you by then, you will be replaced by one of the reserves.
All players will be getting their PM with details about their character very soon. But now, please discuss the game!