Product:
7250 Clone Scout Walker (AT-RT)
Theme:
Star Wars EPIII: Revenge of the Sith
No of pieces:
108
Release Date:
April 2005
RRP:
SGD25.90/USD9.90
Availability:
Lego Shop@Home, Target, Toys 'R' Us (US & Europe), Bricksworld (Novena Branch, SG).
Lego Shop@Home said:
The Clone Scout Walker is on the march!
Clone troopers are ready for action on any world in the clone scout walker. These powerful machines keep the Trade Federation and its allies on the run.
Head, legs, and blasters move.

Includes Clone Trooper.
Also known as the AT-RT (All Terrian Recon Transport), the clone scout walker is sure to be one crowd pleaser. Especially so to army builders, due to it's price range. Even I bought three of these sets, instead of one. Anyway, on to the review...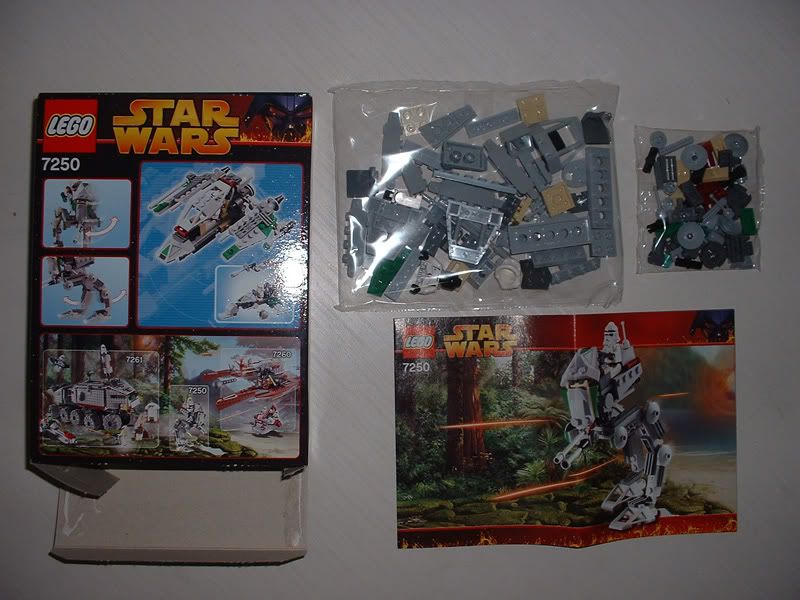 This set comes with two baggies and instructional booklet. And the surprise? No stickers, meaning printed bricks. :-D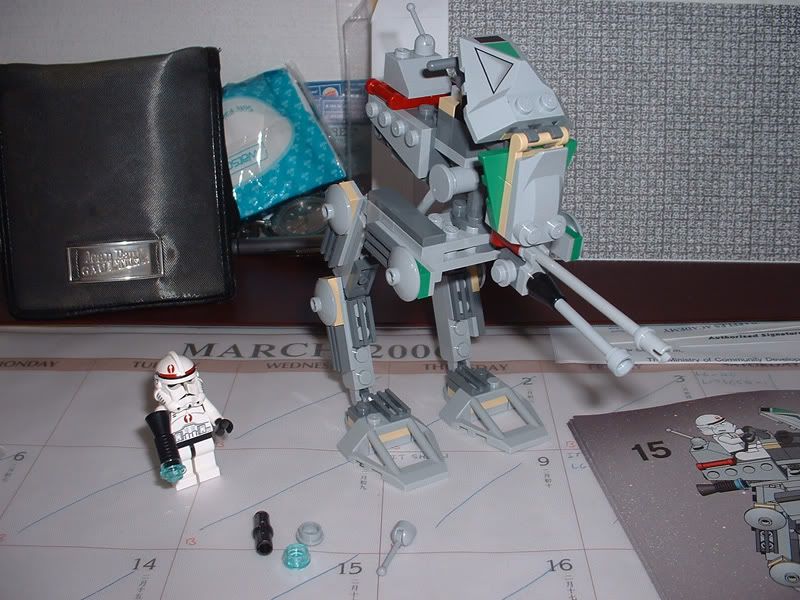 The completed set with leftovers. Overall, this is one easy build. One starts off with the lower torso, followed by the legs, then the upper torso. Finally, ending of with the upper front portion, and the guns. Took me about 20min to complete.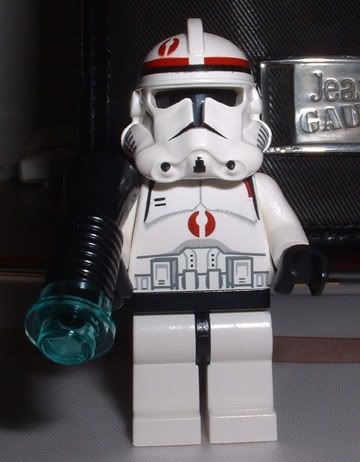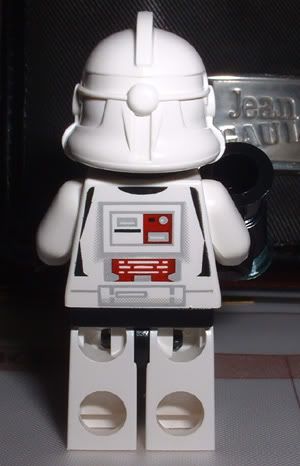 The minifig for this set is identical physically as compared to other clone minifigs, but with one major difference. The printed back of this minifig is of a different design. Of course, the other minor difference would be the red symbol on the helmet and the armour.
Fore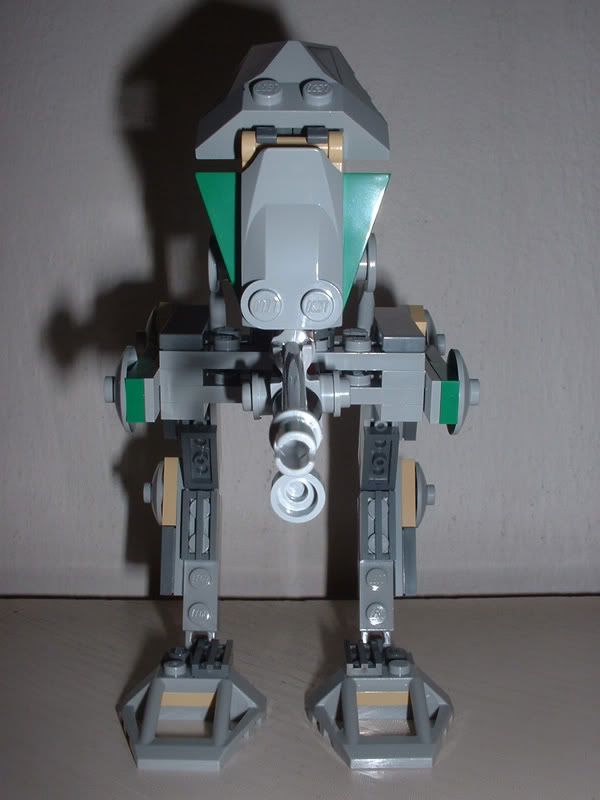 Port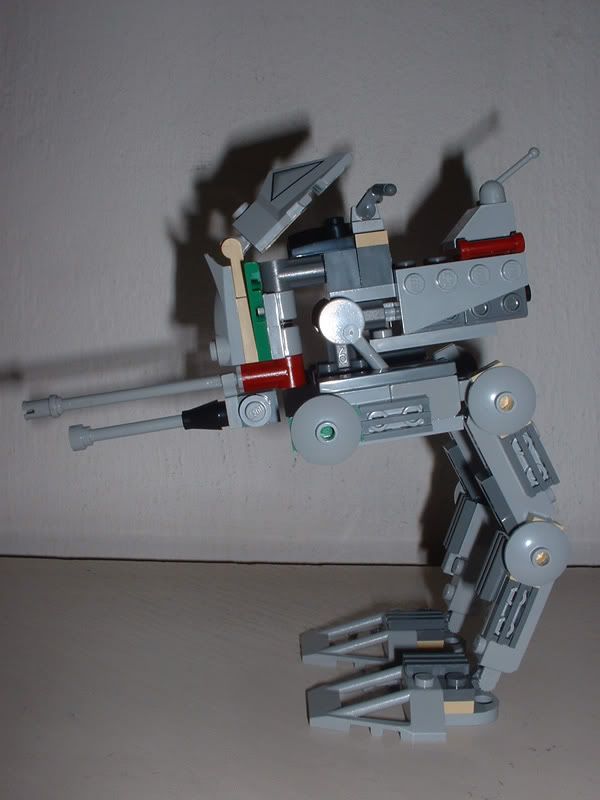 Aft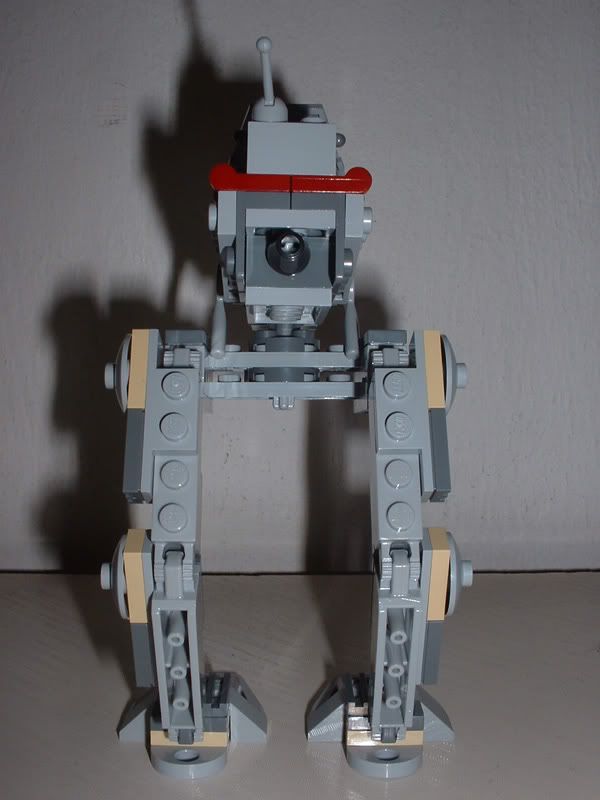 From any angle of view, this set does have a remarkable likeness to its movie counterpart.
All major sections are represented, the torso, the weaponary, the legs, the engine, and even the steering gear.
One major downside is that unlike the clone turbo tank, where the tank is smaller in scale as compared to the minifigs, this scout walker is slightly larger in scale as compared to its minifig. But overall, the scale factor doesn't matter much, when TLG is able to produce such a cool-looking walker that has a better likeness than its Lego AT-ST counterpart.
As displayed on the back of the packaging, the upper front portion of the torso as well as the laser cannon are both able to swivel left or right independantly.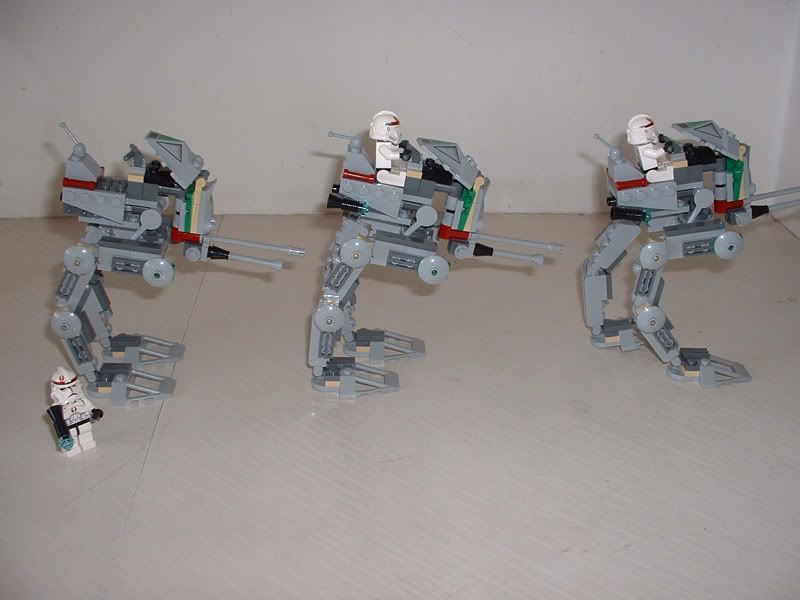 As shown from left to right, the walker in the first pose is the at rest position. The middle pose is the one shown on the packaging, where it seems to be taking small, cautious steps. The final pose, is one where it's shown to be opening up its strides or running at top speed.
It's pretty hard to get stable "in-action" poses, and the above three are by far the most stable. Meaning it doesn't require external support for its pose.
From the fore view, this is how the poses will look,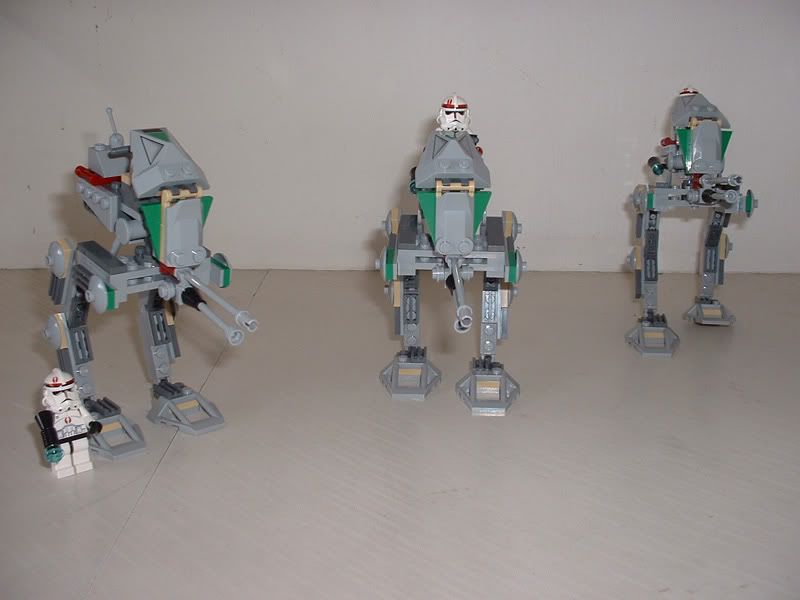 Since this a ground vehicle, there's no "swoosh-able" factor to take into account of. Then again, it's
always
fun to blow up battle droids, and that's what I would do. >:-)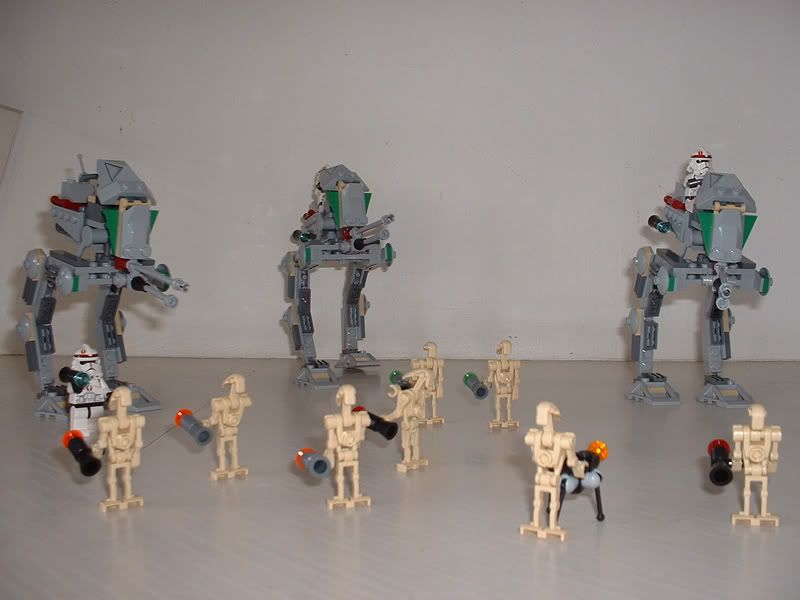 To conclude, this set has become a favourite of mine despite it not being space-worthy. And I happened, to only like space craft. Like I mentioned at the start of the review, this is one set that even caters to army builders. Which army builder wouldn't want a squad of scout walkers that looks ever battle ready? X-D