The 165 pieces that come with the
8259 Mini Bulldozer
set can be made into more miniature creations that are fun for kids to build. As you know, the main (and alternate) models look like this: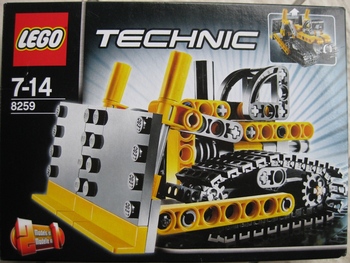 The online building instructions for the standard set is available from
http://us.service.le...ns/default.aspx
(type in the set number, then scroll down to the bottom to see the 3 PDF booklets). The parts inventory is at
http://peeron.com/inv/sets/8259-1
.
RMingTW made a mini Wall-E robot out of 8259's parts:
http://www.brickshel...ry.cgi?f=397518
. The step-by-step building instructions make it easy for kids to make this character from the Disney/Pixar animated film. Two wheels were added for the eyes to supplement the 8259 parts.

When finished, it looks like this:
Grohl666 made a mini Rocket Launcher from the 8259 set:
http://www.brickshel...ry.cgi?f=410217
. It has "Working treads, rotating rocket tower with elevating launchers." There are enough pics to recreate this MOC.
After you're done making the 4 models, the 52 metal 3873 Technic Chain/Link Treads

are very useful for other Technic MOCs!

Does anybody else know of another MOC that can be made with the 8259 parts? If so, please share it here.