According to
http://www.techeblog...-pagani-zonda-f
, "Pagani Automobili's Zonda F is the 'most exclusive and most expensive open sports car in the world", with only 25 being produced. It's powered by a 7.3 litre AMG V12 engine that rockets you from 0 - 200 kph (124 mph) in just 9.8 seconds'"!

Tyler Reid made this fine 1:10-scale Zonda F roadster:
http://mocpages.com/moc.php/132401
. He says it has "full rocker arm and transverse shock suspension, 5+R gearbox with shift linkage and everything opens."
"Sariel" (Paul Kmiec) plans on building a Pagani Zonda F supercar in 2010 (scroll to the last of 8 cars shown):
http://sariel.pl/200...supercars-line/
. He writes, "
Pagani Zonda F:
RWD, V12 engine, length 61 studs, width 30 studs, wheelbase 38 studs. One of the rarest and most extreme supercars on Earth. Interesting bodywork and a promising wheelbase. A beautiful, yet not motorized model of this car has been already built by Erik Leppen." Here's what the real car looks like: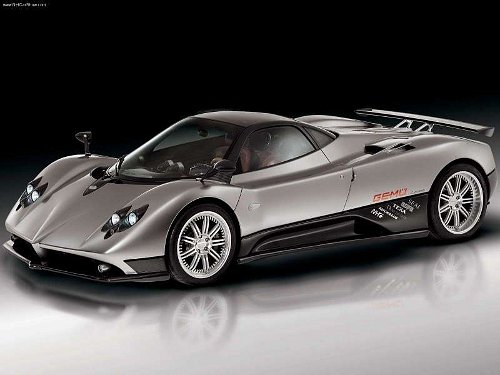 Indeed, Erik Leppen's Pagani Zonda F model is superb:
http://www.brickshel...ry.cgi?f=292999
.


He has a photo sequence of the model's construction for folks who want to build it too. He writes, "Black Pagani Zonda supercar with suspension, steering, 5-speed gearbox with reverse, V12 engine and doors. Used wheels of 8448 and suspension parts of 8466":