This is part of a series. See the
first one here
.
The purpose of the NYPD: Picking Up The Pieces Project is to document what happened in New York City after the bombing. It is meant to both document the bravery of the men of the NYPD and tell how the most successful city survived, even though it was hit the hardest. We hope if the situation ever shows itself again, we can all learn by this example.
102 Days after Infection-
102 days had passed since the first USA infection, and 32 days after the bombing of New York City. Police Chief Granger had already demanded the destruction of the bridges, which was done. On Day 102, Operation Lockdown went into effect. When asked about Operation Lockdown, after he was liberated, Second in Command Major Dent had this to say:
"We called it Operation Lockdown because that was what it was. Zombies are brainless motha fuckas, we didn't really need to use code words for our operations no more. So, what we do is we took all the men and women we had and we moved them down the island. Everyone fell behind 14th Street, and then we set up defenses there. Our goal was to try to only have to defend one side, and for the most part, it worked. Granger was darn smart to think of that. It saved us man power and energy, and most importantly, let us figure out what to do next. We weren't fighting four our survival every second anymore, and it let us evolve. Like once them hunters and gathers finally figured out how to farm, or fire. That's what Operation Lockdown was like."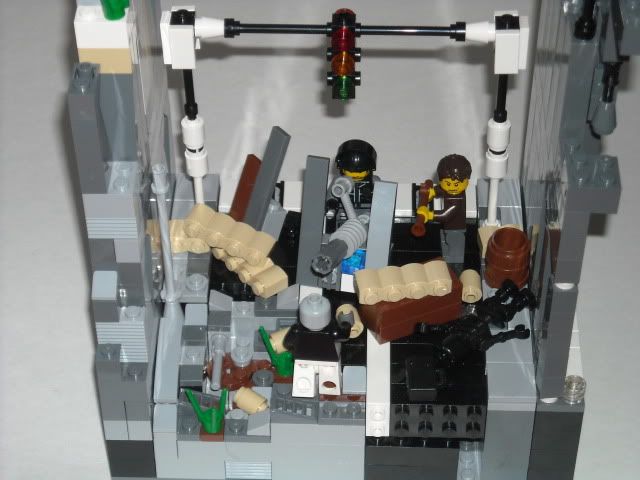 Private Ray and Civilian Hunter Burke, both of whom were later distinguished as brave men, holding the 14th Street barrier. It is thought this is where their friendship began.
Bombed out church.
Office Building.
Enjoy! There's still more to come, I'm hoping for a total of fifteen! I hope you like both the story and build!
-Zepher
Edited by Rufus, 05 July 2011 - 11:17 PM.
Indexed