If you are not a player, do not post in this topic!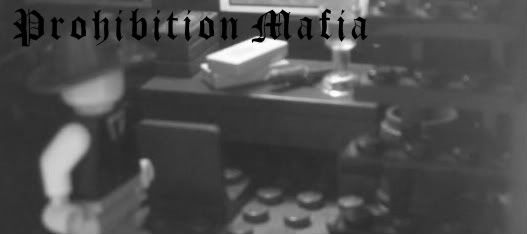 DAY ONE:
"You stand guard, while I go follow up on a lead." the BOI Agent said.
"Yes sir." said the agent.
As the agent walked away, Agent Harrison couldn't shake the feeling that he was being watched.
*BANG*
"Ow!" said Agent Harrison, he was dead before he hit the ground.
--
"...And that's why I don't like to patrol the Town Square at night." said the first officer.
"Sound's reasonable." said the second.
*BANG!*
"Who's there? Show yourself!" said the second officer.
*BANG!*
and the other officer was shot dead as well.
---
The next morning, the small crowd of townspeople converged on the village square, viewing the dead. The Mayor once again got up to speak.
"It is clear that the BOI Agent's cannot handle the situation. With one dead, and the other missing, it is clear that they have abandoned us. We must take matters into our own hands!" Yelled the mayor.
"Yeah!"
"Agreed!"
With those words of encouragment, the townsfolk headed off to finally rid themselves of the evil mobsters that had plagued their humble town for so many years.
---
It will take 11 votes to convict today, as there are 21 players. Remember, no voting the first twenty-four hours.
Players:

Lois Jackson (Chef) played by Striker

Ryan Alberts (Hobo) played by Quarryman



Jimmy Palmer (Gas Station Attendant) played by Simonjedi


Andrew Gordon (Son of Steven & Lucy) played by Shadows



Franklin P. White (Mayor) played by Zapper Brick



Martin Jackson (Chef) Played by YG-49



Steven Gordon (Banker) played by The Crazy One



John Wilder (Police Officer) played by Big Cam



Mary Jackson (Daughter of Lois & Martin) played by Eskallon



Robbie Willis (Cinema Owner) played by Whitefang



Matthew Right (District Attorney) played by Sandy



Dr. Ernie Wilkerson (Private Doctor) played by Ricecracker


Lucy Gordon (Bank Assistant) played by Jim Butcher


Sarah Wolf (Dancer) Played by TinyPiesRUs



Roy Orborson (Nurse) played by Inconspicuous


Louis Inglston (Gas Station Attendant) played by Dannylonglegs



Susan Webb (Dancer) played by Brickme


Mike Johnson (Police Chief) played by Millacol88



Leanne Willis (Cinema Worker) played by Forresto



Christopher Wilder (Police Officer) played by Hewkii9


Alfred Winder (Mail man) played by JCC1004

Reserves:
1) Disturbia
3) Filip Skywalker
4) Ben Kenobi
5) Commander Flash
6) Nintha
7) Mission Commander
8) CallMePie
Rules:
1) The game will have two sides, the
scum
and the
townies
. The town wins when all the scum are gone, and the scum win when the townies are outnumbered.
2) There will be no voting for the first 24 hours.
3) To vote, you must follow the following format:
Vote: Character/Player
. To unvote, follow the format:
Unvote: Character/Player
4) No metagaming.
5) If you are dead, do not post in the game threads. There are to be no ghosts.
6) No Editing. Three edits and your character will be killed.
7) No OOC Posts. Keep that in the Discussion Thread.
8) Do not ever directly quote something the game moderator has sent to you via PM, whether it is your character information, night action results, or any other form of communication. Violation of this rule will result in me killing you. You may of course paraphrase any information you receive; if it is your own words then it is fine.
9) No unvoting after a conviction has been reached. (Call me a hypocrite, I know).
10) Bob and I have lives too. If we're a bit late with a day thread, then please don't freak out about it, especially since Christmas is coming up.
Have fun, and good luck!