Yes! For once, I have first access to something! Lego made a deal with Muji this year to produce four sets. The pieces are Lego made in Denmark and Hungary, but the sets are very Muji influenced. Muji is Japanese for "plain" or "no pattern". They are famous in Japan as a 'no logo' company. Personally, I use their stationary, I have a Muji sofa, and generally like their stuff. They tend to only use white, black, beige and a touch of navy blue, so their overall style is like a low-key Ikea. This week, the sets were released, and I picked one up to see how it is. Shall we?

Set#:
N/A
Name:
紙とあそぶレゴブロック:きほんのセット <Lego for playing with paper: Basic set [more or less]>
Theme:
Muji?
Year:
2009
Pieces:
200
Price:
2,900 yen, plus puncher, 1,200 yen, but Muji has 10% off this week if you have a cell phone (

that's Japan)
Muji-Lego homepage
First, let's look at the hole puncher.
The box
As it's Muji, it has a restrained box. For Muji, this is pretty gaudy packaging. It seems the two companies have found a balance. The pics are sideways, but it's a long box, and you probably can't read it anyway

The contents
It's a simple but invaluable pack. There is a puncher, a stencil, and a mini instruction. While of course it's crap to have to buy something separate in order to use one set, I can understand that I'd be more pissed off if I had to pay for one of these things in every set.
The puncher is essentially just a Legofied hole puncher, done in Muji white.
You can see a line on the front and side which lines up with where the hole goes in.
Even more efficiently is this clear plastic on the bottom. It's easy to see the area you're about to punch out so you can be fairly exact.
There are four sets. One is Christmasy, which looks heavy on the paper, and light on the Lego. Another is translucent themed, which is heavy on little pieces. There is another basic set, which is a bit more colorful. I almost bought it. It is much more colorful, but the pieces looked a little clunkier. The set I got is heavy on white, with a few other accent colors.
The box
Like the puncher, it's restrained for Lego, and gaudy for Muji. Muji sells food sets, like curry or paella, and the package is pure white, with a photo of the dish less than 25% of the package. So they were being flexible for TLG. I quite like it though. It's age six and up, but you can imagine an adult picking it up without being self-conscious about it. Very tasteful, and wouldn't be a bad idea for a mature AFOL set, like the Medieval Village set last year.
A full part list is shown on the side. On the right is five pieces of paper with holes, and five with none.
The back is 100% Muji-style.
The warnings are cute though; 1. Be with an adult 2. Don't put it in your mouth 3. Don't ride on it 4. Don't put it near fire 5. Don't get it wet. This is a world trend to show us the obvious

The Set
The set consists of pieces, instructions, a part list, paper, and one piece that is printed.
The printed sheet is a nice thick stock with clean printing, folded into six parts.
This is the instruction book. All of it. The instructions are the little line drawings on the bottom of these photos. That's it. This is
everything
they tell you. It is one sheet printed front and back on heavy stock, folded into six pages.
The paper is high quality, fairly heavy stock, plus some of the paper is translucent. I know this site isn't
Europaper
, but this is good quality, you'll have to trust me. I went to art school, and learned something about overpriced paper, and this is nice stuff

The Build
Here is the one I chose to do, the crab. (I'll do more and post it, but just one for tonight) I cut out the crab (note the misprint on one piece, the hole is missing) and thought it would be okay as is. As it turns out, you need to cut close to the sides and can't leave any white. For one, the legs can't swirl around the Lego piece if it's too big, and you can't cleanly punch out the two-deep holes unless you
over cut
the pieces in some places. More on that later.
According to the instructions, the four legs are put on a 2x2 brick, and the large brown placed on top. According to the photo, it's actually six legs, and we don't exactly know where they go, since the instructions don't say and the photo is a little vague.
Anyway, that boy is capped with another 2x2 brick (before I had to take it apart to add the other legs

)
That brings us to
The Finished Product
This looks nice. My (Japanese) wife thought it was
very
cute, so I think they got the market right.
And for a little Lego-paper toy, it does float well off the table.
It has a simple belly.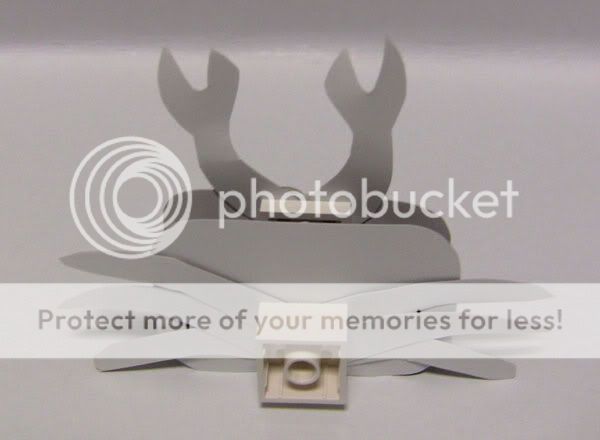 So, this is one of, what, eight? It is paper and Lego after all, so you are expected to bring the infinite ideas. You can see a little red on the top, since I was squeezing the paper into the puncher at that point. There wasn't any leeway with that puncher, and if you simply cut the piece out as is, you
can't
punch out the inner holes. Frustrating, and it makes the paper wrinkly trying to squeeze it in.
<edit>
Here are some more builds. This is definitely the most attractive of all the crafts here. Again, I used the cut out sheets, not the plain sheets. Maybe you're not even supposed to use these sheets? It doesn't seem so, since they're one sided, but it's peculiar. The pics in the instructions are of a different color, and using the plain paper.
This is a fun little piece.
Here I tried the cut out and making my own. Here's the cut out bird. The white is quite noticeable, which is why I tried a second one.
This one I loosely traced and cut out, but just like in childhood, mine is much sloppier than original. Still, it is much warmer in color, being actual colored paper, not a print. I definitely like it more this way.
If I try another, I'll mess around with the paper colors a lot more. I can see this as being more involving when you don't simply mimic the established models.
The Final Verdict
As an AFOL, it didn't blow me out of the water, but it is a good idea, and a great way for Lego to expand in a new direction. Rather than capturing the wrong market (ie, one could say Bionicle targets aggressive boys), it picks a market that might not be into Lego already (origami? crafts? ) and makes them more open to the creative possibilities of the Lego system. From the box covers, I think the other Basic Set does this a bit better, with a heavier Lego focus and less paper. While it won't drive AFOL wild, it seems a really interesting move in the Japanese and, potentially, the world market, so it gives me respect for the company beyond what I already had. This is the kind of thing we say Lego is, an intelligent, creative product.
Design:
8/10 There are a number of general models which are well enough designed, but the hole puncher is ingenious, and it's amazing that this is the first appearance of such a thing. It could easily have been improved by making the well deeper. As it is, you can only punch a hole a few centimeters deep into paper. You won't be making any parasols anytime soon. Still, I suspect this puncher will be much in demand in the next few years from the MOC community, and I'm tempted to buy a dozen just to sell them at three times their cost a few years from now.
Build:
5/10 I was dissatisfied with the over-simplicity of the instructions. A little more attention to detail would have been appreciated. It's clever, but nowhere neat ingenious.
Playability:
9/10 If I was a kid, I would have got massive play out of this set. I loved clever crafts around the target age here (6+) and I imagine doing every one, one after the other, then building on them with my fractured imagination. I may just have to put a set away for my girl for her sixth birthday.
Price:
8/10 I was going to go lower, but you know the 10 cent/piece target (which no set ever hits anymore)... this is about 15 yen/piece, which is great for Japan, plus you have the paper. This is a well priced set. The puncher, I don't know. But I wouldn't be surprised if a puncher cost 1,200 yen normally, and stencils are surprisingly expensive (again, I went to art school). This isn't super cheap, but it seems super reasonable.
Overall:
8/10 (for kids) 5/10 (for adults) There's nothing fantastic about the pieces or parts, but the idea behind it is great, and would be on the top of the parent's choice list if it were available in the States.
This is an interesting set, one that may act as a gateway set to any who receives it. I also can see salarymen in Japan picking it up since it's less embarrassing than regular old Lego. Muji is a cool company; as I wrote, it's like Ikea, but it's also like the Gap, something most people are comfortable with. This is a good thing for Lego, in keeping its brand not just strong, but growing.
Updates later as I check out the other designs included.
Edited by WhiteFang, 17 January 2011 - 03:56 AM.
Indexed