6062 - Battering Ram
Released: 1987
Pieces: 233
Minifigs: 6
Price
(according to peeron.com)
$19.95
The review:
This set brings back a lot of memories for me. I was only 7 years old when it was released. It was one of my first "big" sets, and I must have been ready to start building sets this size. I can't remember how difficult it was to build for me, but I guess my older sister helped me build it the first couple of times. Even today she loves to build LEGO sets with her son. She says it's relaxing and comforting. That's how I feel about it to, also when I play with LEGO with my little daughter.
The manual:
Random page:
As you can see, the small castle wall is placed on top of a bunch of green plates. Even today, at 29, it caused me some trouble, laying them out properly...
They must be laid out like this:
Well... the actual build is quite demanding, and that's why I think my older sister must have helped me back when I was only 7... But IMO a build that is a bit difficult is much more pleasing than an easy build, so this is actually a good thing.
Let's take a look at the many different bricks and pieces:
Here you have the piles of grey and black bricks along with the green plates:
Interesting pieces include: Arches, hinges, a black door, four brown wheels and two grey technic bricks.
The two technic bricks makes it possible to attach the castle wall to other castles in your LEGO collection. This adds heavily to the playability of this set.
Because this set has 6 minifigs, you automatically get a lot of accessories:
This set is no exception... you get a bunch of walls: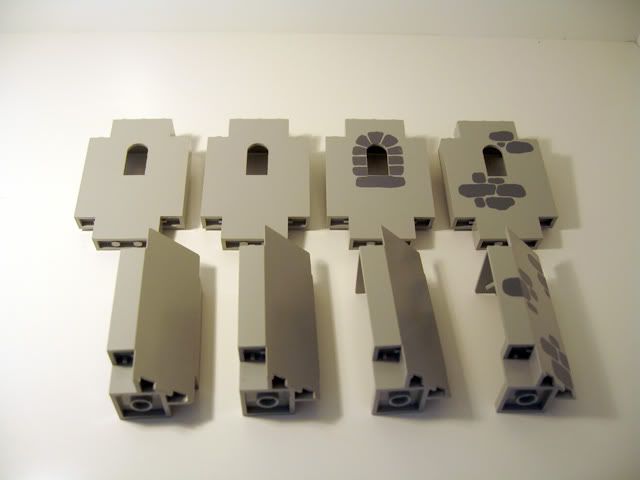 Here are the 6 minifigs. Even though they are not as detailed as today's minifigs, they are definitely still a joy to behold.
First, the Lions: (they are the ones on the Battering Ram)
The Black Falcons (they protect the castle wall)
It is not every day that you can show the back of a Classic minifig, and still find anything of interest. But here is an exception: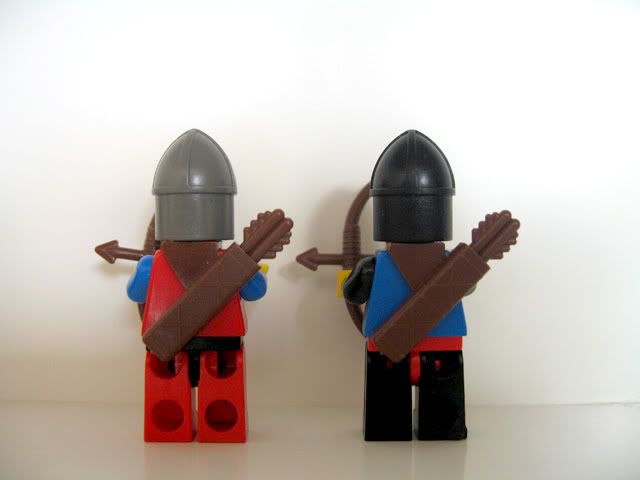 Let's take a look at the black battering ram:
First off, here's the base of the ram. Later, a large hammer-like device is attached to this base, and I'll show you via the pictures how this is done:
The ram is almost ready - we just need to build the large platform on top of the base, and this is how it turns out: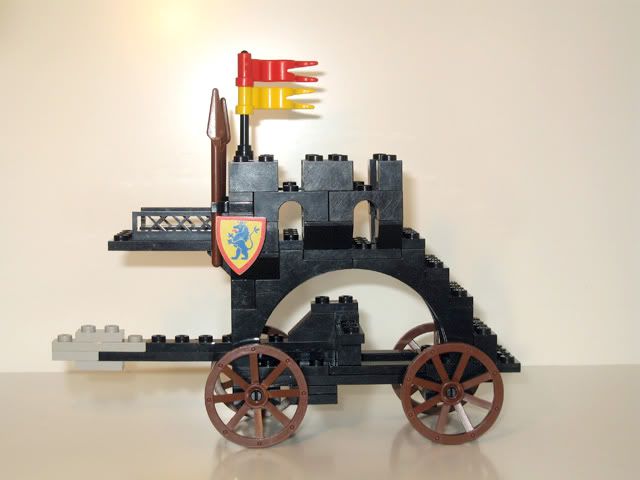 Front view: (The Black Falcons won't know what hit them)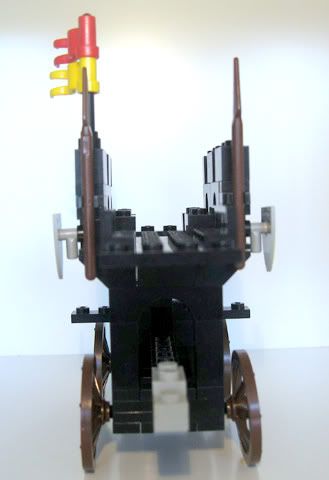 Back view: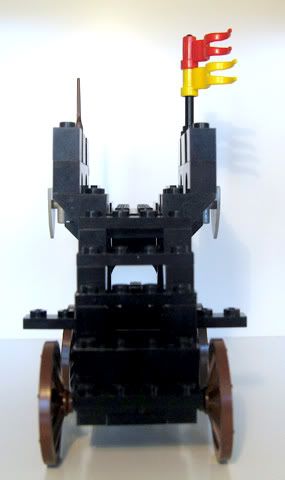 Top view: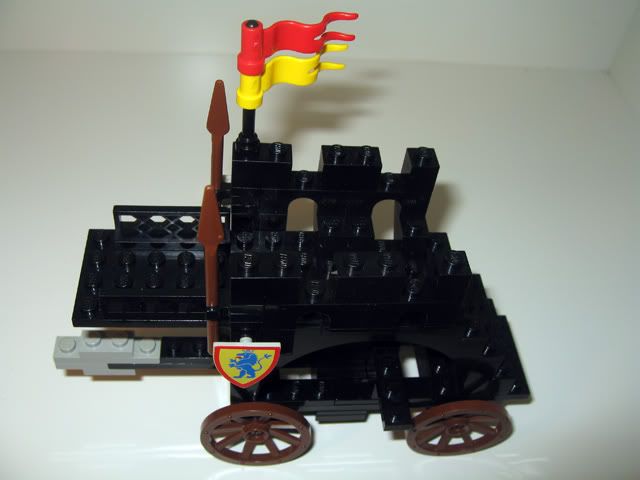 This is the defense post. A grey castle wall which can be folded in different angles because of the hinges that are built inside the wall.
Front view:
Front folded:
Side folded:
Back: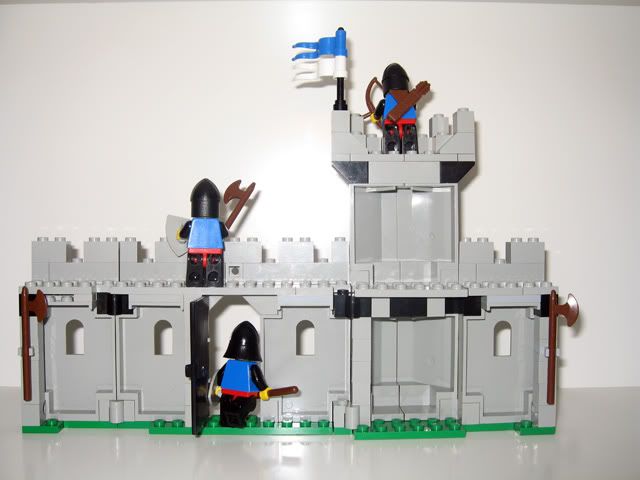 Back folded: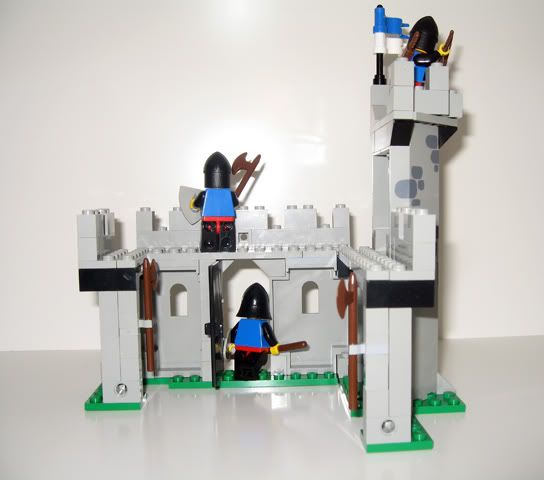 Top view: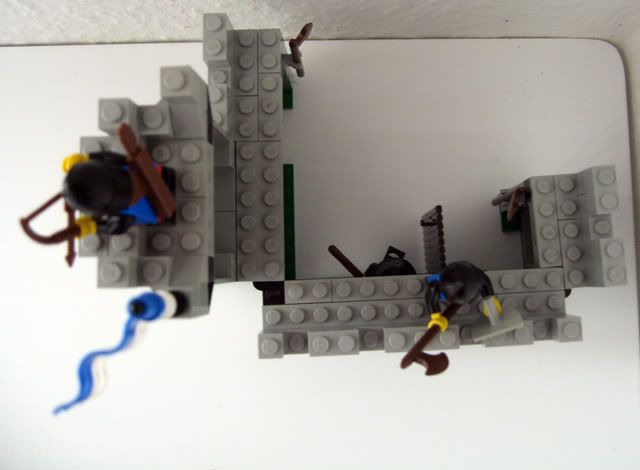 The bottom without the green plates. If you want to place this wall on a larger base plate, you can't fold the walls anymmore, and that's why the wall is placed on top of numerous plates.
Top front:
Verdict:
Playability:
10/10 - 6 minifigs, a small castle, a battering ram and the possibility to use the castle wall along with other castles in your collection makes me give this set a 10. Great set! It's easy to MOD this set because of all the bricks you get.
Design:
9/10 - Of course, today a set like this would look better, but back in 1987 this was top-notch. The only thing that is a bit annoying is the fact that the large hammer-like-thing falls of the ram if you are too careless. But the look of this set is excellent, and the opportunity to fold the wall is great.
Pieces:
8/10 - Nothing special here. but you can build hundreds of things with all the bricks. I remember doing so myself.
Price:
9/10 - I bet a set with 6 minifigs would be much moer expensive today... or you would even get 6 minifigs in a set with "only" 233 pieces. LEGO has gone downhill since the 80's if we are talking prices and minifig-count in sets.