ENTERED
Here's my entry for category 1 (I like to think a three car tram is a complete train, not a single engine).
This is an Amsterdam tram as they were in the 80's. Back then trams were yellow and had a real bell they rang at junctions. The new ones try to do the same sound with some electronics and a speaker. Not the same...
They were three car trams on four bogies; the middle two were shared with the middle carriage essentially suspended between the two bogies.
The cheese slopes either side of the windscreen aren't perfect but the other option was chopping a 2x2x2 slope in half and I wanted to do this tram without modifying bricks.
Here's a picture of the real thing on
RailfanEurope.net
. They came in a lot of different variations. This one doesn't have the red bar I modelled, but some others do.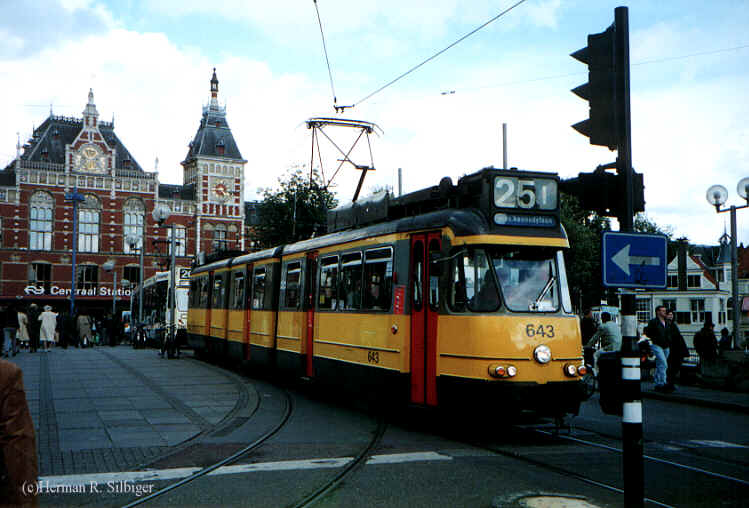 At 8 wide it's kinda biggish for minifig but that was necessary. The bogies are hidden behind the skirts down the side. Only at 8 wide could the 9V motor units turn enough to get through the 9V curves:
The round brick on the right is where the carriage sits on the shared bogie. The axle is for an elastic band to keep the carriages tight on the straight yet allow them to move apart in turns.
Unfortunately I didn't have a chance to print stickers. It could do with a 'GVB' (Amsterdam Transport) logo, a number, and maybe some ads on the side.
The pantograph took a few attempts but I'm quite happy with the result. Long live flex tube and minifig hands.
So there you go, my biggest train MOC in three years!