INDEXED
6376 - Breezeway Cafe
Year
– 1990
Theme
- Town
Pieces
– 171
Minifigs
– 5 plus 1 parrot
Price
(according to peeron) $23.00
Overview:
The box:
(Picture taken from bricklink)
This set is a great addition to any Lego City out there. The large curved windows and the green front yard along with the many light bulbs and different plants creates all together a cafe that is almost timeless in appearance.
There are a few things in the design that give away the fact that this set was released way back in 1990, but nothing really stands out as being out of style in comparison to today's sleeker LEGO sets.
The manual:
You can see already on the first page, that this is should be easy as a breeze to build :) You get lots of help throughout your building process.
Random page:
Interesting pieces:
This is a long cafe, so naturally, you get a number of quite long bricks. The design is quite "open" so there are a lot of 1x1x5 bricks, and a few arches
This cafe has room for six paying customers, so you get 6 yellow chairs, some red fences that make sure no minifigs can fall from the top floor, and you also get some wineglasses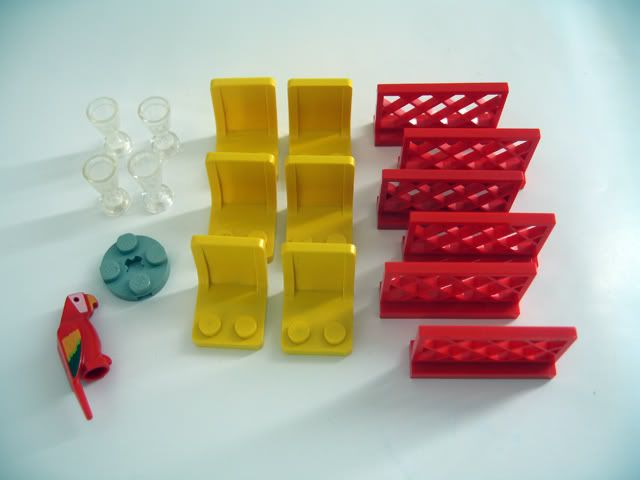 This set has numerous plants, and they all contribute to a timeless design
The reason this set wins my design award:
Curved windows with stickers - I love it.
The curved large window:
The cafe has a grill/kitchen and a bar.
Grill:
Neat simple design - My guess is that the red 1x1 tile is a steak.
Bar:
Here you can have both mustard, ketchup and... wine, altogether
The minifigs:
You get five minifigs with this set. That's actually pretty great, compared to the size of the set in itself.
The staff:
Chef: (picture taken from brickset.com)
Waiter: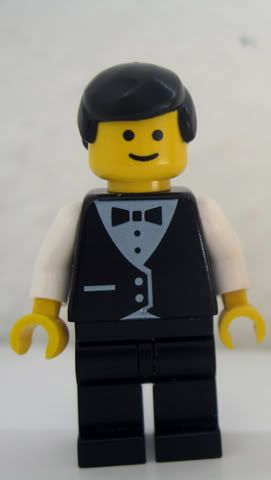 The guests:
(picture taken from brickset.com)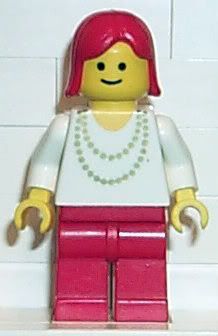 I'll now show you the Breezeway Cafe from different angles. I love how beautiful this cafe is, I love all the lightbulbs, and the green plants that twist and twirl up against the windows, panels and walls all over. It's really beautiful if you ask me.
The entrance: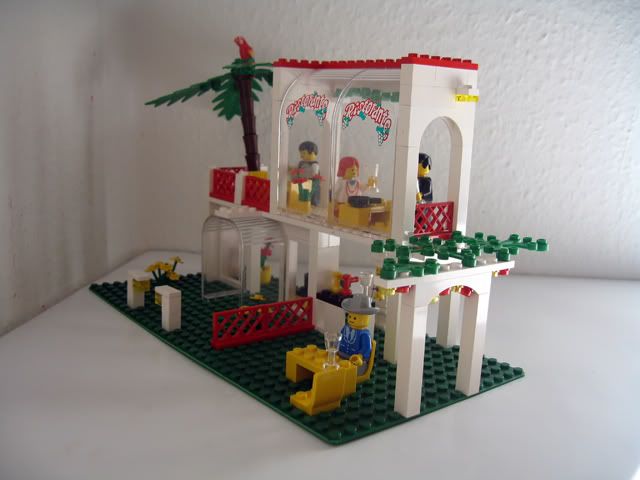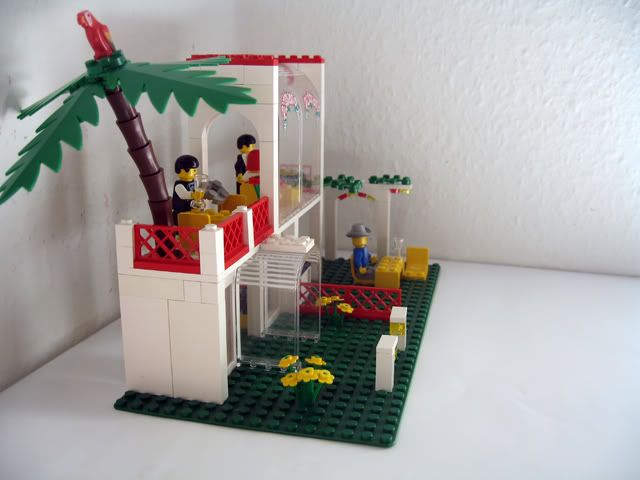 It's a really open design, so you can move around all the minifigs as you please.
Take a closer look inside: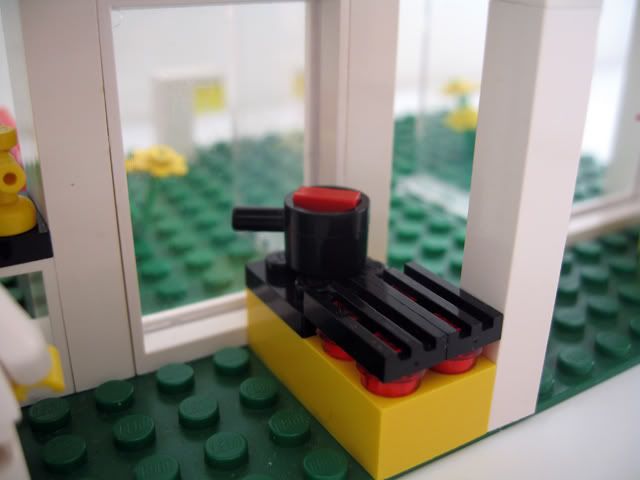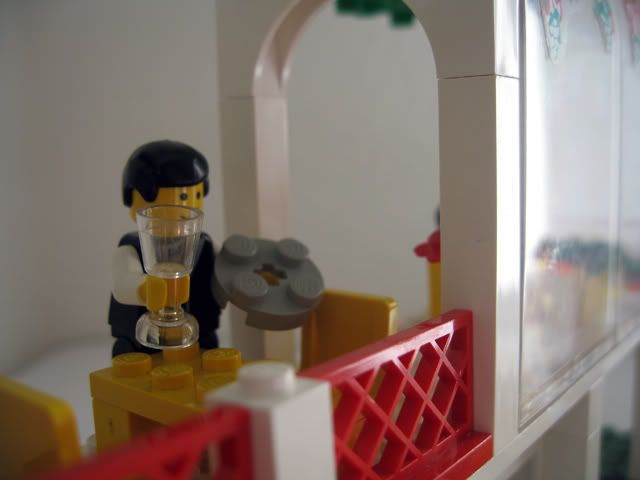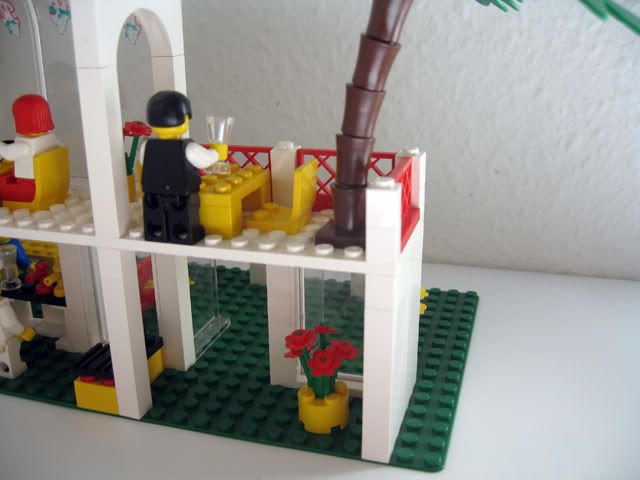 This is probably my favourite part of the cafe: The light bulbs and the plants growing on the arch:
It must be a cosy place to sit and have a glass of wine
The verdict:
Design:
10/10 - Timeless design. Great use of plants and space.
Playability:
8/10 - There are not a lot of cool features in this set, but it is a cafe, so naturally your imagination can help you along. 5 minifigs is a definite plus too.
Build:
7/10 - It's easy and the result is stunning, but there's nothing out of the extraordinary, building wise.
Parts:
9/10 - The long bricks, the baseplate and all the windows, the plants, the chairs, fences and the many "poles" (1x1x5 bricks) are all extremely great parts in any LEGO collection
Price:
8/10 - I feel that $23.00 must have been a pretty fair price back then. A 16x32 baseplate, 5 minifigs and a great design makes this worth the money
Edited by TheBrickster, 19 September 2009 - 05:27 PM.