It's been a while since I last did a review (my other ones being
Skull's Eye Schooner
and
Rock Island Refuge
)
This review will cover the very popular 1991 set
Lagoon Lock-Up
,
Lagoon Lockup
, or
Soldier's Tavern
6267 - Lagoon Lockup
Released: 1991
Pieces: 193
Minifgs: 5
Price:
(according to peeron.com)
$29
OVERVIEW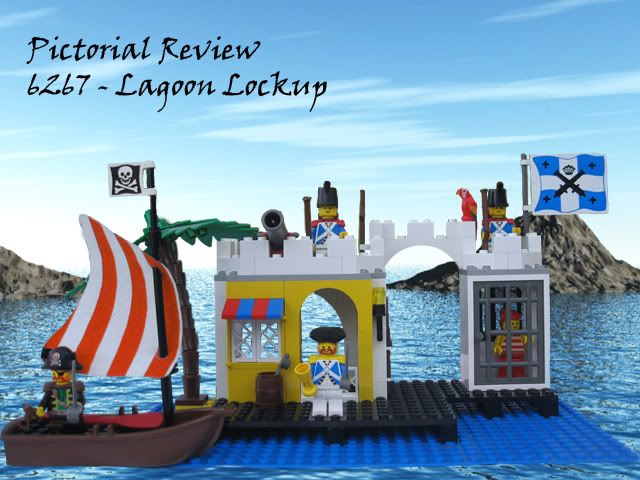 THE REVIEW
This set was probably one of my favourite sets as a kid. I loved the fact that it featured Will, Captain Redbeard's young friend, and I loved the rowing boat with the red and white sail.
Fearless Captain Redbeard sets off to rescue his young friend Will, imprisoned in the Lagoon Lockup a few miles away from the Soldiers' main base, the Eldorado Fortress.
Will Redbeard succeed, or will he fail miserably? Read my review, and see the pictures that tell the tale of Captain Redbeard's dangerous and selfless mission to save young Will.
First things first:
THE BOX
(more pictures of the box with alternate models can be seen in
this thread
, concerning only the box art of this particular set)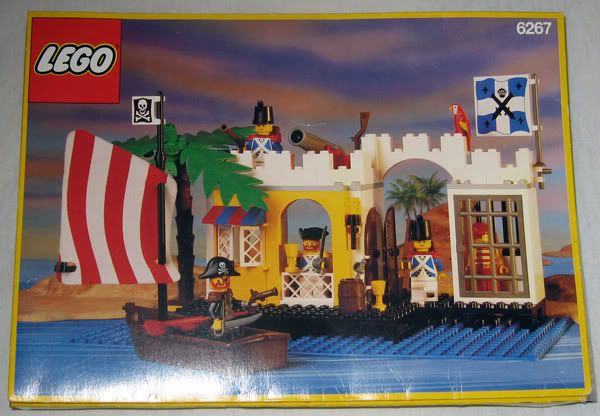 THE MANUAL
The manual is pretty standard for this kind of set, and for time period. TLG has made a lot of positive changes to manuals today, which makes sets easier to build. This was not the case back then. I don't think this is a difficult set to build however, so kids would easily be able to enjoy this set. There are many guidelines throughout the manual, as you can see from the two pictures below.
First page: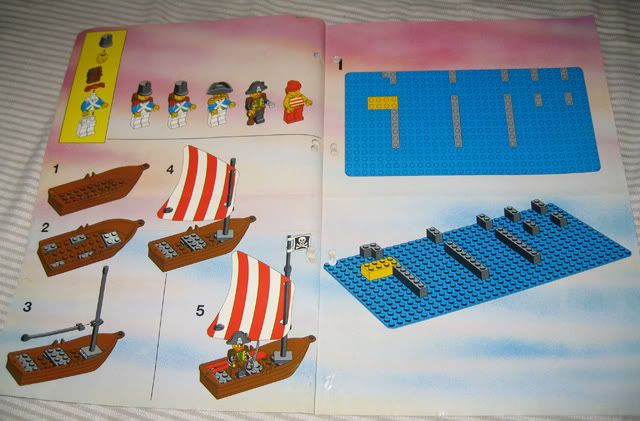 Random page: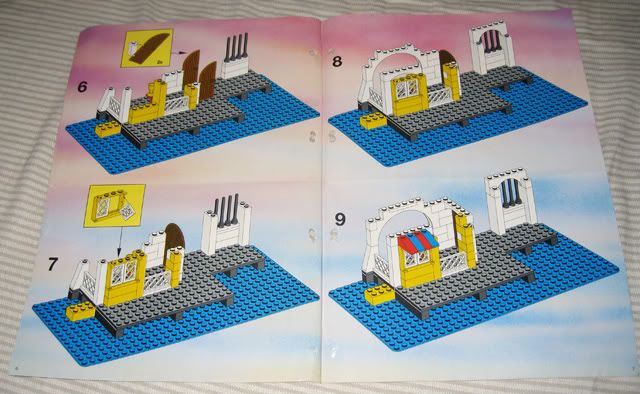 THE ACCESSORIES
You get a nice collection of weapons, a canon with six cannon balls, a brown rowing boat with a beautiful red and white sail. You also get a parrot, some wine glasses, a barrel and two flags.
I also want to remind you, that the blue 32x16 base plate is great for building forts, islands and other piratey stuff.
THE MINIFIGS
You get 5 minifigs: 1 officer, 2 soldiers and 2 pirates: Captain Redbeard and his young friend Will.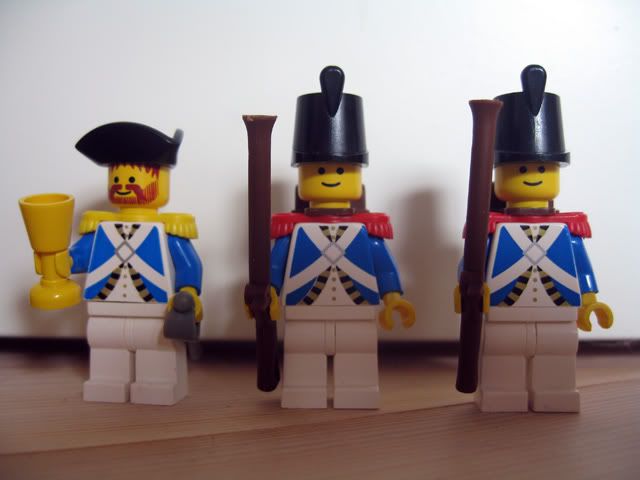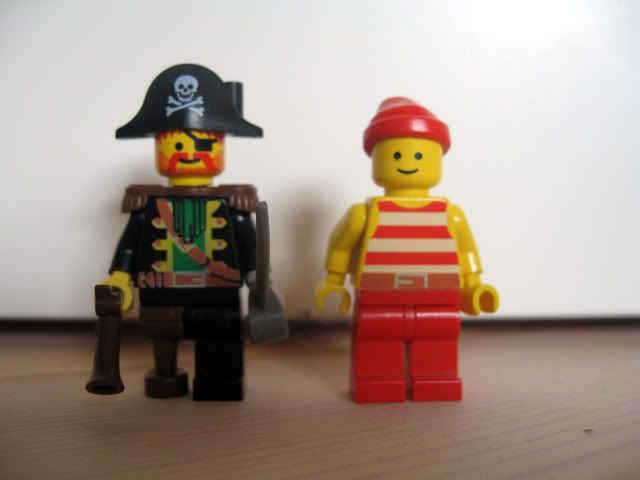 To give you a better view of this magnificent set, and an idea of the simple yet great design, here are some pictures from different angles.
If you will bare with me for just a little longer, I'll let you know if Captain Redbeard manages to save young Will later in the review.
LAGOON LOCKUP
From the back: Notice the beautiful arches
From the very top: Classic 90's Blue Coat architecture
The prison:
Behind the prison:
Outside the small (but popular amongst soldiers) tavern: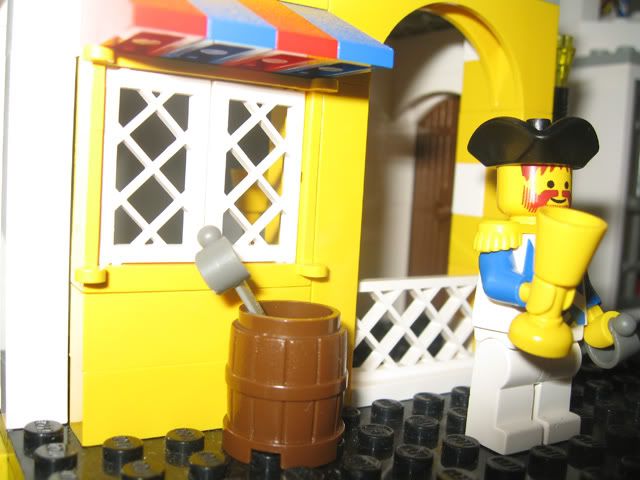 Behind the tavern:
The weird angle: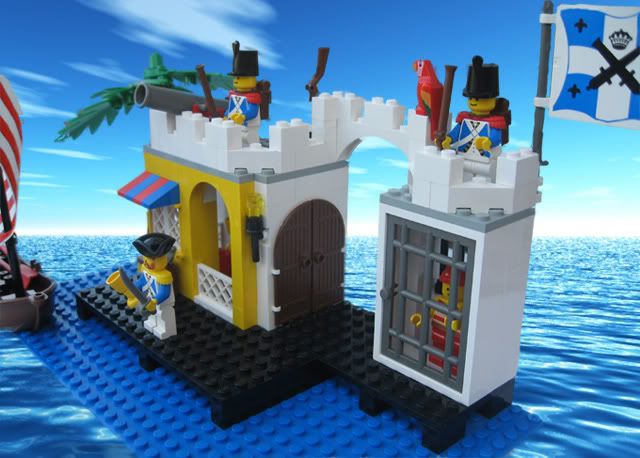 THE ESCAPE FROM LAGOON LOCKUP:
The fearless and, at rare occasions, selfless Captain Redbeard sets sail from his beloved
Rock Island Refuge
miles and miles away at sea to rescue his young friend Will, imprisoned at an outpost in a lagoon far away from civilization.
The Pirate Captain has waited for several hours behind a large rock, and as the night falls he grabs his oars and silently approaches the Lagoon Lockup. He hopes that his plan has worked, because he has sent ahead his mystery friend from his Skull's Eye Schooner Crew: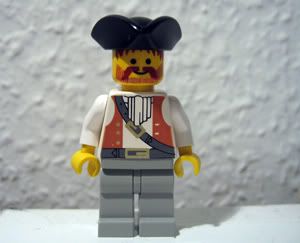 This guy gave the soldiers one barrel full of rum before he again sailed away. Luckily the soldiers never hestitated and they quickly got drunk while their attention towards young Will was long forgotten.
Now Will has been able to break open the rusty prison door and has been waiting patiently for his captain, while listening to the drunken soldiers sing and chat.
The once so strict and regular officer falls asleep on the front docks, just as Captain Redbeard approaches the Lagoon Lockup:
It looks as though Captain Redbeard's plan has worked - he saved Will, and can return safely to his headquarters at the Rock Island Refuge.
THE VERDICT
Design: 9/10 - The Lagoon Lockup has a great, funtional design without any weird "ideas" from the LEGO design team. I think it's almost flawless, and it's still one of the most popular Classic Pirate sets out there. The only thing missing is some sort of feature like a trap, or hidden room. But you actually don't see those features in any of the Soldier's sets. So maybe it's not so bad anyway ;)
Playability: 9/10 - The possibilities are many when you have a boat, a prison and a tavern.
Parts: 7/10 There's not a lot going on here. But the rowing boat with the red and white sail, plus the five minifigs add up, and makes this worth it.
Price: 9/10 All things considered: Large base plate, rowing boat with a rare sail, five minifgs and a canon, this was actually a pretty great purchase.
All in all, this set certainly deserves all the praise that it gets on this forum, no doubt.
This concludes my third review. I hope you enjoyed it. Please let me know if I forgot something, and I'll add it as soon as possible.