Hello everybody!
Today, I would like to introduce to you (if you don't know them!), our friendly Fabuland friends.
I choose one of my first "big" set :
3675 General Store
This set was released in 1987.
Set Data:
3975
: General Store
Year
: 1987
Theme
: Fabuland
Pieces
: 103 + 3 minifigs
Price
: 20£ when released, nowadays sold 111$ on Bricklink
Building time
: 25-30 min
More informations
:
Bricklink
Brickset
The box: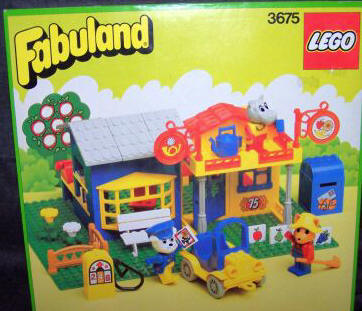 (From Peeron)
The box shows an overall view of the store.

Instructions:
The instructions look like they are hand drawn, that's very pleasant. During the whole construction, you are accompanied by your Fabuland friends! (Picture from Brickfactory)
Pieces of interest:
This set contains some very original pieces like the gas pump or that sign. This set contains a mix of printed bricks (like the
cash machine, the letter box or the fruit-tile) and stickers for the rest. I'm very happy to see that those stickers are as new even if they are 22 years old !
Those drawers are absolutely magnificent! I think they can totally be re-used in a Moc.
Minifigs
Figures
From left to right, you could recognise Hannah Hippopotamus, Freddy Fox, and Boris Bulldog. Freddy Fox is the owner of the store, Boris is the mailman, and Hannah is just a citizen of Fabuland ! The figures are simple, the hands can't move, but the two legs can be moved separatly. They only have a front printing.
The building
The buiding starts with the cash machine. In the sweet world of Fabuland, everybody is kind: that's why Boris is here to help Freddy to settle his shop. Hannah is here too but she didn't want to do anything !

Boris is so strong, that he can carry a shelf by himself!! Hannah is very impressed...
The door and the window are ready, so they can begin the construction of the solarium !
And it's done ! Hannah hasten to test it while the guys build the roof.
Everything is almost over, Freddy put his bricklayer's clothes to finish the wall.
That's it! The store is now complete. But the inside need some furniture...
The furniture are rudimentary : a table and another shelf. The shelf contains those lovely drawers !
The car
Boris is the mailman, so he need a car to make his round. To thanks Boris, Freddy helps him to build his car.
Overall view
Everything is build, the garden is already full of flowers, the tree is ready to give its apples, and the mailbox is full !
Inside the store, Freddy is busy and make some call to be delivered on time.
"What, what what? You don't know where Fabuland is ? You can't deliver to me? ... ... ... Do you have something to write on, I'll explain to you, it's very easy!"
Boris fill his tank before going to work, his journey is long in Fabuland !
Close up
A close up to this lovely mailbox. It's so huge you can even hide somebody inside !!
The sign is lovely, I like its shape all in round ! There is a sticker in front, and a different one on the other side.
This is the wall with the price of store good. Unfortunately, this is not print, it's a sticker. I think I should thanks my dad for such a good collage of all the stickers!
I hope Freddy won't change prices very often !
Thanks for reading this review, I hope you enjoy this set as much as me !
Everybody say
"Bye Bye"
to Fabuland, it's now time to return in the real world !!
Review
As far as I'm concerned, I think that set is wonderful. I really enjoy building it again, almost 20 years later... The explanation are simple, the bricks are big and easy to take. The building process is very smooth : at each step you add just one or two bricks.
I really miss Fabuland... I think that theme was great for little kids : the figurines with their big animals head are very friendly, and everything in Fabuland exudes calm, quiet and friendship !
Figurines:
4/5 Three different Fabuland fig !
Pieces:
4/5 There is some very original pieces in here that I totally forgot for years. Maybe I'll try to incorporate one of these in a MOC.
Playability:
5/5 The back of the store is totally open, so you can play inside !
Construction:
5/5 Very easy, step after step.
Overall rating:
4/5 Excellent set.
Thanks for reading my review !
Hope you'll like it, and let me know if you don't!
Pictures can be found in my
Brickshelf
Edited by Rufus, 18 July 2011 - 06:52 PM.
Indexed