So here are the pics I took. Again, I'm not saying "Don't spend your money on Lego" and I'm not saying "Don't buy this set" All I'm saying is you might be dissapointed if you are expecting the same quality lego parts that are in other sets. I wish I would of bought just one set, as I don't like the look of the material or quality used in the torso, hands and legs. It looks and feels cheap to me. It doesn't feel and look like Lego to me, but again I'm 31 and have been looking at lego for a long time and maybe I'm just used to seeing that true lego yellow. Maybe this is the wave of the future. Zorro I'm sure you won't believe me, and maybe your right, maybe the TTT sets are the same quality, but here are some pics that I took of one of the soldiers from the TTT set and one from the Soldiers Arsenal Set.
The TTT' parts are on the left and the SA parts are on the right. You decide if there appears to be a difference.
The torso's are both facing the same way yet the LEGO logo is facing opposite ways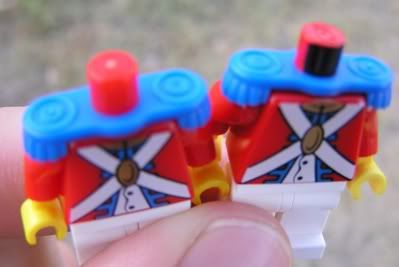 Notice the necks of the torsos, black print on the neck of the SA part, no print on the TTT part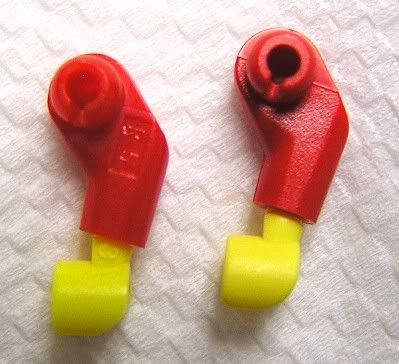 Notice the lemon looking TTT hand on the left in contrast to the more regular looking yellow yand, also note the dark shadow area of the arm hole in the SA part which contrasts with the TTT part. It's like light shines right through the plastic of the TTT part. Also note the numbe stamped on the TTT arm.
Again, I'm not saying don't buy these, I'm just saying that I have noticed a difference and if I had known there is a difference I would of not bought fou sets and would of bought more cannon battles and soldier arsenals because I was mainly buying these for more soldiers.
NOTE- Brick Beard's legs are not made of the same material of the rest of the figs, I believe he is a Brick Beard made of normal quality. Even his hand is darker and more opaque. Almost like the brick beards come from a different factory. I will pull his arms off and compare with Brick Beard from soldier fort and Bounty.
Edited by Apache, 15 August 2009 - 04:31 AM.