After a rough day, Eugene/Escape the Fate headed home on his bike.
*RATATATATATAT!*
"Arrrrgh!"
The figure with the tommy gun smiled, and quickly drove off in the getaway car.
Morning came, and as usual, the town gathered together and stood in the middle of the road.
It wasn't long before everyone had arrived. Well, everyone except for...
... Rose/Ricecracker, who had decided she needed a change in scenery and skipped off to the beach for a couple of days while her friends did the dirty work back home...
... And Eugene/Escape the Fate, who was most certainly dead. Not only was he dead, but he was also a Townie.
... So with that, the town readied themselves for the new day.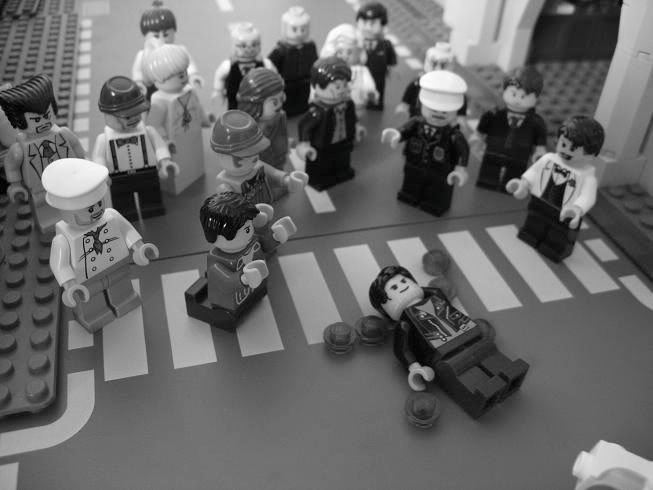 Rules:
Noir Mafia will follow the basic rules of mafia. Every day the town will be able to kill someone off. To do so, they will need to get the majority of the players to vote for one player. Once someone is voted off, it will be night time, and those with night actions will be able to PM me to tell me what they are going to do. If the day lasts for more than 5 real days, it will be night. Night will typically last about 2 real days, and if you don't PM me your night action in time, it won't be counted.
In addition...
- There are two basic sides - the
Town
and the
Scum
. The basic objective for the Town to win is to kill all of the Scum, while the basic objective for the Scum to win is to outnumber the Town (some characters may have to complete additional objectives in order to win the game).
- Voting will be done publicly. They must be typed in bold. (eg.
Vote: Player
). You may unvote too (eg.
Unvote: Player
)
- Editing your posts 3 times will get yourself killed. 3 Out of character posts in the game thread isn't a good idea either
- 3 mentions of Witch Hunt Mafia and I'll give you a very dirty look.
- Don't post in the game threads when you are dead. You're dead. Act like it.
- Don't give hints or suggestions about the game when you are either dead or are not a participant. Feedback in the general discussion thread is okay.
- Don't be a sore loser. It's only a game
- Don't quote what I said from a PM. If you must, please paraphrase it. Quoting one of my PMs will get you killed.
- You are allowed to communicate with other players via PM
- Don't judge a book by it's cover. Just because someone has a certain occupation/face, doesn't mean they have a certain role.
Players:

Hinckley -
Henry
Sir Dillon -
Donald Sirna
Alice -
Aida Sirna
Stash2Sixx -
Samuel Stevens
Millacol88 -
Michelle

ImperialShadows -
Shawn Imperante
keetong -
Christopher Tortelini

Quarryman -
Joey Quinn

WhiteFang -
Father Walters

Darth Legois -
Donna
Bob the Construction Man -
Robert Concini
Ricecracker -
Rose

Sandy -
Artie Sanders

Commander Flash -
Carlo Ferguson

Striker -
Sal
Lego12 -
Lorraine

Zapper Brick -
Zita
The Dead
YG-49 -
Vincent Forman
(Town)
:
Voted off, Day 1

Dragonator -
Dr. Agon
(Town)
:
Murdered, Night 1
AwesomeStar -
Augustus "Gus" Staines
(Scum)
:
Murdered, Night 1
Zepher -
Stephen
(Town)
:
Voted off, Day 2

Escape the Fate -
Eugene
(Town)
:
Murdered, Night 2
JimButcher -
Jerry Buscemi
(Scum)
:
Voted off, Day 3
Reserves:
- NewRight
- nintha
- General Armendariz
- samthelegoman1
- space hulk
- Adam
17 players remain. A majority of 9 votes is required to condemn.
Edited by TinyPiesRUs, 03 August 2009 - 09:19 AM.