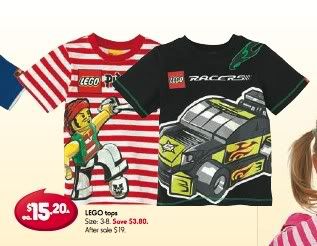 Name:
Lego Pirates Tee
Theme:
LEGO Apparel and Accessories
Item:
T-Shirt
Year:
2009
Pieces:
1
Minifigs:
0
Bonuses:
Red Ninja Sticker
Price:
AU$
19.00
20% off
$15.20
Boys Sizes:
3 - 8
Resources:
Kmart Catalouge, Page 3
Introduction:
I
(and a few others)
am a strong believer in Reviewing every Lego product I have whether it be a
Cookie Cutter,
a
Toolbox
or a
Regular Set
. There is no exception to the rule and when Svelte pointed out the new kids t-shirts at Kmart, I just knew I had to have one. There is no way I am one of those girls that might fit into boys size 8 (creepy little hobbits) so I am going to
make
it fit me. It is easily done, I might even show you how.

Packaging: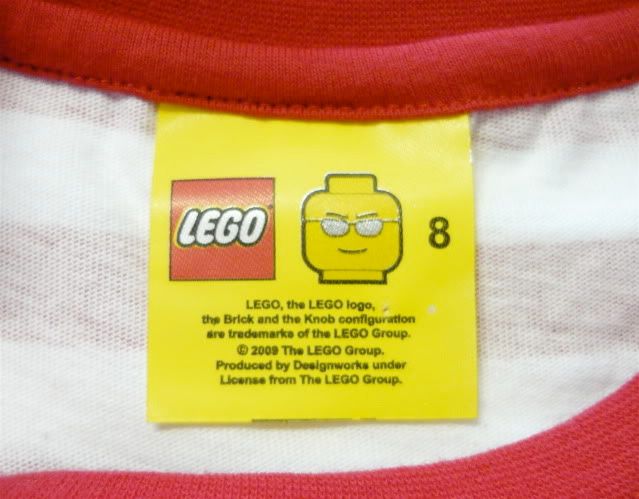 I've included a close up shot of the tag just to prove that this is indeed a Lego product and not some Kmart rip off. The tag included the Lego Logo a minifigure head with reflective shades and the size, 8. (The reasoning behind choosing and 8 rather than 3, 5, etc is because it is the largest size and therefore the largest picture of the Pirate. Mind you, there is only a few centimeters between sizes, but it is enough of a difference.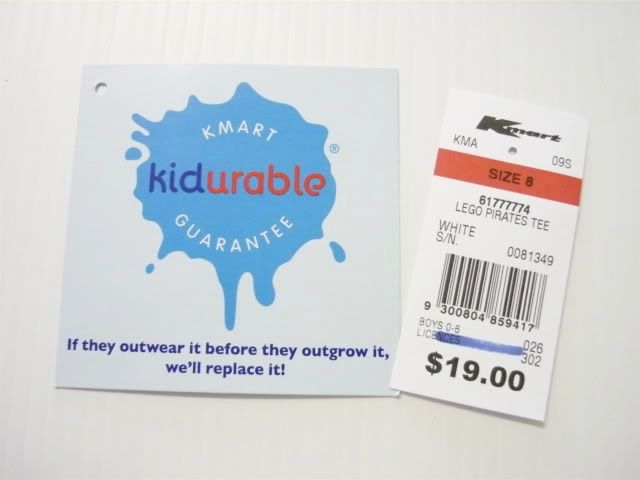 Kmart's Outwear/Outgrow Policy reads as a challenge, but does cutting the t-shirt up count?

The price tag shows the regular and after sale price will be $19. Rush out at get yours while the sale is still on.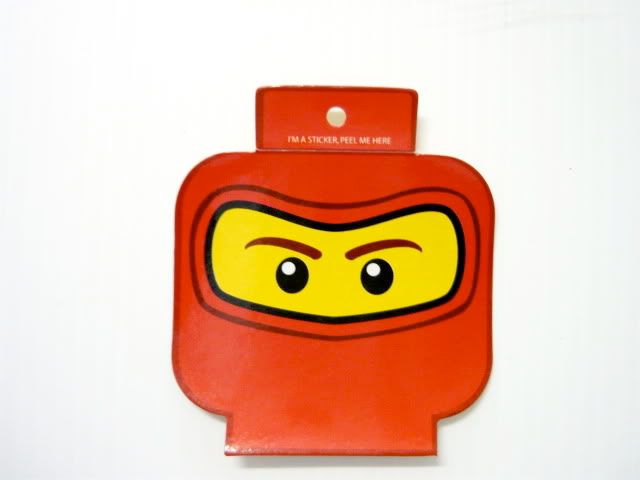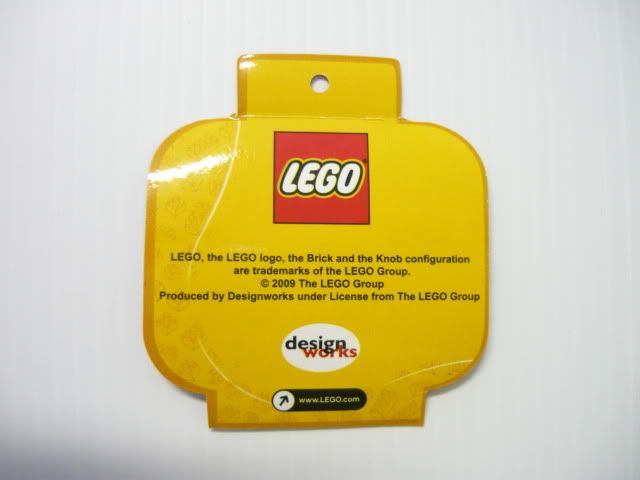 The 'design works' tag doubles a sticker.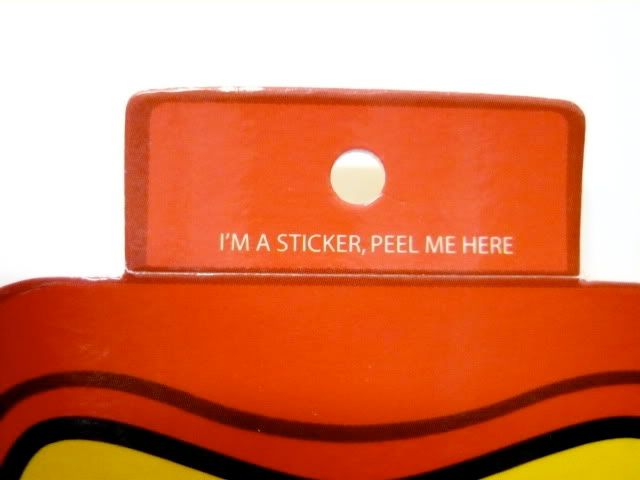 Anyone fancy a red ninja head to stick on your... book? fridge? car? ...
Instructions:
These are fairly self explanatory.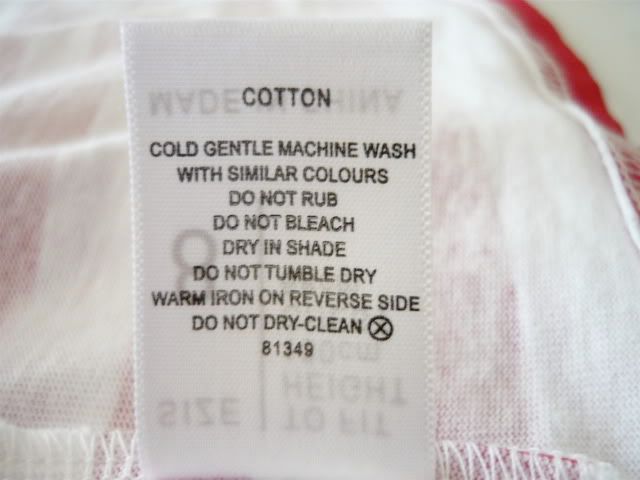 Front: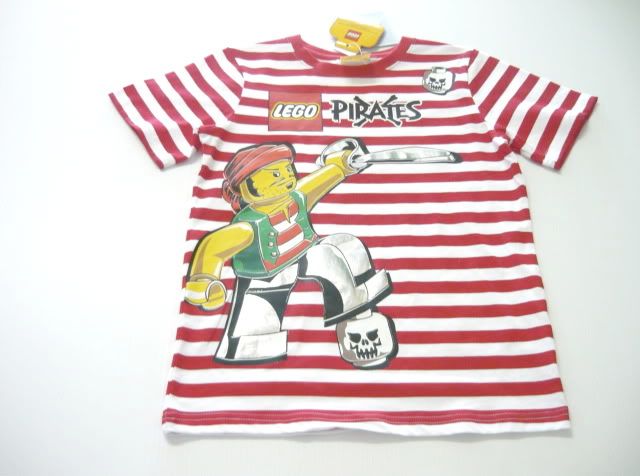 I am kind of glad this t-shirt doesn't fit because the LEGO logo, Pirates logo and the Lego Pirate is kind of overkill. It makes me want to say in the voice of Lina Lamont "What do they think I am? Dumb or something?" They
could
should have put the Lego and Pirate logos on the back. But then I remind myself I am not the uneducated mother of a demanding five year old boy, that will buy the product just because the Logo's
are
splashed all over it.
Back: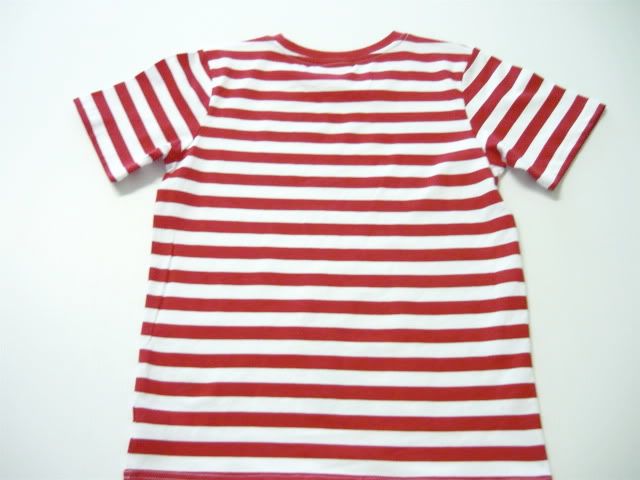 Plain, plain, plain, well apart from the Red and White stripes and all.
Detail:
A close up shot of the pirate shows us that what you may have thought was white pants are actually a reflective silver.

I'm not too sure how many boys over the age of five wouldn't be saying "But Mummy! It's all sparkly like a girrrrrls t-shirt!

"
The Pirates logo, is it just me or does that font make it look like its spelled wrong?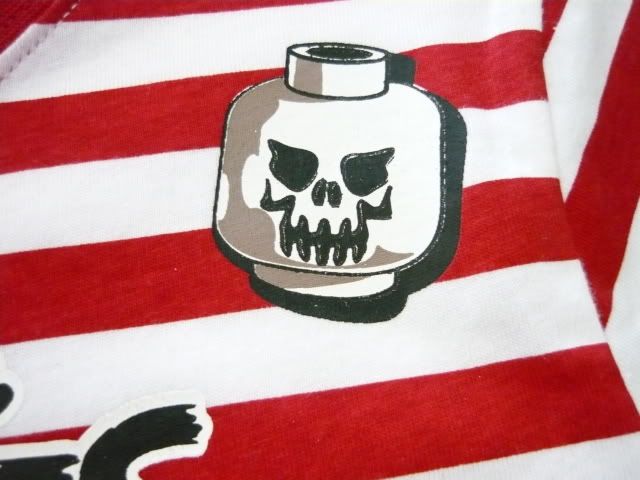 A skull, that has avoided being stepped on. Maybe it is all the way up there because the Pirate has already kicked it?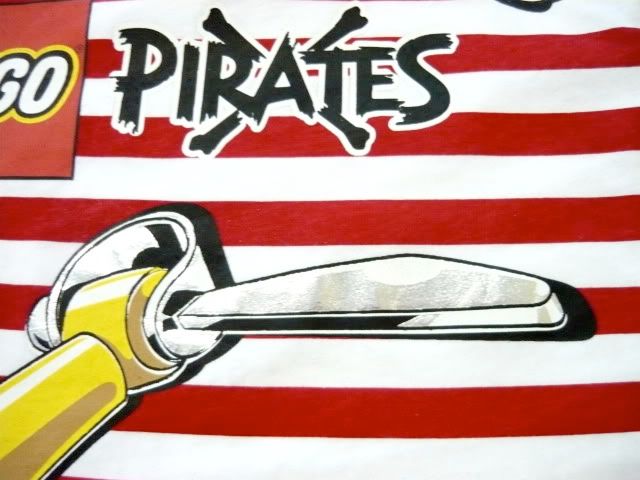 The Pirates cutlass is also shiny shiny.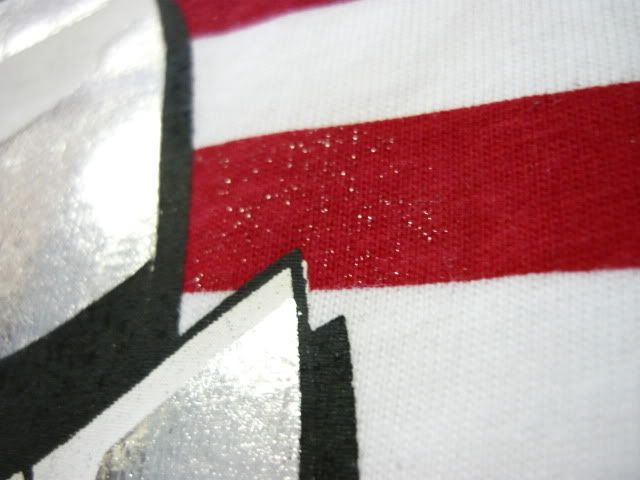 Not too sure if you can tell but some of the silver is creeping over onto the rest of the t-shirt, and adding to the girly sparkle.
Ratings:
Design:
8/10 I think they could have spread out the logos or moved at least one of them to the back and the second skull really isn't necessary, but the actual Pirate is such a handsome fellow and his pose is so... gallant. I love the Red & White stripes, they just scream dress-up pirate, that was a very clever idea from the designers I think.
Price:
7/10 Just because it is a Brand name doesn't mean they have to charge $19 for a kids t-shirt, kids grow so fast the hardly get to wear the same outfit twice and they are too big for it. I wouldn't have paid this much for Amelie to have it if she is only going to get a couple of months wear, but at least I'll get a few good years out of it now.
MOCability:
10/10 The prints are set out far enough apart to salvage all of them, I hope some of you can get your hands on one of these babies and use in an manner becoming to your tastes.
Alternative: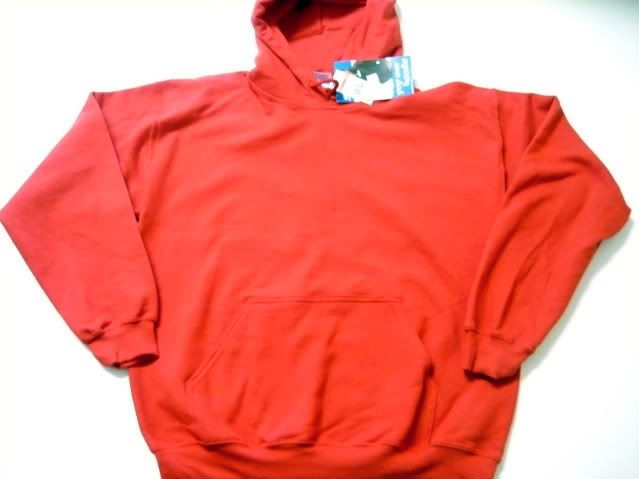 Firstly start by getting yourself a t-shirt, jumper or jacket (in your size) that has sufficient space for the Pirate to fit on. I looked around for a Red & White striped anything but settled on a Bright Red Pullover Hoodie. It cost me exactly $20 and was also purchased at Kmart.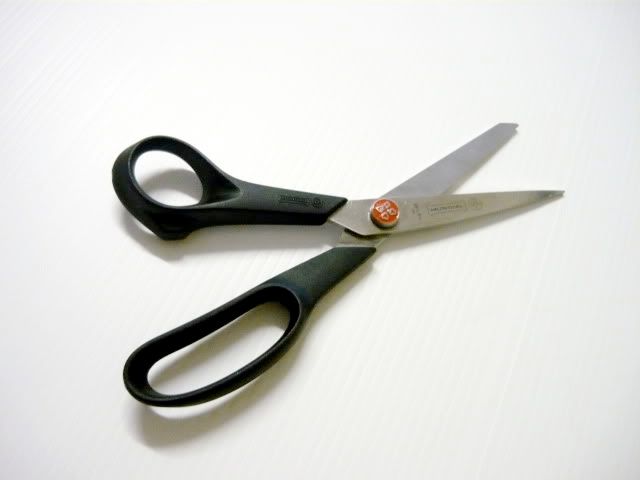 Get yourself a pair of sharp sewing scissors...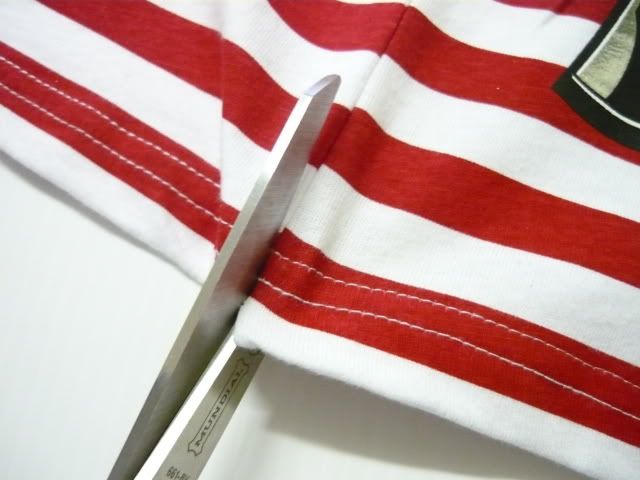 ...and start by cutting along the seam.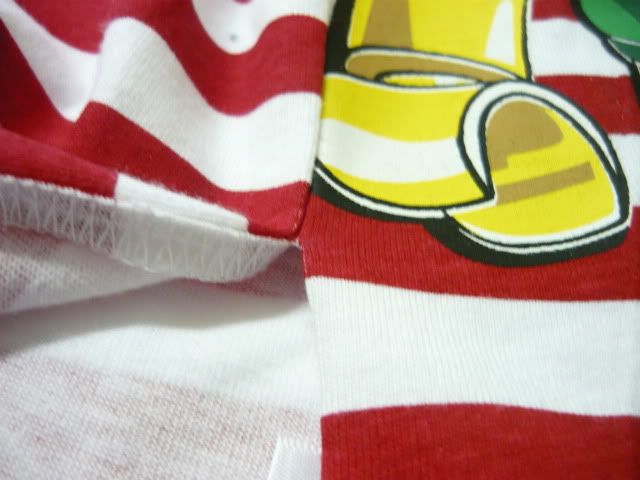 When you get close to the hand, STOP!!! The way the shirt is made, has the edge of the hand sewn into the seam cutting it off a little.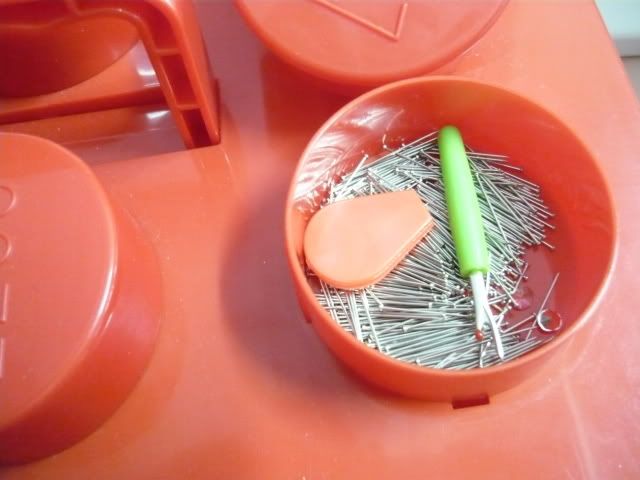 If you want to keep all of that hand, at this point you need to get out a thread unpicker from your trusty toolbox.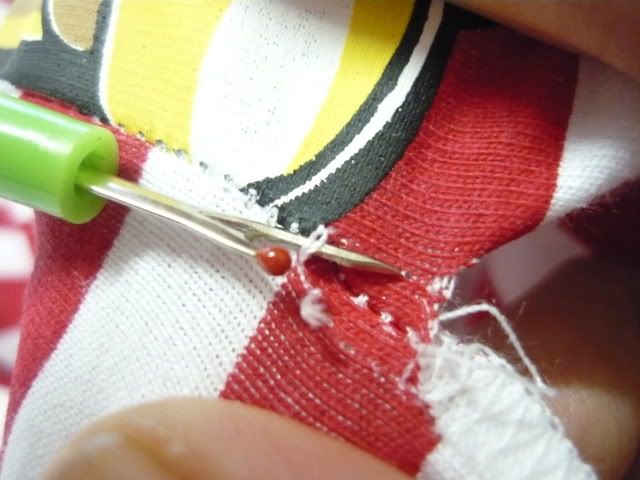 Start by pulling the material gently but firmly apart and cut the threads one at a time.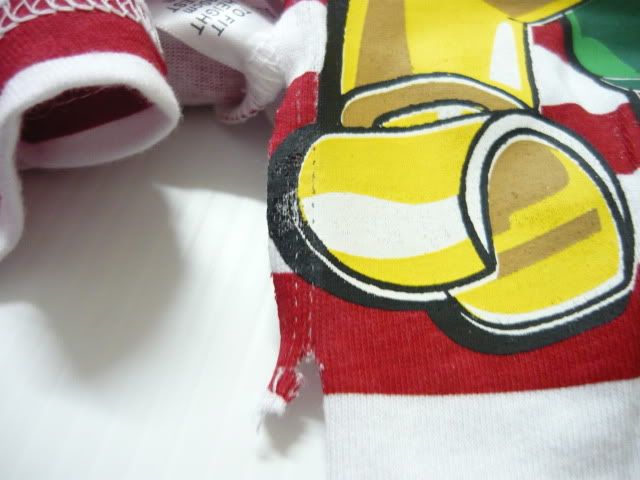 When you are done, you can see how much of the hand you would have removed if you kept cutting.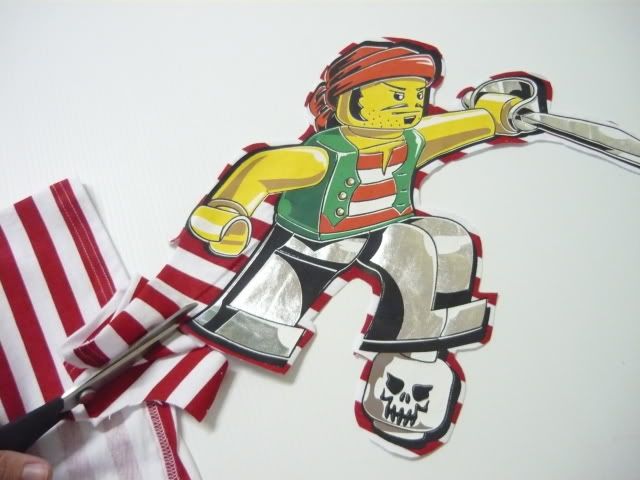 Continue with the scissors, leaving a small border of t-shirt material to sew on (leaving the actual print untouched)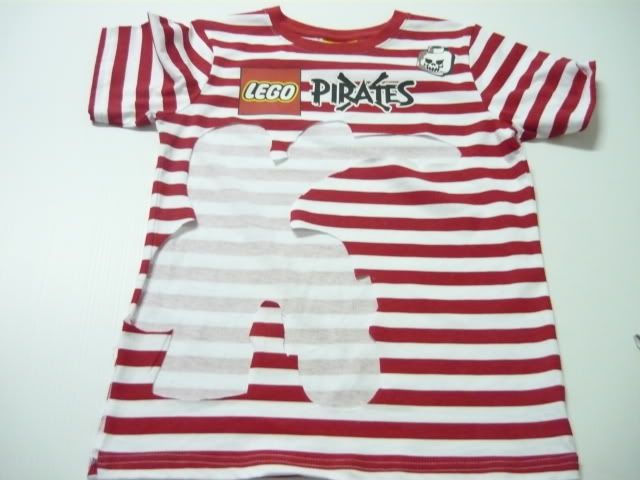 "Hey Kmart! This t-shirt is worn out and I haven't... I meant my kid hasn't even put it on yet! Are you going to replace it or what?"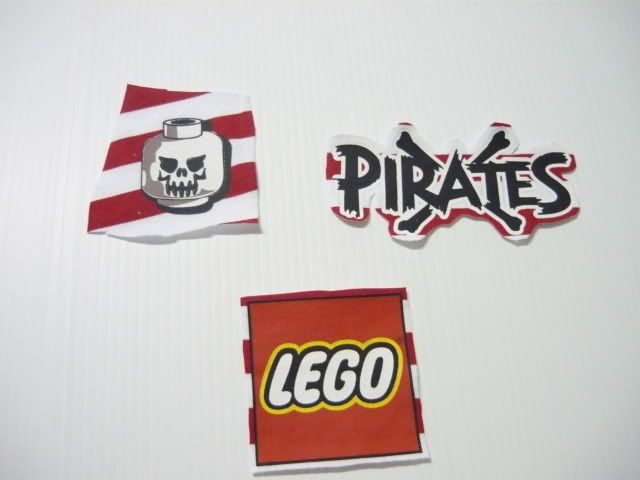 You can also cut out the logos, waste not want not and all that!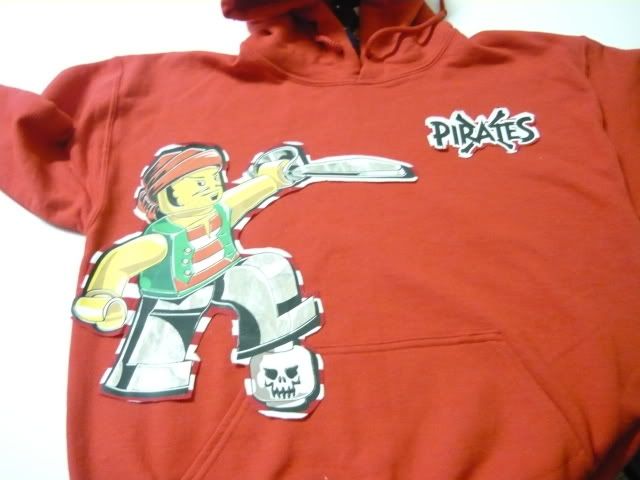 Now lay out the picture where you want it to be, and pin it into place.
The skull overlapped into the pocket and it looked silly, so I cut it off.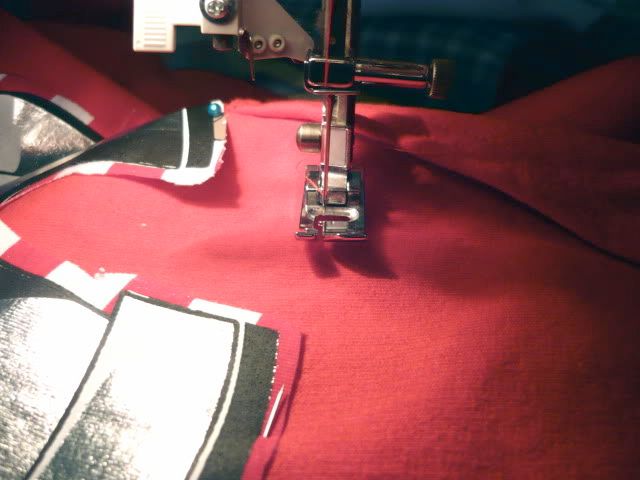 Now for the hard part, sewing around edge of the print, I used a
very
close stitch and a red thread.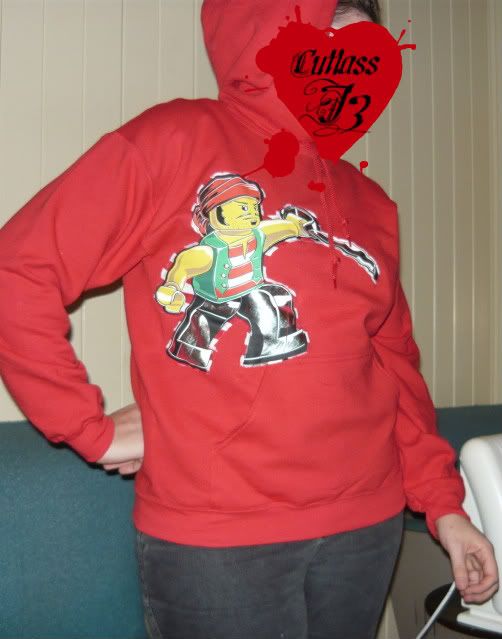 And this is what the finished product looks like.
Oh, oops, looks like something was spilled on the photo.

I didn't end up sewing the Pirate logo on as it looks just swell without it. Now I can use it on a bag or something. I love the deliberateness of the excess Red & White material, I hope it frays a little and looks all raggedy and piratey.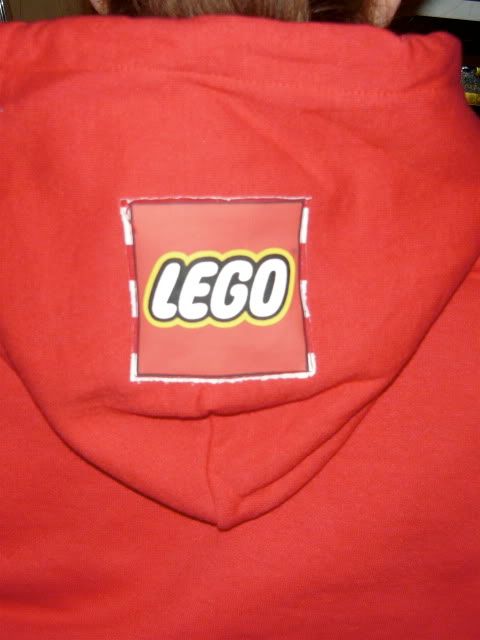 And on the back of the hood is Ta Dah! The LEGO logo.
Overall this cost me AU $35.20, and took about 1 + 1/2 hours to make, I might be persuaded to do it again for a price.

The End!