Rules:
(Yes, they are almost like the SWCG rules

)
1. No spamming, no nonsense, as always (see community guidelines).
2. No battles every other post, IT ANNOYS ME!

3. No huge side plots.
4. You can provide speech for other players, but don't take it to the extreme. Example: killing them off or making them look dumb.
5. Try using sets based in the future.
6. All comments not related to the story (e.g: notes on a MOC) should be typed in a different color (it doesn't matter which one, as long as it doesn't blend with the background),
like this
. This does not apply when we are in-between chapters.
7. Have fun!
8. Join now, or when I end the first chapter. At this point in the story we would probably be somewhere in an inhabited city. If you would like to join, please provide (in between chapters) a picture of your character and some background of him/ her. Remember, you only get one character.
10. Make your posts worth the read, and try to actually contribute (no useless, short posts that don't add anything to the story).
List of Players:
Jammiedodger714 (Zach Smith)
Oky Wan Kenobi -
Position Pending
republicFORCES
Bob the Construction Man
computerbug
YG-49
simonjedi
jifel
Bartram
Adam
Eskallon
Striker
ZapperBrick
Profiles
---------------------------------------------------------------------------
Jammiedodger 714 (Zach Smith)
Name:
Zach Smith
Age:
34
A former soldier, Zach Smith knows several combat forms. He knows his stuff about weapons and technology, which comes in handy when fighting robots and aliens. He wonders from city to city, trying to find anyone willing to help his cause. He is a kind person, but is hard in some situations. He has a past time of keeping chickens.
---------------------------------------------------------------------------
Oky Wan Kenobi (Jack Samson)
Before the apocalypse, Jack had a happy life. He had a satisfying job, a nice house, and a lovely wife. But then, one day, everything was taken from him in a flash. Everything he loved was destroyed in the nuclear attack that made the world what it is today. He barely survived the attack himself, but lost an arm, a leg, and half of his face that day. However, he has managed to replace those body parts with cybernetic prostheses. Once he found out that the robots were behind the nuclear attack, he swore to destroy every robot he encounters. He travels from city to city, ridding them of evil robots. He collects parts from the robots he hunts down to "upgrade" himself and to keep as trophies. In his quest, he is aided by his cybernetic limbs which have made him stronger and better. His right arm can "transform" into a variety of tools and weapons, including a plasma cannon. Now, his next stop is City 23.
Here is a pic of him firing his plasma cannon at a robot:
(In case you can't tell, the cannon is made out of three 1x1 round plates: two silver, and one trans neon green.

As for the recreation of the fig: it's OK if you replace the torso of the fig as long as it's something dark colored and cool-looking. However, the head and hair should stay the same. They are both from Jetpack Pursuit, so if you haven't gotten this excellent set yet, hurry and get it! You wont regret it. The robotic leg could be anything that is silverish and mechanical looking, even chrome! (I would prefer that actually)

)
---------------------------------------------------------------------------
Bob the Construction Man (Bob)
Let Bob give you the grand tour of his bunker:
"This is the door, it locks tight so that aliens/robots can't get in."
"This is where I eat. The kitchen is over there."
"This is my Television. I'm getting tired of watching Batman reruns..."
Story:
Bob Willians was the owner of a large company that built robots and droids. However, when the war started, he went into his bunker with his dog, (Which I forgot to include in my pictures).
Currently, he sits in his bunker, waiting for someone to come down and find him. He also can't drive as he never tried to, and hates the loud banging that keeps him up at night. What ever that might be...

---------------------------------------------------------------------------
Timbit (Tom Beringer)
Name: Tom Beringer
Occupation Before Apoc: Wild Game hunter
Occupation After Apoc: Alien Hunter
After the Apocalypse Tom found an armored suit in the remains of a military bunker. He spends his days hunting down aliens and hoping to find something edible. He has a ramshackle base and an old military vehicle. He never hunts robots only fights if he must. He is beginning to worry of his life as he has noticed outsiders in the city. He only hopes they are friendly.
---------------------------------------------------------------------------
computerbug (Chris)
C.C (my initials) C.C or "Chris" is avery talented inventor soon before the apocalypse he designed mechanical arms that would come out of his backpack at the shout of the word "TOOLS". In a freak inventing accident that involved a bucket of gears and a high voltage A-63 unit with an artificial intelligence meltdown caused his hands to become useless but soon afterwards he developed some three fingered metal hands that were fire proof and had rubber cushions on the inside so he couldn't get electrocuted. He is always wearing goggles is pretty quiet and is very paranoid. He always has a tool belt or tool-box and is not very fast when it comes to building but he makes amazing creations if you give him the time. He has a pet ferret named Rodriego (the rat is supposed to be Rodriego).
---------------------------------------------------------------------------
jifel (John)
Name: John. Nobody knows his last name, and John sees no reason to change that.
Age: 39
Height: 5'11"
John was a corporate trillionaire before the Apocalypse. He ran the worlds largest energy company, specialising in Nuclear Power. When the bombs fell, most of the Power Plants were destroyed, releasing radiation that killed millions. The rest were harnessed by the Robots, to power the factories that produce more and more machines. John is held accountable for this by some of the survivors, so he often works alone, and even when with others he will distance himself somewhat. He still wields enormous power and has huge amounts of money. He uses this to further his own needs, which are to disable all the remaining factories, and take out as many robots as possible. He lives in the ruins of his city, where he has an underground bunker full of weapons, wealth, and dissassembled robots. He is determined to shoy down the factories if it's the last thing he does. Jifel wields a pair of semi-automatic pistols, with armour piercing rounds. He is proficient with a sword, but doesn't use it because "If you're that close to them, you're already dead."
---------------------------------------------------------------------------
YG-49 (Marcus Nickstill)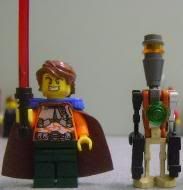 Marcus "Smart Ar$e" Nickstill is a 42 year old scientist. He was one of the designers for the robots that soon took over the Earth in 4015 (A.D) He is usually depressed due to his state of guilt because he almost killed the Earth. He trys to find away to kill the "immortal" aliens that invaded Earth in 4017 (It is currently 4022.) He has invented what he calls a "lightsaber" (whackjob) which is a small black rod that emits a red beam of light that can cut through almost anything. He lives in an airtight bunker. His wife was killed in lab that the robots first went haywire. His daughter was beamed into an alien ship and Mark still has no idea where she is. He lives in the bunker with a robot that he reprogrammed. He calls it "YG-49". Oh, and Marcus is slightly mad!
---------------------------------------------------------------------------
simonjedi (Garviel Loken)
Garviel Loken
Age: 27
Before the war, Garviel Loken join one of several mining vessels sent to mine asteroids to ease the resource crisis. About the time as the first nuke went off, the robots about the "Grey Dwarf" rebelled and destroyed the ship. Garviel survived because he was mining at the time.
When he returned to earth, he met up with other survivors of the mining vessels and formed the resistance, which he is now the leader. His base is in the wasteland surrounding the ruins of city 23, where large concentrations of robot bases and outposts lie.
As well as the threat of the robots, he is concerned about the increasing number of reports about unknown alien ships sighted.
---------------------------------------------------------------------------
Bartram (Milo Hailif)
Name: Milo Hailif
Age: 21
Before the nuclear war, Milo was a recruit of the International Military Service, a group of skilled soldiers working to detect and deter International security threats. After watching the destruction of his city from the safety of an IMS bunker, he began searching for other humans still alive. He still resides in the IMS bunker.
Milo is courageous, cheeky, and smart.
---------------------------------------------------------------------------
Robert Frone (republicFORCES)
Name: Robert Frone
Age:43
Height: 1,87M
Before the nuclear war, Robert was a biological and electronical weapon scientist/inventor guy. He made two weapons (electro and bio version). The electro could take out forty robots together and the bio version could make five aliens slowy die, but he needs to make more bio ammonition. This is because he has just got one shot for it, and the ammo is really hard to make. He also modded normal weapons. His wife and child were both killed in the war, and he was a soldier under Zach's command before the war. He made mutiple special shelters for people so they could live in them and those shelters are protectable to nuclear waste/disease/bullets/and bright light. He self lives in a special bunker with defence turrets on the top, in ch he lived with some family (his brother and his wife, his sister and her husband). He also has the most poisonous animal to make more "bio ammo". Robert is really smart but easely angered.
---------------------------------------------------------------------------
Adam (Adam Gastaldi)
Name:
Adam Gastaldi
Age:
26
Occupation:
"Reformed" Mobster
Equipment:
Briefcase, Shotgun, Communicator
Description:
Adam is a *cough* reformed *cough* mobster, who is currently acting as an informant of sorts for Zach. After his partner in crime, Jeb Cho, was ruthlessly killed by malfunctioning robots, Adam held a profound hatred for them. While sabotaging a trade deal with a robot militia group, he met Zach, who was trying to do the same - but on the right side of the law. The two have come to be... at peace with each other. Although the two work together and understand each other, Adam is still what he always will be: a cold mobster. He is pictured above in one of the mob's hangouts: the Meat 'n' Potatoes Bar. It is here where Adam and his fellow mobsters make contact with informants, traders, and the like. But just because you pay, it doesn't mean you're in the clear. Under necessary circumstances, you will be... terminated. However, in light of recent events, Adam has waved aside such brutish mentalities in order to preserve the human race.
---------------------------------------------------------------------------
Striker (Melody Striker)
Name:
Melody Striker
Age:
24
Occupation:
Boat driver.
Equipment:
Stolen alien blaster pistol, satchel,
Detectix

Body Radiation Detector
(Can detect body warmth within a 20 foot radius, to search for survivors under rubble), cellular phone(Out of service, still searching for five bars!).
Description:
Melody is not one to be trifled with, for a 24-year-old, she's feisty, and always ready for a good battle. The blaster she stole comes in handy often. Her occupation was(and every now and again, is) a boat driver, which she drives around carrying her duck(The car.). Her family was killed by the nuclear blasts, while she was away staying at a friend's house after she had an argument with them. The last thing she ever said to her parents was "I hate you!", and this haunts her dreams every night. She's clever, mischievious, and usually a bit angry.
---------------------------------------------------------------------------
ZappperBrick (Sam McBrick)
Name:
Captain Samuel "Sam" McBriks
Age:
42
Wepons:
Pistol, Machine Gun
Occupation:
Former Destroyer Captain
Description:
Captain McBriks was the captain of the destroyer SS Republic, until the nuclear holocaust. His ship was destroyed, and he barely survived, and he managed to escape in a UEP (Underwater Escape Pod) and made it to shore, where he found the land overrun by Robots and Aliens.
---------------------------------------------------------------------------
Eskallon (Eskallon White)
Name:
Eskallon White (Always call him Eskallon and miss out he White part)
Age:
32
Weapons:
Two pistols and a laser blaster.(Pretend it is strapped on his back and it is the newer star wars one)
Occupation:
He used to be in the army and served as a general.
Description:
While as a general him and his team uncovered a strange body and soon they were blindfolded and taken to a prison to be locked up. All members of his team were in section 372 . They escaped together but when Eskallon went to search for food with two others they were killed. The three came back to find their friends dead in a huge pile. All with a single bullet in their heads. He then went off on his own and built a base in the woods when the war started. He once returned to the prison only to find it a surrounded by robots. Since then he swore to himself he woud try to stop robots and any other creatures from taking over Earth.
---------------------------------------------------------------------------
Ben Kenobi (Ben Tennant)
Name: Ben "Kenobi" Tennant
Age: 29
Before the war, Ben was a soldier in the army. Then the Apocalypse rained down. Ben was the only person to survive in his squad, the rest murdered by the aliens. Since then he has had a vengeance against them, and wants to return the world to some kind of peace. He returned to his home in England, to find his wife and daughter dead. Ben wants revenge, and is not the best person to meet if you're an alien. But beneath the hard exterior, he likes a laugh, and can be a great friend to have around.
Ben normally carries a laser rifle, but prefers a pistol from his army days. He also drives a really awesome motorbike, and carries a steampunk-esque helmet.
---------------------------------------------------------------------------
Edited by Jammiedodger714, 19 December 2009 - 06:05 PM.