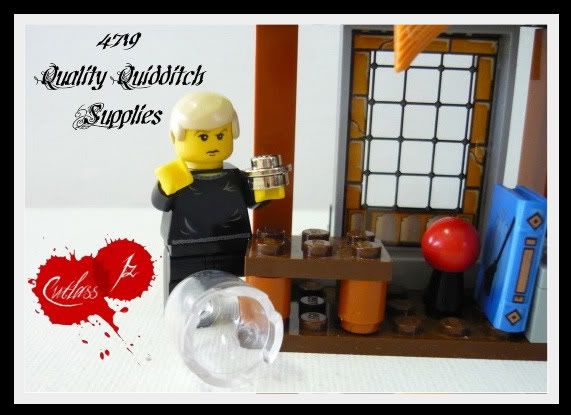 Introduction:
Yet another great set from the Harry Potter theme, this set is full of rare and wonderful pieces, and not a dreaded sticker sheet to be found. So stick around and I'll tell you all about the Quality
Quidditch
LEGO supplies you will get if you buy this this set.
Name:
Quality Quidditch Supplies
Set Number:
4719
Theme:
LEGO Harry Potter
Sub Theme:
The Chamber of Secrets
Year:
2003
Pieces:
120
Price:
AU$21.99, GPB 8.99 US$ 10
Minifigures:
1
Recommended Age:
7 - 12
Resources:
Brickset
Peeron
Photobucket
The Box: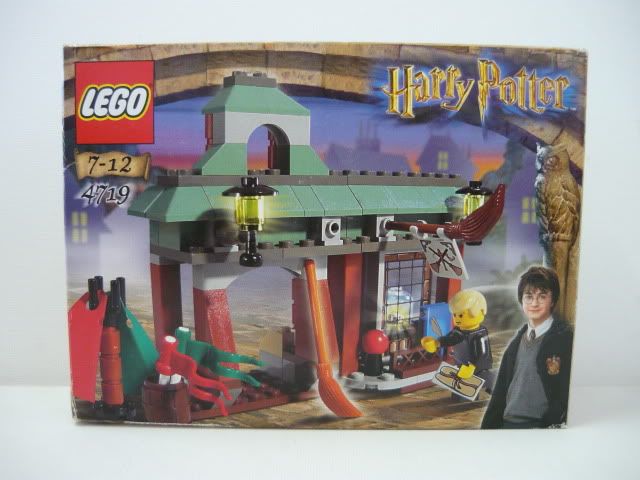 Let's start with the box art, We've got a pretty angry or skeptical looking Draco Malfoy coming to the Quidditch Store for some quality supplies, with a parcel in hand and there is a brand new broom
(The Nimbus 2000?)
that seems to be calling him by name.
On the back cover of the box there is shown a few alternate build possible with this set, including a Quidditch store in
Venice
?

The Booklet: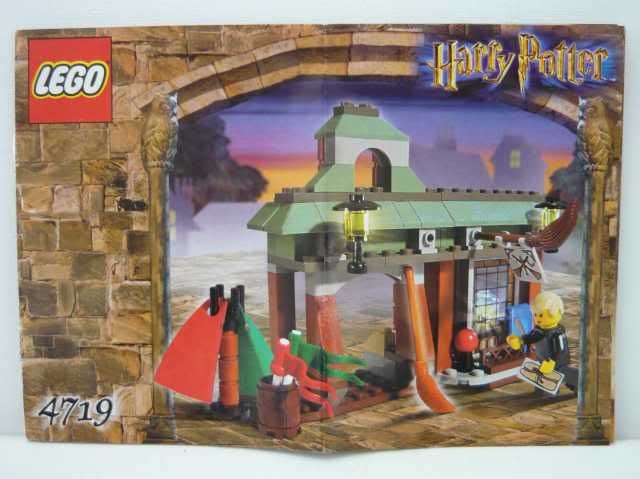 The booklet is nice and large, and the cover is on the right way also. Hooray for that, I was getting quite sick of booklets with the cover on sideways.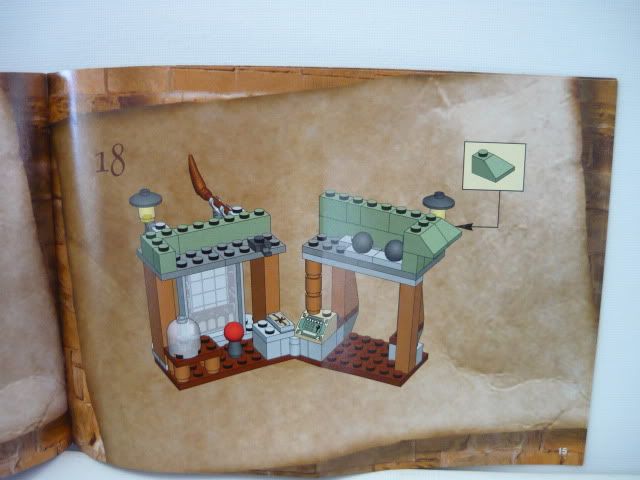 Here is a picture of a random page from the instructions... Step 18, adding the Sand Green slopes to the roof.
The Pieces: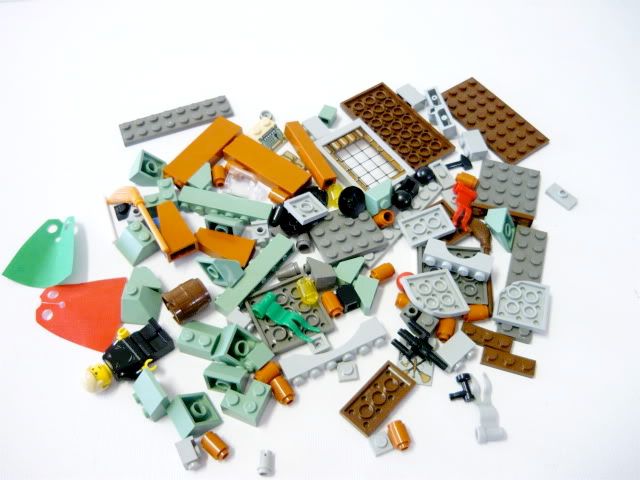 Here are all the pieces... I did not get this set
new
so I cannot tell you all how many little baggies there were, but I do know that the Golden Stud (or the Snitch) was packaged with the Red and Green Capes in the usual cardboard packaging. Take notice of the few rare Dark Orange pieces, these are only available in three of the Harry Potter sets ever released.
Pieces of Interest: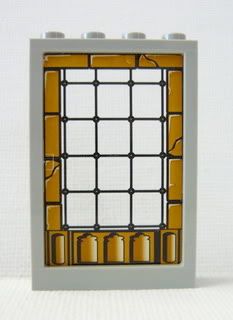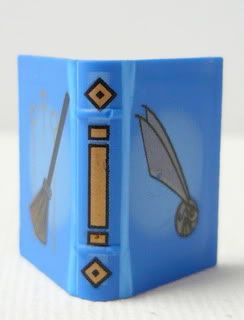 The first picture is of the window with the
printed window panes
and brick pattern, this piece can also be found in the Shrieking Shack. Then we have a
clear dome
; while this piece is not so rare it is an interesting and
useful

piece to have (especially in clear). Then we have the
Blue book
of Quidditch, an advantageous necessity for any Quidditch player I'm sure. The gold printing is so precise, I love getting Lego books, especially when they are so detailed.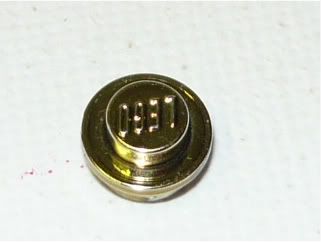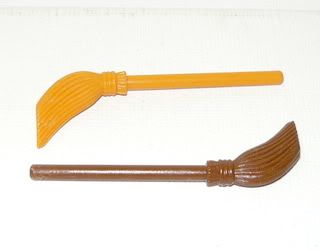 The ChromeGold stud, used in this set as a
"Snitch"
it is only available in the two Harry Potter Quidditch sets,
4719
&
4726
, and
4768
the Durmstrang Ship. Then we have two brooms, one in regular Old Brown and the other, a most unusual
(mainly used in 80's Fabuland sets)
Earth Orange
broom
.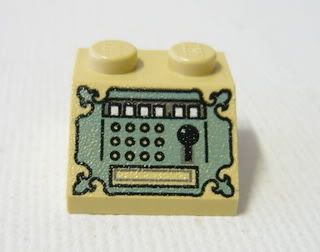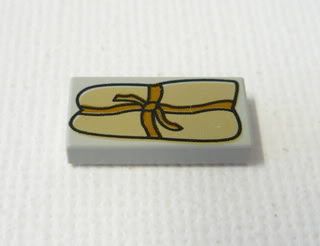 The Tan slope with a Cash Register print is a major draw card for this set, it was only ever released in four sets, all of those being Harry Potter. It has such great detail, and I don't really
need
to say it but I love to, it's printed

!!! Same deal with the Parcel pattern tile, printed, only in three sets, all Harry Potter. These are such great little pieces to have, as they have so many possible applications.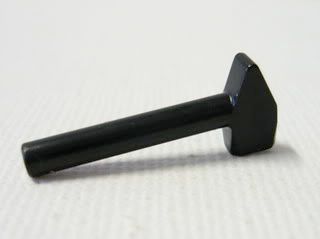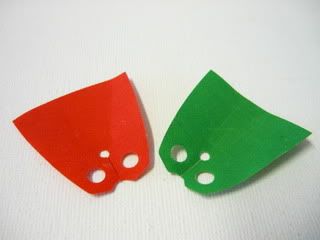 The Black mallet is available from 91 different sets but I still included it in this section because I think it is so cool and not everyone has one. Who doesn't love a good cape, am I right? I'm right, and the green one is especially nice, available in five HP sets this cape is great for forest men. The red one is in ten different sets and has many possibilities for MOC-ing, I recently used mine for Little Red Riding Hood.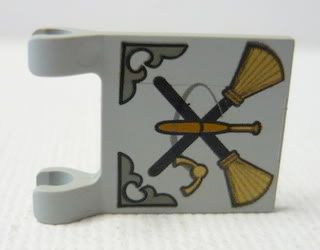 The Quidditch Supplies shop sign is awesome. With two crossed brooms , a beater and the golden snitch, you can tell that TLG have put alot of effort into this piece while still keeping with the basic graphics style of Lego. It is just a shame it hasn't been used more in the HP theme, like
here
in a Three BroomSticks Pub sign decal by Matn.
The Minifigure: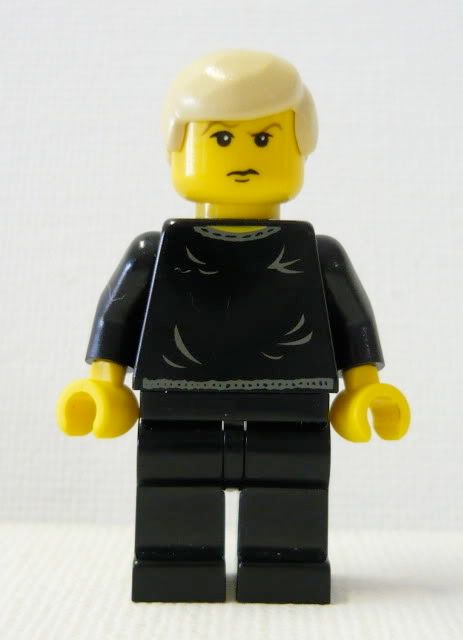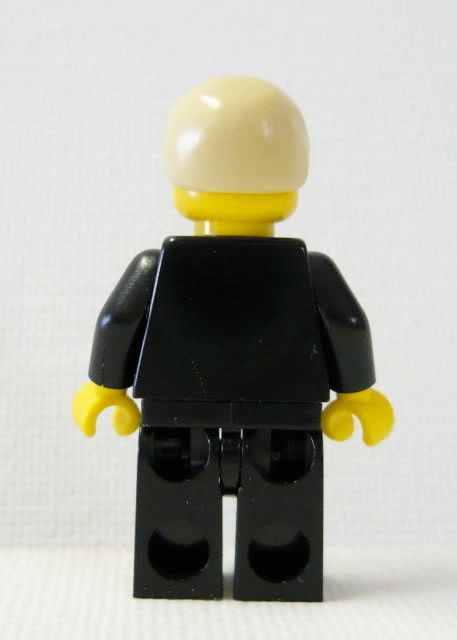 Attitude! That is what this minifig has, and lots of it. Draco Malfoy at his worst, a massive sneer on his face and those moody black clothes. The Grey collar and few wrinkles pattern are just enough to make this outfit interesting. But... the wrinkle on the right-hand side of his chest kind of looks like a swallow. Plain black on the back of the torso and pants.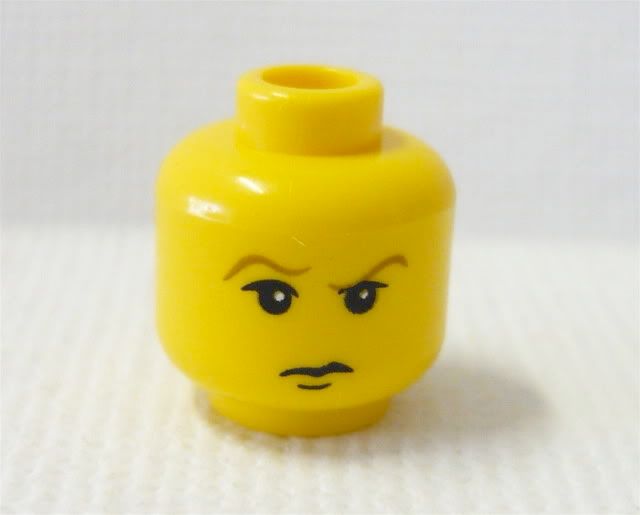 I've included a close up of that scowl, check out those fancy eyebrows. I'm glad TLG used a couple of colours on the face even though it is still so basic it makes it interesting.
The Build: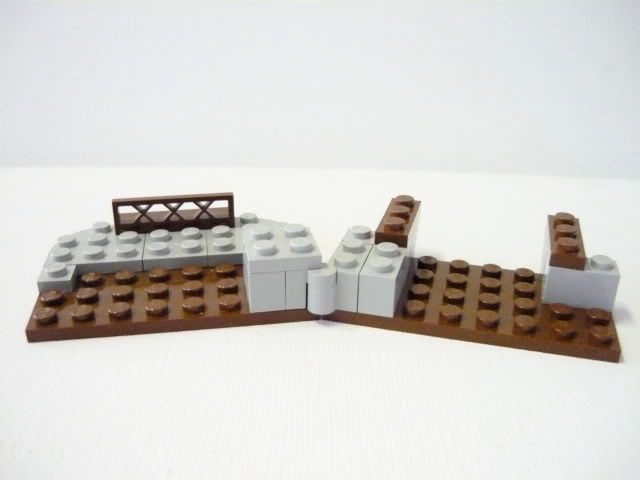 This is a fairly basic build, starting by joining two bases together with a hinge, so the shop can be wide open or more compact.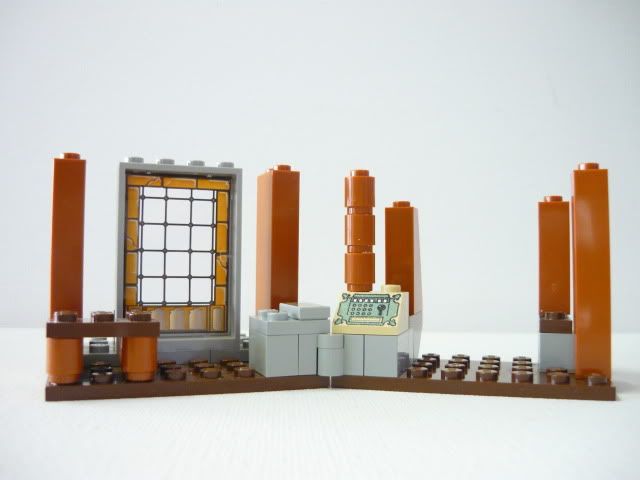 Then we add all the interesting pieces, the Dark orange pillars, the Cash Register and the Printed window frame.
The Finished Product: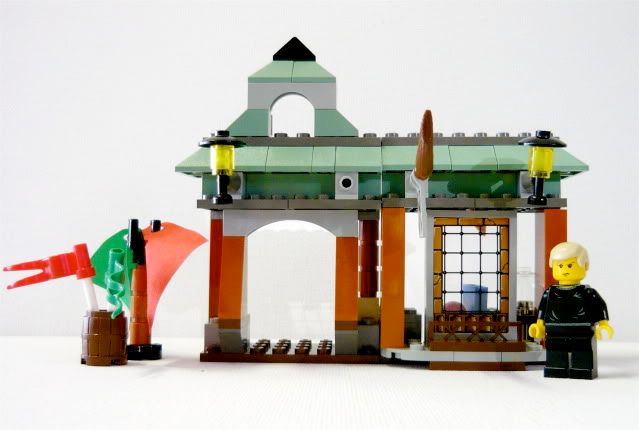 This is the Quality Quidditch Supplies Store from the front, there is a barrel of supporter's flags, and a rack of capes for sale.
Here is a side shot of the store, notice the awesome swing sign, I love how the pole it hangs from is actually a broom. It is nice little touches like that, that make this set great.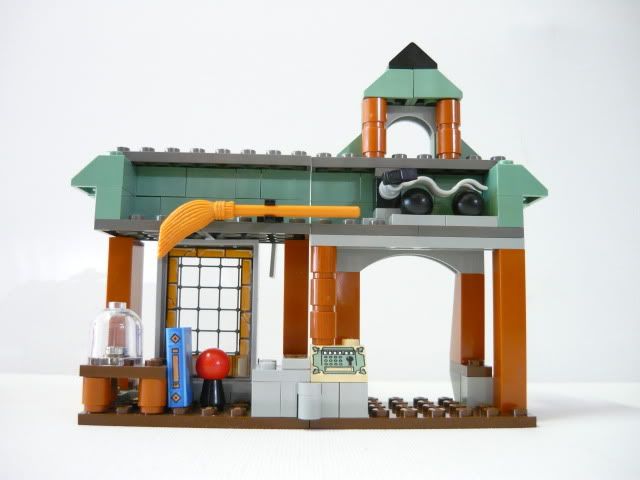 Here is the store from the back, Nimbus 2000 is up out of reach of greedy little hands.
The Complete Set with Minifig: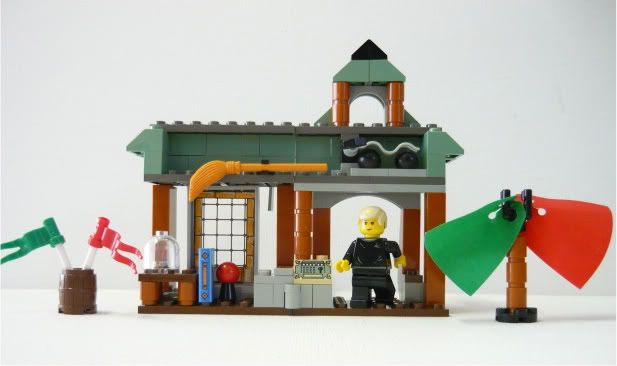 The Final Verdict:
Design: 7/10
A nice use of colours and details make this set good to look, and the little extras like the glass cage for the snitch and the broom sign makes it an especially "Quality" set.
Build: 7/10
This set has a very open plan design, so no playing around with doors or tricky interiors, just that mix of rich earthy colours and fancy accessories.
Playability: 7/10
I think the designers were hard pressed trying to think of ways to make a boring old store have playability, but the hinge and the unattached barrel and cape stand make it unavoidable to play with, even if you are just shuffling at all around to see how it looks best.
Minifigures: 9/10
This minifigure does Malfoy justice, it captures his moodiness and attitude perfectly.
Price: 9/10
No complaints here from me, I am willing to pay exorbitant prices for my HP Lego

but for this set, and the great bits and pieces you get with it, the price is
fair
fare (as in: "Fare-the-well my bucketloads of money, I hope to see some of you again one day. But until then, this Quality supply of next to new Lego will see me through".)
Overall: 7/10
It could be bigger, it could have another minifig, it could have more pieces, but I like it just the way it was created. I love the colours, I love the accessories, it gets the thumbs up from me.