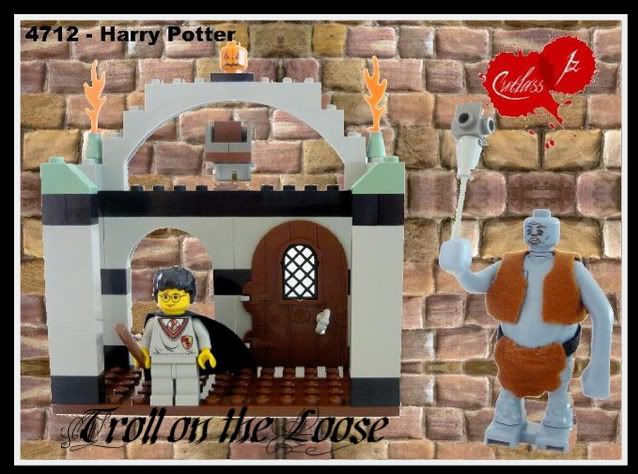 TROLL! TROLL IN THE DUNGEON!
Well in this case he is in the bathroom, and He's not chasing poor little Hermy, he is just trying to wash his hands. This great little Harry Potter set is full of wonderful pieces and concepts and of course, a Troll.
Name:
Troll on the Loose
Set Number:
4712
Theme:
LEGO Harry Potter
Sub Theme:
The Philosopher's Stone
Year:
2002
Pieces:
71
Minifigs:
2
Price:
AU$20, GBP-8.99, US$20
Age:
6 - 10
Resources
:
Brickset
Peeron
Photobucket
The Box:
The front cover of the box show Harry chasing after the troll, while some small brown bricks fall down from a chute. (We'll get to those later on)
The back cover has two other possible builds from the set including Harry on a (porcelain?) throne.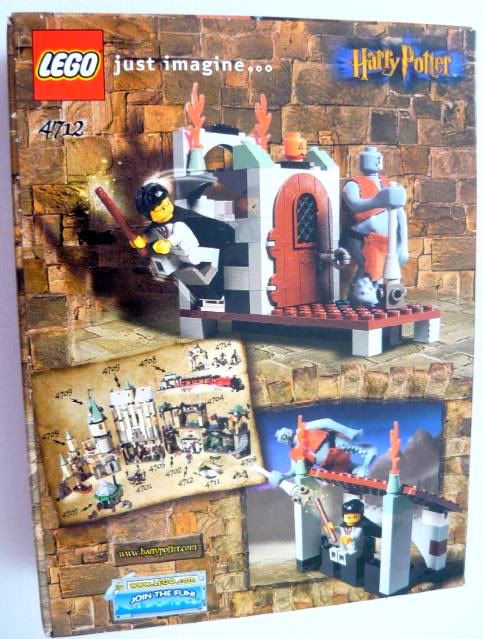 The Booklet:
The cover of the booklet is the same as the front of the box.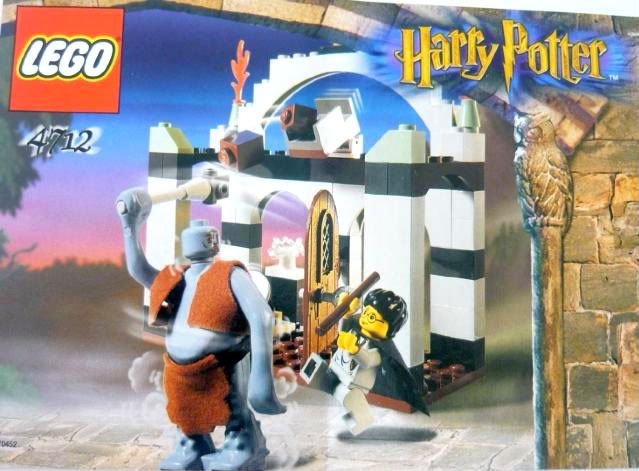 A random page of the instruction booklet, building the walls. The tap is in but not the basin.
The Contents:
1 base piece, 1 large bag, 1 small bag, 1 booklet, 1 small poster, 1 cloak/troll clothes in cardboard case.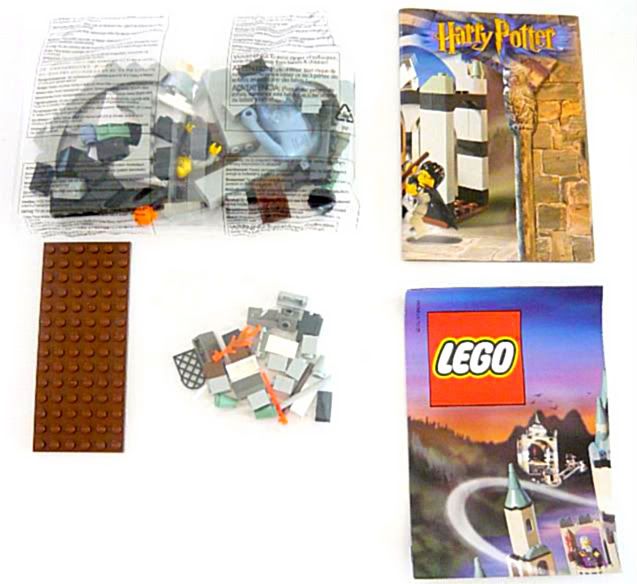 The Pieces:
The pieces spread out, all 70 odd of them. As most HP sets are a bit of a mess of colors this one is no different with Brown, Black and Grey. It might
seem
like a bad thing but it is great for MOCing and building up your collections. We get some really great arches in this set, in Grey and black including a
Old Grey 12 long Arch
which is very impressive.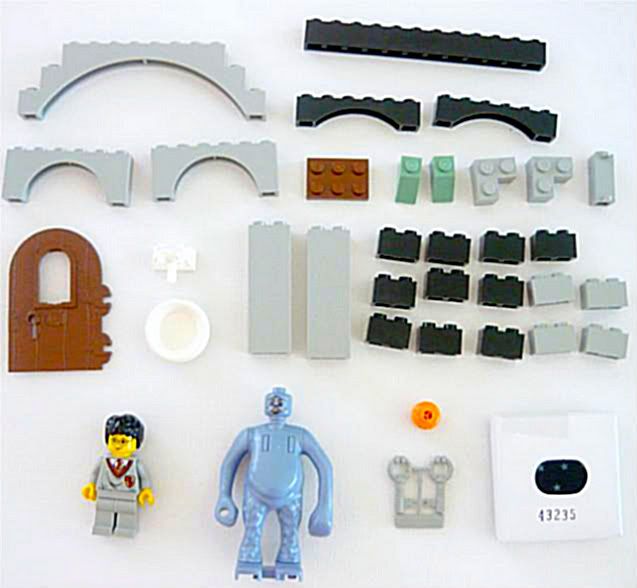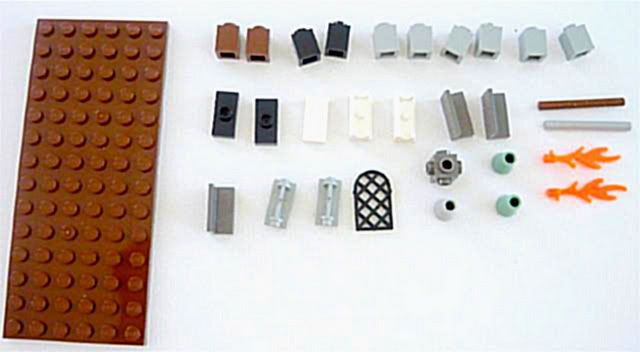 Pieces of Interest:
Harry's Cloak and the Troll Clothes come together in the cardboard packaging, this is a very fancy cloak for Harry to have indeed! I guess the TLG didn't want you to get a plain black one in every set so the gave us this fancy printed cloak. It's great to mix things up a bit, I like to use it as part of his costume for the yule ball! I just need a lace one for Ron.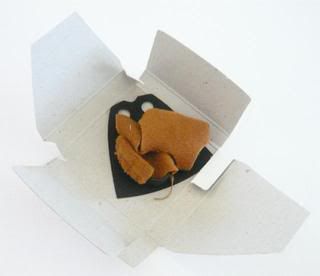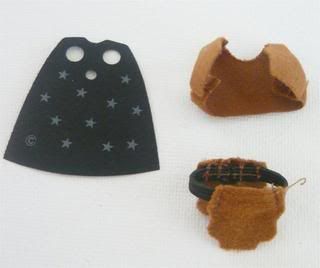 Here we have the Troll's club, consisting of a Grey bar (wand piece), a Grey cone and a 1x1 brick studded on all sides. I think an altogether piece would have worked better with this set as the Troll is a molded piece, and he suits a molded club. These little sets are great for one off pieces, I think this would have been a perfect opportunity for it. Tisk Tisk TLG.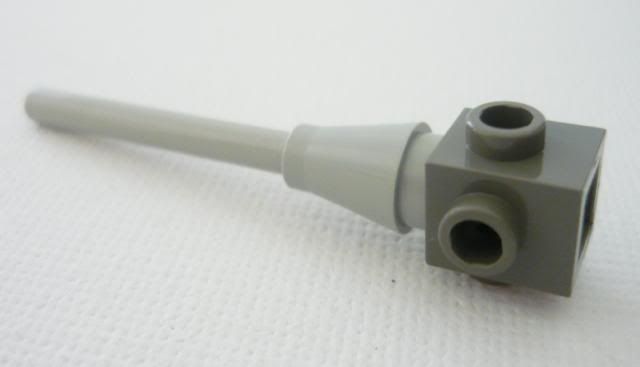 Here we have two keys, one is a spare and one is for the bathroom door. This piece is used in mainly Harry Potter sets and the rare Belville one. A very realistic looking, if not somewhat large key.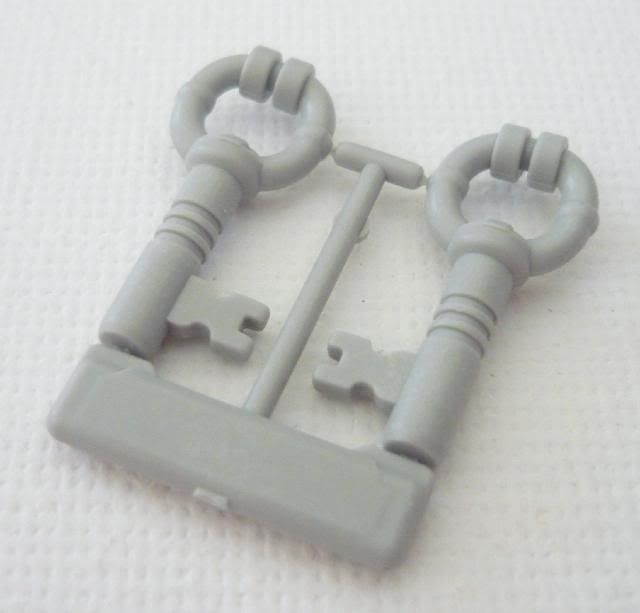 Now here we have my second

favourite part of this set, a Minifig Head with Jack'o'Lantern pattern. Used only in this set and a Studios -
Scary Laboratory
Set, it is very rare and completely awesome!
And my number one all time favourite piece of this set is the Tap and Basin pieces. Usually used in Belville sets as a tap and a dinner plate, this piece is perfect for this set. I just wish there had been more, like in the movie.
The Minifigures:
Yet another HP set with HP himself. This set is crying out for a teary Hermione Minifig (Pardon the pun) at least, if not a Ron Minifig as well. But this Harry is yellow, so I shall be content that at not all of my Harry's are Fleshies. The back view of Harry with his fanciful starry cloak.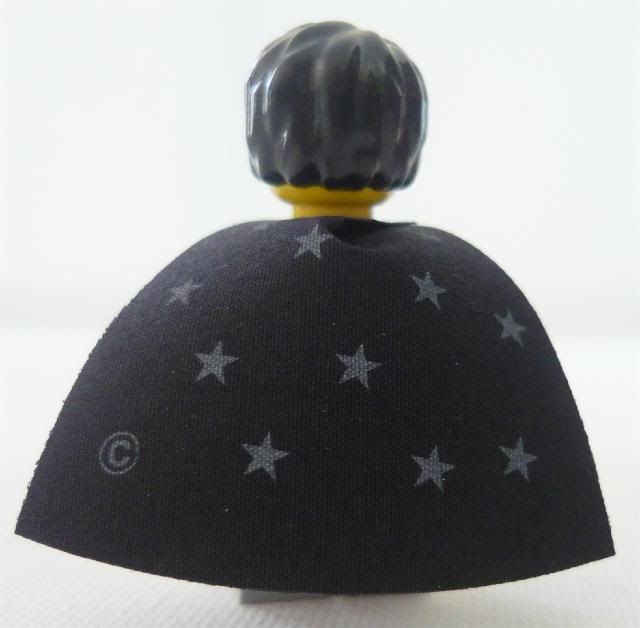 A very freaky looking Troll, put your clothes on!!!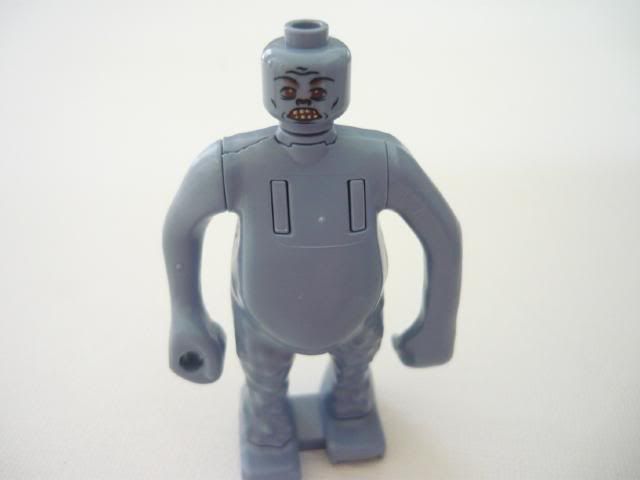 And much better! This light blue head with nasty little teeth is brilliant. Great for Swine Flu MOCs or Zombies. With his fuzzy brown vest and elasticated loin cloth the troll is very much like off the movie and is a great monster to add to your collection.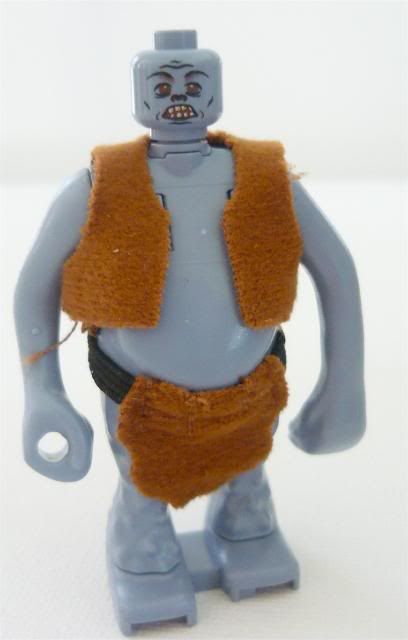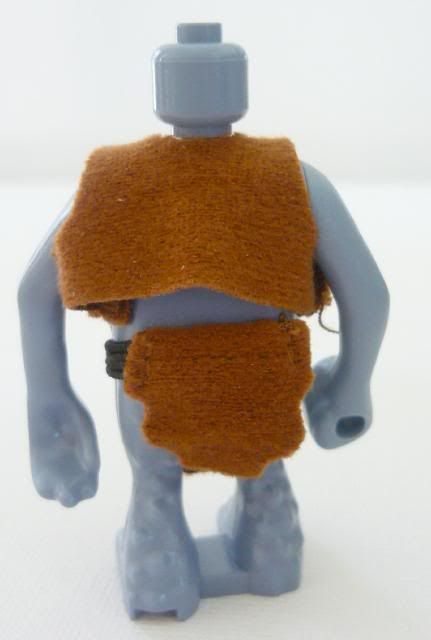 The Build:
The start of the build has begun, the hinge piece for the breakable basin is in place.
The door and taps are in, and the hinged chute. (Not yet)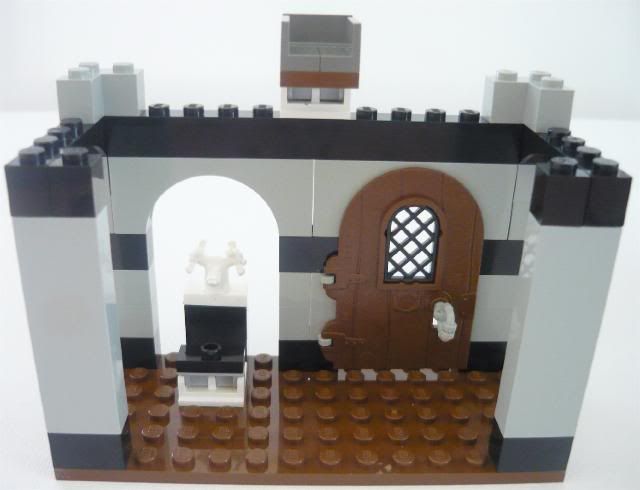 Now the tap and basin in all its glory! Bask in the awesomeness of Belville pieces crossing over. I love it and want more!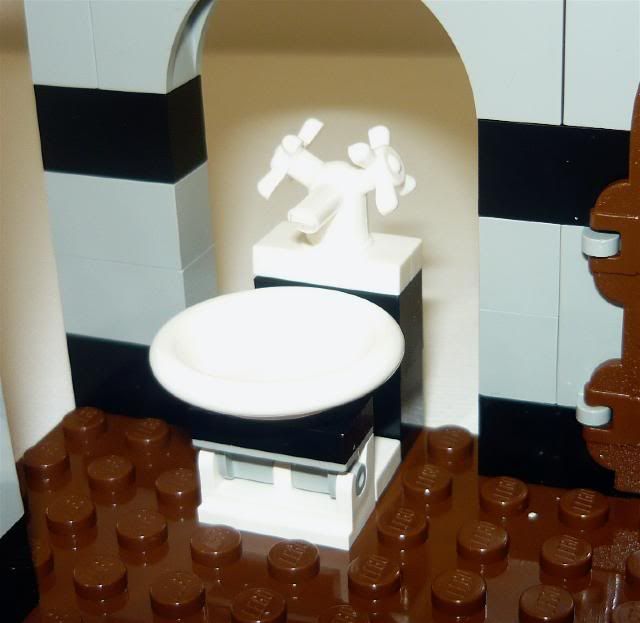 Now for the chute and little brown bricks, I'm going to put this piece of 'design' down to 'playability factor' because it just doesn't make sense in any other way.
WHY???
Why have mysterious brown things falling on you, in a bathroom???

This set doesn't really need this extra few pieces especially when there is no connection in the books, movie or even the set itself. It just doesn't make sense.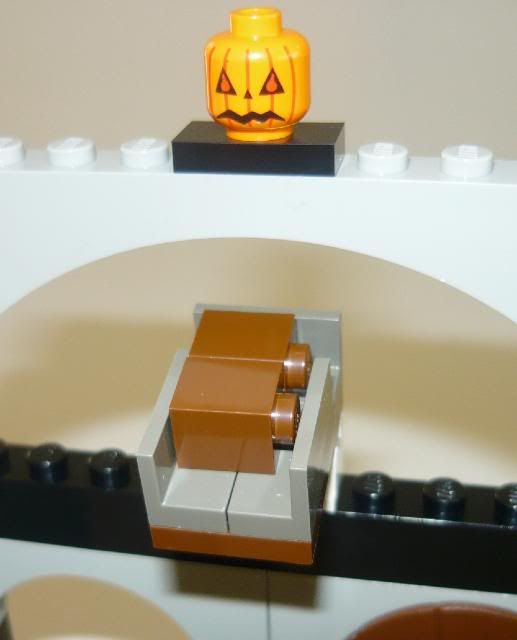 The Finished Product:
Ta Dah! We are finished, now for the fun part....
...playing with the set!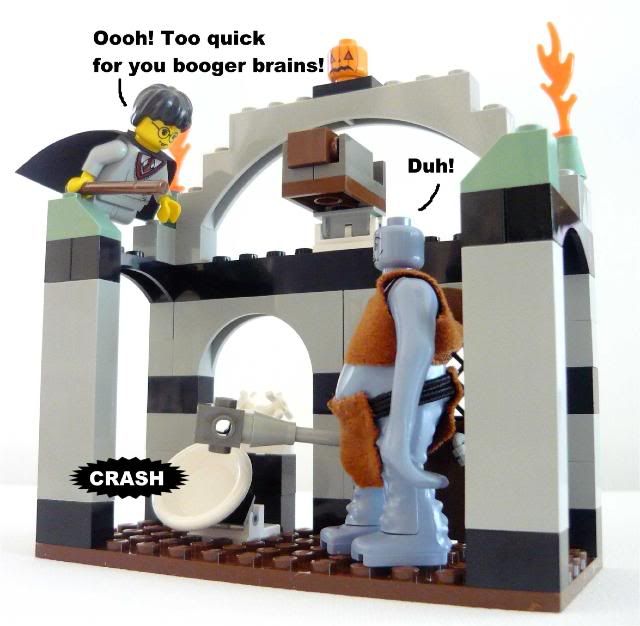 The Final Verdict:
Design: 7/10
I think a slightly taller bathroom would have been appropriate as Hogwarts is a Castle, and the Troll and Harry need to be able to fit in there together. The Basin hinge design is very clever.
Build: 8/10
Very easy, no surprises.
Playability: 8/10
The basin and freaky chute really do add to the playability factor. You can have lots of fun either washing your wands or smashing up some porcelain.
Minifigures: 9/10
I am always happy to get more Gryffindor uniforms (Fred'n'George here we come) and a yellow Harry face is a nice change. Then there is the Troll, with his brilliant light blue color, massive size and reusable head, he is a great credit to this little set.
Price: 9/10
Even with the massive HP mark ups this set is still available at a reasonable prices, for all the awesome pieces you get. DEFINITELY worth it.
Overall: 8 /10
Even if you aren't a Harry Potter fan this set has plenty of great pieces for use in MOCs, and if you are the one-of-a-kind Troll minifig is a must have! I love this set and am very happy with the basics. I'd like to do some work and make the bathroom more like the movie but the TLG have given us the idea and the pieces to start with, and isn't that what LEGO is all about?