Welcome to another exciting episode of EB News Presents!
I'm your host, Imperial Shadows!
Hot off the sizzling expose we did on the Galactic Paranoia scandal, we come to you with something a little lighter, a good old fashioned interview. Sadly, Staudie was blown up in a freak baked potato incident and will not be joining us this evening. Sadly? Well, you know. The good news (better news?) is that he is being replaced for the evening by guest reporter Zepher, a lady, uh, someone you should already be familiar with. So, lets head right on over to the comfy chairs and get started, eh Mary Zeph?
Oh Ritz, um, Shadows.

For my debut interview, I've decided to sit on down with my good ever dying friend Stash (he's always dying in Mafia's. Recently because of me.)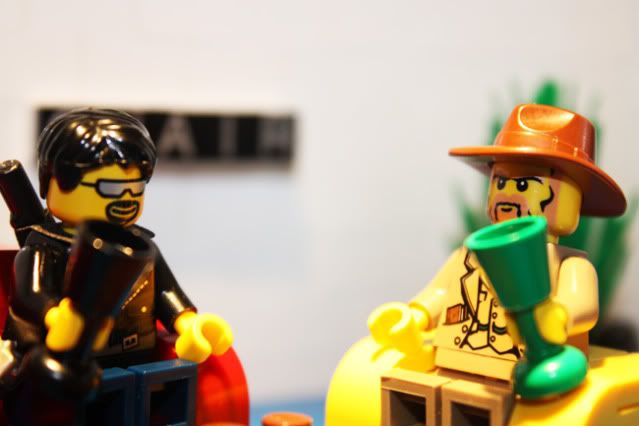 Let's get right to the questions, Stash.
Thanks. I'm excited to be here!
Tell us a little about your user-name?
Pretty simple. Stash (pronounced STOSH) is just a shortened form of my last name, and the 26th is my birthday. I added the 2nd X because I like to be mysterious…or maybe there was a Motley Crue song on, I can't remember.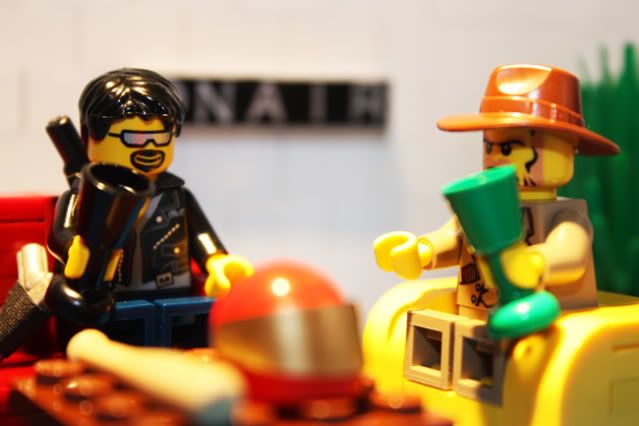 Your sig-fig?
I LOVE to ride. I've got a 2003 Harley Davidson V-Rod, which means "really-fast-tough-guy-bike!" So, I figured I would build a SigFig who rides, and is ready for anything!
Okay, moving on to the real reasoning of this interview, you and Lego. How far back do you and Lego go? Have you known Lego long? Ever taken a break from it?
I got my first set back in 1984 (set 6022) and I haven't stopped. I have a younger sister and two younger brothers, so there was a LOT of brick in this family. Gradually, as they decided they were no longer interested in it, I quickly claimed it all for myself. As for a break, how long would you consider a break? When I went away to college in 1998, I really had no room for it, but I still took a stroll down the toy aisle. That all changed in Spring of '99, those Speeder Bikes (7128) were the first Star Wars set I built, and I picked up right where I left off.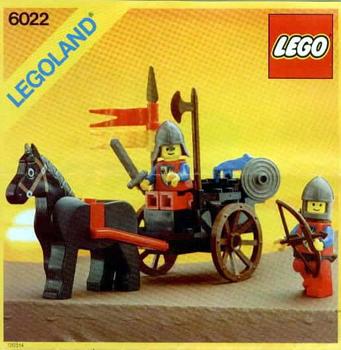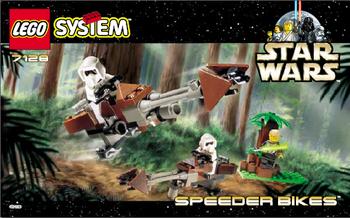 What is your Favorite Theme?
I don't really have a favorite theme. There are way too many pieces that get excluded from one set to the next, so I have to like all themes. But if I had to build in just one theme… I choose Castle.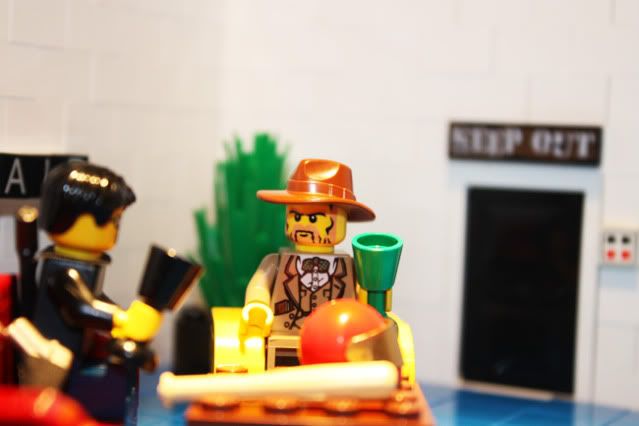 What are your top three sets of all time?
6066 Camouflaged Outpost, 10182 Café Corner, and 10179 UCS Millennium Falcon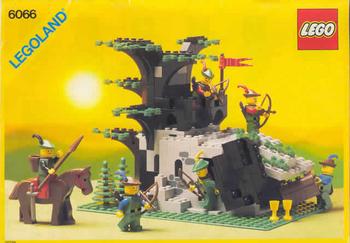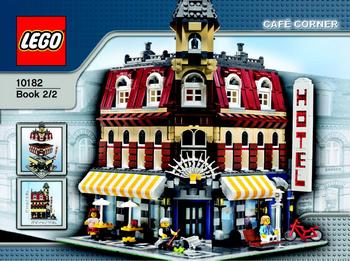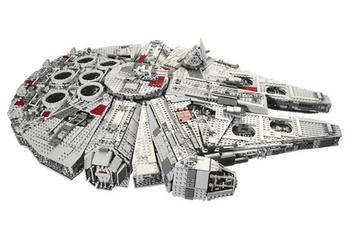 All excellent choices!

Who are some of your favorite builders?
Oh wow, way too many to list. I'm a real big fan of what RebelRock does. His attention to detail and his level of humor are real entertaining. Jon Palmer actually kept me interested when I started to drift away for a short time. Darkspawn, John Langrish, Jonathon Lopes; serious though, there isn't enough room on the page!
Okay, moving on to what you've done with Lego. What's your current projects and ideas?
Recently I was admitted into NILTC (Northern Illinois LEGO Train Club) so currently, I am working on a small city display for Brickworld. As for ideas, I get too many and I never just stick to one thing. I've got some plans drawn up for a pirate ship or two. I started working on a Forestman hideout. I've dabbled a bit with an urban Fire Station. I had a Samurai castle started, but my dog decided to run through it and it needs to be restarted. I also have a few ideas for castles that I would like to complete…someday. And then there are a few custom minifigs I want to make. As you see, I have lots of plans, but I need to find more time!
What is your favorite MOC you've made?
A few years ago, I was messing around and made a Harley Davidson Dealer. It was nothing special, just threw some bricks together to show myself it could be done. Well, I tweaked it and fiddled with it for around a year and had it lookin' pretty good…until I packed it away. I am now rebuilding it for Brickworld and am glad to see it "reborn."
Okay, let's discuss you on EB. What's up with your title?
HAHA! I made a post in this thread, and I've been stuck with it ever since. I figure it could be worse though, I could tick off an admin and then be stuck with something really ridiculous!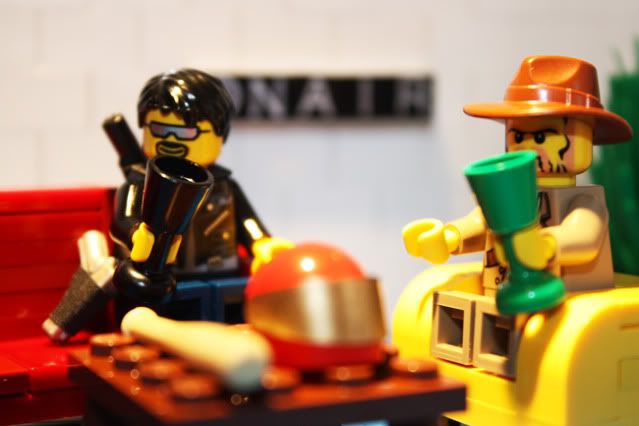 What's going on over there, Shadows?
Oh, nothing that a little SECURITY can't fix!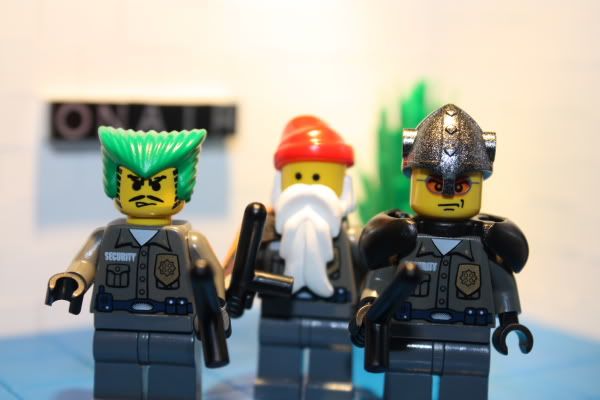 On our way boss, what's the problem???
You-know-who is at it again! He's stolen my hat and cape! I finally get a decent cape and what happens? WHAT HAPPENS?

Your face needs a decent cape!
GET HIM! Don't let anything stop you!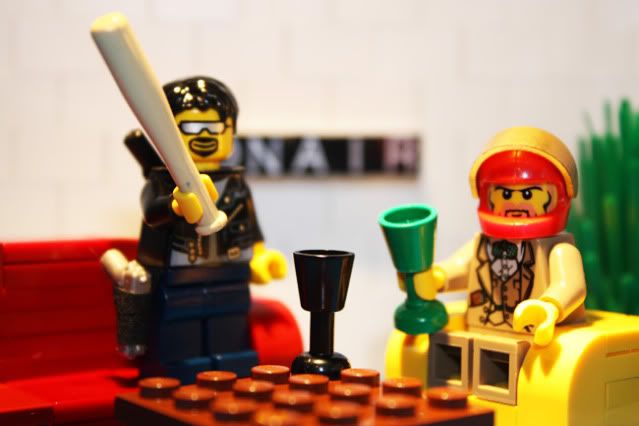 You guys need some help over there?
No no, we're fine. Zeph! Take off Staudie's helmet, you look ridiculous.

Guess we'll get back to the show then.

What have been some of your favorite EB moments?
That's easy! Getting to meet some of the EB members while at shows and events, hands down! I've met Phred, Hinckley, Copmike, and The Enigma That is Badger to name a few. I've spoken with I Scream Clone many times on the phone, and we have just become really good friends. I didn't know anyone in Sweden or Australia, until I got on Eurobricks!
Oh crap. RETREAT!!!!
What are some of your favorite Mafia game moments/least favorite moments?
Mystery Castle has to be one of my favorites so far. It was my first one, AND I made it up to day 5, which if I am correct, was the same length of time I made it through the Baritones. The Baritones was the only game where I had some type of special ability. An arsonist was a pretty cool skill to have, for a game of course! My least favorite moments…anytime someone jumps on a bandwagon and votes me off! If you can't think for yourself, then don't play!
Yeah! Bastards! Nevermind.

You're attending BrickWorld, and bringing about half of EB with you. Where'd you get the motivation to make all our sig-figs and bring them with you?
Last summer, I felt the need to get out a little more and travel, so I decided to head to Seattle for BrickCon '08. Big surprise; it was raining when my plane landed! I saw some amazing Castle displays while out there and also saw a clump of Figs standing and sitting on the side of a hill. I asked someone what that was, and they told me it was the Classic-Castle SigFig display. I thought about how cool it would be if something like that could be done at Brickworld next year. Well, I decided to 'grab the bull by the horns' and get this project rolling. In truth, I didn't expect it to get past 20 figs, but I asked a few people, and the post count just started to rise! Check it out here!
Who should we interview next?
I Scream Clone would be a good choice. Ricecracker has been an interesting contributor too. You might make for an interesting interview, I just don't know; who would ask the questions?
I had to interview myself. And cover my own death.
Is Staudie annoying? (Just trying to keep the tradition alive!)
He made me laugh a lot when I read all the older interviews, but he hasn't been around in a while, so…Staudie is still annoying!
Good answer.

So there you have it, a good look into the private life of my friend Stash, mixed with a bit of unexpected hijinks (unexpected? you people need to watch the show more). Thanks for joining us, and be sure to keep an eye open for more specials in the future with me, your host, Zepher!
ZEPHER!

Cohost.

ZEPHER!
Guest reporter?

Ok.

YAY!

*camera fades*