After breaking free from the Agents formidable Mobile Command Center and regrouping with his goons at his secret Volcano Base, Dr. Inferno has decided to go on the offensive with a brazen attack on LEGO City using the plans for his sinister new Robot! In his Robot, he is a formidable foe and a great threat to the denizens of LEGO City. Will the Agents be able to stop him in time?
Robo Attack
Set #: 8970
Theme: Agents 2.0
Year Released: 2009
Piece Count: 414
Minifigs: 6
List Price: $49.99 USD
So, I really had no intention of reviewing these sets when I bought them today, though I couldn't wait to let everyone know they'd shown up already. But it didn't take much persuasion to get me considering doing this review. This is my first review ever on Eurobricks, so I hope it is up to par and that you enjoy the FIRST review of the Agents 2.0 line! Now, on with the show!
Firstly, here is a look at the front of the box.
And here is a look at the back.
And here is a view of the top, showcasing the six great figures that come in this set!
And inside is a single instruction booklet and sticker sheet. The first thing you might notice is that the sticker sheet is small, but contains several small stickers. All in all, the build has twenty-two stickers. The second thing you might notice is the typically tremendous level of care and concern in which LEGO has sent us this instruction booklet.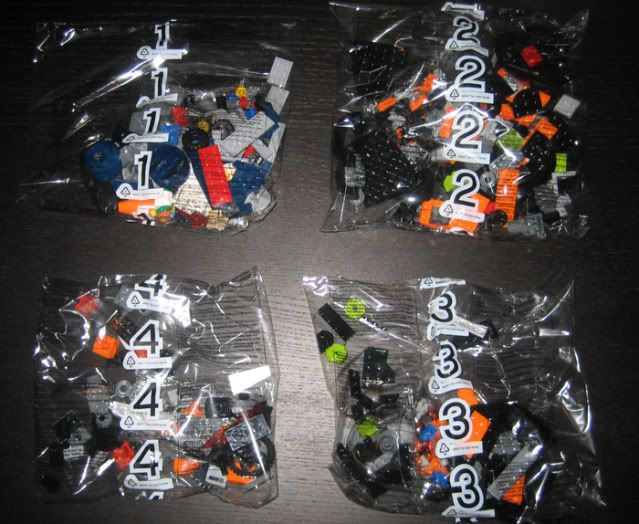 Inside of the box there are a total of four parts bags, and as one might expect the build is a modular one.
Part 1
The cast of characters and their zany vehicles.
This is what we'll be building in this first portion.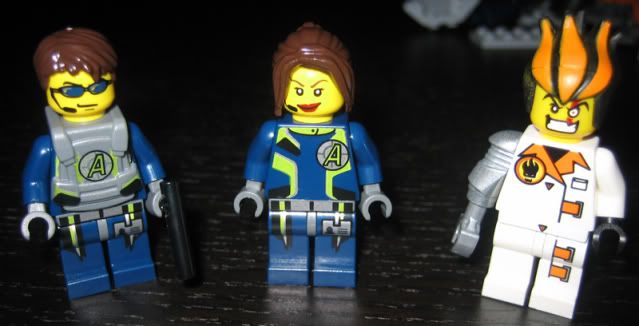 The usual cast of characters. As far as I can tell, these figures are exactly like their previous incarnations. Except this time it seems Chase has a new set of body armor.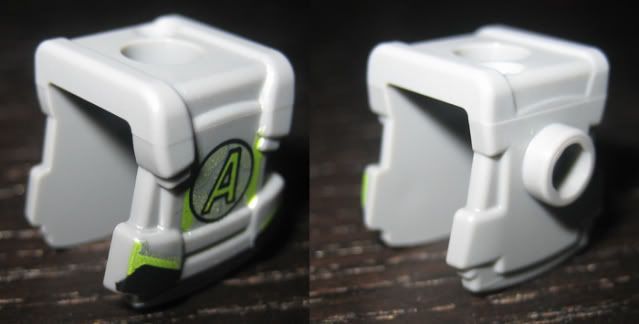 Here is a better look at the armor, both front and back views.
The citizens, all three with dual sided faces, the back side ripe with terror awaiting the arrival of Dr. Inferno's Robot.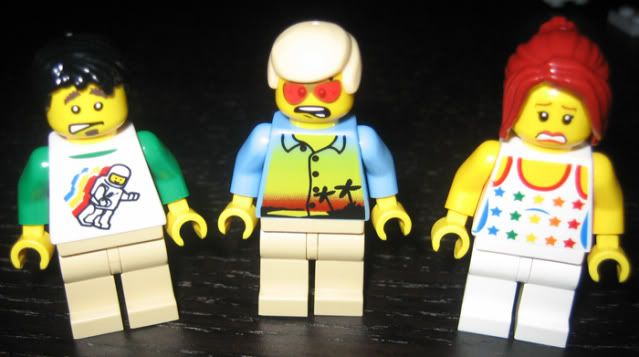 "Heeeeeeee's heeeeeerrrrrreeeee...!"
Two of the citizen torsos have back printing, which is great.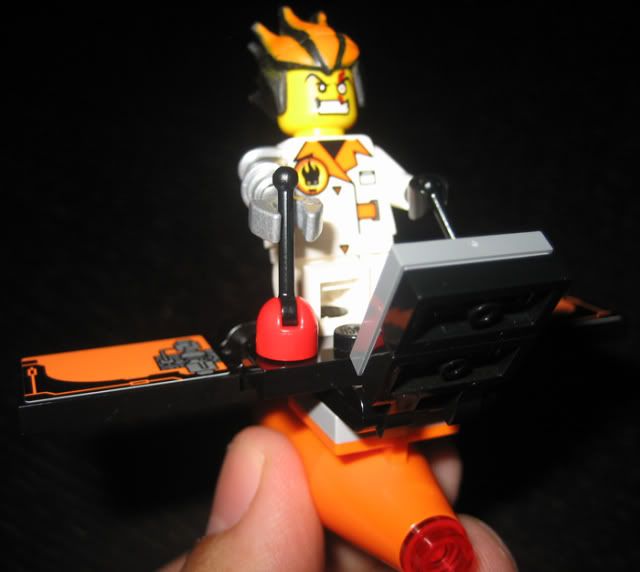 Dr. Inferno's small winged plane. Something tells me he's already cooked up an escape route should this Robot not work out.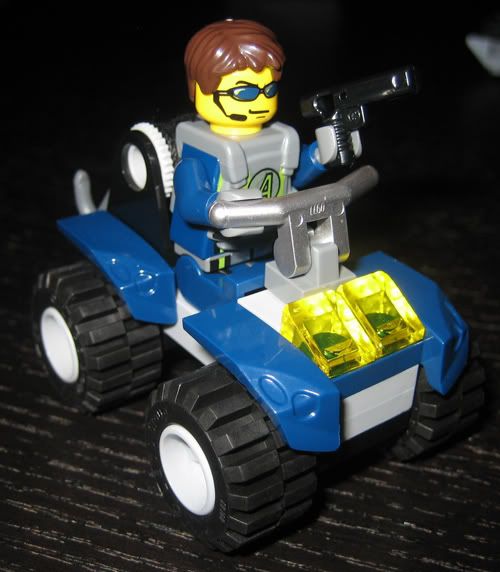 Agent Chase's quad. The Agents seem to have no short supply of these things.
Rear view, with anti-Robot grappling hook.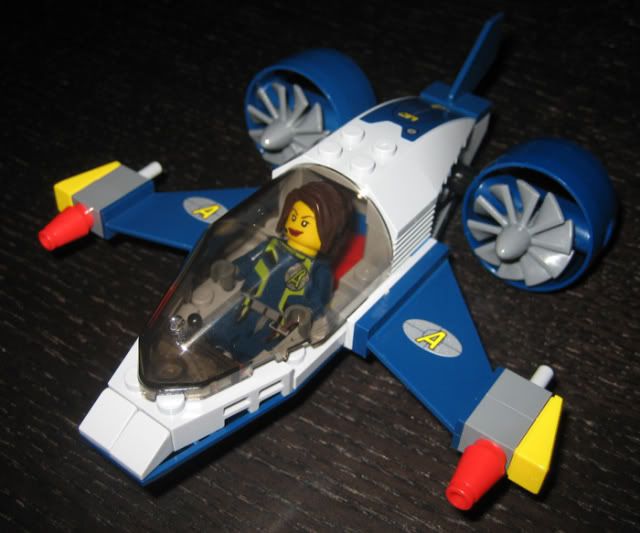 Agent Trace's aircraft. Again, the Agents have no short supply.
Part 2
These boots were made for walkin'.
And for the second portion, we will construct the legs.
Firstly, you construct the two legs as well as the hip area.
Next you construct the feet.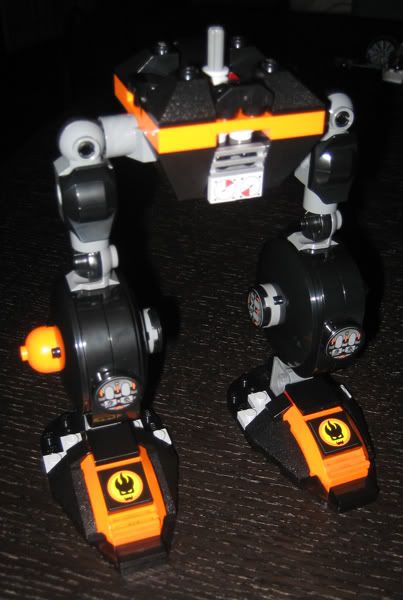 In the end, you place it all together and get this. This is also about the first time you start seriously smirking and realize you're building an awesome freakin' robot. I suppose the dials on the groin help maintain the environment essential to robot groin physics, as I assume it may be prone to overheating.
Part 3
A PhD in Robots and Gauge Reading.
\
For part three, we construct the cockpit.
Wow! Look at all those dials and gauges. It appears Mr. Inferno got his PhD in gauge reading, as it seems it would take as much education to make sense of this cockpit. Pretty cool looking though, once he is placed inside of it.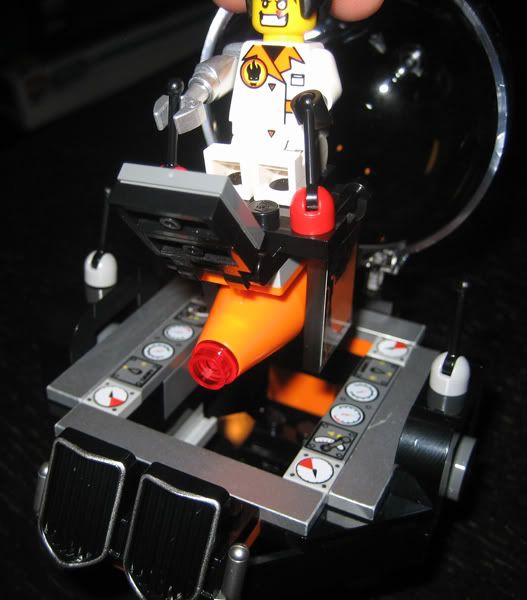 Both he and his craft are placed inside of it---
And it makes for a snug fit. But not quite as snug---
As this.
Part 4
Domo arigato, Dr. Inferno.
Now it's time to add those killer weapon arms.
An extremely short build later, you lock them in place, and he looks like this. But this is no fun...
Ahhhh, much better. Or should I say, AHHHHHHHHHHHHHH!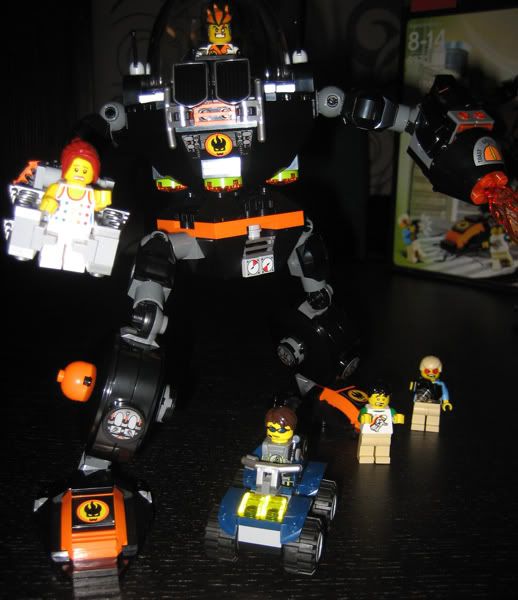 The model is extremely well balanced and posable. It looks great in person. No offense to whoever takes photographs for LEGO sets, but it seems that yet again, LEGO is a product that cannot be properly captured on box art. In person, this thing looks fantastic! The colors, the design, all of it is just wonderful.
This is the arm that has the light brick in it. It's hard to tell here, but I'm actually pushing it. Without the intrusion of the flash on my camera, it actually looks pretty great.
Kind of like this, except not nearly as blurry.

And lastly, the obligatory shot of the extra stuff.
In closing, I have to say, this is a great set. I was most excited for this one out of all the Agents sets. That being said, when I built it, I found it to be even better than I had hoped or expected. Not only is the set hilarious and diabolical, it's fun! As I was building it, I found myself wishing and hoping the Agents line continues past this second wave. The zaniness in it is absolutely fantastic and makes for some really creative sets. The stickers, for the most part, are not difficult to apply, though there are twenty-two of them as I stated before, and most are extremely small. The figures are fantastic. The civilians, with the dual sided faces, make for a phenomenal addition to ANY LEGO City. I have a feeling they'll be turning up time and time again in upcoming MOCs. The parts content, 414, is a little short of the 500 or so I'd expect of a $49.99 set. But in a sense, the 6 figures help ease the pain of the price tag.
I hope you enjoyed my first review here at Eurobricks as much as I enjoyed doing it. I hope you take the time to vote on the poll, and can't wait to hear what some of you think when you purchase this set for yourself. Enjoy!
Edited by mania3, 09 May 2009 - 07:32 AM.