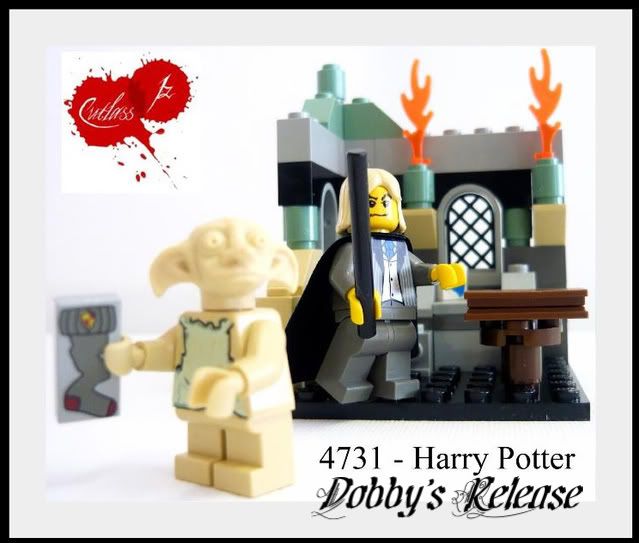 Although this set is very small, it certainly packs a punch! Containing a 'once only' release of a Dobby Minifig and a Lucius Malfoy Minifig and enough pieces and little details to make it a fun set to play with or display.
Name:
Dobby's Release
Set Number:
4731
Theme:
LEGO System Harry Potter
Sub Theme:
The Chamber of Secrets
Year:
2002
Pieces:
70
Minifigs:
2
Price:
AU$19.99 GBP 5.99
Recommended Age:
6 - 10
Resources:
Peeron
Brickset
Photobucket
The box:
The front of the box. W 14.5 cm, L 14.5 cm, D 4.5 cm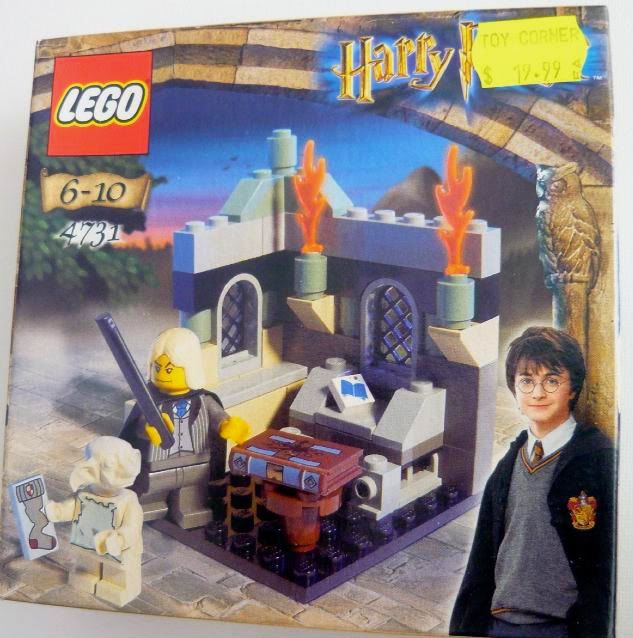 The back of the box, showing another possible build. In this case some kind of a throne from which Lucius can rule over Dobby.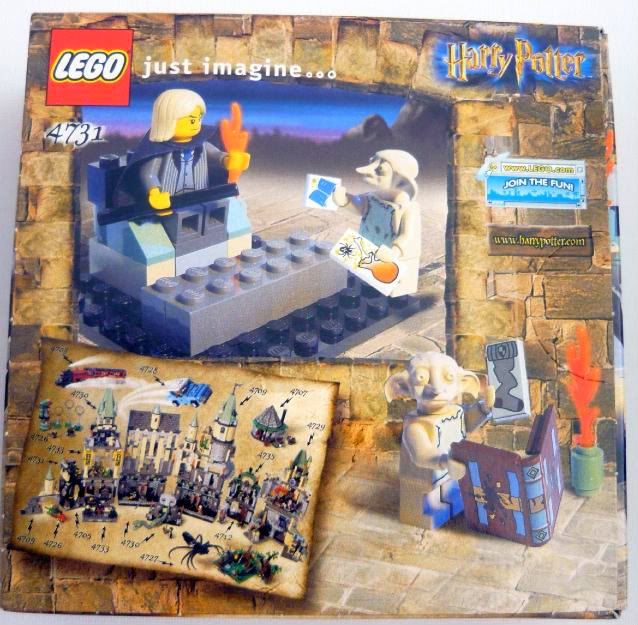 The booklet:
The Cover of the booklet.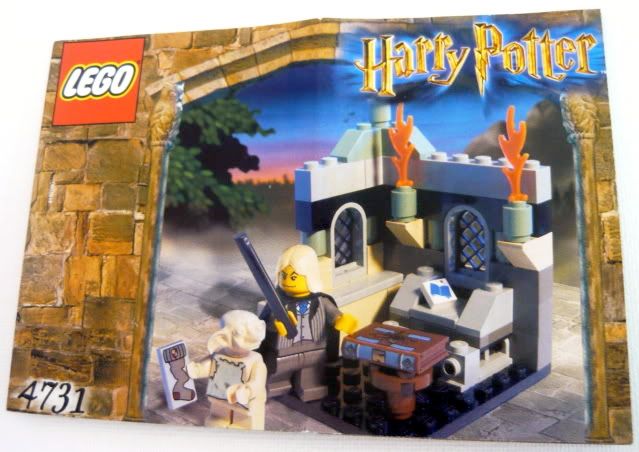 Random page from booklet. This page show how to insert the Spells/Potion into the wall compartment.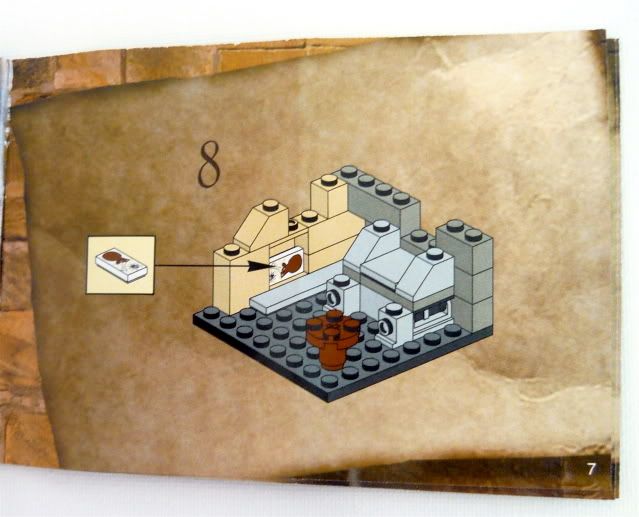 The Pieces:
The contents of the Box, 1 large bag, 1 small bag, 1 loose base piece, 1 small poster, 1 instruction booklet, 1 cape in cardboard case.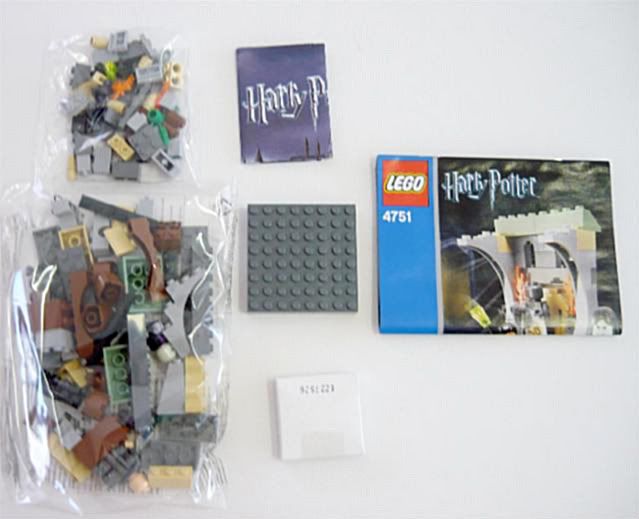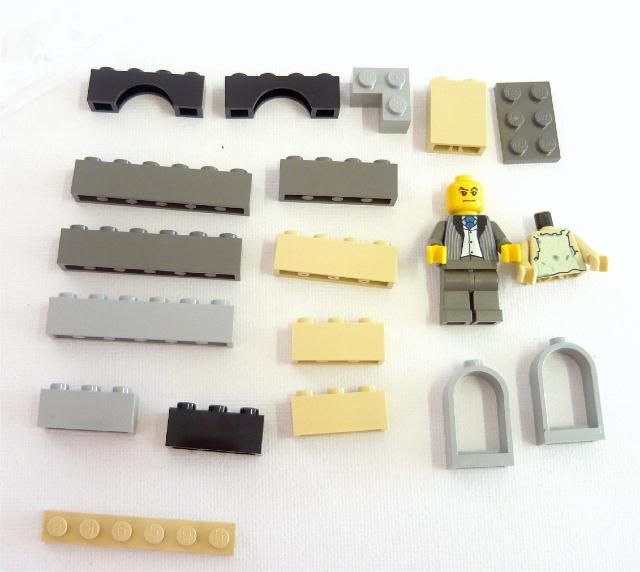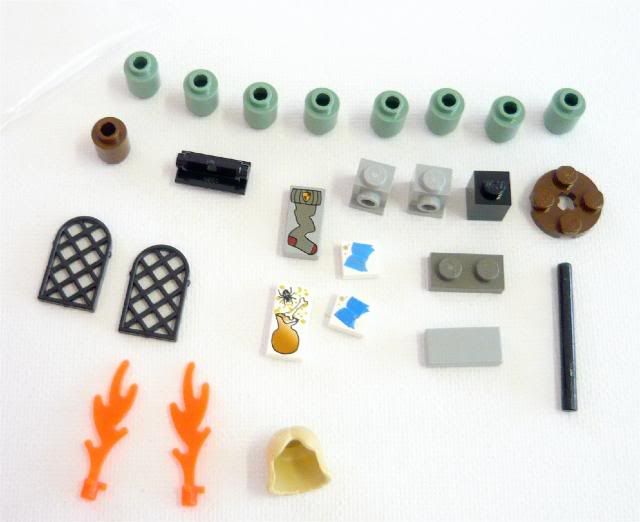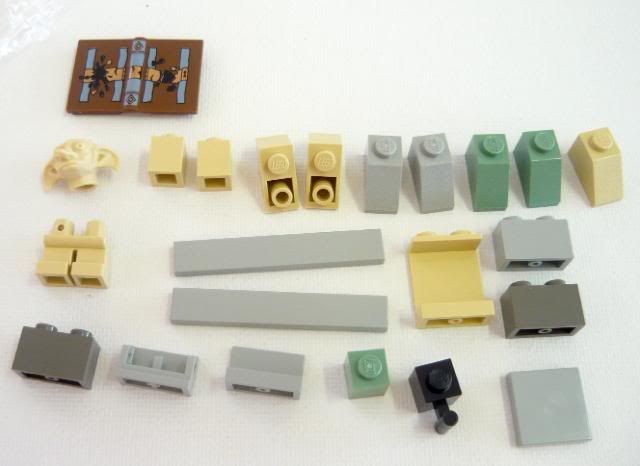 The Minifigures:
Lucius Malfoy, front view, I love how his vest it so shiny, but did anyone notice how his face looks a little blurred, like it was hand drawn on?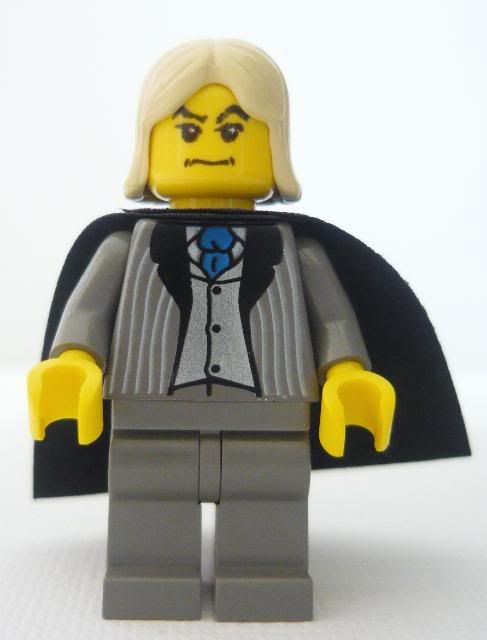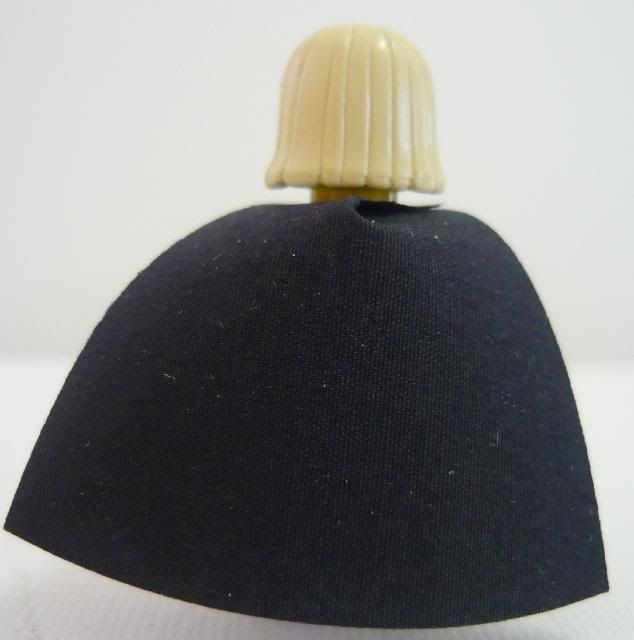 Dobby the House Elf, complete with ragged slave cloth and a very unhappy expression.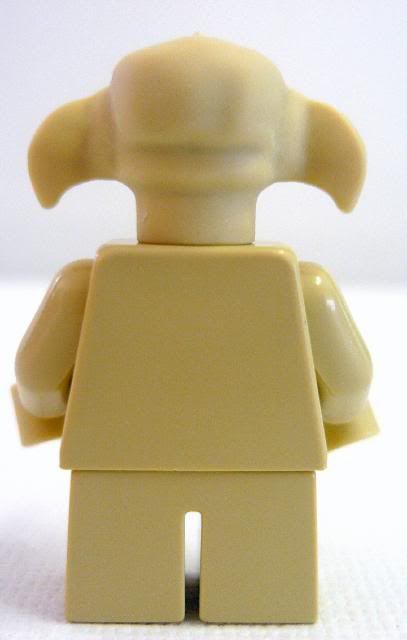 Pieces of Interest:
Lucius Malfoy's generic black cloak, I would have loved to see a Death Eater Hood on it. Harry Potter's sock is a printed

piece, I love the details of the Gryffindor Crest.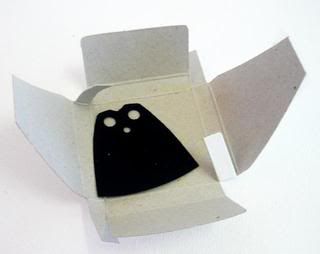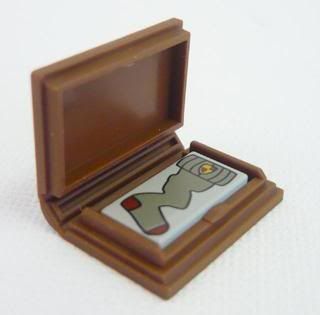 Here's Tom Riddle's diary. I love the print of the ink stains. I have only opened and closed the diary twice and look how bad the stress marks already are.

Such a pity.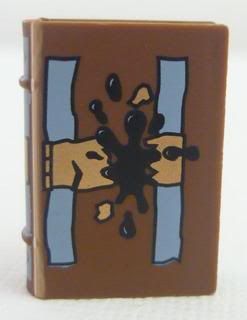 The only problem here is, in order for it to fit the sock piece inside, the diary has to be of extraordinary size. In fact, it's almost as tall as Dobby. That would make it quite heavy for him I'm sure.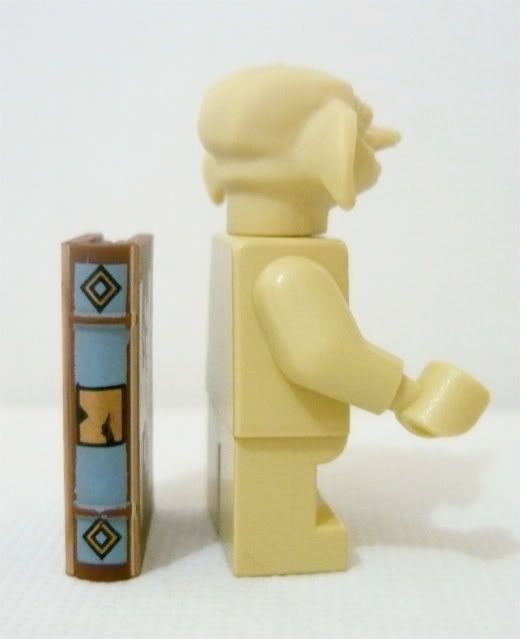 Bag of Potions/Spells
, Two blue magical books one is a spare, these pieces are also used in a
Fairy Queen Magical Set
from Belville. Poor Dobby.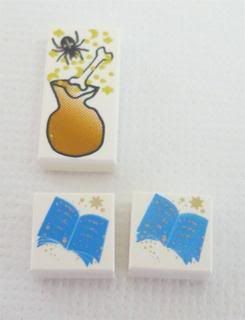 The Build:
Start of the build. (note the secret compartment to hide the Blue
Magical
Book)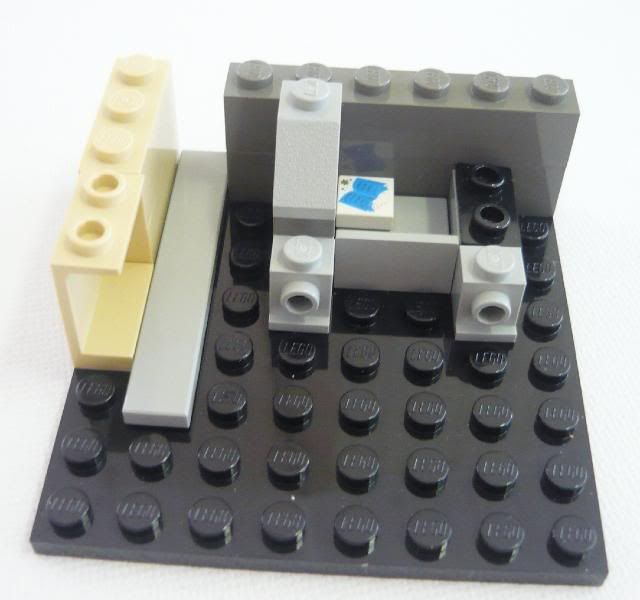 A few more steps into the build and the lid for the secret compartment is done. Using an upward motion (follow the arrow) you can reveal what is hidden beneath.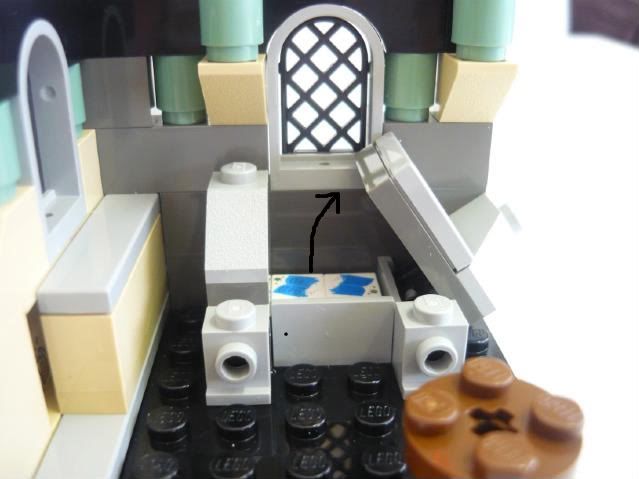 The second secret compartment, disguised as the wall and window ledge.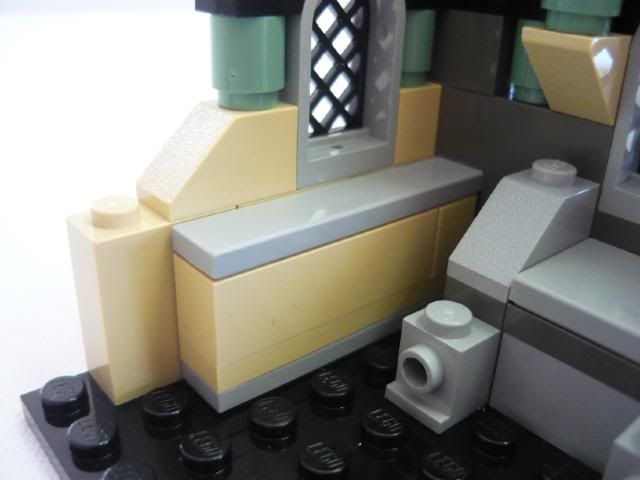 Slide the wall backwards and reveal what is inside.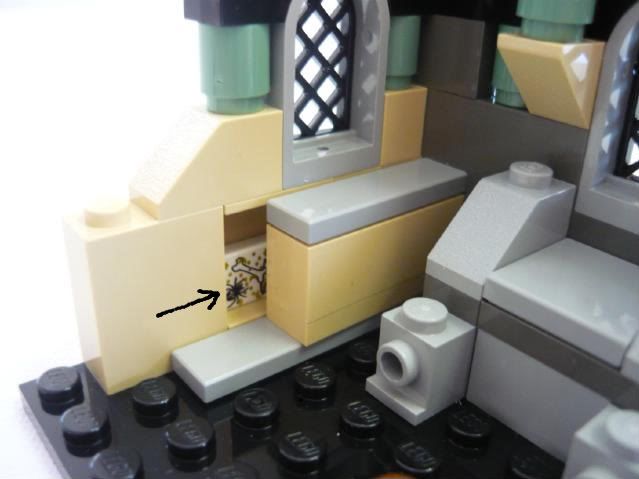 The secret wall compartment is completely revealed.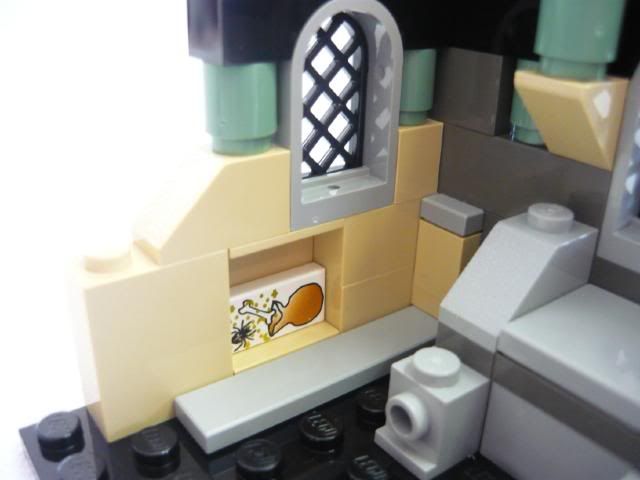 The Finished Product: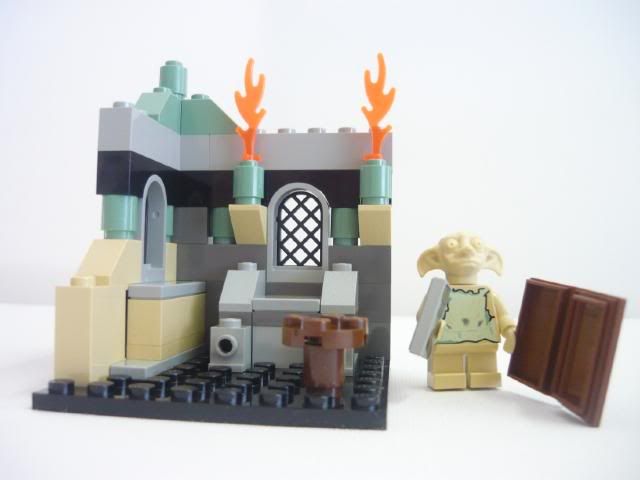 The Final Verdict:
Design: 8/10
For such a small set it has alot to look at, secret compartments, widows, accessories and a table. Varied colors and details make it well worth the few dollars you (originally) pay for it.
Build: 8/10
Made in just a few minutes, this set is easy and fun to build.
Playability: 8/10
With a few pieces to be used in MOC's or just to play around with the secret compartments and hidden socks (well, sock) this set is certainly not boring.
Minifigures: 9/10
Dobby is such a cute little minifig with short legs and his little ragged torso and Lucius is a great Fig to add to any collection. His has a fancy Grey suit with a shiny shiny vest and a great angry face.
Price: 10 /10
A great little set with a few good pieces, and two rare minifigs. Definitely worth it! The prices on all HP sets have gone up but I was still happy to pay that bit extra (compared to the original release price) for this set.
Overall: 9/10
I think this set is cute, I love Dobby and I love that TLG made him, although he probably can't carry on into any other themes, He can be carried on into all the other HP sets. Lucius can be adapted into many other themes and he is YELLOW

. Overall I am very happy with this set. Cheap, Rare and Cute.