I went out shopping the other day just because I had the urge to shop. I went to a relatively new store somewhat near to my house. At the store I saw LEGO. What I saw was a $30.00 set, from 2005!
So I bought it! It was $3.00. I got it at a thrift store.
Title:
Wild Hunters
Number:
4884
Theme:
Creator/Designer
Pieces:
630
Minifigures:
0
Year:
2005
Price at Release:
USD $30.00
Buy it? Inventory? Never got the instructions?
Bricklink
Peeron
PACKAGING
Normally, LEGO sets come in boxes. They also come with intructions. I got this one in a taped ziplock bag.
Instead of some ad leaflets or instructions or any of those normal things, it came with a special rubber bonus! I don't know what it is or why it fell in, but that's ok.
However, here is the box image, courtesy of Peeron. It is nice and plain, and does not need anything extra or any "zazz."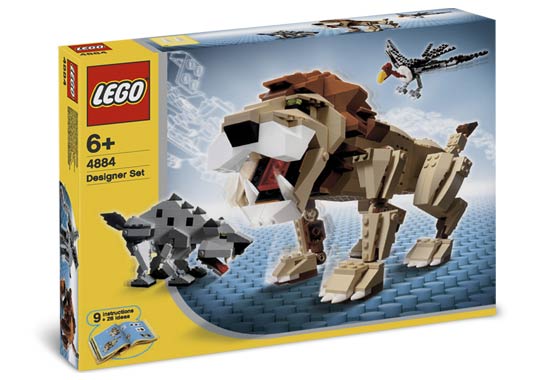 INSTRUCTIONS
It's hard, for me anyway, to build a set without instructions. Luckily, Peeron had what I needed for free.
Within the instructions booklet, there are many different sections for the different animals you can build. These are the models that you can build at the same time, if you wish to build the main model of the set, as I did.
BUILD
In my past reviews, I never went through the build in a detailed manner showing steps like Starstreak does so nicely in his reviews. But this is a Designer set, and since the only thing in the set is detailed models, I thought I might as well have a detailed review of building at least the main model, the lion.
All that being said, now let me start off. The first thing to build is the back half of the lion. After 8 steps, we can already see that, unlike real-life lions, this one has green blood. All this green is included in the set so that you can build an alligator and other green things when you're done playing with the lion.
After 15 steps, we have a completed tan section of the lion with no green showing except in the middle. This thing is already heavy, but looking good so far.
The 16th step of the back half of the lion includes several sub-sets to build the tail. When the tail is done, we get this:
Now we start building the front half of the lion. After 8 steps, we see this part has green blood too.
Building up to step 14 of the second half, we find out that this portion of the lion if partly hollow. There looks to be enough room that you could moc in a control center for a minifig if you took out a few plates. The hollowness keeps the overall weight of the model down a little.
At step 20 of the front section, part of the mane has now grown out and we behold those lovely burnt orange bricks. It's really a very nice color, and the blending in with the brown slopes is also well done.
Step 21 of the front half has us attaching the other sections.
And now we're done with the bulk of the body, so it's on to the head! After 7 steps, we see more green blood.
At the 21st step of the head, we have created a nice little shrine. There I am investigating the shrine, but I forgot to perm my hair so it looks a little frazzled instead of its usual neat bowl cut.
Oh, silly! That's not a shrine, it's half of a lion's head!
Now that we've overcome that "shrine" problem, we move on to the lower jaw. Nine steps into it:
The tenth step is created the part that the jaw attaches to. You will note that there is a lime green hinge piece. This is supposed to be a tan hinge piece like the other, but since I got this set at a thrift store the piece was missing. I substituted such a brightly colored piece to better illustrate what was missing.
Once the bottom jaw is attached, we get the completed head. Sadly, the jaw does not close.
Then the head is attached...
...and we get the lion snake!
Now we build some legs, one of which looks like this. There should be another large slope, but this was also missing.
The lion with all four legs looks like this. Still no feet yet.
Finally, we build four of these cuties!
Boy! That's already way more pictures than one of my previous reviews, I guess I'm done, right?
What? You want to see the rest of the set?
Oh, alright...
HYENA
It would make logical sense to put the lion here, as I've just walked you through building it. But since the lion is really the main thing, I'm leaving the best for last!
The hyena is not as detailed as the lion. If it was, this set would be even more massive! But at this angle, the hyena does look quite good for a mostly two-wide beast. You may note an old dark grey piece, that should be dark bley, but it was missing. The hyena looks better with its mouth open, as it has here.
From the side, it still looks ok, but with the closed mouth there is just this odd red line. The hunched stature of the hyena is nice, but of course it is stuck like that forever, which must hurt! The incline of the tail is also well done.
From above, the hyena still looks good. I can imagine a whole pack of these things running across an African plain.
The hyena is a little weird looking from the front. The easiest way to avoid this problem: don't look at it from the front!
That concludes the hyena. Overall, a nice little model, still partially posable because of hinged legs, and the tail and mouth can move a little. The mouth is the only real problem because it looks so odd when it's closed. Good color scheme too, I might add.
VULTURE
I don't know my birds too well, so if this isn't actually a vulture, please somebody let me know. For now, I shall call it a vulture.
Mr. Vulture has quite an impressive wingspan. The white ring around his neck is also a nice touch, and his head's color scheme is good. You will note that there is a missing grey 1X3 piece from one of his feet.
Here is Mr. Vulture's tail plumage. Simple, but acceptable.
From the side. Now you can get a good look at his nice head.
A great thing about Mr. Vulture is that his wings can fold up and be repositioned. Since he can't really stand up straight, his wings help support him.
Here he is looking straight at you.
That concludes the vulture. As I said before, it's a nice, simple model. Of course, it isn't that great really, and when you try to fly it around the wings flop a bit. It also can't stand up. But it's very nice that there is this third model in the set, and it enhances playability when you can build all three.
LION
And now, what we've all been waiting for... the lion!
Yes, I had time to perm my hair and get it to sit in that nice bowl cut between the build section and the lion section.
In the picture above, it looks like the lion is about to eat me. But actually, he is my friend. Look at us together. Quite a stunning shot. From this angle, the lion looks excellent.
And from the back. The wholes in the lion's legs are a bit strange, but there's no real way to work around that if LEGO wants to use those hinge pieces, which otherwise work very well.
An overhead view. The general shape of the lion is great, as is the way the body transitions into the mane. The only weird thing is the huge gap between the head and the body. On one hand, if this gap was not there, the head could not move at all. But on the other hand, it looks very odd, and probably even odder in person.
From the side. This picture better illustrates the oddness of the gap. Again, the head looks great, and the body looks great, but the gap is so weird!
The other side. You may note that one slope is missing from each leg, but this may be hard to tell.
That concludes the general overview of the lion. As I stated several times above, the lion is very well build and pretty solid, and the transition from a smaller body in the back to the larger body and mane in the front is excellent. But that gap...
LEFTOVERS
I decided to put this here because I wanted to save the most fun stuff for last, and not end with a picture of some green pieces. These most likely go towards the alligator that you can build with the lion's green blood.
PLAYABILITY
Usually, playability is part of the final ratings. But not with this set! Practically half the fun of the lion is all the poses you can put it in, as I will demonstrate below. Please note that I have only picked a couple poses, but many, many more are possible.
Playful. The lion and I are having a good time. The lion looks like it is in a dog-ish pose to me.
Hide n' seek. I suggest we play hide n' seek, and then I call over some of my buddies. Can
you
find me?
Lunch time. The lion wasn't too happy about my little hide n' seek gag, so he went off by himself and caught some lunch.
Really tired! Eating that whole bird sure tired the lion out, so he lay down all spread eagle.
More play. After the lion woke up, he called his buddies (one of which might be related to his lunch).
Then they asked me to join in. That wasn't such a great idea.
CONCLUSIONS
This set, as a whole, is great! The lion has super playability, and it looks good, apart from that gap. It is a bummer that the lion's mouth can't close all the way, but there is still tons to do with it regardless of that. The hyena is also quite nice, and the vulture is acceptable. All three together make for a nice looking set, and a great play experience!
RATINGS
Minifigures: N/A
- I had to include minifigs because it is part of usual ratings, but I can't downgrade the set for having none. It's a designer set, after all!
Pieces: 10/10
- Excellent selection, and so many different colors! Tan, green, brown, bley, black, dark red, burnt orange, and plenty of different sizes and kinds!
Design: 9/10
- This is a
design
er set, after all, so I had to include this. The lion is really good, but it would be better if the mouth could close. And did I mention a weird looking gap between the head and the body? The hyena is ok, but its mouth also looks weird. The vulture flops a bit when swooshed.
Build: 10/10
- Although it does have you build a bunch of the same thing (like the feet on the lion), it's still nicely varied. Of course having three separate animals helps with the variety of the build, as well as the green in the lion just to keep you interested!
Playability: 10/10
- At this point I don't think I need to put more emphasis on all the different things you can do with the lion and the others.
Price: 10/10
- Well, of course paying $3 for a $30 set is an awesome price, but I am using my judgement to say that even $30 for this set is a great price.
Overall: 9.8/10
If we were back in 2005, I'd immediately say get it!
That concludes my seventh academy review. I hope you enjoyed it, and I encourage everyone to shop at thrift stores if you can, you never know what will turn up!
Edited by WhiteFang, 23 May 2009 - 12:21 PM.
Indexed