Vig. 61c
When the pirates line was launched in my youth, I only had occasion to get the Imperial Flagship, and a few of the little sets. Lo and behold, now that I'm gainfully employed, the Pirates are re-released!
I bought Brickbeard's Bounty and the Soldier's Fort, as well as a few cannon battle to get back into the swing of things. The fort was a lot of fun to build, but I noticed that there was not much room for more than a few soldiers to stand around.
I started with the grand intention of building a large fort, and a garrison as an add-on, all in the modular style of 6242. Then, having not played with my Lego in years, came to a sad realization... while my bricks used to be all sorted, to save space I dumped everything into three plastic tubs... of the 68 litre variety...
Finding ANY piece in 204 litres of lego is challenging, particularly when it involves lots of brown and other colours which are not nearly as common in my older brick collection.
So it ended up being more like an add-on parade ground, extending the dock a bit with a few more fortifications and a gallows at the end. Maybe some day I'll organize my lego again, but it is such a daunting job I think I'd need a lot more space, and motivation to do so.
So here is the grand imagined, and much more modestly realized modified 6242 Soldier's Fort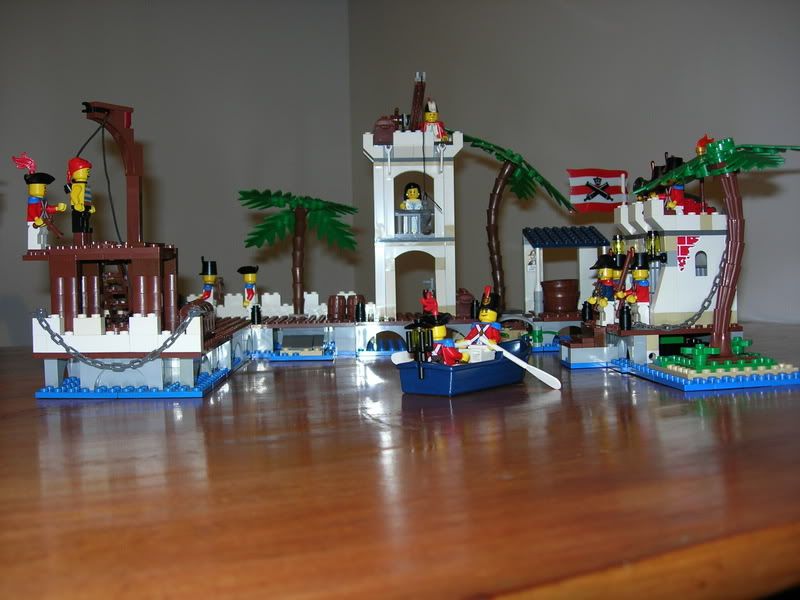 Gallery