Title of Set:
6049 Viking Voyager
Theme:
Castle/Lion Knights
Year Released:
1987
Pieces Count:
94
Minifigures:
5
Original Price:
$11 (USD), Unknown (EUR), Unknown (GBP)
Current Prices:
BrickLink Price Guide
Further Information:
Brickset
,
Lugnet
,
Peeron
,
Photobucket Album
Giant waves crashing against the hull of the ship is the only thing that helps these water bred Lion Knights feel at ease. After what they have seen and have fought against, the thunderous sounds of the ocean seem like the sweetest melody they could ever hear. Land is near and their strenuous journey is almost at an end. That is, until their King summons their skills once more.
Instructions: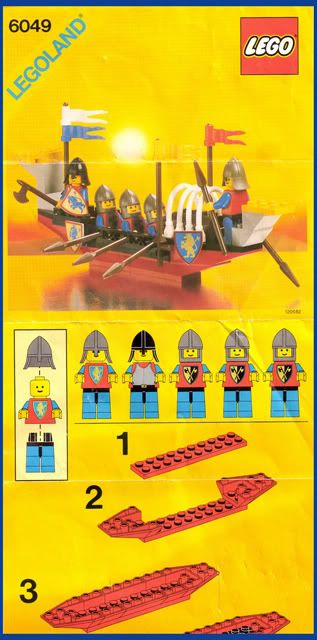 An instructional pamphlet with 13 steps to follow. Not the best in terms of clarity due to the single angle, but the build is easy enough. An interesting thing to note is how the instructions display two 1x1 round plates as treasure, yet the databases of Peeron and BrickLink only label one as included. My set only came with one.
Minifigures: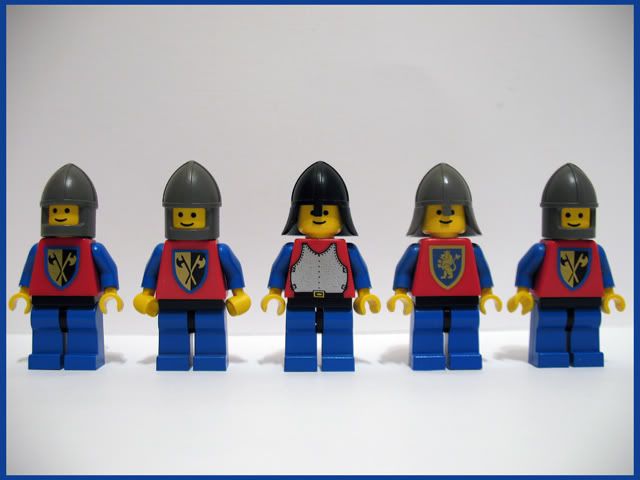 Five Lion Knights are included. Three different torso prints are apparent, including the semi-rare lion print.
Accessories:
This set comes with eight spears, one halberd, three lances, a brown chest that contains a yellow goblet and a yellow 1x1 round plate, three yellow Lion Knights shields and two blue Lion Knight shields.
Complete without Minifigures:
Overview:
The boat is narrow but long. The deck is only two studs wide which makes it a tight fit for the addition of the five included minifigures.
Front Adjacent:
Things to note are the chest under the four white hoses, and the four shields that clip to the sides of the boat. The chest sites on two 1x2 white tiles so it can easily be slide in and out of its storage compartment. Nothing really holds it in there though, so it may slide out unexpectedly A small area in front of the chest area is provided for a minifigure to stand.
Back Adjacent:
By the white and blue flags is an area where a minifigure can stand or sit. Gray blocks with yellow pieces create the simplistic details that is the tail of the boat.
Complete with Minifigures: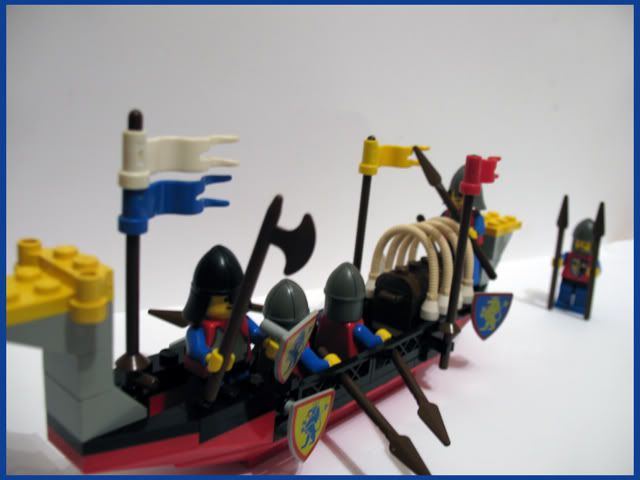 A tight fit even with only four of the minifigures on the boat. The spears fit in through the slots in the black fence pieces.
Reviewer's Score:
Playability:
8/10 - As I've mentioned in a previous review of mine, boats are always fun to play with. The addition of all the weapons and minifigures can make for some interesting times.
Design:
7.7/10 - Other than being somewhat too narrow to easily sit all the minifigures, it is a nicely done design for less than 94 pieces. It is also one of the few Castle themed ships.
Price:
10/10 - Five valuable shields, including two blue Lion Knight shields, plenty of weapons, and most of all, the five minifigures make this a great set to own either on its own or to complement a Lion Knight army.
Overall:
8.6/10 - The boat in this set does have its share of flaws consisting of a very narrow deck and lack of details. However, since the boat is unadorned, this may be a plus for some. For instance, it creates an extra sense of realism as this
is
seemingly supposed to be a simple boat for the knights of the kingdom, not for the King himself to leisure on. And one cannot forget the five minifigures and eight spears, which are great army builders for one's legion of Lion Knights. This set is a great buy if it can be found close to its MSRP.
Edited by WhiteFang, 05 January 2009 - 03:39 AM.
Review added to index.