Set#: 6207
Name: A-Wing fighter
Theme: Star Wars
Year: 2006
Pieces: 194
Minifigs: 1 pilot, 1 mechanic
Price: I paid 5,000 yen, which was a little steep.
MSRP: £9.99, $16 U.S.
Peeron
Brickset
Bricklink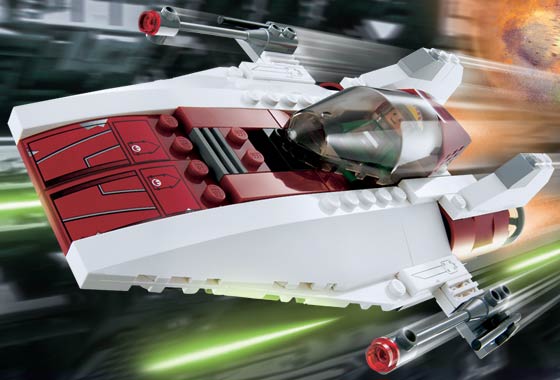 From Amazon
The Alliance A-wing starfighters were the fastest starfighters in the galaxy at the time of the Battle of Endor. This model of the A-wing includes a pilot and a Rebel technician with military cargo speeder. The cockpit canopy can open, guns can rotate, and a small cargo room with a container can open.
The Parts
There is a healthy selection of beautiful burgundy pieces, but not a whole lot that is unique. There are four stickers too.
This is a special piece though, the video screen with an Imperial Destroyer on it. The best scene in
Return of the Jedi
comes to life.
The pilot is a beautiful color. The maintenance man is nothing special, but good if you want to build Echo Base.
The Instructions/ The Build
This is a short set, along the lines of the jedi starfighters, that can be done in half an hour with concentration. The manual is 32 pages, plus a parts list and ads. Nothing stands out about that part of it.
Action features are shown.
There are two alternate sets. I suppose this was pretty rare by 2006 in a Star Wars set. The A-Wing podracer is quite a fun idea!
The build is quite rapid, with a lot of pieces being put down at a time. Here the base is laid out.
And a second layer is added.
A few slopes are placed to sleekify it.
And voila!
The Finished Product
This maintenance guy isn't all that special, thought the yellow is a matching color to that of the b-wing and Hoth rebel gear, so all that stuff looks united on display, in a slightly less overbearing way that the current republic white/burgandy can be. It's so so.
The shape is just about perfect.
Here we can see the cockpit opens from the front and the back.
The little functionality it has is that little box that comes out, but nothing to go in it
The turrets move though, which is something.
And the little guy fits inside comfortably.
Overall
Design: 9/10 This is a simple ship, but simple can be good. The design is sleek, the cockpit is sturdy and doesn't come off when opening. The colors are beautiful, my favorite of the five alliance ships (#2 snowspeeder, #3 X-Wing, #4 Y-Wing, #5 B-Wing). Sticker haters can take another point off, there are four.
Build: 7/10 Nothing special, clear and direct. But no shocking details. I'm realistic about how these 200 piece sets go, and never am surprised or blown away.
Playability: 8/10 It doesn't do much, but if I were to have a galactic dog fight, I wouldn't worry about losing pieces.
Minifigures: 6/10 I love the pilot in green, but the maintenance man doesn't mean much to me. If I were making a massive diorama, it certainly would come in handy, but I don't have the cash for that.
Price: 9/10 I bought it late (2 months ago) for too much money, but it would've been more reasonable when it came out. I would've preferred to see a cheaper set with no yellow transport thingee.
Average Score: 9/10
I love this ship. It's amazing looking. So personally, I give it 9/10, but 8/10 is its impartial score. I had the original too, and this makes that one look childish. A cool machine.
Green leader, getting ready for takeoff!
Cheers all!