Were losing him! where is that Dr?!
Here I am! what seems to be the problem?
Welcome to my review of the Doc and patient set.
Set Name:
Doc and patient
Set number:
4936
Parts:
18
Price:
US $2.99 Exclusive
Figures:
2
S@H
Bricklink
Brickset
Box/polybag
Lets kick this off with a look at the front and back of this polybagged set. First of all the important front picture, detailing the set contents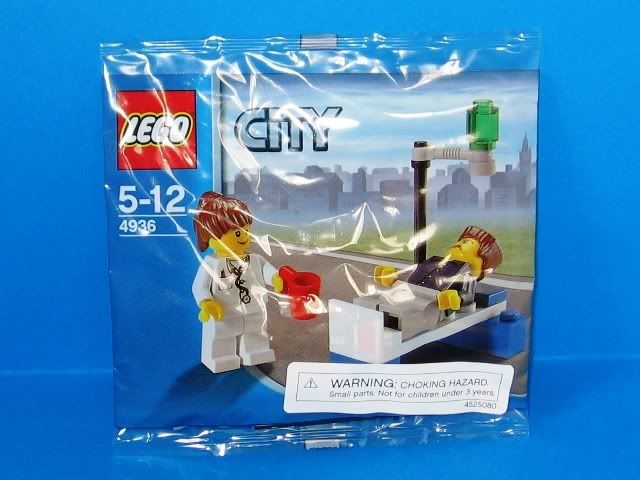 The rear picture showing a smaller picture as well as all the text we wont often bother looking at!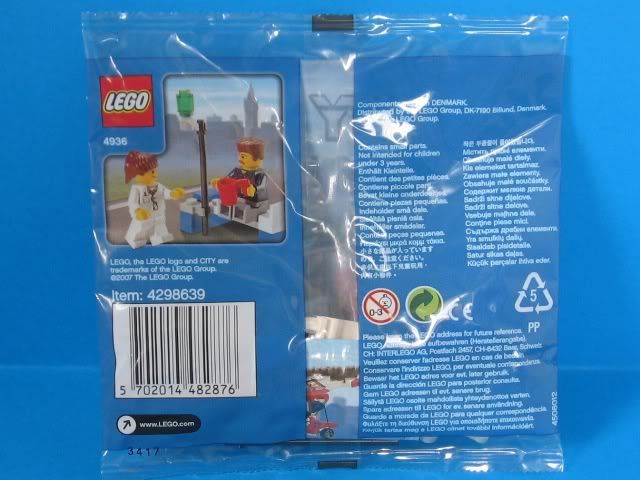 Instructions
Lets take a look at the one -page instruction sheet. On the front we see the simple construction, and on the rear we have a advertising poster for all the current city themes.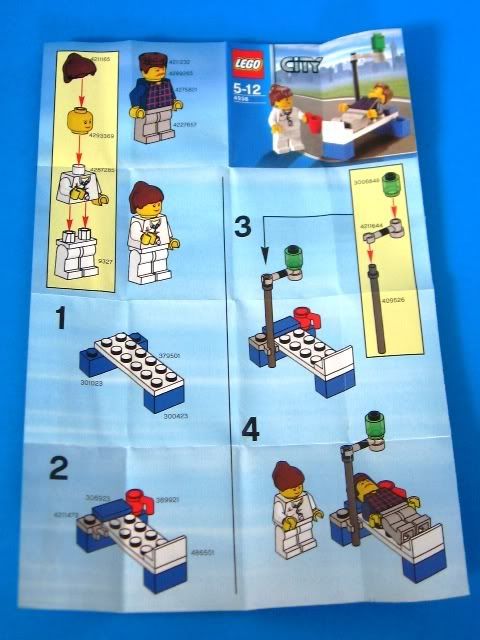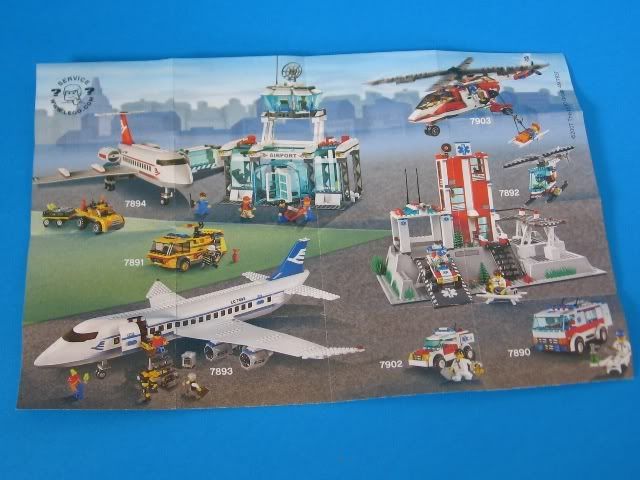 Parts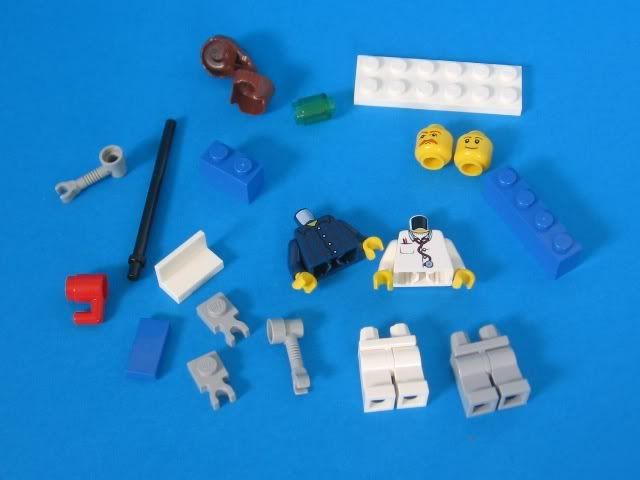 Minifigures
The patient comes with the standard flannelet printed torso and crewcut hairstyle, whilst the Dr comes with a stethoscope torso and nice ponytail hairpiece.
Unfortunately no printed rear torso's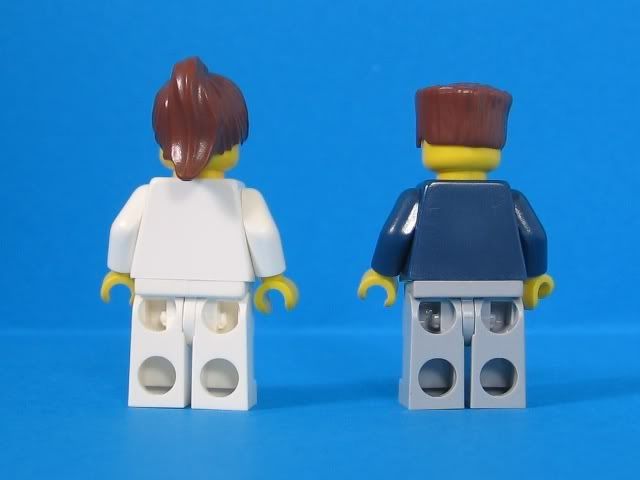 Parts
Lets examine the 18 pieces in all their glory. Nothing out of the ordinary for my collection but maybe there is something there for you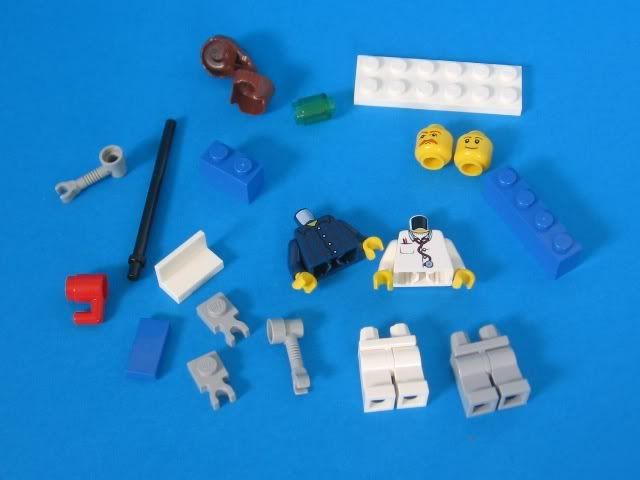 Complete Build
For obvious reasons, this build took all of 1 minute to make, so I wont show progress pictures. Here is the completed hospital bed, with bedside table and drip stand attached. On the side table is a cup for the patient. The drip does have me worried, as I don't think I would be too keen to have that green substance put into my body

Next to the bed are the two spare parts found in this set.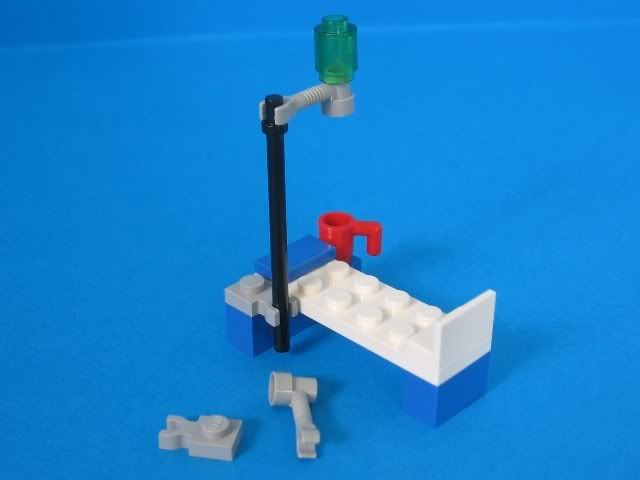 Complete with figures.
Here are a few shots showing the complete set up with figures.
Though this is a City themed set, its uses are open to all themes, be it battlefield medic in some far off space mission, or medieval witchcraft this Dr could be doing right by her patients.
Here is a selection of likely candidates needing her skilled hands!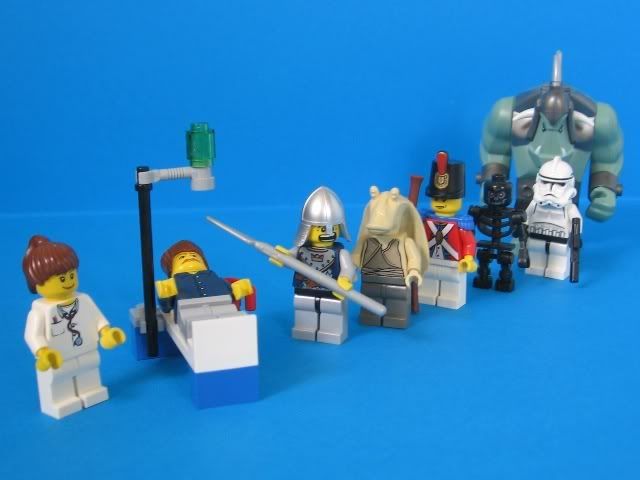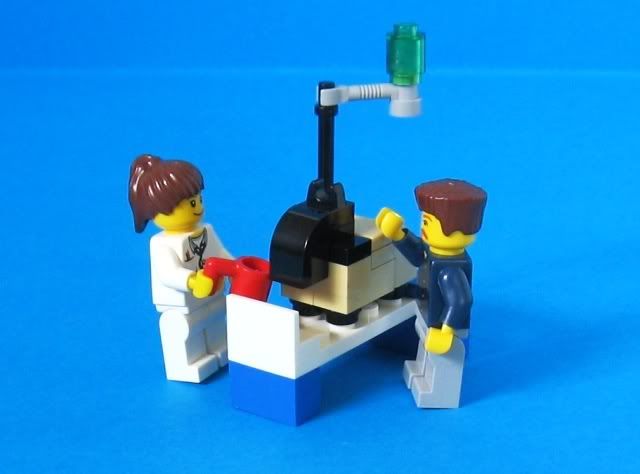 Conclusion
Design: 7/10 I like the blue pillow, white bed end and drip stand. Including a cup is a nice touch too.
Playability: 7/10 Not a lot of moving parts in this set mean a lower playability score, but you still get minifigure interaction.
Pricing: 10/10 Great for the minifigures and parts included.
Overall: 8/10 Though this is only a small set, it has two minifigures in it, which is a bargain in anyones books!
This is a great little set for the pricing. It comes with two figures, which I'm sure most people would love to get in any other impulse set!
Dr you've done it again!
All in a days work
Thank you for looking.
Cheers

ISC
Edited by I Scream Clone, 26 December 2008 - 08:57 AM.
Review added to index