Title of Set:
6071 Forestmen's Crossing
Theme:
Castle/Forestmen
Year Released:
1990
Pieces Count:
203
Minifigures:
5
Original Price:
$28.50 (USD)
Current Prices:
BrickLink Price Guide
Further Information:
Brickset
,
Lugnet
,
Peeron
,
Photobucket Album
Being one of the later Forestmen sets, Forestmen's Crossing was only released in the United States and came with a unique, and now very valuable, Forestmen maiden. This set also comes with a unique baseplate with a small river dividing the halves, creating an interesting and enjoyable set.
Instruction Booklet:
A full size booklet containing 23 steps, as well as an alternate build picture. The single viewing angle in the instructions can cause confusion later in the build, though.
Baseplate:
A unique piece to this set. It is 16x32 studs and the printings create an atmosphere fitting for Forestmen. The white dots are to help the owner along the building process. All white dots are covered up by pieces in the end.
Minifigs: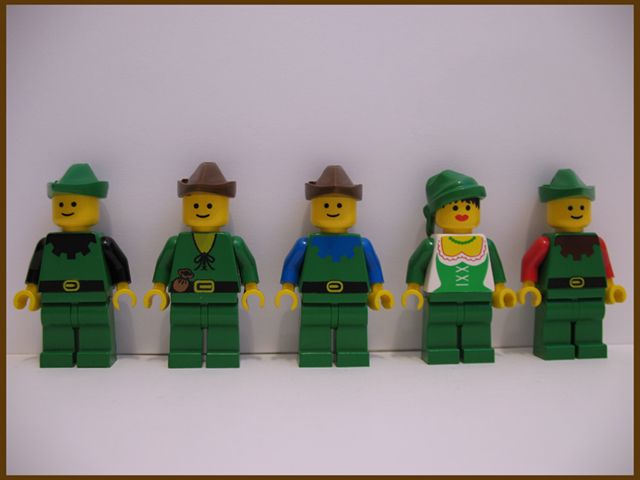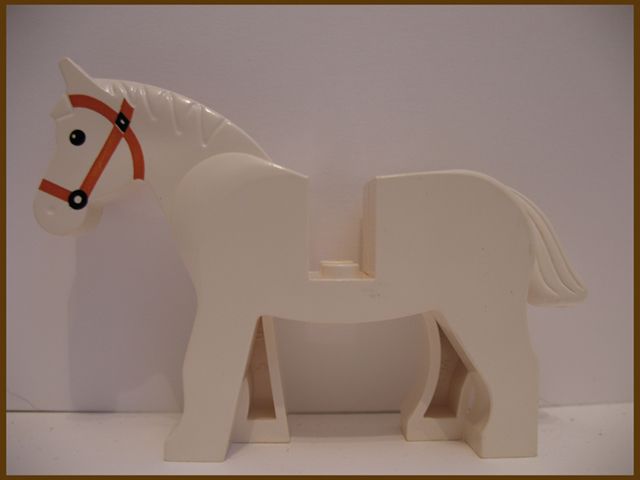 Five Forestmen, of all different colors and types, and a white horse.
Accessories: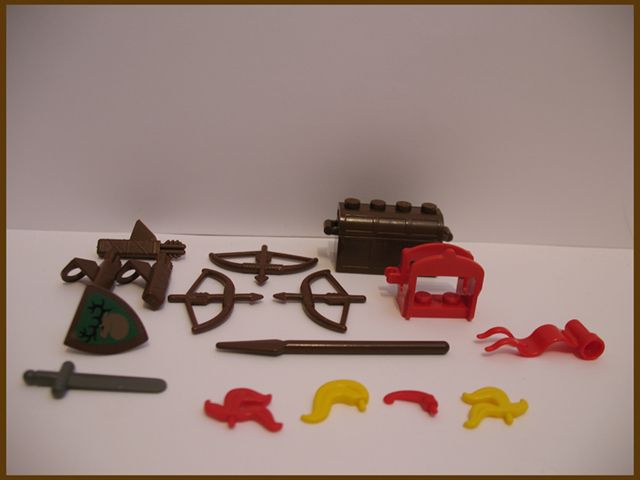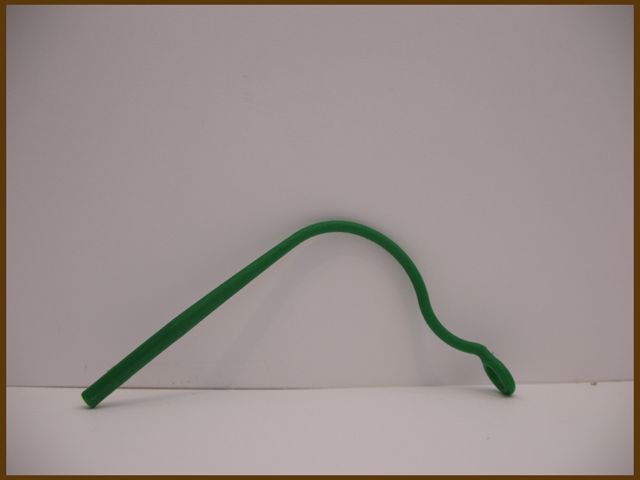 Various plumes and weapons are what mostly make up the accessories in this set.
Unique Pieces: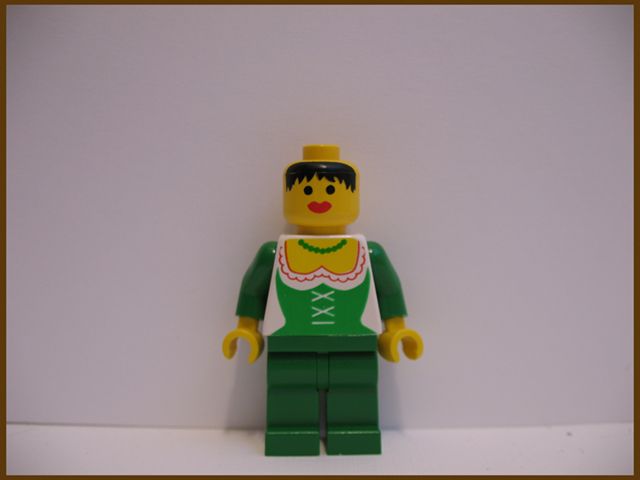 The Forestmen maiden in all her glory.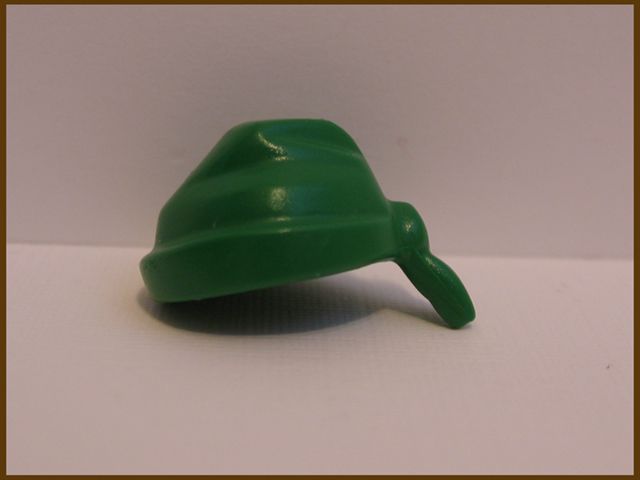 Closeup of the rare green cap that the Forestmen maiden uses.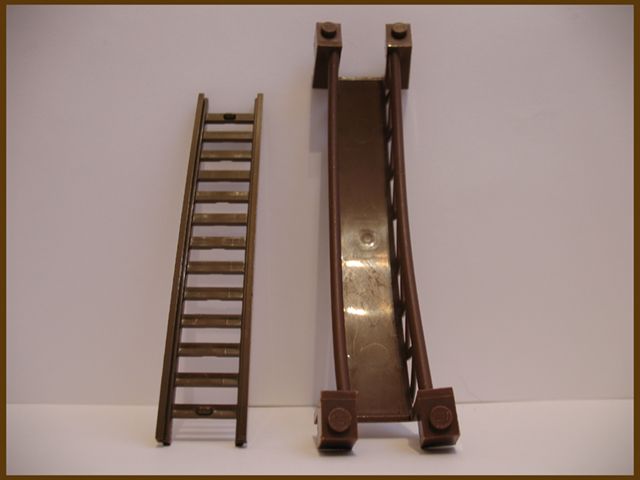 The brown ladder and bridge side by side.
Side view of the bridge. Nice architectural design to it.
Wall & Foliage Bonanza:
One gray straight wall, four black corner walls, and two black straight walls.
A total of fourteen plant leaves.
Completed without Minifigs:
Front Closed:
Front Open: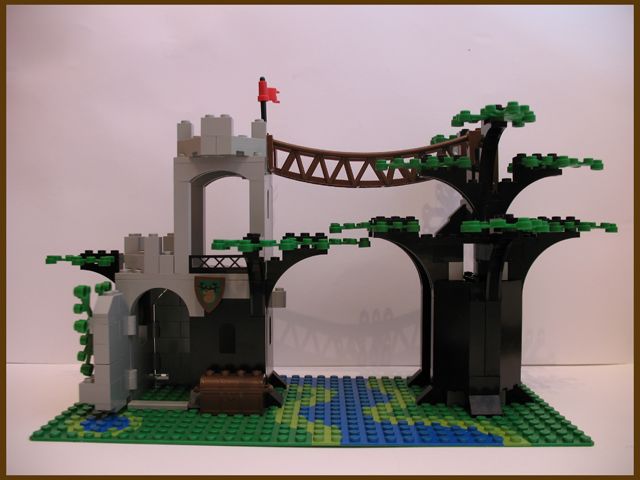 Same as before but with cave door open.
Side Left: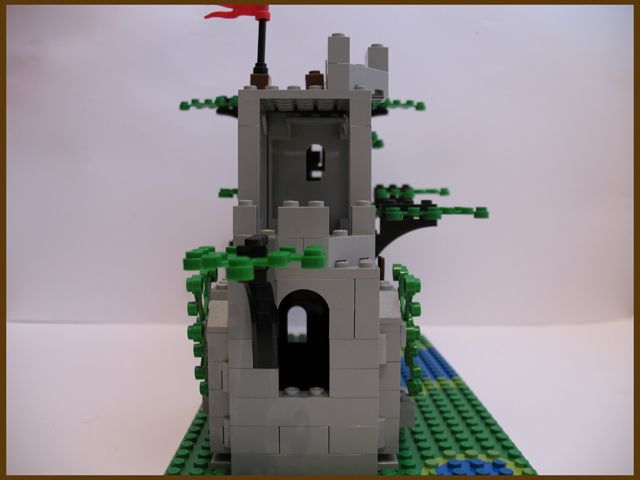 Here is the window that allows a peek into the cave. A view of the second floor room can be seen as well.
Side Right:
This side contains the lush, black tree. The ladder can be easily moved up and down using a creative stud technique.
Back Closed: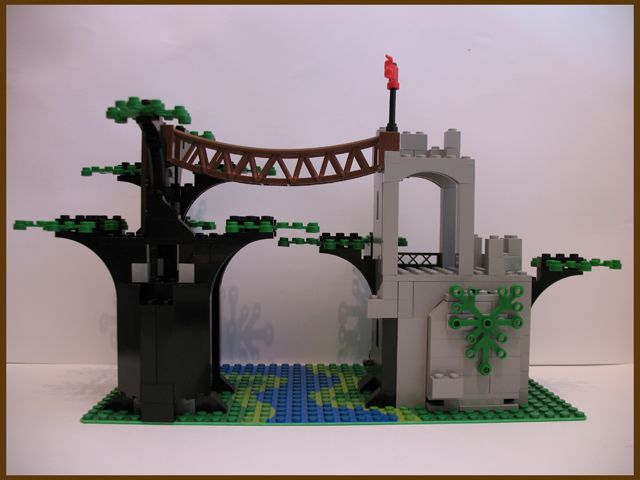 Back Open: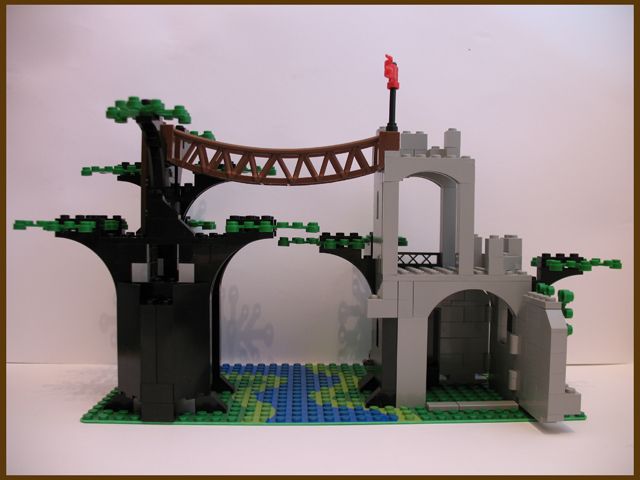 Same as before but with cave door open.
Closeups:
Inside Cave Front: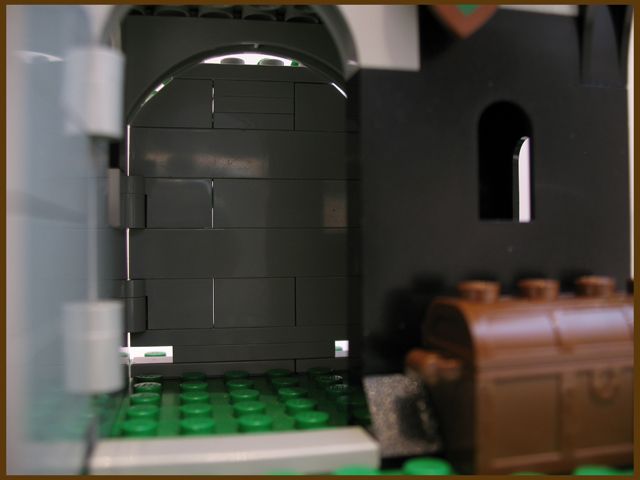 Entering cave from the front entrance.
Inside Cave Back:
Backside entrance to cave.
Looking Up Ladder: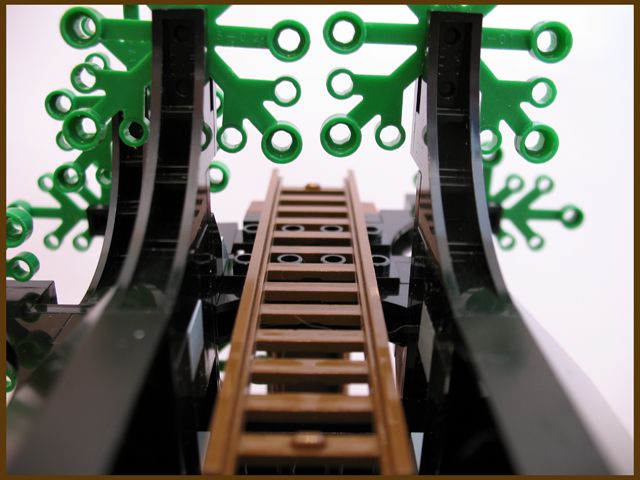 Quite the long ladder.
Looking Across Bridge: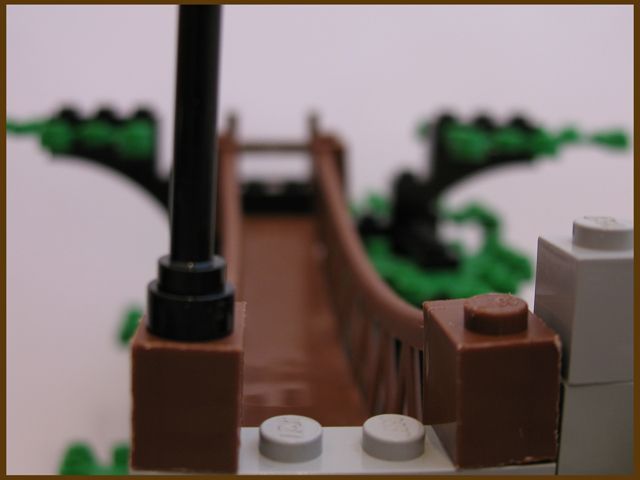 The journey is long and treacherous.
Second Floor Room:
Room on the second floor. Can be accessorized with extra pieces.
Walkway Through Tree: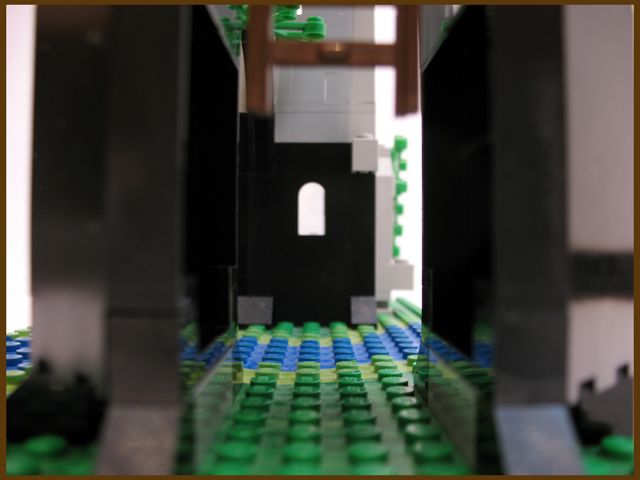 Nice roomy passage through the tree.
Looking Up: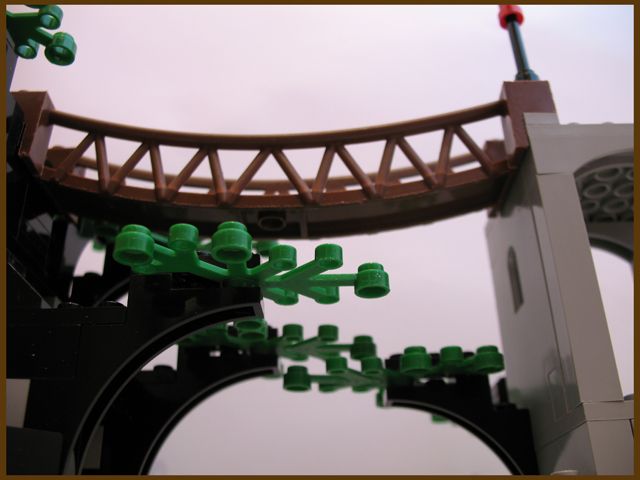 Looking up to the bridge.
Completed with Minifigs:
Hiding stolen loot is not an easy task.

Maximum Occupancy:
Can you spot them all?
Reviewer's Score:
Playability:
10/10 - Swing across the river, climb the tree, walk the bridge, hide stolen booty in the cave - what fun can be had!
Design:
10/10 - For 203 pieces, this set is very detailed and all comes together great. Only flaw is the white dots on the baseplate, but those are hidden shortly after starting the build.
Price:
10/10 - Five minifigs, including the unique maiden, with a slew of really useful parts. Some parts such as the abundance of wall panels and foliage are great for all sorts of MOCs and LEGO sets. Not to mention the rare ladder and bridge pieces.
Total:
30/30 - Maybe I just love Forestmen, which I do, but this set gets a perfect score from me. I just find it absolutely amazing.