Title of Set:
10000 Guarded Inn
Theme:
Castle/Legends
Year Released:
2001
Pieces Count:
246
Minifigures:
4
Original Price:
$25 (USD), Unknown (EUR), Unknown (GBP)
Current Prices:
BrickLink Price Guide
Further Information:
Brickset
,
Lugnet
,
Peeron
,
Photobucket Album
The Guarded Inn is always accepting guests and whether these guests are friend or foe, they can always find a hot meal and a warm bed to welcome them to a place away from the gruesome battles that plague their lands.

Instruction Booklet:
At 246 pieces, this set uses an instruction booklet. Containing a total of 30 steps, the booklet is easy to follow and has good contrast which helps the building process go smoothly. Some steps also have sub-steps for any of the more complicated areas.
Minifigs: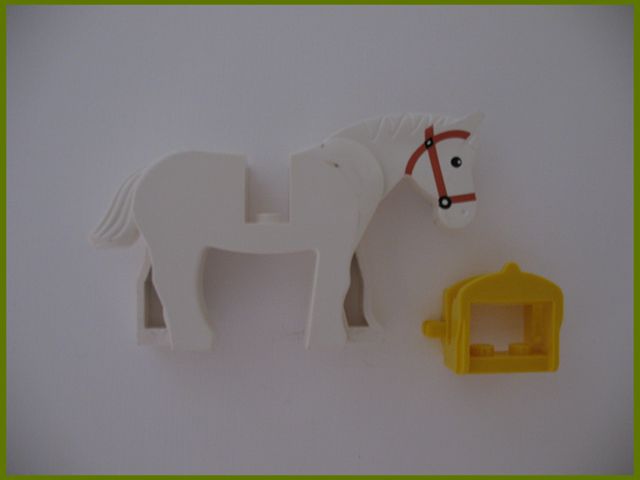 A Black Falcon, two Lion Knights, a white horse, and a female innkeeper are included.
Accessories: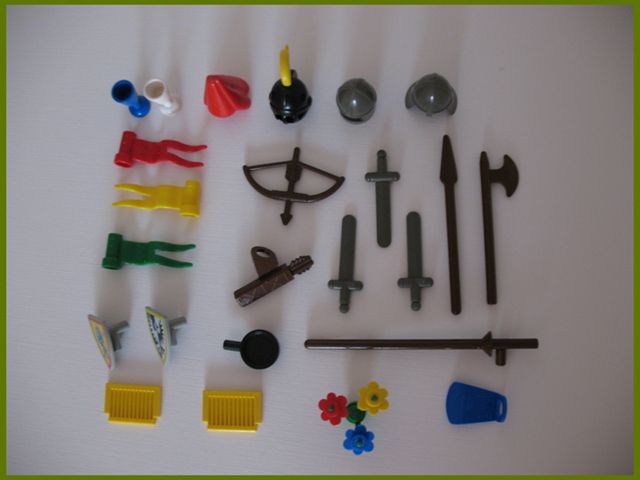 Plenty of accessories that can suit several guards and even provide the innkeeper with items such as a pan to serve any patrons who are in need of refuge. The red cone is the innkeeper's hat. What is not shown in this picture are three plants with flowers and a black cape (identical to the blue cape).
Unique Pieces: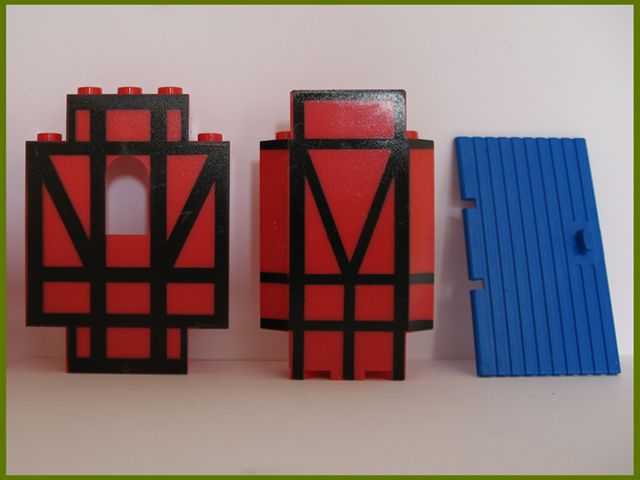 Two red corner wall panels, one red straight wall panel, a blue door, and a printed black flag. The printing on the flag is highly detailed and exists on both sides.
Completed without Minifigs:
Overview:
The roof has a watchtower that has a usable space of 4x4 studs. The wall walkway is 2x20 studs, with an extra 4x9 studded area for an off duty guard to drink mead.
Front: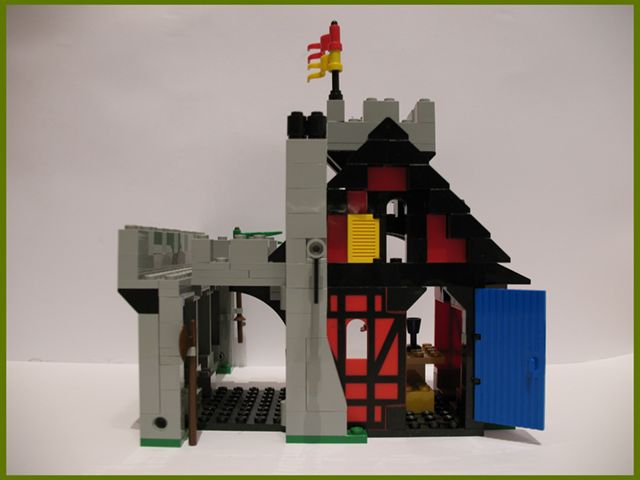 Not much to be explained here. The single yellow shutter and blue door obviously work on a hinge system. A large chimney can also be spotted, along with the halberd clipped to the wall.
Front Open:
The whole front facade of this inn utilizes two hinge bricks. Once swung open, this provides easy access into the internal area.
Side Open:
Another single yellow shutter. And again, the window itself is arched giving the inn a realistic architectural look. One of the many small things that really make this set so special.
Side Closed: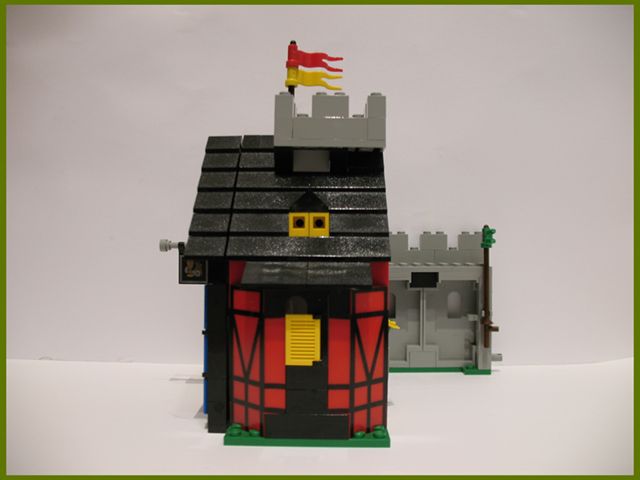 As before, but with front closed.
Back: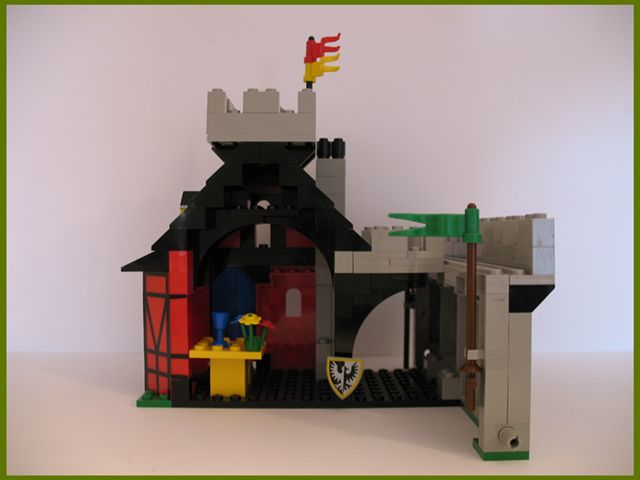 The back is open and, as does the hinged front, allows access to the innards. There is a yellow brick build table, with a 2x2 yellow brick stool. A blue goblet and flower plant decorate the place. Towards the front of the structure a small stove can be seen where the chimney begins. There is a place to stick a spare shield, perhaps one from a guest, into the wall. A brown lance with a green flag clips to the outer wall.
Side Wall: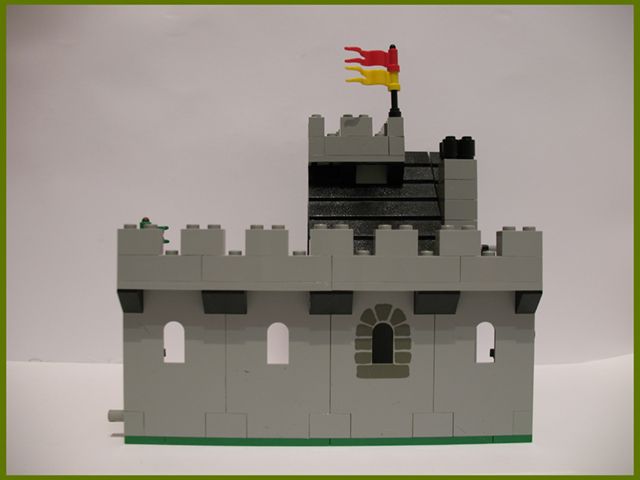 The wall is four panels long and three bricks wide. The wall can connect to other sets released during this time period via a technic pin on each end.
Closeups:
Interior:
A closer view of a passageway to the underside of the walled area - a joining of two plates create a 6x8 studded area. A better view of the stove/fireplace can also be seen.
Walkway:
Where the previously mentioned passageway leads to.
Bay Window:
A nice little nook that can possibly sit another minifig.
Attic & Watchtower: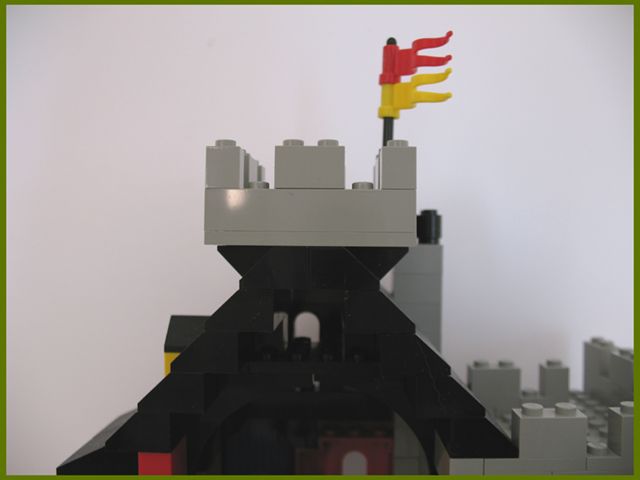 There is a very small attic included in this set. A regular chest is unlikely to fit due to the small size. It does create another nice architectural point that can be viewed through the front's window, though.
Attic Window: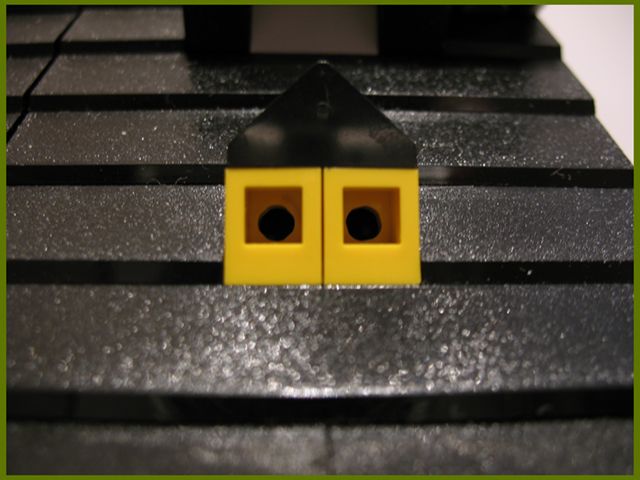 Another small detail found within this set. Really wraps up the whole exterior while breaking up the otherwise all black roof.
Walkway with Front Opened:
Here is a view with the front facade all the way opened. As shown, there is a good amount of space between the flag pole and wall.
Front Facade: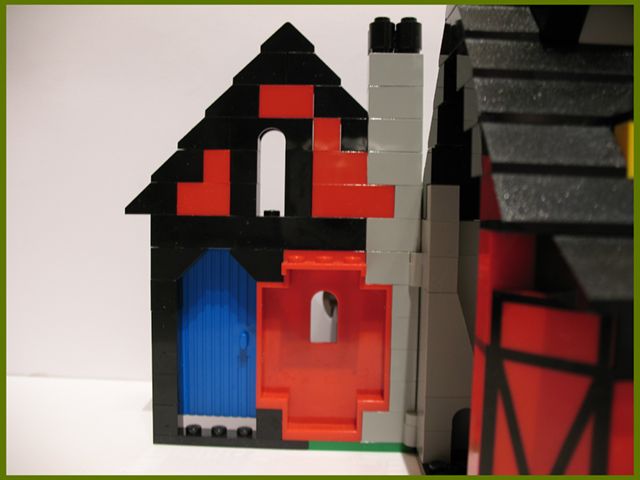 Backside of the front facade.

Completed with Minifigs: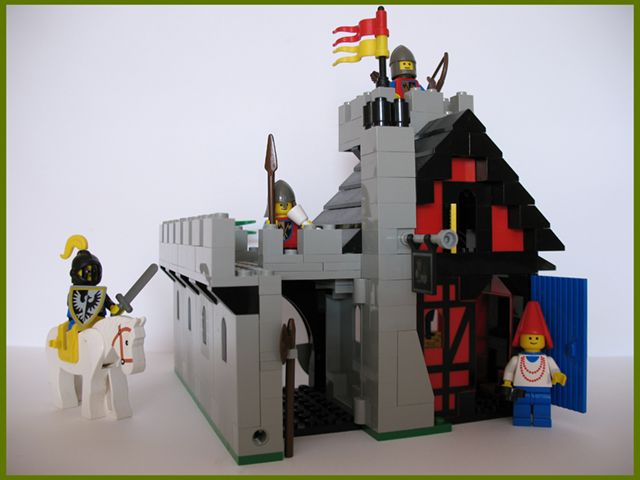 How the set looks when completely finished.
Scenery:
Set in a landscape poorly constructed by me.
Reviewer's Score:
Playability:
10/10 - Unlimited amount of possibilities. There can be an attack occurring, or just friendly banter flowing throughout the inn. The inn can be a part of a castle, a keep, an outpost, a town, and so on. Two factions are included, which provides the option of conflict or peace.
Design:
10/10 - This set is a work of art. The colors and architectural techniques are very impressive and just feel right. Only flaw is not being able to easily fit a chest in the attic, but at least there
is
an attic.
Price:
9.9/10 - Four minifigs, including one rare innkeeper and beautifully printed flag is a very good deal. Another minifig would've made this an absolute 10/10.
Total:
29.9/30 - If you can find it then buy it, build it, and enjoy it!