Title of Set:
6057 Sea Serpent
Theme:
Castle/Black Knights
Year Released:
1992
Pieces Count:
117
Minifigures:
5
Original Price:
$16.50 (USD), Unknown (EUR), Unknown (GBP)
Current Prices:
BrickLink Price Guide
Further Information:
Brickset
,
Lugnet
,
Peeron
,
Photobucket Album
The Black Knights are part of some of the best Classic Castle sets and the Sea Serpent is no exception. Read on to find out why.
Instruction Pamphlet: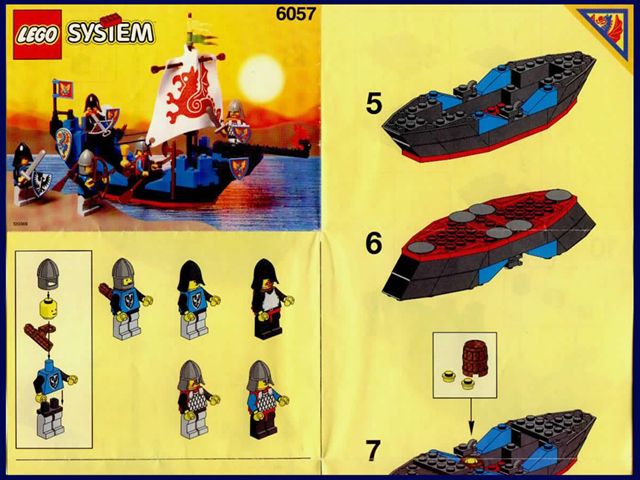 The usual foldout instruction pamphlet is included with this set. The steps are easy to follow and the pictures display everything in great detail. A total of 15 steps are present.
Parts: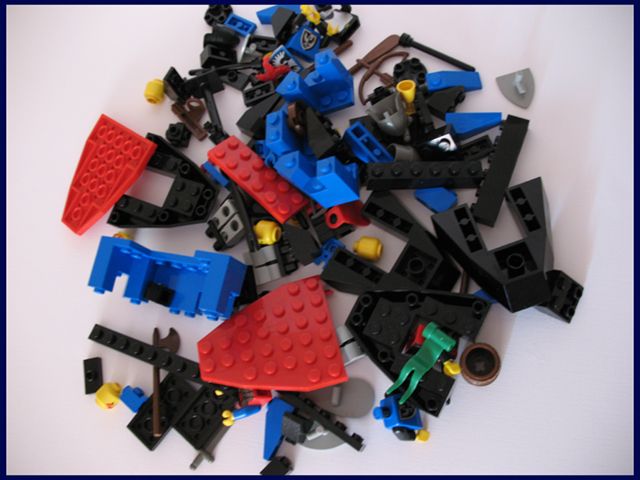 While at only 117 pieces, the Sea Serpent comes with five armed minifigs and a beautiful cloth sail. Quite a few large pieces are included.
Minifigs: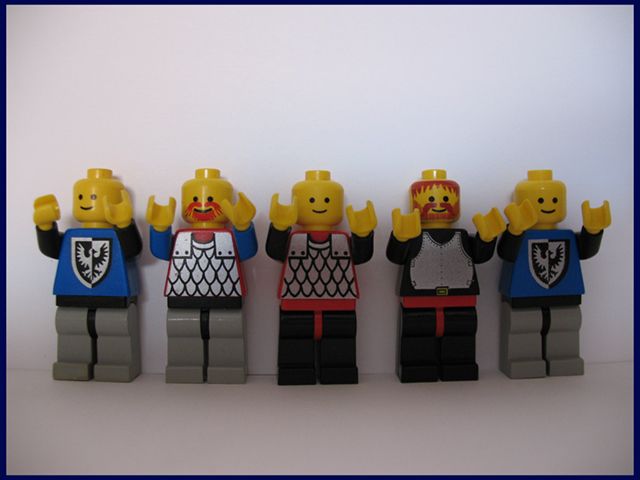 Three Black Knights and two Black Falcons are included. Armed with crossbows, long bows, shields, varying helmets, and ABS plastic swords, the minifigs are definitely a focal point to this set.

Accessories: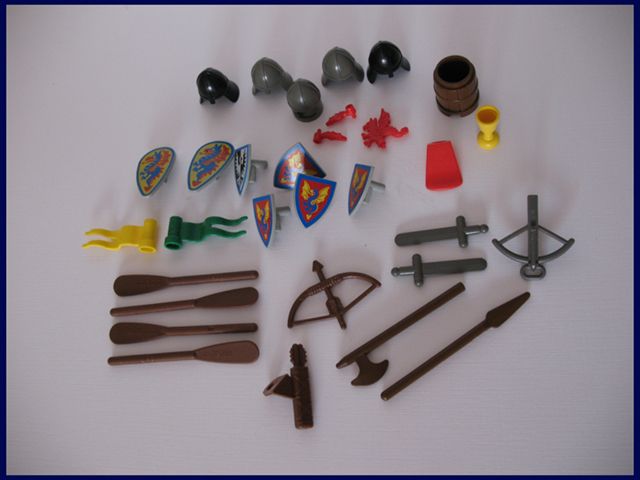 This set has plenty of weapons and armor to go around for suiting up the many included minifigs. A thing to note is the oars. In previous Castle ships LEGO used regular halberds and spears in their place, but now with the Pirate theme out, LEGO can include actual brown oars. Also, three red plumes come included.
Unique Pieces: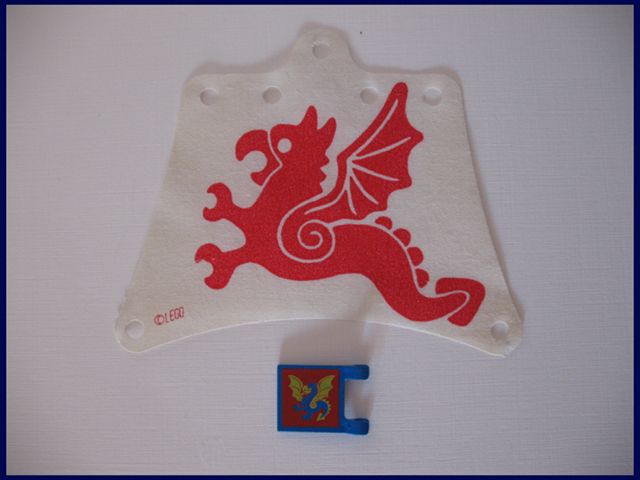 A printed flag displaying the Black Knights' emblem and a cloth sail, again with the Black Knights' emblem, make up the unique parts in this set. Not many, but they are both great to have.
Partially Built:
Top/Side: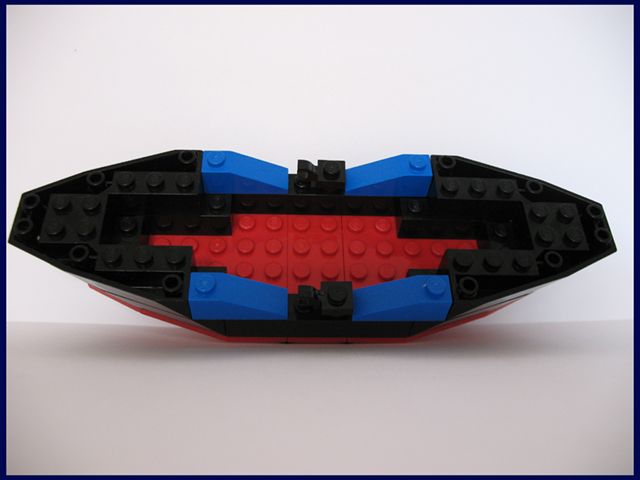 Bottom: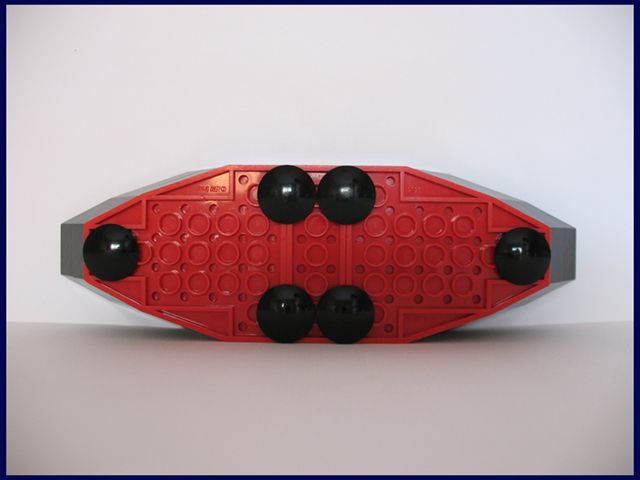 Due to the large pieces, the build is quick and the base of the ship is just about done in only a few steps. The black circles on the bottom on the ship create a floating effect, as well as adding to the structural durability.
Extra Tidbit: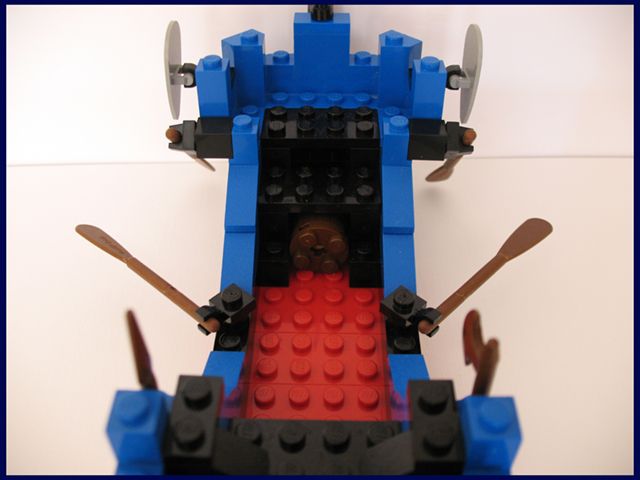 A 2x2 barrel can fit snuggly into an unused compartment on the boat. Sadly, it is one stud too short to accommodate a chest.
Set without minifigs:
Overview:
Front:
Without Sail: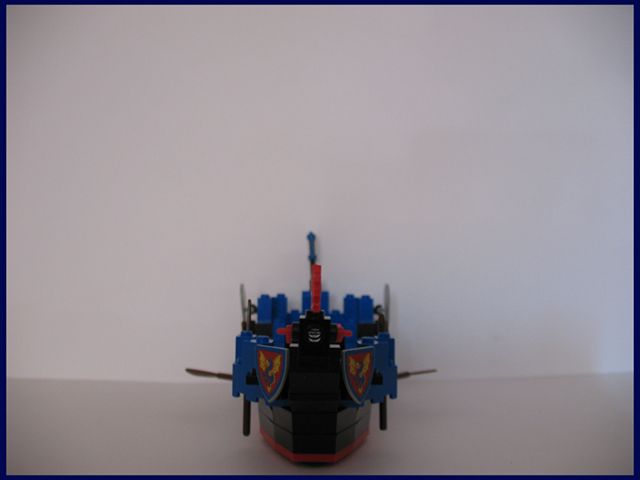 With Sail:
Side:
Without Sail: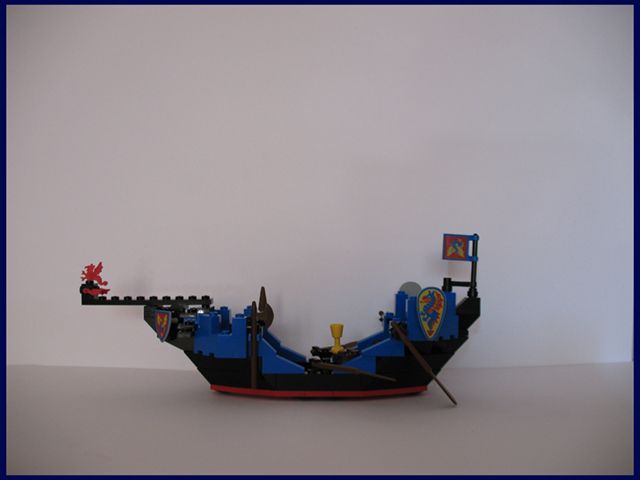 With Sail: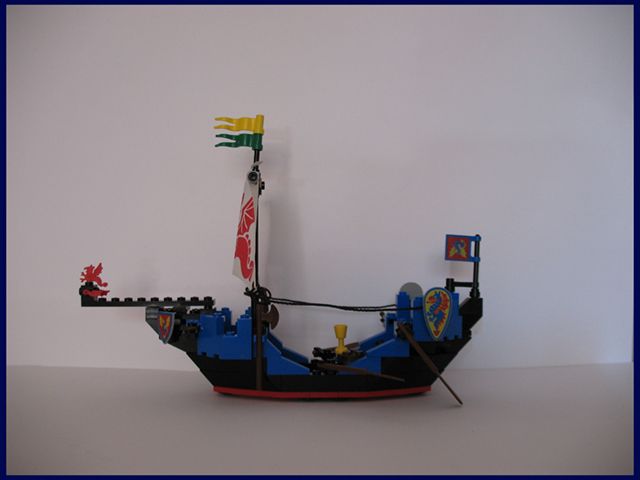 Back:
Without Sail: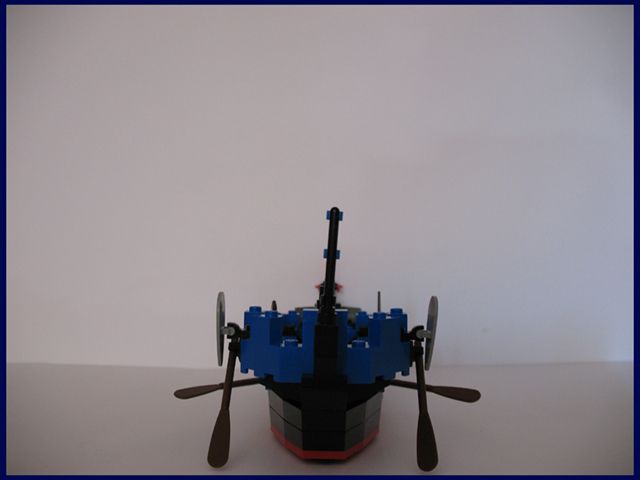 With Sail: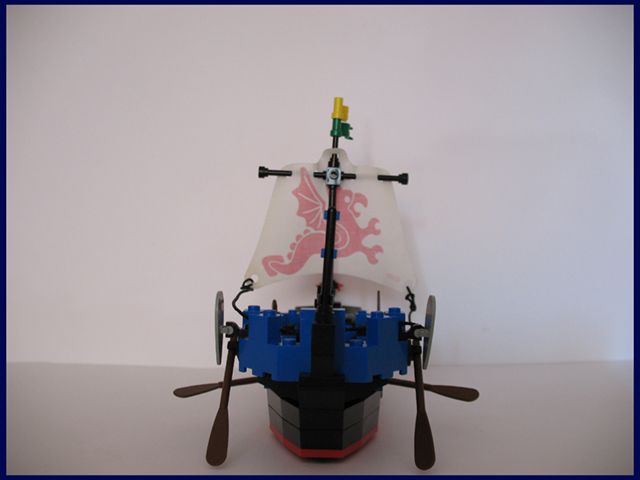 For the few amount of pieces that create this boat, it is actually very roomy. All five fully armed minifigs can safely fit onto the boat, along with a few extra accessories. Small clips hold the oars in place. The sail is easy to attach and the only troublesome issue may be tying two knots with the included black string.
Completed set with minifigs: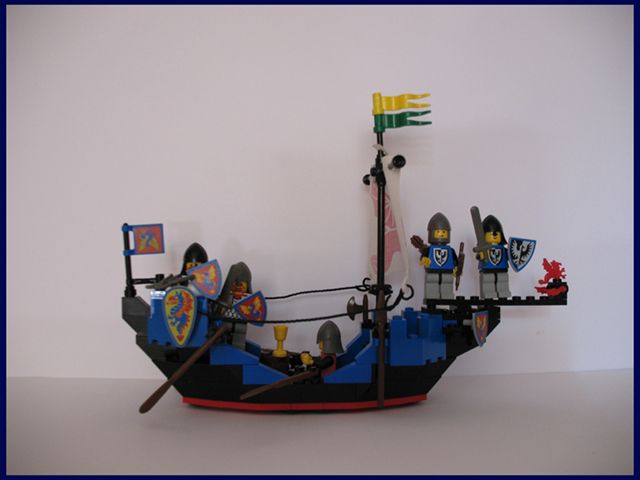 As mentioned in the previous section, all five minifigs fit onto the boat.
The Voyage: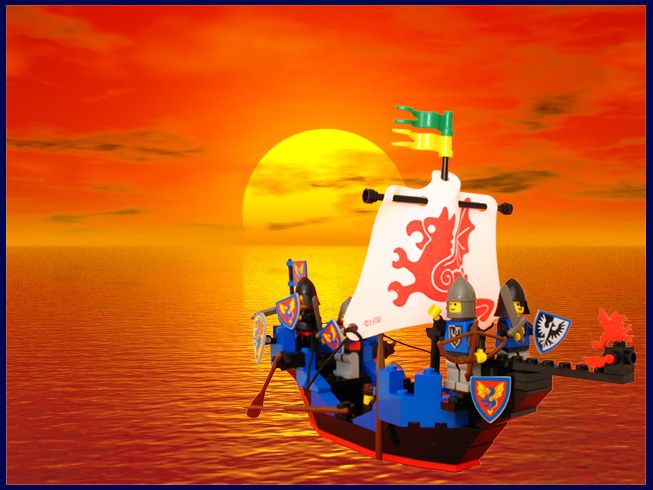 Reviewer's Score:
Playability:
9.9/10 – A boat is always fun to play with, whether in actual water or just on plain blue construction paper. Since there are two factions, one can have the Black Falcons challenge the Black Knights. Plenty of accessories also help vary each time one plays with it. One can even just spend time by dressing up the minifigs in different weapons and armor.
Design:
9.8/10 – The colors look very good and stay true to the Black Knights. The flag is perfect for this set. While large pieces are used, they create a realistic look of a boat and provide the space required for the minifigs. Only thing is, not much more other than the minifigs can fit directly onto the boat, which is to be expected for a small set.
Price:
9.3/10 – Five fully armed minifigs, a cloth sail, a printed flag, and a ton of accessories for only $16.50. A good deal, indeed!
Total:
29/30 – Absolute must buy for any ship lover and/or Castle fan. The final product is a great looking ship, five very useful and desired minifigs, more than enough accessories… what more can one ask for?
*Instruction pictures are from Peeron.
*Printed Black Knights' flag is on upside-down in my pictures, except in the scenery shot, as I did not notice until after uploading all the pictures.
*Thanks goes to Mister Phes for the scenery backdrop and SlyOwl for the guide.