Title of Set:
6017 King's Oarsmen
Theme:
Castle/Lion Knights
Year Released:
1987
Pieces Count:
42
Minifigures:
2
Original Price:
$3.75(USD)
Further Information:
Brickset
,
Lugnet
,
Peeron
,
Photobucket Album
Being the smallest and cheapest of the Castle ship sets, King's Oarsmen only consists of a small rowboat and two Lion Knight Oarsmen. Whilst small in stature and in length, this is a superb impulse set of the late 1980s. Will these two brave Lion Knights keep their kingdom's waters safe from the dreadful Black Falcons? Read on to find out...

Instruction Pamphlet: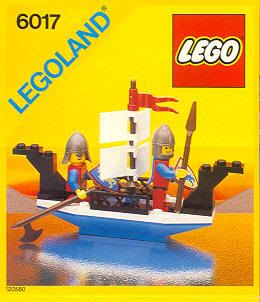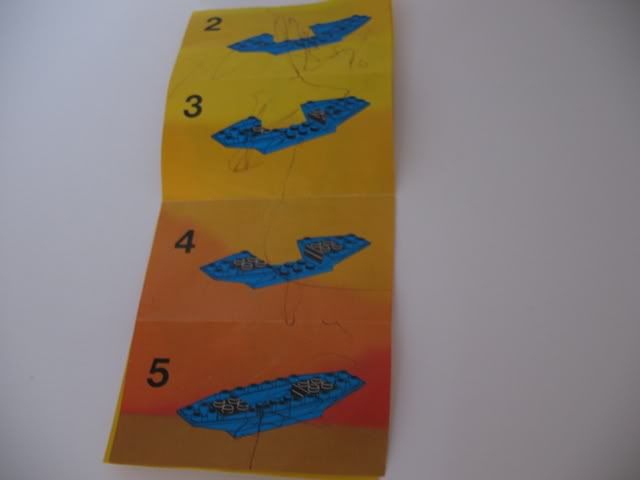 The instruction pamphlet of this set. Not much to mention other than it being easy to follow and that there are eleven steps in total.
Parts: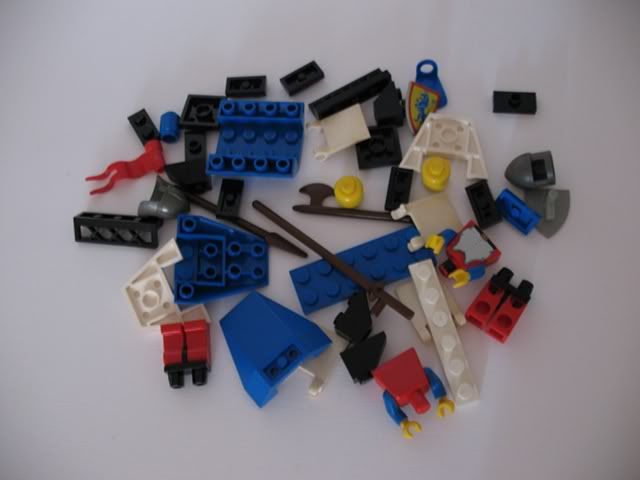 Not overwhelming in the parts department.
Minifigs: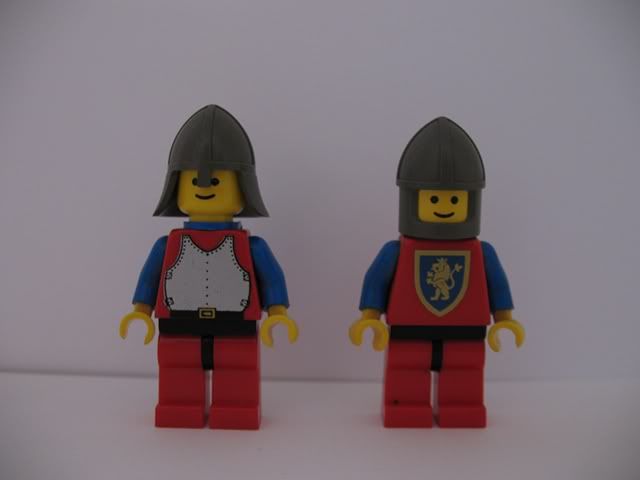 For a mere $3.75, this set comes with two very nice minifigs. Both are Lion Knights but they each have a different torso print. One comes with the Crusaders gold lion shield pattern and the other with the metallic breastplate pattern that was used in a few vintage Castle sets.
Accessories: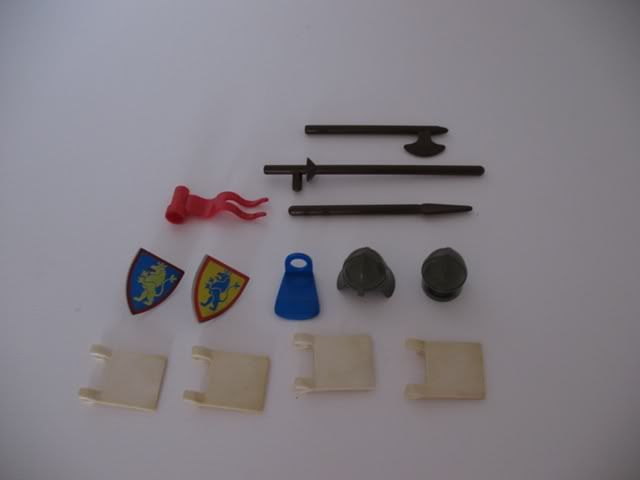 A wide variety of accessories are included. There is a blue cape, one yellow background Lion shield, one blue background Lion shield, a single red flag, four plain white flags (which have discoloration in my pictures), a brown lance, a brown halberd, and finally, a brown spear.
Unique Pieces: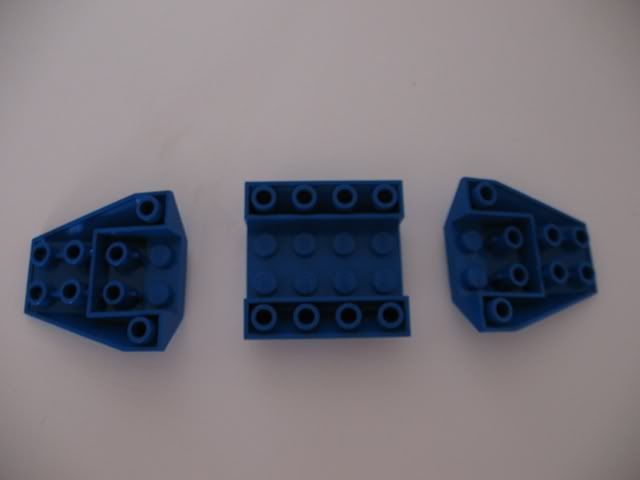 There are no set exclusive pieces, but there are a few rare ones as displayed in the above picture.
Partially Built: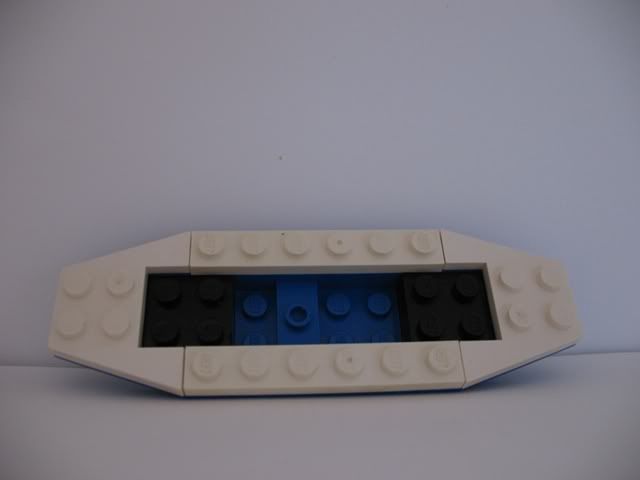 +About halfway through the build. The boat takes form quickly.
Set without minifigs:
Front: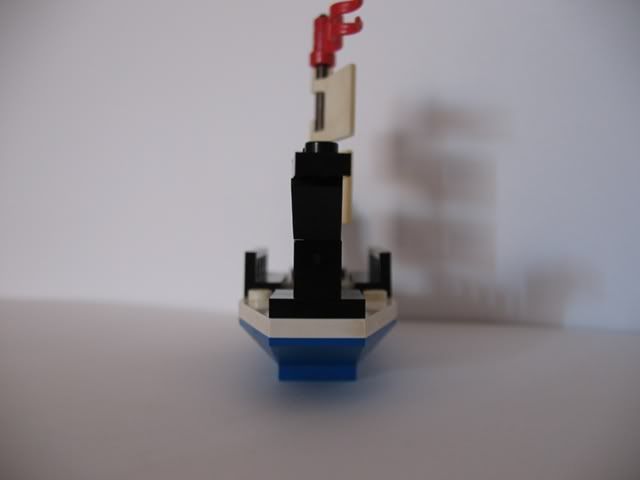 Side: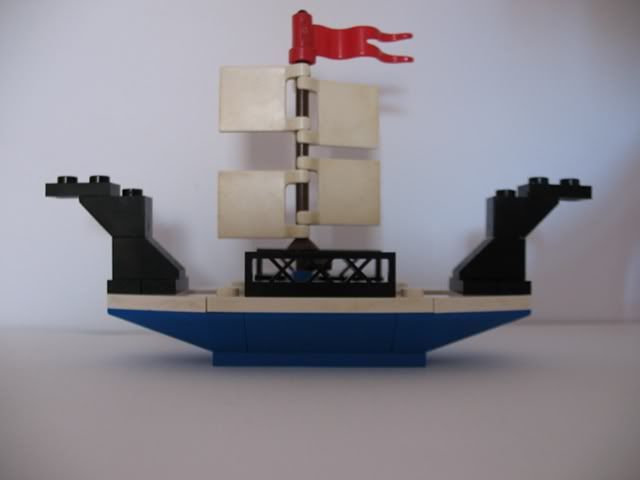 Back:
Again, this is a small set so not a whole lot is going on. As pictured, this set contains a simple yet effective rowboat and nothing more.
Completed set with minifigs: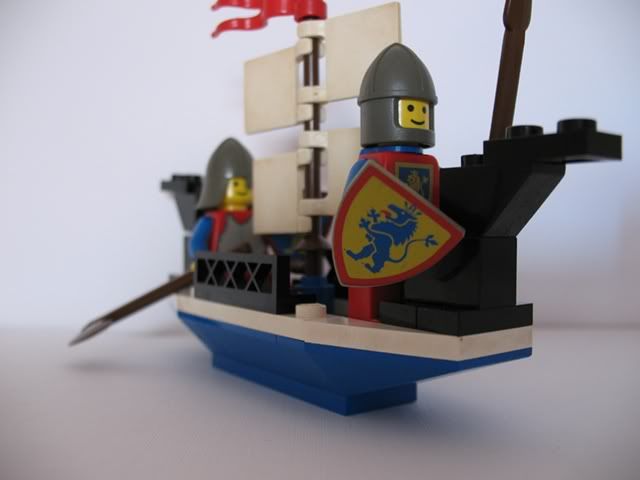 Both minifigs fit adequately onto the boat. One or both of the included Lion Knights can row or keep watch. The four white flags that work as a sail can be manually shifted to simulate direction changes in the wind.
Victory: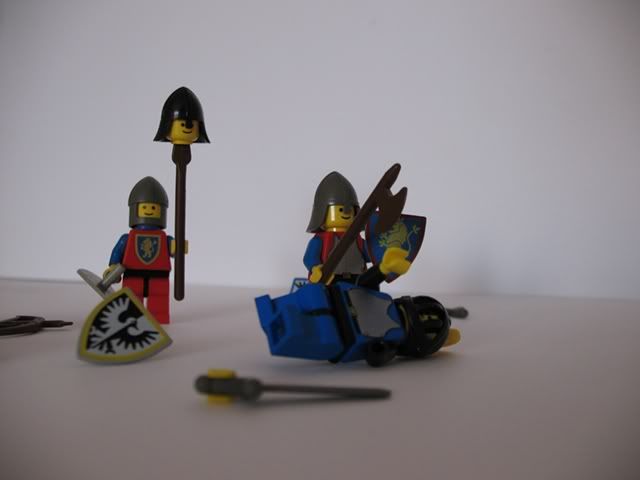 A prime example of why you don't want to mess with Lion Knights.
Joke:
While the Lion Knights excel in battle, they certainly aren't the brightest of the bunch.
Reviewer's Score:
Playability
: 8.5/10 - In my experience, most impulse sets don't offer a whole lot of playability. This is still somewhat true for this set, but having two minifigs and a cute boat spices things up a great deal.
Design
: 9/10 - Once again, being an impulse set there aren't many pieces to use. The pieces that are included with this set create a wonderful boat. A thing to note: this set was released before the Pirates theme came into fruition, so the absence of actual oars and a cloth flag are not to be taken negatively into this score.
Price
: 9.5/10 - Most impulse sets of the modern day include only one minifig, but this has two that have great torsos! There are also a good selection of accessories and rare boat parts.
Total:
27/30 - This set is a must buy for those who hold the desire to create a Castle themed fleet. Pair this set with 6049 and 6057 to build an admirable bunch of ships to transport one's troops from shore to shore.