4789 Alpha Team Aquatic Mech
Set #: 4789
Theme: Alpha Team - Mission Deep Sea
Year of Release: 2002
Pieces: 164
Minifigs: 1
Price: $20 (USD)
In 2002, Lego released a new underwater sub-theme called Mission Deep Sea. The sub-theme was part of Alpha Team with some of the same characters and villains from 2001 (e.g. Ogel and others). Although I don't think the theme was too good, this limited release Mech was a pretty slick set. It included a large robotic underwater mech, a small "Tee Vee" probe, Alpha Team hero Dash, and a hammerhead shark. This collection of components made for a nice set with a great play value. I think the mech served as an early proto-type for Exo-Force mechs that would come many years later.
Let's take a look at this set in better detail.
The front of the box had some nice artwork with a look that reminds me of Aquaraiders:
The back of the box provides inspiration for two different alternative models:
Here's a close-up:
The set includes one minifig (Dash as named on the box) that has a brown hairpiece and diving equipment:
A nice extra is this little camera probe that has a sharp printed brick. I like it's name, "TEE-VEE":
The set also includes a black hammerhead shark and some underwater sea life:
And these extras:
The best part of this set is this large industrial mech that reminds me of something from the movie Aliens:
The cockpit is pretty slick with a yellow stretcher holder that covers the see-through piece:
The cockpit includes two levers and the nice printed sloped bricks:
In the back of the mech are two underwater propellors that can swivel up and down:
The strong legs of the mech utilize this unique printed piece found only in a few Alpha Team sets. They swivel similar to the first Star Wars AT-ST set: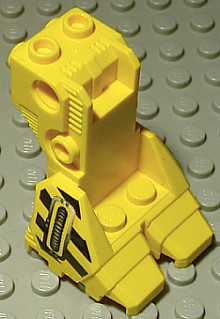 41525px1
Each legs also includes a container/safe piece:
Here's a shot of the front of the mech with its two long arms:
Each arm utilizes two arm sections:
The right arm has a claw that remains closed until manually opened. A small rubberband keeps it closed:
The mech's left arm has two trans yellow saw blades:
A shot of the mech in action:
And lastly, the complete set:
Summary:
I picked up just a few Alpha Team Deep Sea sets back in the early 2000s, none of which I really liked; but after finding this set for $20 at my local TRU store, I had to buy one. I like this set in that it has some great pieces, none of which have stickers. As I said earlier, this particular mech reminds me of the mech that was used to fight the Alien in the 1986 sci-fi flick. I think it looks good in yellow giving it a real industrial look plus adding an element of underwater use to its design. I think this set is the best among the 2002 Mission Deep Sea collection.
Share your thoughts.