Information
Name:
Fire Control Center
Set No.:
4953 @ Peeron.com
Theme:
LEGO, Legoland
Year:
1991
Pieces:
516
Minifigs:
4
Price:
USD $85.00 / GBP unknown / EUR unknown
Bricklink search results
Brickset
Lugnet
Introduction
This week I got the flu. so since I have to stay home and get better, I might as well make a review.
It's one of the most amazing older city sets, thus making it a really valuable review.
This is the story about four handsome firemen living in one of the most amazing city structures out there.
The 6389 Fire control center.
The box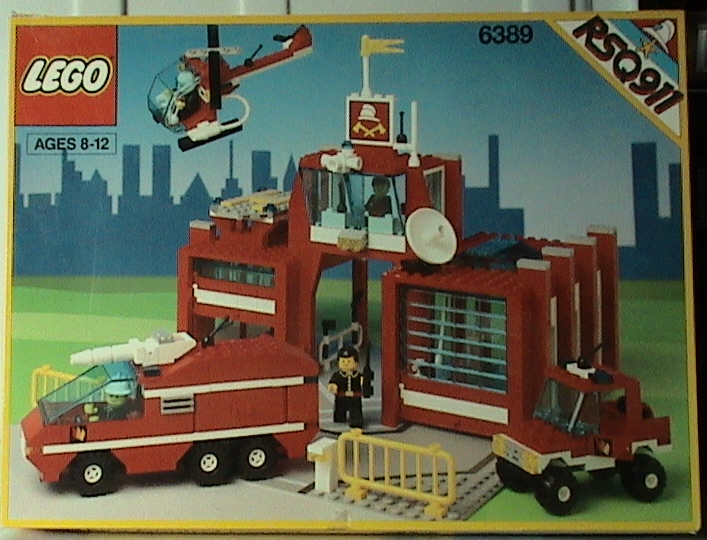 I actually didn't remember the box to be that small. (Borrowed from Peeron)
The four hunky firemen
Oh jeah what women doesn't like a man in a uniform
The manual
Even the manual is aging... but then again it's 17 years old!
Review
As you all know a city must have some standard civil services, like a hospital and a police station.
A fire house also is a must for any lego city. This particular fire house is one of the most amazing sets ever to be released.
In this cool set you get 4 minifigs, all fire fighters, two verhicles, and a helicopter
Firefighters have to move around
The futuristic fire truck is definately my favourite!
Chief's car
The smallest verhicle of the set, it's a small all-terrain jeep for the fire chief.
pretty much a standard car in those days. a real simple layout, and a trunk which holds a small fire hose.
It's lucky to be in this set, because it complements the whole thing
The car
Luckily it's red and it has de cool signs on the side.
Helicopter
Another great addition to the whole set is the helicopter.
Again in a basic setup for that kind of verhicle at the time.
This one has the nice addition of two hoses to put out the fires raging in lego city.
The chopper
No, it doesn't really fly
Really cool fire truck thingy
This fire truck is definately the best of the verhicles in this set.
It's actually a futuristic model of fire trucks. I haven't seen any other fire truck like this.
I saw a police truck like it though. but we're talking fire fighters right?
Actually the whole thing han open up to reveal a number of fire fighting appliances such as a hose, a computer, and a oxygen tank.
The fire truck
click for bigger version!
The main building actually looks kinda empty when the trucks and chopper are gone.
However, this still is realistic compared to a real fire house.
Also the front has those amazing sliding doors, which make this thing really look cool and clean.
Off to fight a fire
Main structure, with the slinding doors pulled down
Actually those sliding doors are also the hard part of the model.
Since all the bricks must be perfectly aligned, or else the doors will stutter.
But if you're a little familiar with lego then you don't need to worry.
From the back
Enough room to play with
I'm going to give my perspectives on each of the sides
On the left we have the garage for the bigger fire truck.
The only real flaw about this set is that this garage isn't long enough for the fire truck.
This could have been solved by making it two or three studs longer.
Notice the cool sunroof!
In the middle we have the chief's office. complete with coffee machine, a diversity of computers,
and a tape recorder, most likely to tape any incoming calls. A lot of details are crammed up in there.
just like in the rest of the set.
To the right is the helicopter platform.
I really like the grey-blue-yellow of the platform because it doesn't look so red anymore.
Don't get me wrong, red is a cool color, but not too much red!
And the helicopter actually fits, and stays in place during playtime.
The baseplate filled up
This picture says it all.
Again the four lego hunks are greeting all the ladies

The minifigs are from a classic series, this happens with more of my lego sets.
Bottom line is that this set is one of the best fire houses lego created.
Verdict
The build is pretty easy but takes a while to really see where you are with your building.
It's nice to have a hospital from the same era, this create a more uniform look to your city.
once you completed the model your baseplate is pretty filled up but still has a lot of opportunities.
Playability:
10/10 (cool trucks, a chopper, and sliding doors, nuff said!)
Design:
9/10 (insanely good design)
Price:
10/10 (couldn't get better than this)
Overall:
9.6/10
with a score like that one can only say... get one... NOW!
Time to go home
The trucks and chopper back on their rightful spots