Okay, before you view this MOC, I need to explain the contest it was built for. It was built for the CABG Olympics (a contest I am hosting). It's alike the EB Triathalon, the sites top 5 builders (voted on) have to build three MOCs each. Each MOC must meet certian requirements. Then, when the times almost out, the Master Of Ceremonies (or MOC) tells them a twist that the need to include.
The Requirements:
-Must include a new CIS general
-Must be a Clone Wars Battle
-Must be on a distinct Planet
And then, The Twist:
-Must include 5 aliens
-Must include a personal Shout-out
-Must include a Shout-out to CABG
-Must include an Animal
And now, without further ado, let me interdouce...
The 313th's Battle of Naboo
After the success of Mission X (Yes, I plan on finishing at some point) the 313th Legion was moved to Naboo for their own safety. The destruction of the prototype had enraged many of the CIS, and it was common knowledge that the 313th would be hunted down. They planned to lay low for a while before heading back up to the front lines. Unfortunately for them, they were not left in peace. After only a week on the planet a large CIS ship was spotted landing near the edge of the swamps where the 313th was staying. Out of it stepped the newest CIS general, a robot going by the name J2KU. The 313th's Ground Regiment and the 313th's Mech Regiment lead a head on attack on the CIS's newest member. Aided by their Gungan friends they charge into battle.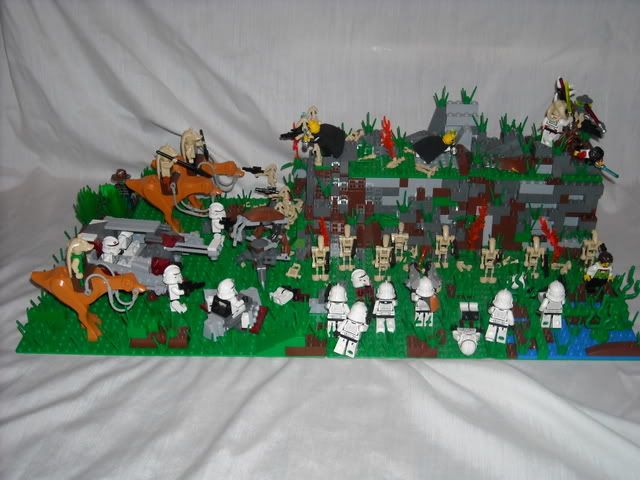 (Above) An Overview of the battle
(Above) Bird's Eye View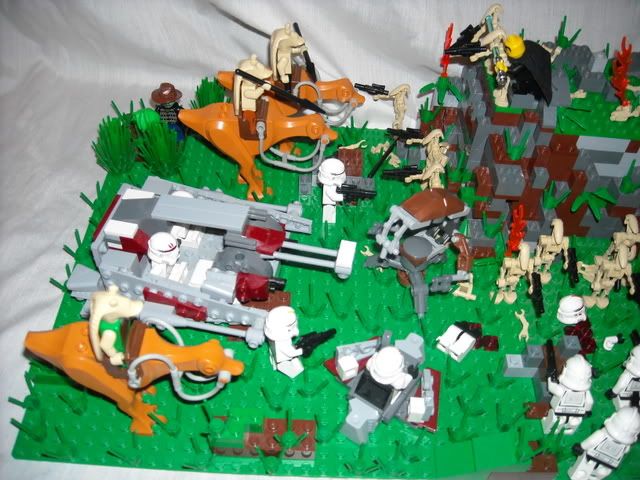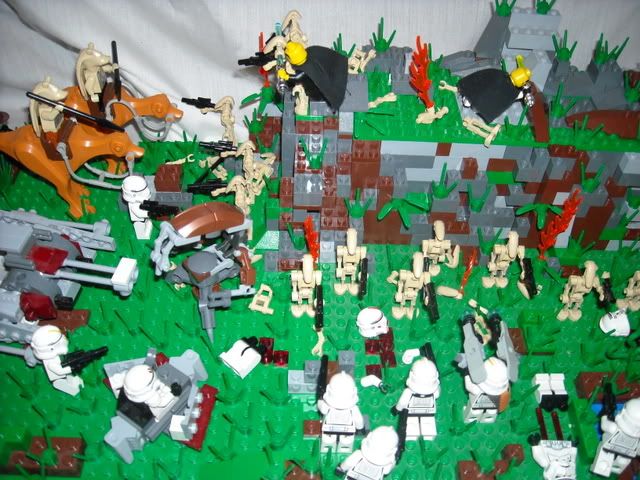 A Scroll of the battle field
(Above) Okay, now again in more detail. Regimental Commander "Kuplo" (313th's Mech Regiment) leads his troops into battle. He is followed closely by Gungan General Pash'tal. A Droideka blocks their advance up the mountain to aid in the fight of J2KU.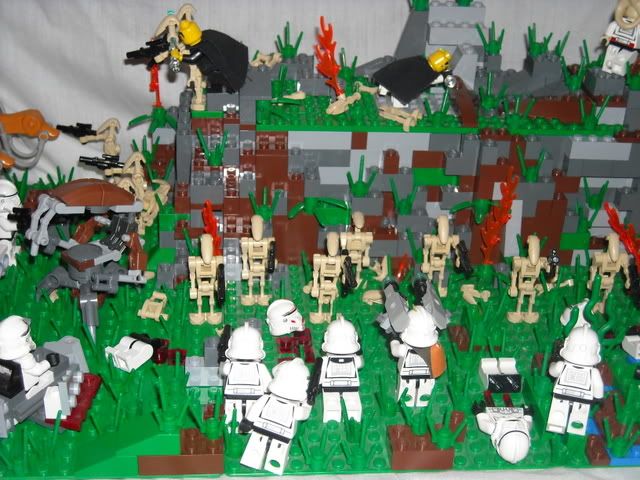 (Above) Senior Clone Commander "Old Papa" (313th's Ground Regiment, Legion Commander) leads the charge from the swamps. His job is simple; eliminate the droids who are back against the mountain. Grabbing any and all cover they can, the clones fire on their metal opponents.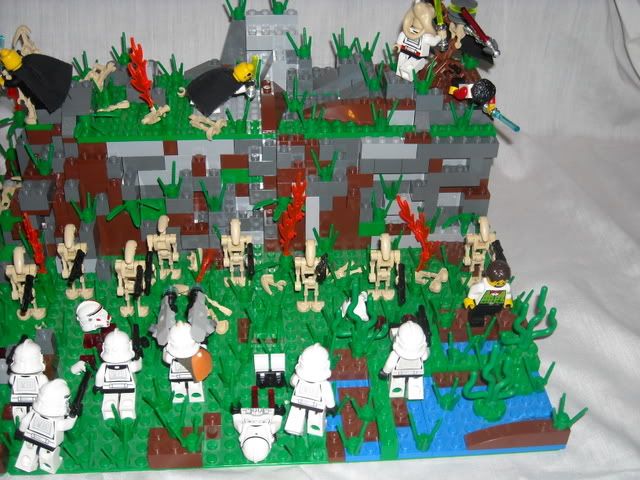 (Above) Again we see Papa's charge. You can check some swamp on the lower right corner as well.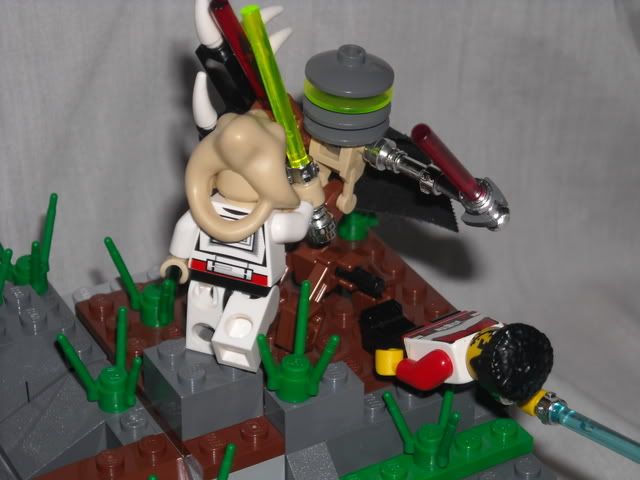 (Above) Jedi's Jurra Tregol (Twi'lek) and Kurt Si (Human) are the first to meet with J2KU. They were both assigned to the 313th's Ground Regiment after Mission X. Kurt served with another group of clones until they were all lost during an evac mission. This is his final battle, he is killed moments later. For Jurra the Clone Wars are new territory. This is his first battle. Though Gruff gets there in time to save his life he is put in intensive care after his duel.
(Above) Jedi General Gruff (313th's Ground Regiment, Legion Commander) runs towards J2KU, fully aware that the two other Jedi stand no chance. He arrives 3.4 seconds after this picture was taken. At that point Kurt's legs had been sliced off and he had fallen to his death.
(Above) Farther down Padawan Commander Versilles (313th's Mech Regiment) slices off a droids head. He too will soon head over to join the fight.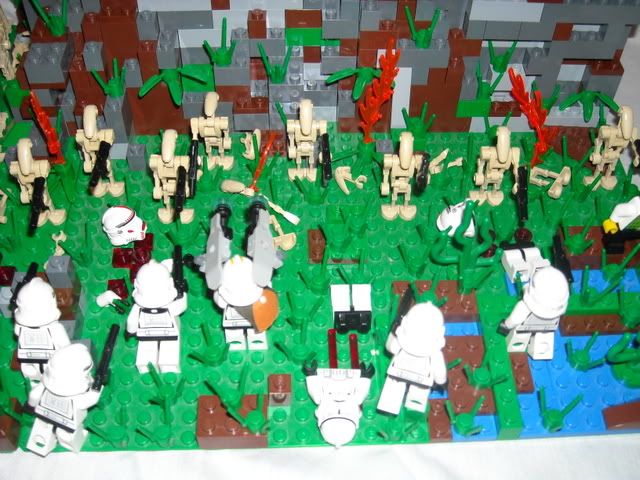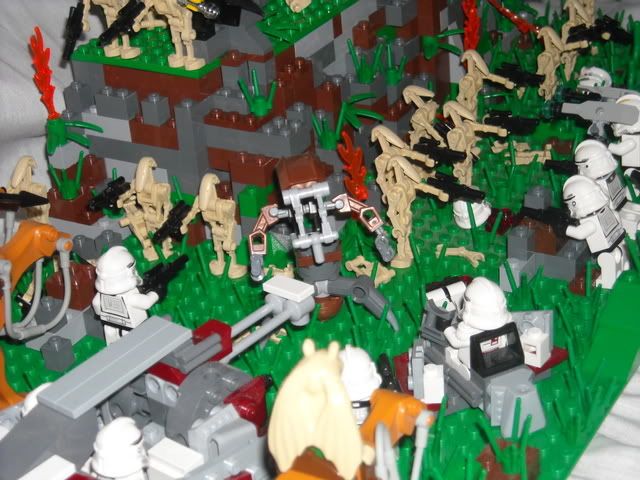 (Above) The battle in all it's fullness!
(Below) Now, It is time for the two Easter Eggs!
(Above) My personal shout-out to CABG! This troll farmer (who is out of place as it is) has just harvested some beautiful Cabbage. It is also a personal shout-out. I love to hide Easter Eggs of all sorts!
(Above) A second personal shout-out. One of my top favorite Lego faces!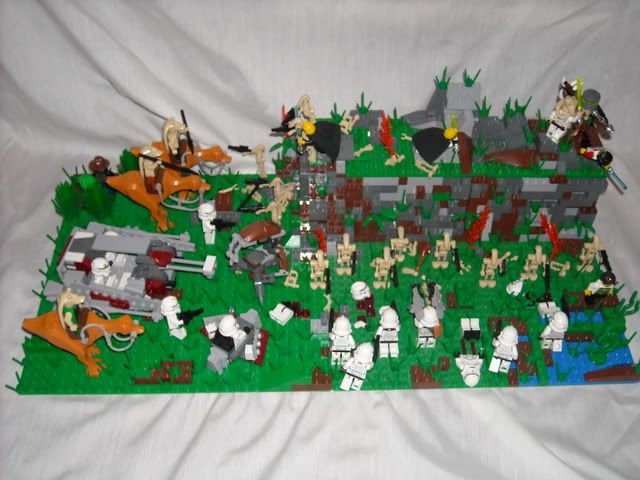 (Above) Zoom out
Hope you enjoyed,
Zeph