Hi Everyone, Please note that this review was done back in 2006, so do forgive me if you happened to notice any dated comments.
Product:
6205 V-wing
Theme:
Star Wars
No of pieces:
118
Release Date:
Feburary 2006
RRP:
SGD29.90/USD9.90
Availability:
Lego Shop@Home, Target, Toys 'R' Us (US & Europe), Bricksworld (SG).
Lego.com said:
Rule the spaceways!
The sleek V-wing fighter can adapt to any situation! Position the wings and flaps in attack mode to protect Palpatine's shuttle from enemies. Or position the wings in flight mode to survey the area for intruders! Either way, the V-wing is ready to strike for the Republic.
Includes Clone pilot and R4 droid.


Position wings in attack or flight mode!
Sorry to all for the delay, since this was supposed to be done 3 days ago. Anyway, to get on with it...
Quite a minimal amount of baggies for this set, as noticed. And the best thing is... no sticker sheet. Yippee!! :bounce: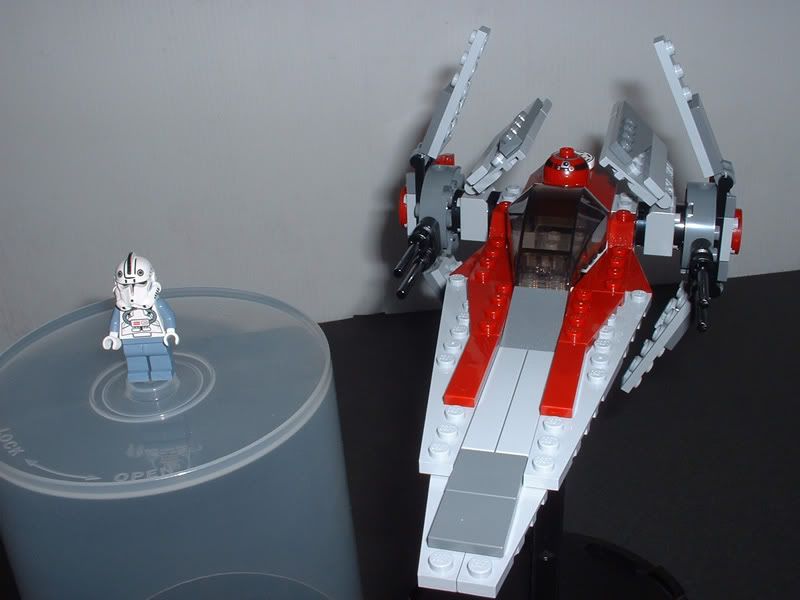 The completed v-wing. Though not really a complaint, it would be nice if the entire astromech body was provided instead of only the head dome. :p
Of course, then it wouldn't be movie-accurate, since the Q7 series astro-mech is integrated with the starfighter. :lol:
He's definitely well-painted for a simple mini-fig. Since even the back is painted too. I have to assumed this is the same mini-fig provided for 7259 ARC-170 Starfighter too, since I don't have that set. Anyway, this mini-fig is much more accurate for this v-wing since his suit is rated against vacuum, while those in the arc-170 aren't . :p
One thing that's lacking is the instruments panel in the cockpit... it's totally non-existent here. I wonder what went wrong during the design stage.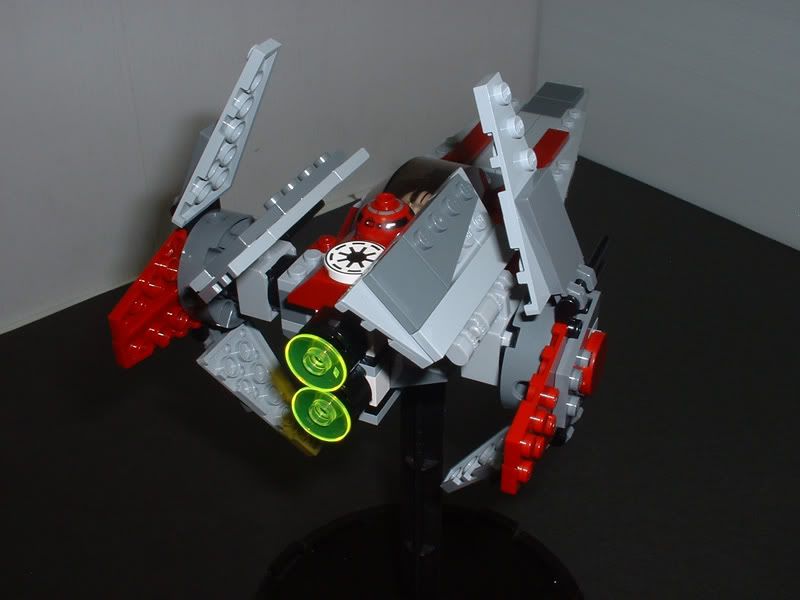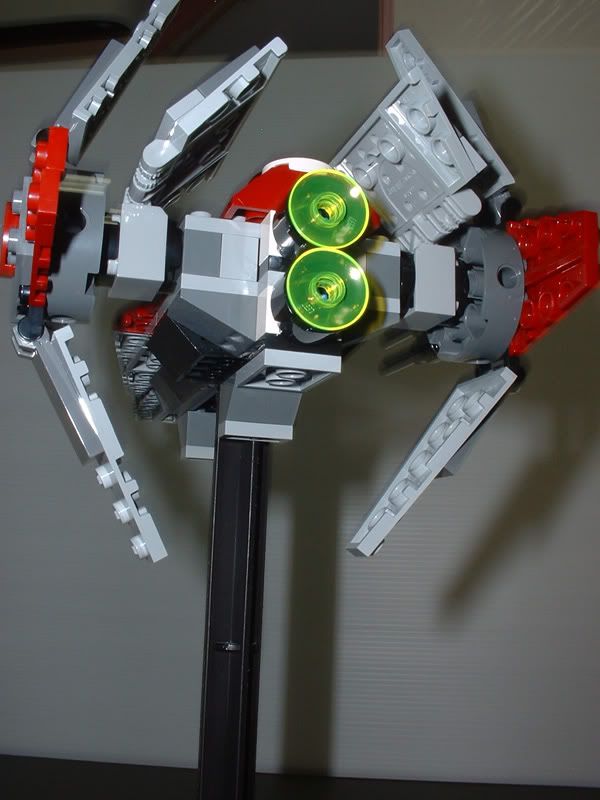 Personally... this is the second most anticipated set for 2006, the first being the tie interceptor, for me. One thing is that there's no known release of the V-wing starfighter by hasbro, nor the other well-known brands. The other thing is that being a star wars vehicle collector, I would really loved to see a replica toy of the V-wing.
And the V-wing by the Lego Group does not disappoint... it's nearly movie-accurate, except for the cockpit transparisteel cover which could used some paint like the x-wing's.
Also, there's a permanent landing gear that quite neat, since it allows you to land the craft on uniform surfaces.
The s-foils on the other hand can be quite a pain to pose into flight position. Very difficult for the s-foils to remain symmetrical during play.
The "swoosh-able" or play factor of this product is quite good... just check out the pics for yourself... :D
*Crackle* General Skywalker, we have incoming!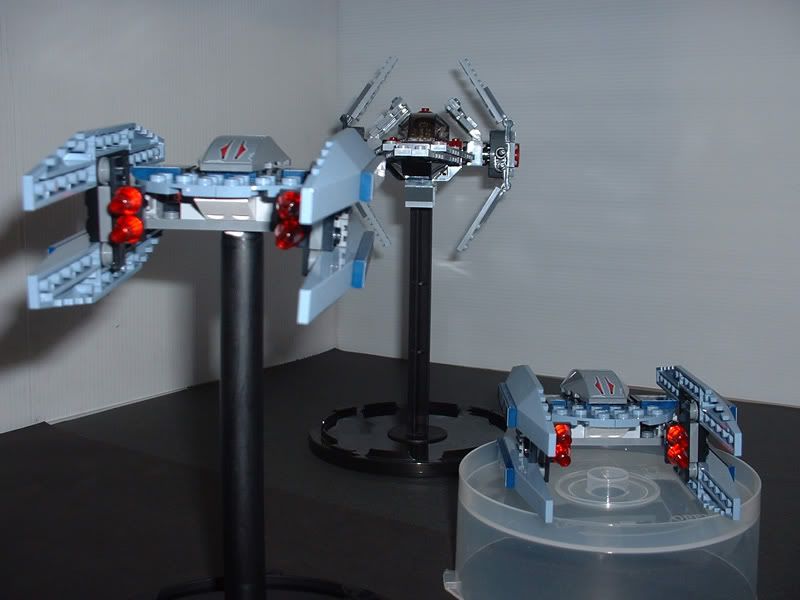 To conclude, the v-wing starfighter would make a much better companion to the Eta-2 Actis Interceptor (Jedi Starfighter), than the arc-170. Coz the arc-170 seems more like a long-range bomber to me, than a snub-fighter. :p
And a final pic to show it at rest...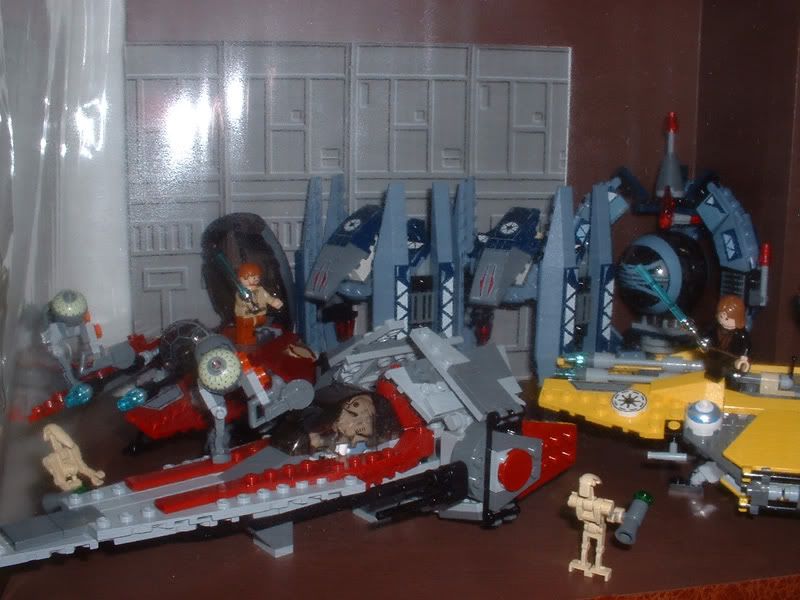 Comments (For 2008)
Just an updated pic to show my latest display on the clone wars
Hmm... off the record, I do understand that sometimes, reviews by most tend to a certain set of guidelines like naming the set, and showing the boxed, and out of boxed pics, and of course, the grading portion. Regarding my review, I prefer not to grade any of the lego sets at all as far as possible, because to each, his/her own. My reasons to put up a review is not to belittle the efforts of TLG in coming out with these products nor to help them market them, but to show my appreciation and enjoyment of these products. I hope noone is offended by this, and would like to apologise for any misunderstanding that this may caused.
For those who do not understand the above paragraph, care not for it and Play On! Like Me